World News in Brief: January 17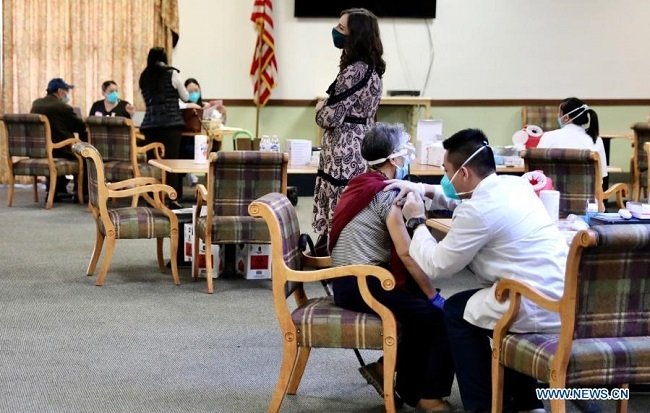 Residents receive COVID-19 vaccines in Pasadena, Los Angeles County, California, the United States, Jan. 15, 2021. (Photo: Xinhua)   
More than 93.86 million people have been reported to be infected by the novel coronavirus globally and 2,012,869 have died, according to a Reuters tally. Infections have been reported in more than 210 countries and territories since the first cases were identified in China in December 2019.
* Brazil had 61,567 new confirmed cases of the novel coronavirus reported in the past 24 hours and 1,050 deaths, the fifth consecutive day with more than 1,000 fatalities, the Health Ministry said on Saturday. The South American country has now registered 8,455,059 cases since the pandemic began, and the official death toll has risen to 209,296, according to ministry data. It is the world's third worst outbreak outside the United States and India.
* Germany's ruling Christian Democratic Union (CDU) on Saturday elected Armin Laschet as its chairman after an online vote. The 59-year-old is the minister-president of Germany's most populous state North Rhine-Westphalia. The CDU has been searching for its new leader since then, but the plenary meeting was postponed twice due to the raging COVID-19 pandemic.
* At least 56 people have been killed after an earthquake struck Indonesia's West Sulawesi province on Friday, the disaster mitigation agency (BNPB) said on Sunday, the latest in a string of disasters to hit the Southeast Asian country. More than 820 people were injured and about 15,000 left their homes after the 6.2 magnitude quake, the BNPB said.
* Cuba confirmed 405 new cases of the novel coronavirus, down from 547 a day earlier, the island's Ministry of Public Health reported Saturday. The nationwide COVID-19 tally now stands at 17,501 after the new confirmed cases hit the 500 mark in three consecutive days.
* Britain announced plans to hold the first in-person meeting of the G7 for nearly two years in June, inviting the leaders of major developed economies to a picturesque seaside village to discuss rebuilding from the pandemic and climate change. Prime Minister Boris Johnson says he wants to use Britain's presidency of the G7 to forge a consensus that the global economy must recover from the COVID-19 crisis in a pro-free trade and sustainable way.
* Iran is in the process of building up its nuclear weapons capacity and it is urgent that Tehran and Washington return to a 2015 nuclear agreement, France's foreign minister was quoted as saying in an interview published on Saturday.
* A senior Palestinian official announced on Saturday that 2 million Palestinians in the West Bank, Gaza Strip, and East Jerusalem are eligible to vote in the coming elections. A day earlier Palestinian President Mahmoud Abbas issued decrees to hold legislative elections on May 22 and presidential elections on July 31.
* A Libyan political dialogue arranged by the United Nations has made progress towards agreeing a new transitional government to oversee the run-up to elections in December, the U.N. said on Saturday.
* Thailand reported 374 new coronavirus cases on Sunday, taking its total infections to 12,054. No death was reported, while 10 of the new cases were imported from abroad, Thailand's COVID-19 taskforce said at a briefing.
* Mexico has registered its worst week yet of the pandemic, with a record number of infections from the new coronavirus and more than 7,000 COVID-19 deaths, government data showed on Saturday. There were 20,523 new coronavirus cases and 1,219 more fatalities on Saturday, pushing total confirmed infections to 1,630,258 and deaths to 140,241, the Health Ministry said.
* France's cumulative COVID-19 death toll has risen past 70,000, the health authority reported on Saturday, after 196 deaths were reported in the previous 24 hours. The authority said 70,142 people had now died from COVID-19. It also reported 21,406 new confirmed coronavirus infections over the previous 24 hours, up slightly from 21,271 on Friday.
* Italy reported 475 coronavirus-related deaths on Saturday compared with 477 the day before, the health ministry said, while the daily tally of new infections rose to 16,310 from 16,146. Italy has registered 81,800 COVID-19 deaths since the virus came to light last February - the second-highest toll in Europe and the sixth-highest in the world. It has also reported 2.369 million cases to date, the ministry said.
* Iranian President Hassan Rouhani Saturday said the Iranian government will spare no efforts to start vaccination by the end of the current Iranian calendar year (March 20, 2021).
* Slovakia is planning another large-scale testing and quarantine push to combat a serious rise in coronavirus infections, Health Minister Marek Krajci said on Saturday.
* A mountaineering team from Nepal made history on Saturday by scaling Mt K2, the second tallest mountain in the world, located on the Pakistan-China border, in the winter. A team of 10 climbers managed by Kathmandu-based Seven Summit Treks Pvt Ltd stood atop of the 8,611-meter peak at 5 pm local time. Mt K2 also called Chhogori was the only peak above 8,000 meters that had not been climbed in the winter.
* Thousands of Hondurans, including many families with children, walked together across Guatemala on Saturday hoping to reach the United States, fleeing poverty and violence in a region wracked by the economic fallout of the pandemic and back-to-back hurricanes late last year.
Reuters, Xinhua
TAG: