Comics in Vietnam provides an abundant source for entertainment industry
Some movie adaptations of comics are expected to hit the big screen
Several productions cutting across genres, from sitcoms to comedies to action movies, are being based on popular comic series, reported Vn Express.
At the Japan Comic Fes held in HCMC late last month, actress and movie producer Ngo Thanh Van announced plans for a new movie titled "Le Nhat Lan", based on an international award winning historical comic series "Long Than Tuong" (Long Than Chronicles) by Phong Duong Comics.
The movie is part of Van's ambition to create a Vietnamese fairy tales cinematic universe with productions based on traditional tales like "Thanh Giong", "Tam Cam", "Thach Sanh", "Thang Bom" and "Son Tinh, Thuy Tinh," the stories covering different genres including fantasy, comedy and romance.
In 2018, the 24-episode TV sitcom "Loi Nguyen Tuoi 17" (Bad Luck) was adapted from the eponymous comic done by illustrator Nguyen Huynh Bao Chau. It was streamed on platforms like FPT Play and YouTube POPS TV.
While the cinematic adaptation of already popular, original comic works serves to lure viewers, it can also happen that comics adapt popular characters like superheroes or even Vpop videos.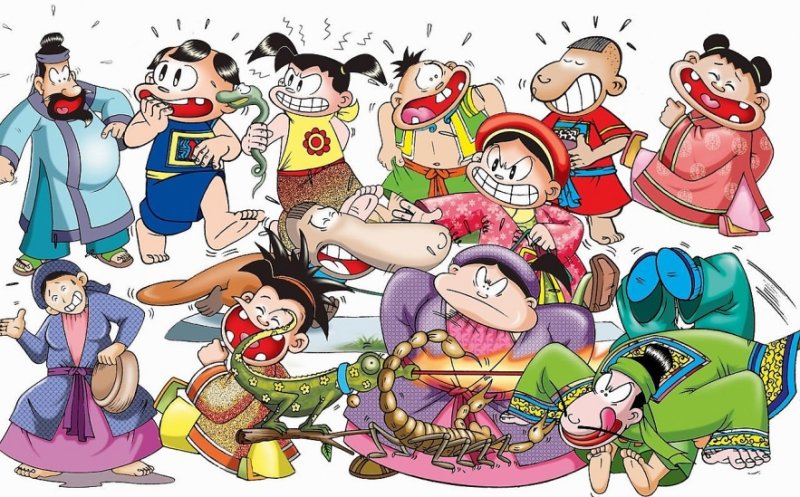 Photo: Moveek
Last December, POPS and MTP Entertainment launched a comic of 100 chapters in which the protagonist is inspired by the long white hair character in pop star Son Tung M-TP's music video (MV) "Lac Troi"(Drifting in Minds).The MV was released at the end of 2016 and has now garnered over 233 million views on YouTube.
The project features two top comic artists in Vietnam, Nguyen Huynh Bao Chau, most known for her "Bad Luck" series and illustrator Can Tieu Hy, winner of the 10th annual International MANGA Awards for "Dia Nguc Mon" (Hell's Gate).
The "Lac Troi" comic will be rolled out in three forms: a paperback version in June, a webtoon (digital comic) version this month and a movingtoon (a hybrid of webtoon and anime) in March
The concepts of comics in Vietnam
According to Kyoto Review, comics in Vietnam have suffered criticism from the general public because of the widely felt overtones surrounding the word "comic". "Comic" in Vietnamese is "truyen tranh" — whereby "truyen" means "story" and "tranh" means "picture" and together these are perceived by the older generation as stories with pictures for children. But shifting forward to the younger generation in Vietnam, the word "comic" is largely identified with one thing; Japanese manga.
In the early days of Vietnamese comics, they were common in newspapers and published in the form of albums. Vietnamese comics had various themes and were used for entertainment, education and propaganda. From the late 1960s until 1975, comics flourished in Saigon.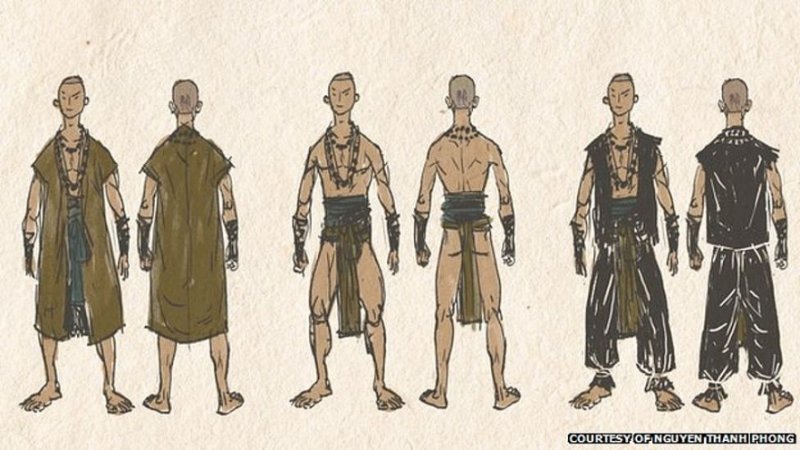 COURTESY OF NGUYEN THANH PHONG
Vietnamese comics have changed much since 1987 as they steadily developed though the years and gradually became similar to American comics with a growing number of comic artists and comic genres. Meanwhile, in response to the needs of children, the government attached special importance in encouraging the creation of comics. The most famous artist was Hung Lan whose comics were popularly read (Vietnamese fairy tales, Toet and Xe, Co Tien Xanh, etc.). The content of these publications was broadly educational and offered lessons in moral philosophy for the reader.
Everything was to change in 1992 with the import of Doraemon by Kim Dong Publishing House, it became the first Manga in Vietnam. Doraemon quickly became a phenomenon with over 40,000 copies sold. After its success other publishers began to publish Manga. But it was later in 1995 when the Manga storm would really hit with the publication of Sailor Moon and Dragon Ball.
Suddenly Vietnamese comics with educational and moral stories were overwhelmed and dull by comparison. Manga was able to engage with a broad readership and was readily available; it saturated the market even though most was then illegally printed. That changed in 2004 when Vietnam finally signed an expanded version of the Berne Convention for the Protection of Literary and Artistic Works, and copyright was discussed and respected. The management of sales and content of manga has since become strictly controlled.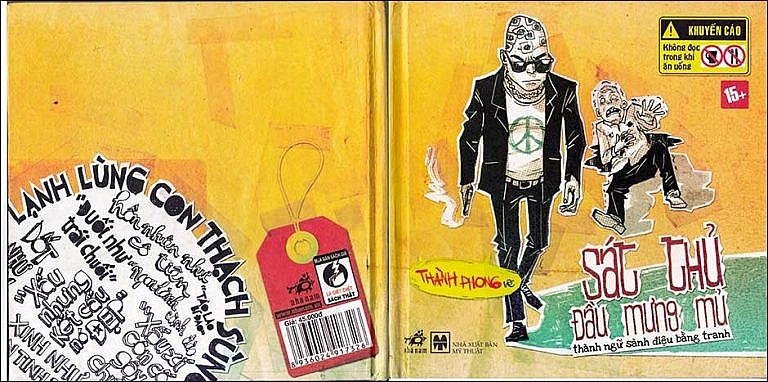 The cover of Sat thu dau mung mu by Thanh Phong, 2011
The number of comics penned by Vietnamese artists has been increasing dramatically
Since 2011, the number of comics penned by Vietnamese artists have been increasing dramatically. Amongst them, Dat Rong (Dragon Land) in a Manga style by Dimensional Art Group was honored with a Bronze Award at the 6th International Manga Award. Its plot is inspired by the Vietnamese legend of Son Tinh – Thuy Tinh. Aside from this, "Danh Tac Viet Nam (Masterpiece Comics)" published Chi Pheo, Giong to (The Rainstorm), and Tat den (Lights Out!), comics adapted from famous masterpieces of Vietnamese literature by BRO, and additionally, the Three-2D Artist Group, also found attention on the comic market. In recent years, Nguyen Thanh Phong has become a well-known independent comic artist in his own right.
Since 2004, Phong's comics have been serialized in various magazines. "Long than tuong (The Legend of Long Than Tuong)" serialized in Tre Publishing House's Truyen tranh tre (The Young Comics) magazine, "Nhi and Tun" was serialized in Phan Thi Company's Than dong Dat Viet Fanclub magazine. Phong became much more widely known and popular in Vietnam for his picture book titled Sat thu dau mung mu (The Killer With a Head Full of Festering Sores).
Clippling challenges
According to BBC, more artists like Mr Phong are putting pencil to paper and producing locally made comics. But it is proving a challenge in a comic book scene that has traditionally been dominated by Japanese manga and is still overwhelmingly seen as targeted towards children.
In South East Asia, "everyone grows up reading Archie, Asterix, Tin Tin and Lao Fu Zi, but the majority don't go on to read other comics after that", said award-winning Singapore-based comic artist Sonny Liew, editor of the first anthology of South East Asian Comic Art, Liquid City.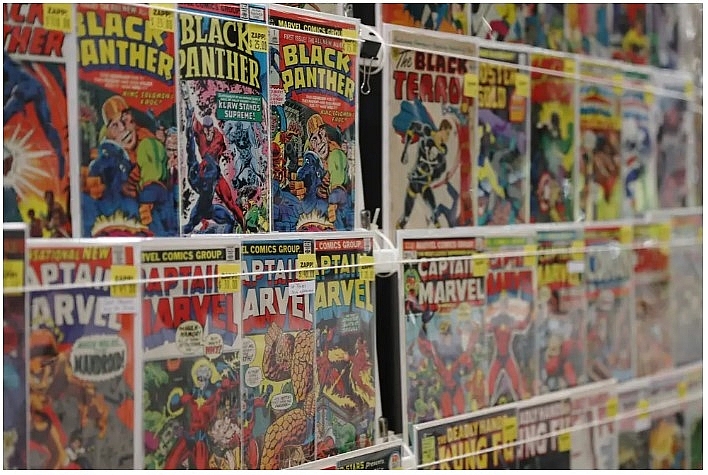 An image from this month's New York Comic Con. Steve Luciano/AP
"There's still a tendency to see comics in genre terms, superheroes and comics for kids, rather than as a mature medium," he said.
Most locally produced comics in the region, including Vietnam, are also of lower quality than imports, which can be easily pirated and sold at cheap prices.
"Part of it is an infrastructural issue; the lack of editorial support, or studios where creators can learn their craft," Mr Liew said. "Compared with, say, Japan, where experienced editors and creators can help guide younger ones."
Moreover, there have not yet been any formal schools to train comic artists and the production of comics and animation has not been closely connected with each other, Nhandan reported.
The success of movie adaptations of comics is not guaranteed despite obvious potential
According to VN Express, despite its obvious potential, success is not guaranteed for movie adaptations of comics.
Recently, "The Adventures of Trang Ti," directed by Phan Gia Nhat Linh and produced by Ngo Thanh Van, was criticized because the protagonist's costumes and characteristics were different from the ones in the original comic version.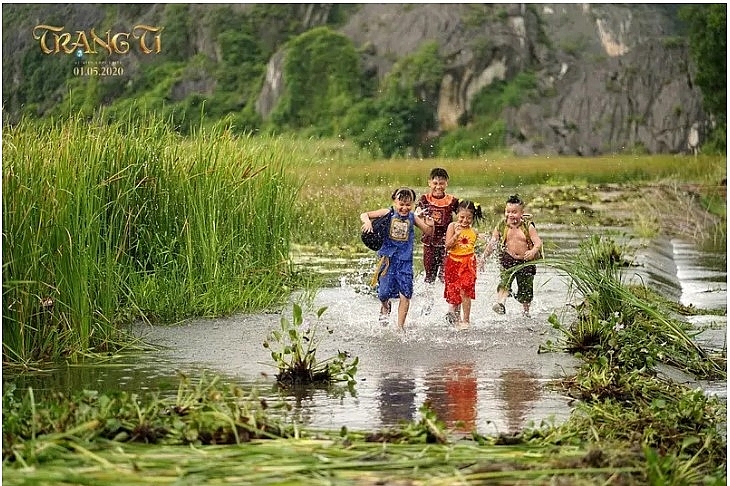 A scene in the movie "The adventures of Trang Ti". Photo: afamily.vn
Even though Van's team explained that they did not intend to make a copy of the original in order to surprise cinemagoers. Quality and length of the comic also determine its adaptability for movies and TV sitcoms. Many popular comics are too short to be made into movies.
Illustrator Chau said some artists have to focus on earning a quick buck to support their daily lives and save up for long-term projects.
It will be a while for Vietnam's comics and their adaptations to reach the level of Marvel and DC comics, but it has become an established trend, and is set to develop further in the coming years, according to experts.
TAG: