India weather forecast latest January 7 Significant improvement expected before cold wave returns
According to Skymet Weather, there is an active Western Disturbance over Jammu and Kashmir and adjoining Pakistan. Due to its effect, the cyclonic circulation over the plains states is on the northwestern parts of Rajasthan.
A trough is extending from North Punjab to Rajasthan and Gujarat to the northeast Arabian Sea. Due to this, moisture is also reaching north India from the Arabian Sea.
Meanwhile, a new Western Disturbance is seen moving towards North India, which will reach Jammu and Kashmir on 7 January. Due to seasonal systems coming one after another, the mountains of North India are not going to break the order of rain.
A cyclonic circulation is over Northeast India and adjoining East Bangladesh. However, this system is not very active.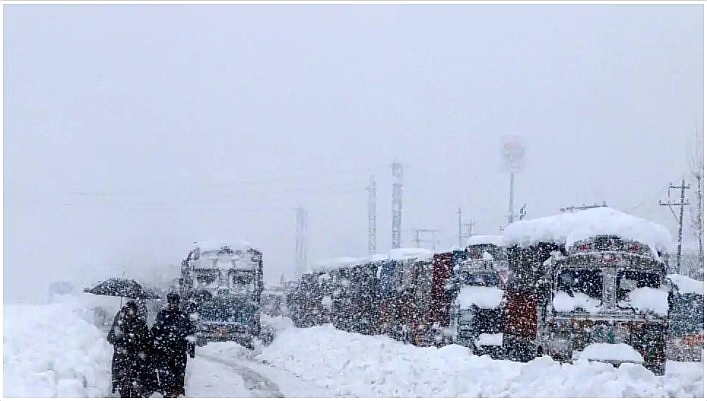 People walk past stranded vehicles on the Jammu-Srinagar National Highway during heavy snowfall, at Qazigund in Anantnag district of South Kashmir on January 5.(PTI)
During the next 24 hours, moderate to heavy rain and snowfall is likely to continue over most places in Jammu and Kashmir, Himachal Pradesh and Uttarakhand during the next 24 hours.
Light to moderate rain and thundershowers are expected over parts of Punjab, Haryana, Delhi, western parts of Uttar Pradesh, northern and eastern Rajasthan.
Light to moderate rain is also possible in parts of coastal and northern Tamil Nadu with one or two heavy showers.
While light rain activities may occur over interior Tamil Nadu, southern coastal Andhra Pradesh, Andaman and Nicobar Islands, Lakshadweep, Kerala, coastal Karnataka, Konkan and Goa, parts of central Maharashtra, Vidarbha and Marathwada.
Central Pollution Control Board (CPCB) recordings show that on Tuesday the overall air quality index (AQI) was 140, in the moderate category. It was 151 on Monday, also in the moderate zone.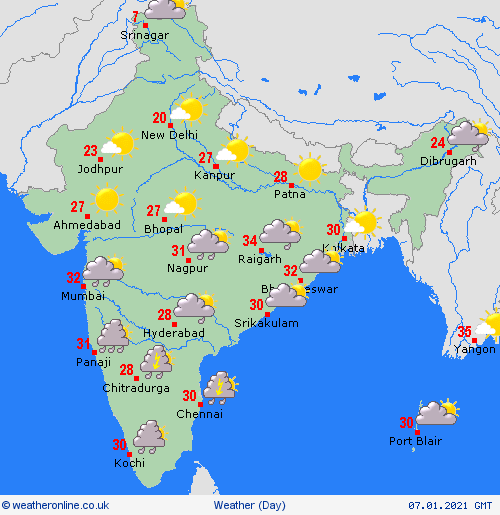 Photo: Weather Online
Wednesday's AQI is in line with the prediction of Union environment ministry's air quality monitoring centre, System of Air Quality and Weather Forecasting and Research (Safar). "The AQI is likely to stay in the moderate to satisfactory category on Tuesday and in the moderate to poor category on Wednesday. It is likely to marginally deteriorate on January 7 and January 8," the Safar analysis read.
Residents have complained that snow has not been cleared at many places and hampered the public movement.
Srinagar airport authorities on Wednesday continued the uphill task of clearing the runway for resuming operations amid heavy snowfall and avalanche warnings. Despite the overnight operations of clearing the runway which was thickly covered in snow, the authorities woke up to roads fully taken over by the snow once again.
"@Aaisnrairport Snow clearance job was going full night but again due heavy snow fall roads are covered with snow, however again all team escalating their work to make possible ambience for aircraft operation today .@AAI_Official @aaiRedNR," the Srinagar international airport said in a tweet on Wednesday morning.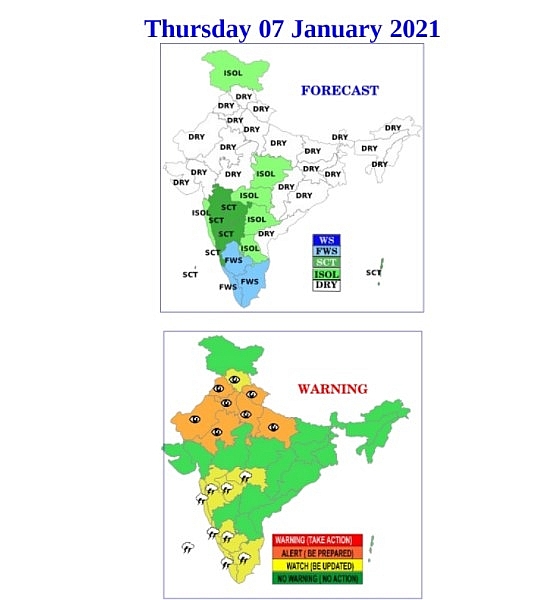 Photo: IMD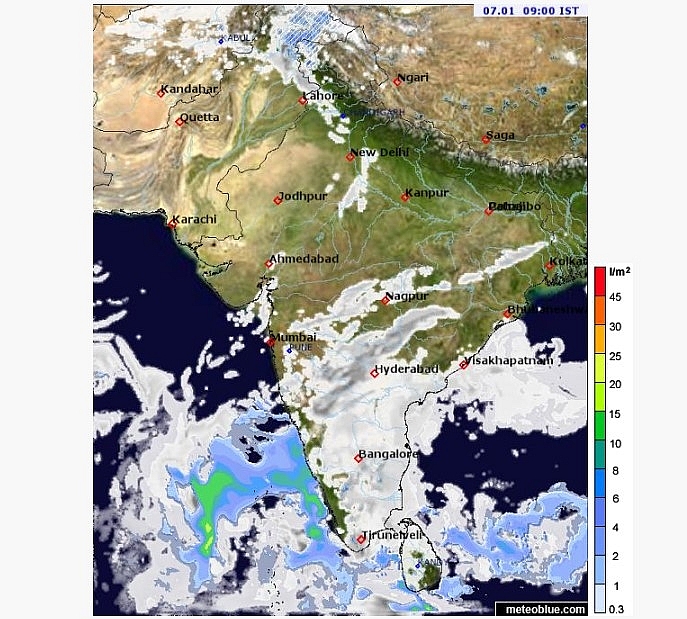 Photo: meteoblue
The Jammu & Kashmir Disaster Management Authority separately issued an avalanche alert. "Medium level avalanche warning has been issued for upper reaches of Poonch, Rajouri, Ramban, Jawahar Tunnel, Doda, Kishtwar, Anantnag, Kulgam, Kupwara and Tanghdar. Similarly, low-level avalanche warning has been issued for upper reaches of Gulmarg, Gurez, Kanzalwan, and Sonmarg," said an official of the authority.
The India Meteorological Department (IMD) said the weather was expected to improve from Thursday. "Present weather conditions are likely to continue till late tonight [Wednesday] or early tomorrow [Thursday]. We expect a significant improvement in weather from tomorrow...[Thursday] in Jammu and Kashmir. With that cold wave will return from January 7th [Thursday] onwards with warmer days and colder nights," IMD said in a bulletin.
TAG: