5 Most Beautiful Vietnam Waterfalls from North to South
Although Vietnam is a small country, it is endowed with many beautiful and attractive landscapes. Especially, with highlands occupying three-fourths of the whole territory, Vietnam is home to numerous magnificent waterfalls and paradise for adventure trips. From the South to the North of the country, you can find many interesting and wonderful waterfalls … Below are some famous and impressive waterfalls that you shouldn't miss when traveling to Vietnam.
Ban Gioc Waterfall, Cao Bang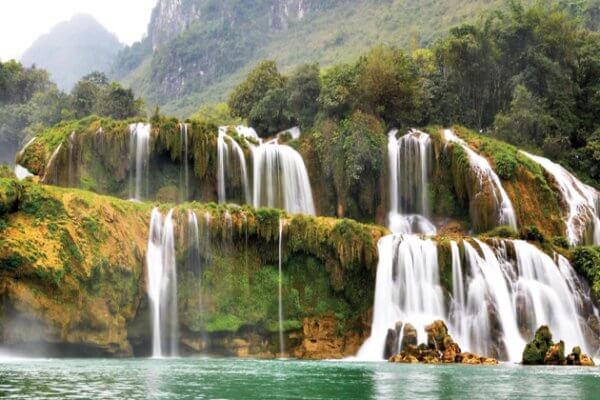 Ban Gioc Waterfall is one of Vietnam's most impressive natural sights. Located in the northeastern province of Cao Bang, the falls are 30 metres high and 300 metres across, making Ban Gioc the widest (but not the highest) waterfall in the country. The falls occur on the Quay Son River, a beautiful jade-blue body of water flowing from China through a pastoral landscape of rice fields and bamboo groves surrounded by limestone pinnacles. Despite improved road access and public transportation connections, and the popularity of several recent viral drone videos showcasing the majesty of the falls, Ban Gioc is still a relatively off-the-beaten-path sight. Mass tourism has yet to arrive and, outside of weekends and public holidays, there's rarely more than a trickle of foreign and domestic visitors.
Best time to visit: You can visit the waterfall at any time of year but September and October are the best time to visit with beautiful landscape of rice fields and less rain.
Address: Ban Gioc Waterfall, TL 211, Dam Thuy, Trung Khanh, Cao Bang province, Vietnam.
Entrance fee: 45,000 vnd - paid at the kiosk near Ban Gioc waterfall. 
Note: Remember to show your passport when purchasing the ticket.
Tac Tinh Waterfall, Lai Chau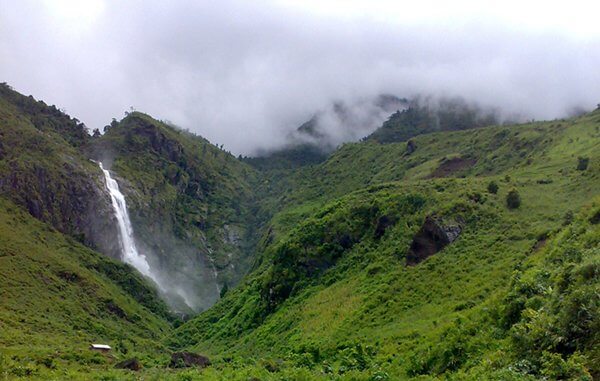 Tac Tinh Waterfall is situated in Tam Duong, Lai Chau province. Tac Tinh Waterfall is a convergence of all necessary elements of a kind landscapes, with amazing natural beauty, waterfalls are located in a small valley, where the resident area of the cells from the long knives life.
Visit the ruins, we can feel the beauty of nature, the peaceful landscape painting as a charming, high mountains covered with a forest of green trees untouched. About 120m high waterfall pouring down vertically, foot waterfall about 40 meters wide, the bottom foot of the waterfall is a large lakes around 200m2 as a mirror between rolling mountains and forests. The couple fell in love often come here to pray for their future happiness is sustainable.
Waterfall contained in themselves a huge cultural treasures, spanning all ages, all the events of history, in every era it are marked separately. It can be said, The cascade effect is a masterpiece of nature, rich space, scenery, waterfalls different from other waterfalls; it does not flow in a stream that pauses, reflecting the magical wonders of space. Over millions of years to form many types of rich, it reflects the natural landscape of social environment that is kind of like plants, animals, cascade lakes that make up the feelings not only am work for the artists but also the object reflects the artists praised the beauty of nature, nation, people.
Best time to visit: It is not easy to choose which season to visit Tac Tinh waterfall because its beauty is diverse in every season of the year. Dry season (October to April) is the time when the waterfall looks like a graceful woman with gentle falls and blue crystal water. On the contrary, Tac Tinh is as a strong man with powerful cataract and stream gurgling all day during the rainy season (May to September). Thus, depending on your time and preference, choose the most suitable time to visit the waterfall.
Address: Tac Tinh Waterfall, Tam Duong Town, Tam Duong District, Lai Chau province, Vietnam.
May Waterfall, Thanh Hoa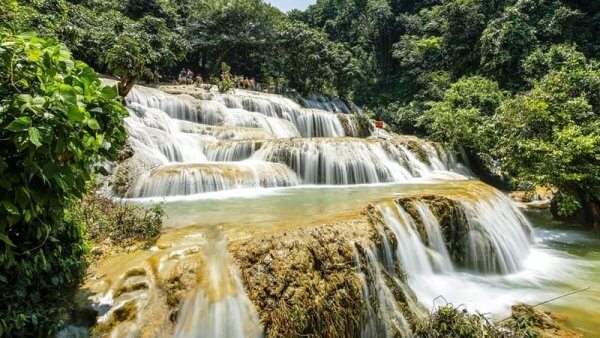 100 km far from Hanoi Capital and 10 km far from Ho Chi Minh trail, right at the border with Cuc Phuong National Park lies the most magnificent waterfall of Thanh Hoa Province – the waterfall of May (cloud in Vietnamese). Thac May (Cloud Waterfall) is less-known by foreign travelers but always bring you the exceptional experiences among the untouched nature. And though, Thac May (Cloud Waterfall) in Thanh Hoa province is less-known by foreign travelers but it is one of top 10 amazing waterfalls in Vietnam.
Best time to visit: From August onward is the most ideal time to visit this magnificent waterfall. Address: May Waterfall, Thach Lam, Thach Thanh District, Thanh Hoa province, Vietnam
Pongour Waterfall, Lam Dong
Best time to visit: The place is a favorite spot for a picnic in the afternoon, so if you want to avoid crowd, try to come at any other time of the day.
Entrance fee: 10,000 VND 
Address: Pongour Waterfall, Tan Nghia, Ninh Gia, Duc Trong District, Lam Dong province, Vietnam.
Dray Nur Waterfall, Dak Lak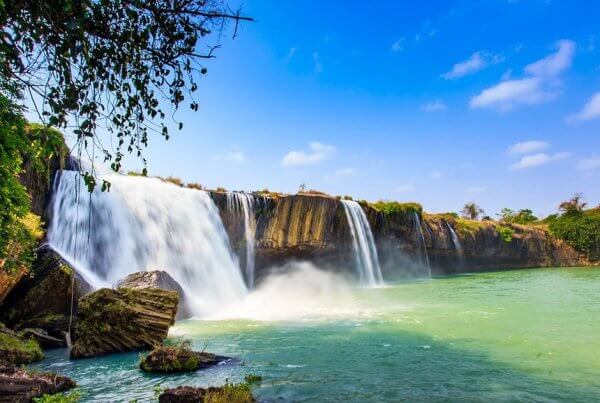 Situated in Kuop Village, about 25km south of Buon Ma Thuot City, Dray Nur waterfall is around 30m high, and widely considered the most beautiful and largest of the three waterfalls in the area. Fed by the Srepock River, a major tributary of the Mekong River that flows from the Central Highlands into northeastern Cambodia, Dray Nur actually consists of three levels, creating three lakes. Visitors can swim in the first of the three lakes where the water is shallow. In the second lake, swimming becomes trickier and is not encouraged, mostly due to sharp rocks. In the third lake, you will find deep water and great caution is advised. From here, visitors can walk along the rock bank for a panoramic view of the waterfall itself.
Entrance fee: 30,000 to 40,000 VND / person.
Best time to visit: from October to April. 
Address: Dray Nur Waterfall, Ea Na, KRong Ana District, Daklak province, Vietnam
Tip: Best time for photo shooting is from 5am to 7am when the sunlight is not too bright. The location is often crowded with picnic groups during weekends. Do not come here during that time if you want to seek tranquility.
Thuy Tien Waterfall, Dak Lak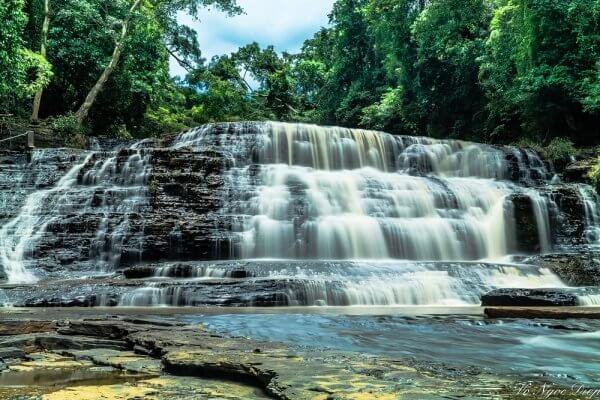 Coming to this place, visitors can immerse themselves in nature; listen to the sound of spring in a wide majestic forest. Atop the waterfall, water falls down onto rocky terraces, creating much white spume, which make the waterfall looks like a lively picture, fanciful scenery of mountain landscape of the Central Highlands.
The waterfall consists of three layers. The first one has a low slope with steps; the spring is narrow, flowing gently through foliages of green leaves like flower trellis. Trees' roots fall down look like swinging hammocks. The second layer has rocky tiers. Here, the water creates various small and shallow lakes, where tourists can take a bath. From a far, the water looks like white flowers blossom under the sunshine of the Central Highlands.
At the third layer, water falls vertically to the ground, creating a deep lake, from which water flows gently, snaking its way through the tranquil jungles.
Together with other waterfalls such as Dray Sap, Trinh Nu, or Krong Kmar, Thuy Tien Waterfall is one of the places of interest for tourists. Thuy Tien Waterfall is a fairy hidden in the green jungle of Tay Nguyen, inviting tourists near and far come to enjoy its poetic beauty.
Best time to visit: dry season from November to April.
Entrance fee: 25,000 VND / adult and 10,000 VND / child.
Address: Thuy Tien Waterfall, Ea Puk, Ea Kar, Dak Lak province, Vietnam
TAG: