5 Best Temples in Vietnam You Have to Visit
This choice of Vietnam's must-visit sanctuaries records destinations in the cutting edge urban communities of Ho Chi Minh and Hanoi just as distant regions like Hue, Ninh Binh Province and Mui Ne. Dissimilar to most places of interest in Vietnam, you don't have to pay an expense to enter the majority of these sanctuaries, however gifts are energetically invited. Guests are needed to dress suitably and take off their shoes prior to entering petition corridors.
Tran Quoc Pagoda (Hanoi)

 Tran Quoc Pagoda is the oldest of its kind in Hanoi, dating back to the 6th century during the reign of Emperor Ly Nam De Dynasty (544 - 548). The Buddhist shrine has undergone several changes throughout the years, particularly its renaming from An Quoc to Tran Quoc (protecting the country) by Emperor Le Huy Tong in the 17th century.
Although it's now set on an islet within West Lake, the pagoda was originally located on banks of Red River before it's relocated in 1615due to the river's encroachment. Surrounded by lush greenery, Tran Quoc Pagoda was a favourite amongst the kings and royal families for festivals, full moons, and Tet Festival.
Cao Dai Temple (Ho Chi Minh City)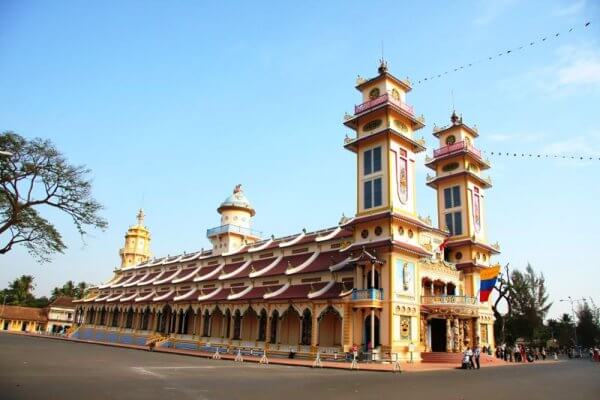 The Cao Dai Temple was finished in 1955 when the Cao Dai Army was formed following the Japanese occupation of Indochina. Caodaists believe that all religions are ultimately the same and seek to promote tolerance throughout the world.
The Lord Buddha, Jesus Christ, Muhammad and Confucius, in addition to Joan of Arc and Julius Cesar are all honoured at this temple.
Temple of Literature (Hanoi)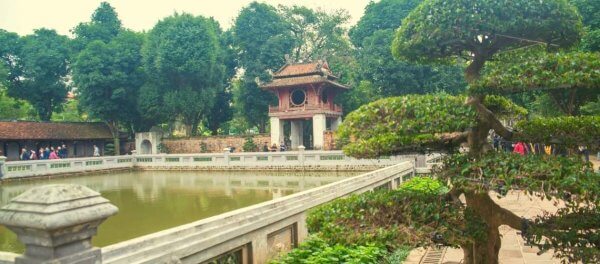 The Temple of Literature is often cited as one of Hanoi's most picturesque tourist attractions.
Originally built as a university in 1070 dedicated to Confucius, scholars and sages, the building is extremely well preserved and is a superb example of traditional-style Vietnamese architecture.
This ancient site offers a lake of literature, the Well of Heavenly Clarity, turtle steles, pavilions, courtyards and passageways that were once used by royalty.
Opening Hours: Tuesday - Sunday 8:30 - 11:30 & 13:30 - 16:30
Price Range: VND 10,000
Bai Dinh Pagoda (Ninh Binh Province)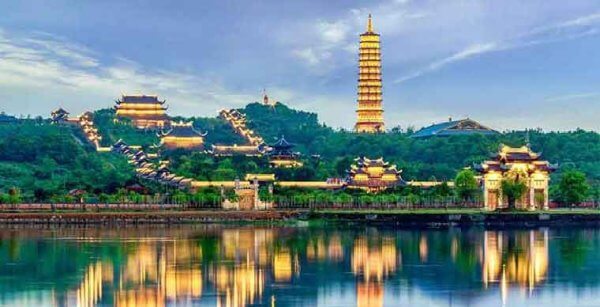 Bai Dinh Pagoda is Southeast Asia's largest Buddhist complex. It consists of several temples and over 500 intricately carved statues of Buddha, including one that's made of bronze and is 10 metres in height. Set within the Gia Sinh Commune, it attracts a huge crowd of local devotees and travellers looking to pay their respects and have their fortunes told by the resident monks.
There are two main pagodas of the same name, one of which is located on the slopes of Dinh Mountain. Accessible via a 300-step stairway, this quiet shrine houses a main prayer hall and natural caves, where locals pray to Buddha and mountain spirits such as Saint Nguyen and Genie Cao Son.
Thien Mu Pagoda (Hue)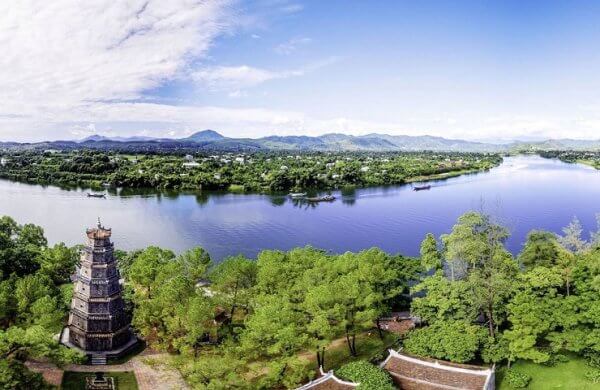 Thien Mu Pagoda is set atop a hill just outside Hue City Centre, offering breathtaking views of Perfume River and Hue Imperial City. One of its standout features is a 21-metre-tall octagonal tower called Thap Phuoc Duyen, which was built in 1844 under the reign of Emperor Thieu Tri. Meanwhile, the main sanctuary houses wooden sculptures of temple guardians, gold-plated Buddha statues and a two-tonne bell cast in 1710. Thien Mu Pagoda was also the home monastery of Buddhist monk Thich Quang Duc, who famously self-immolated in 1963 in protest against the persecution of Buddhists by the South Vietnamese government.
TAG:
Demo