Top 16 Specialty foods of Ca Mau
The famous specialty of Ca Mau attracts tourists not only because of the rich seafood dishes but also because of the special delicious taste of the fish dishes. Going to Ca Mau without enjoying Ca Mau specialties means that you have never been to Ca Mau. For tourists from far away, when coming to Ca Mau, they can't help but wonder: What are the specialties of Ca Mau? What are the specialties of Ca Mau? What is special about Ca Mau specialties as gifts? Right now, let's go with Vinlove to discover the TOP 16 famous Ca Mau delicacies in the southernmost region of this country.
SPECIALTY FOODS OF CA MAU
Ca Mau Province in Mekong Delta is well-known with Dat Mui Cape – the Southernmost point of Vietnam. Ca Mau is also famous for its rich products, cuisines, unique lifestyle, and indigenous people. Coming there, travelers have a chance to enjoy lots of Specialty foods of Ca Mau. With the pride of Ca Mau people, I would like to introduce Top specialty foods of Ca Mau in this post.
1. DAT MUI CUTTLEFISH EGG CAKE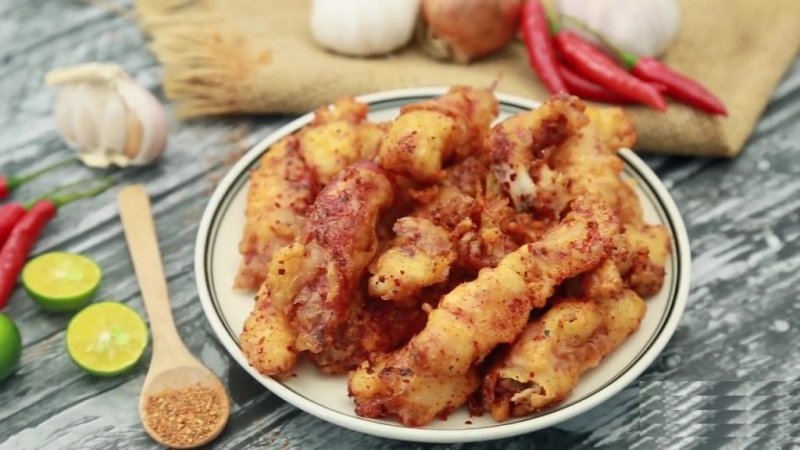 Buttery cuttlefish egg is a favorite food in Dat Mui, U Minh, Ca Mau province, Vietnam. Cuttlefish Egg Cake – a unique dish is made right on the boat after catching cuttlefish to make sure the eggs are fresh, and the cakes are delicious. First, the cuttlefish eggs are kneaded with duck eggs, pork, pork liver, and spices until the mix reaches a degree of smoothness and stickiness. After that, form the mix into round pieces, dry them under the sun, and put them into cold storage. Cuttlefish Egg Cake can be grilled or fried and turns tender, crunchy inside and crispy outside, tasty and fragrant after cooking. Grilled or fried Cuttlefish Egg Cakes are served with rice paper, vegetables, herbs, and dipping "Nhi" fish sauce (or sauce from salt, ground black pepper, lemon juice). Just use a sheet of sticky rice paper to wrap a piece of Cuttlefish Egg Cakes, some fresh herbs, and vegetables and meat with sauce.
2. U MINH HOT POT WITH FERMENTED FISH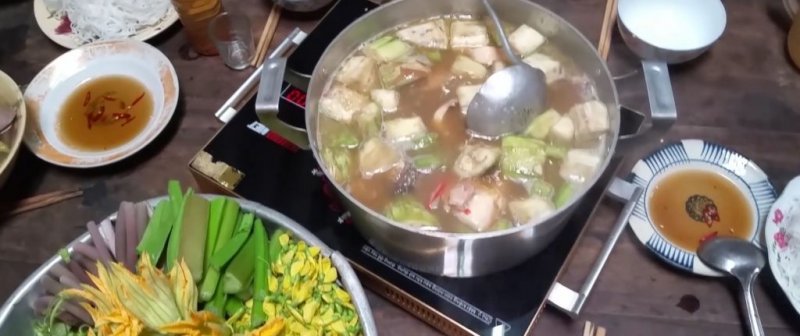 U Minh – a district in Ca Mau province, South Vietnam is famous for hot pot with fermented fish. The comfortable, flavorful, and healthy Lau mam rau rung from U Minh can satisfy those hard to please. The rich and fragrant broth of fermented fish hot pot in U Minh is cooked from Fermented snakeskin gourami (Mam ca sac). In U Minh, Fermented fish hot pot is served with rice noodles, many types of fresh fishes (snakeskin gourami, snakehead, tilapia, which live in rice fields, rivers, swamps, and lakes), a wide range of vegetables (tomato, water lily stems, okra, polypody plant young shoot, Centella, Passiflora foetida young shoots, ludwigia prostate). The viscous polypody plant young shoot, considered the king of all vegetables in South Vietnam is the soul of U Minh fermented fish hot pot. Dinners cook the above ingredients at their tables while eating. Dinners can dip cooked foods in special fish sauce (with chili pepper) to enhance the flavors. The dish has five tastes: salt, sweet, sour, hot, bitter. There is no reason to miss Fermented fish hot pot – one of the specialty foods of Ca Mau province.
3. RACH GOC DRY SHRIMP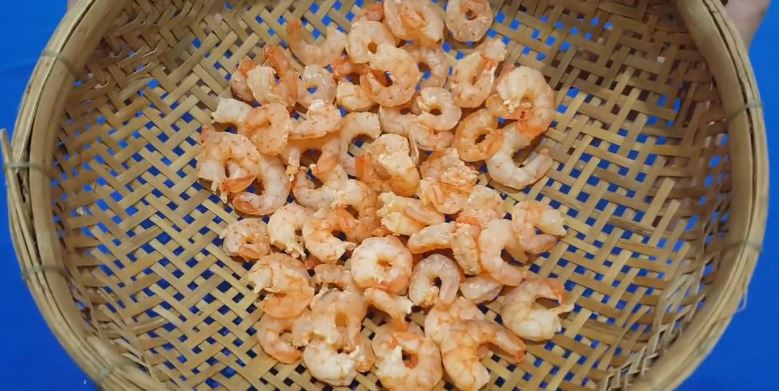 Dried shrimp or Tom kho has been a very favorite food in Vietnam. Dried shrimps made in Rach Goc district in Ca Mau are one of the best in the country. In Rach Goc, they make Dried shrimp from wild-caught shrimps so that it is tastier than others. After being peeled, boiled, then dried under the sun for 2-3 days, the shrimps turn orange-pink, a little hard, a little salty, and sweet. The food has an attractive smell and wonderful taste. Dried shrimps are not less delicious and nutrient-rich than fresh shrimps. Dried shrimp can be eaten as a snack, served as a dish with pickles at meals, or used to cook various flavorful Vietnamese dishes. At Tet festivals, Vietnamese people usually eat Dried shrimp with pickled leeks. Tom kho is also a great beer food. There are many soup, stir-frying, salad recipes with Dried shrimp.
4. TOASTED TURTLE WITH SALT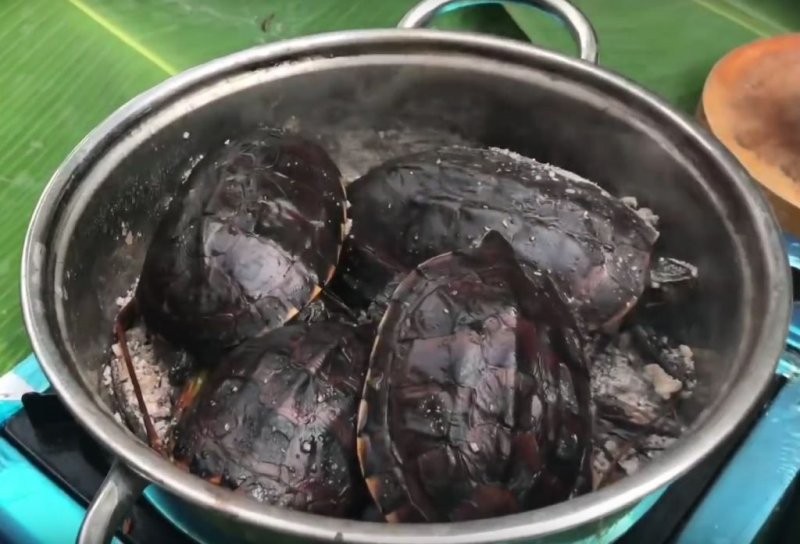 Ca Mau people created a famous recipe from the turtle – Roasted turtle with salt (or Rua rang muoi) can win the heart of the most difficult dinners. They use a sharp point knife to bleed the turtle and cut the blood vessels quickly to get fresh blood. Wine mixed with fresh turtle blood is perfect for your health. Then the whole turtle is poached in boiling water to remove dirt, slime, and odor. In Ca Mau, they roast turtle in a clay pot and with unrefined salt. The ratio of the turtle to salt is 1, which means the cook should use 1 kg of unrefined salt to roast 1 kg of a turtle. Put salt and the turtle into a pot and cover the lid. While cooking, there are explosive sounds. When the cook cannot hear the sound, it is time to get the turtle out of the pot. The last step is removing the shell and guts.
Turtle taste is a mix of seafood, chicken, duck, beef, and sheep tastes. Roasted turtle with salt is distinctively tasty and seductively fragrant. The dish is usually served with a mix of salt, black pepper, lime juice, and herbs such as Vietnamese mint. Some prefer to wrap turtle meat in rice paper and dip it in sweet-sour fish sauce dip. Although turtle meat is weird, it could not be missed in the list of Specialty foods of Ca Mau.
5. MANTIS SHRIMP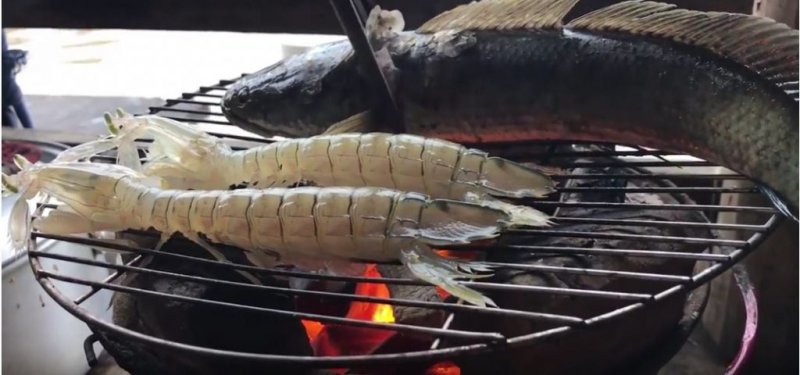 Mantis shrimp flesh is sweet and salty, comfortable and seductively fragrant, so that it is a favorite food of many people. It is called mantis shrimp because it looks like both mantis and shrimp. The simplest and quickest way to eat mantis shrimp is by boiling it, dipping in a mix of salt, ground black pepper, lime juice, and eating with aromatic herbs. Other more difficult recipes are Steamed mantis shrimp with beer, Steamed mantis shrimp with coconut water, Steamed mantis shrimp with lemongrass, Grilled mantis shrimp, Stir-fried mantis shrimp with garlic. They also make dry mantis shrimp store it longer. Grilled dry mantis shrimp is attractively smelling, crunchy, and sweet-salty. Dishes from mantis shrimp and dry mantis shrimp pair well with beer/wine.
6. DATE PALM WORM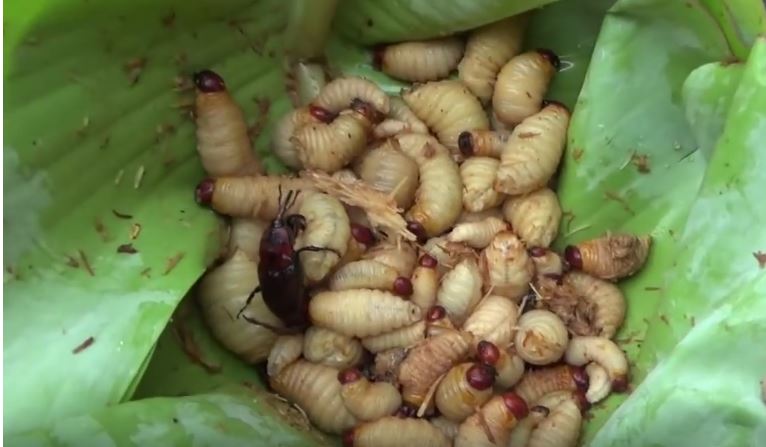 Date palm worm could not be missed in the list of Top specialty foods of Ca Mau. In the breeding season of beetles such as rhinoceros beetles from October to February in the lunar calendar, the beetles find a hole in date palm heart and lay eggs that grow into worms. Eating the young date palm, these worms are white, fat, as big as a little finger. There is only one worm on one palm. Not all of the palms have worms, so that this kind of food is scarce. Local people must go deeply into mangrove forests to catch date palm worms to find wild date palms with worms. After discovering the worm in the palm, they use a sharp knife to cut the young part of the date palm and bring it home. The worm only is got out of the palm when cooking to make sure the worm is alive. The milky, tender, and a little chewy date palm worm can be eaten raw. Some popular dishes from this worm
Bathing date palm worm: put the worms into fish sauce and chili pepper, then eat one by one with chopsticks.
Grilled date palm worm, which is wrapped in veggies, dipped in tamarind fish sauce dip.
Porridge with date palm worm.
Fried date palm worm in wheat flour with butter.
7. GRILLED VOP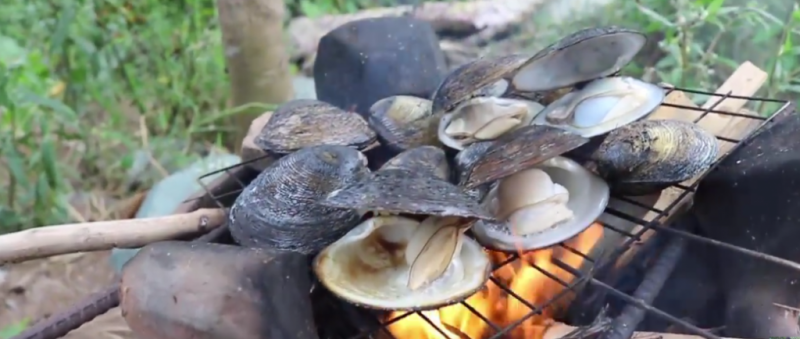 Vop is a bivalve; it is 3 times bigger than a scallop. In Ngoc Hien district, Nam Can district in Ca Mau province, there are many Vop which flesh is sweet-tastier, crunchier than the flesh of Vop in other places. Vop should not be cooked for too long. Otherwise, its flesh will be too crunchy. Vop is also used for cooking a lot of delicious dishes:
Boiled Vop dipped in sweet and sour fish sauce,
Boiled Vop with ginger,
Braised Vop with lemongrass and chili pepper,
Soup with Vop and fermented steamed rice,
Salad with Vop and banana blossom,
Grilled Vop with onion oil,
Porridge with Vop,
Grilled Vop with fermented tofu,
Sweet and sour soup with Vop,
Steamed Vop with minced pork.
8. CRAB BLOOD PUDDING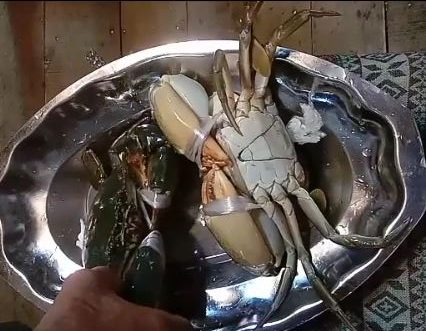 It has been said that some fishermen had not any freshwater to drink, so that they break the sea crab legs and drink the liquid inside the legs to survive. The liquid which has a little salty taste, special smell has become a food since then. Crab blood pudding  (Tiet canh cua) is a very famous dish in Ca Mau.
To make Tiet canh cua, we need 2 alive sea crabs, one for getting the blood and meat. So, firstly, boil a crab with wine, get the flesh out of the shell, seasoning the flesh and mix with minced herbs. The win enhances the smell and taste of the crab flesh and makes the flesh more tender.
Secondly, tie 4 big legs of the crabs and use a sharp pair of scissors to cut quickly and strongly so that the crab blood drops into a bowl. Next, get the crab-roe and put it into the bowl of crab blood. When the blood and crab-roe turn thickened and bloating, carefully use a spoon to get Tiet canh cua out. Finally, top the dish with crushed toasted peanuts and cilantro. Similar to other kinds of Tiet, Tiet canh cua is eaten with herbs (heartleaf), green star-fruit, green banana, rice paper.
9. SALAD WITH YOUNG BEE

Bees in U Minh forests in Ca Mau eat nectar on cajuput flowers; its honey is rich-nutrient, tasty, and smelling distinct. Young bees in U Minh forests are bigger, greasier than other of their kind. The healthy and tasty U Minh young bees make the delicious Salad with a young bee.
Young bees are soaked in boiling water, drained off, and stir-fried with deep-fried shallots, fish sauce, pepper, and sugar. The young bees should not be overcooked. Otherwise, they will turn dry and not juicy. A must ingredient for the dish is a banana blossom which is shredded, soaked in vinegar water. Other herbs such as coriander, Vietnamese basil, garlic chives. Mix the young bees and veggies with a sweet and sour dressing from fish sauce, sugar, lime juice. Carefully so that young bees are not crushed. Top the dish with crushed toasted peanuts and decorate with some leaves of herbs or flowers made from chili pepper.
10. FRIED WILD MOUSE WITH LEMONGRASS AND CHILI PEPPER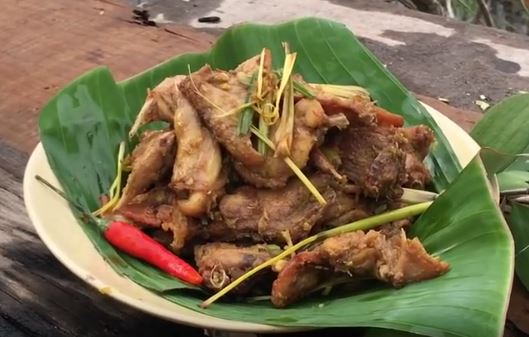 Fried wild mouse with lemongrass and chili pepper in Ca Mau province has been the best. The harvesting season from October to November in the lunar calendar is as big as a human wrist and outstandingly tasty. After preparing, the mouse is drained off, burned in a fire, then marinated with minced lemongrass and chili pepper, salt, fish sauce, sugar for about one hour. Then fry over medium heat until crispy, fragrant, and yellow. The dish is crispy outside but tender and a little chewy inside. The typical smell of mouse meat blends well with the smell of lemongrass. The dish is salty, sweet, and hot. It should be served hot so that it is still crispy and smelling. There is no better than eating a Fried wild mouse with lemongrass and chili pepper with steamed rice and aromatic herbs after a long day working or traveling.
11. PORRIDGE WITH MUDSKIPPER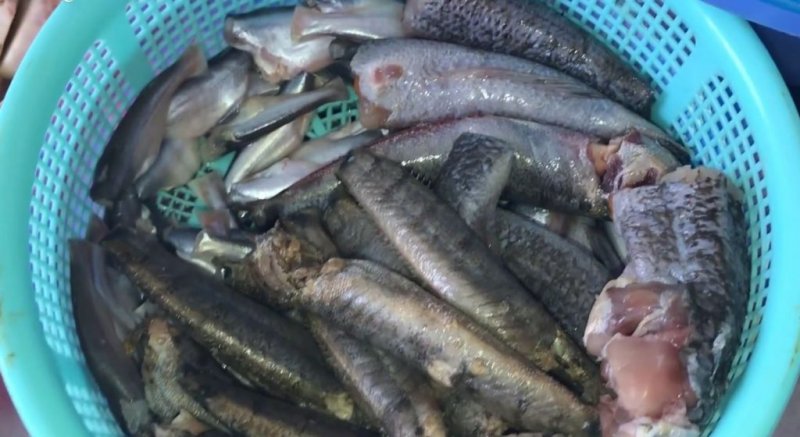 Although there are some delicious dishes from this kind of fish such as Braised mudskipper with black pepper, Hot pot with mudskipper, local people usually cook Porridge with mudskipper thanks to its comfort, easy and quick recipe.
It is effortless to cook Chao ca keo. Just cook rice in water until the rice tender and broken, season with salt, fish sauce. Wash mudskipper carefully; no need to remove the organs of this fish. The greasy and buttery organs of the mudskipper are the favorite of many people. Some prefer to eat the organs than the fish meat. Then put prepared mudskipper into the pot of porridge on the oven, cook until well-done but not too tender. Add some green onion stalk to the porridge. Serve the dish in a soup bowl right after cooking is better. Top it with some chopped green onions, coriander, ground black pepper. Fish sauce for dipping, sliced/minced ginger, lime wedges, and sliced chili pepper are could not missed.
12. RACH GOC THREE-STRIPED CRAB
Rach Goc three-striped crab (Ba khia Rach Goc) is a specialty of Ca Mau province and the Mekong Delta region of Vietnam. It has a dark brown shell with three stripes so that we call it a three-striped crab (Ba khia). This kind of crab lives in brackish and saltwater in mangrove forests. The best time to eat the best Ba khia in Ca Mau is from August to October. Local people choose good three-striped crabs with thin skins, red pincers, firm flesh, lots of eggs. Fresh three-striped crabs are washed, marinated. The cook should follow the right ratio of crabs to spices so that it is salty enough and the color of the crab shells remains the same as it is alive after 3 weeks. Some delicious dishes from Ba khia:
Fermented three-striped crab (Mam ba khia),
Toasted three-striped crab with unrefined salt,
Toasted three-striped crab with tamarind,
Steamed three-striped crab with beer,
Deep-fried three-striped crab,
Stir-fried three-striped crab with Vietnamese mint,
Stir-fried three-striped crab with sautee,
Fried three-striped crab with fish sauce,
Salad with three-striped crab,
Salt-preserved three-striped.
13. U MINH DRY SNAKESKIN GOURNAMI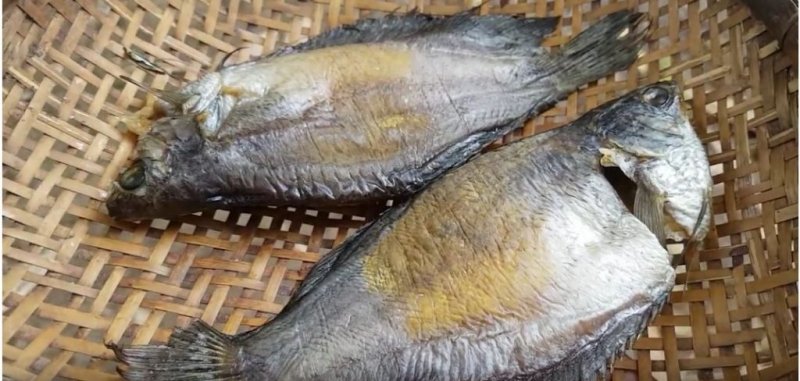 Snakeskin gournami in U Minh district, Ca Mau province, has been said to be the most delicious. The reason may be U Minh is lower than the sea level and under cajuput forests which are a good environment for seaweed, kelps which are favorite foods of snakeskin gournami.
It is not simple to make Dry snakeskin gournami. They make this food in the dry season when many snakeskin gouramis and the sunlight are strong. The fishes must be chosen carefully; the fishes must be fresh, as big as a human hand. The fishes are prepared, soaked in saltwater, soaked in cold water, then dried under the sun for about 3 days. If they are dried for too long, their fleshes will be too dry and hard. Otherwise, it will be tender and not firm, not crunchy.
The simplest way to cook Dry snakeskin gournami is grilling, then shredding and dipping in a mix of salt and chili pepper. Another way is cutting into smaller pieces, frying, dip in tamarind fish sauce dip. These two dishes are usually eaten with steamed rice and herbs, veggies.
Salad with Dry snakeskin gournami is a great dish. After grilling or frying Dry snakeskin gournami, use a knife to beat the dry fish to make its grain tender. Then shred into strips, remove bones and mix with shredded green mango or nimtree leaves. Next, pour sweet-sour fish sauce and top the dish with minced coriander. Now we have an amazing salad.
14. BRAISED EEL WITH BUFFALO SPINACH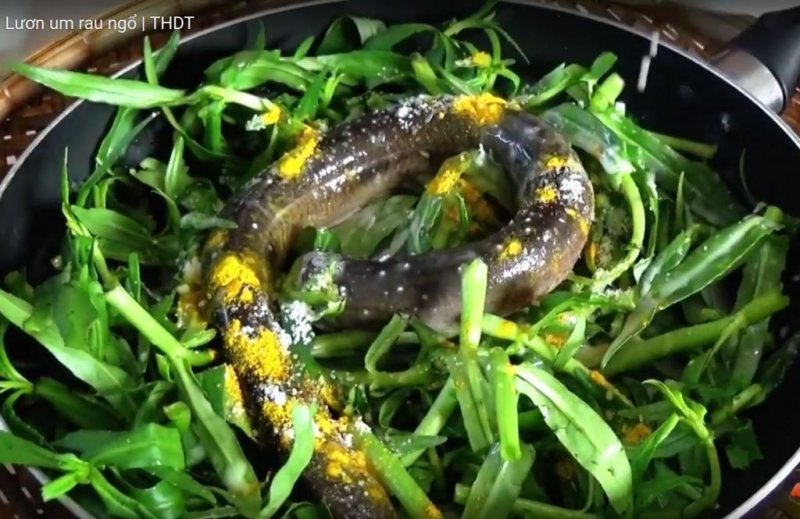 Although there are dozens of eel recipes, Braised eel with buffalo spinach (Luon om rau ngo) is a very famous specialty food of Ca Mau province.  Ingredients for Luon om rau ngo are eel, buffalo spinach, turmeric powder, peanuts, herbs, coconut milk. The first step is preparing eel which has mucus skin. People in Mekong Delta usually use wood ash or a mix of water and vinegar to remove the mucus and odor of the eel, then remove the guts, cut the eel into about 5-cm chunks.
Put a layer of buffalo spinach at the bottom of a pot, put prepared eel onto the vegetable, pour coconut milk into the pot, add turmeric powder, spices and green onion. The eel chunks are arranged into circle skillfully. The coconut milk should cover the spinach and the eel. Leave for 15-20 minutes before cooking. Cook over low heat for about 20 minutes. The lid should be closed during braising. Top the dish with herbs and crushed toasted peanuts. The greasy, a little bitter broth plays off the tender, a little chewy eel and refreshing, a little crunchy, bitter buffalo spinach chunks make a great dish ever. This amazing dish is dipped in a sauce made from coconut milk, fermented soybeans, lemongrass, chili pepper. Luon om rau ngo is served with steamed rice of rice noodles.
15. SILKWORM CAKE WITH CURRIED CHICKEN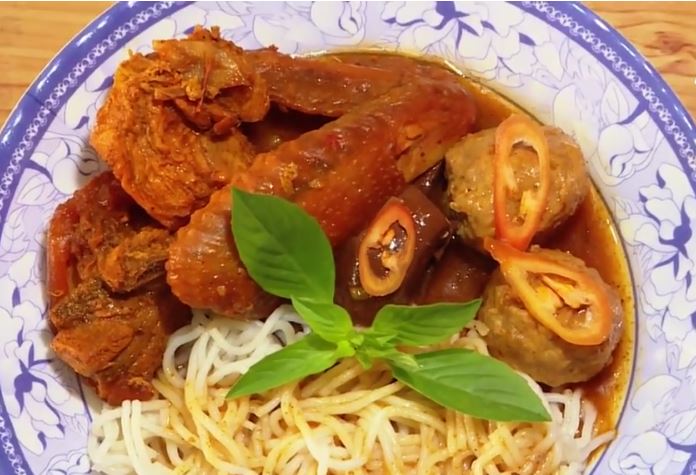 Travelers should not miss tasting Silkworm cake with curried chicken (Banh tam ga cay) – a specialty food of Ca Mau province. Banh tam ga cay has 2 main parts: Silkworm cake (Banh tam) and curried chicken. The cake is noodles which look like silkworms so that we call it silkworm cake. It takes many steps to make the cake. Choose high-quality rice, soak the rice in water overnight, grind with water into a mix of water and rice flour. Cook the rice flour water mix over low heat to receive a dough. The strongest person in the family covers a big flat tray with a thin layer of dry rice flour, uses his hand to form the dough into white noodles which are as big as silkworms. The noodles formed by hand are chewier than that are made by machine. After forming, the noodles are boiled in water until well-done. The noodles should be tender, a little chewy and milky white.
To cook curried chicken served with silkworm cake, it needs clove, star anise, turmeric powder, cinnamon, coriander seed, dry chili pepper. These spices are toasted, then ground and used to cook with chicken. To serve, top silkworm cake with hot curried chicken, pour some broth onto the cake. Vegetables (bean sprouts, salad), herbs, kumquat/lime, ground black pepper salt could not be missed.
16. GIANT MUDSKIPPER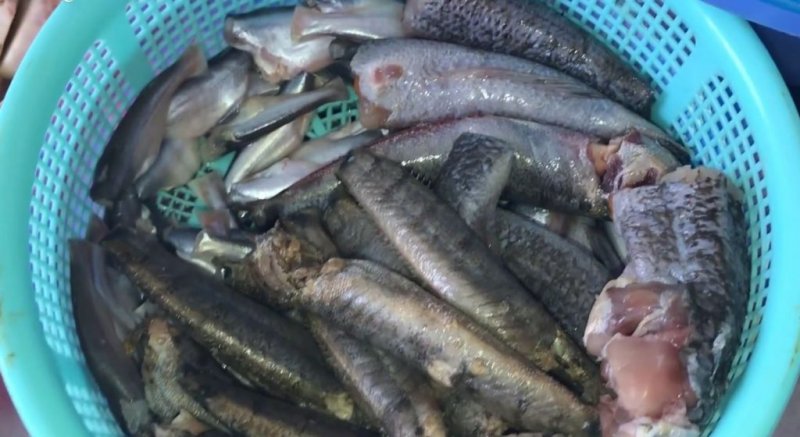 Giant Mudskipper is listed as one of six strangest animal species in the world for its prominent eyes. It lives in a burrow in the mud and emerges from the burrow at low tide on sunny days. It can move quickly across a muddy surface and can breathe both in and out of the water. It can also climb trees. Giant mudskipper eats fiddler crabs, shrimp, and smaller fishes. Due to moving continuously, giant mudskipper flesh is substantial and tasty. This kind of fish is a common food for meals in Ca Mau. Followings are some giant mudskipper recipes:
Braised giant mudskipper with ground black pepper,
Deep-fried giant mudskipper,
Sweet and sour soup with giant mudskipper and fermented steamed rice,
Grilled giant mudskipper with salt and chili pepper,
Dry giant mudskipper.
TAG: