Swinging to pick the "most popular social network" fruit to earn half a million a day
Because the company has no orders, some workers who have no jobs or have their working hours reduced go to mangosteen orchards in Binh Duong to get hired for fruit picking, with a salary of 400,000-500,000 VND/day. .
In recent days, mangosteen is in the harvest season, many gardeners in Binh Duong are mobilizing manpower to collect to supply to the market.
This is also the time when gardeners create seasonal jobs with good income for many workers who have lost their jobs or reduced working hours. Many unemployed workers flocked to mangosteen orchards in Thuan An city to pick fruits for rent to earn money to cover their living expenses.
The mangosteen garden is about 8 hectares wide, owned by Mr. Nguyen Quang Tro's family (another name is Nam Tro, in An Son commune, Thuan An city, Binh Duong) currently has 10 workers picking for hire.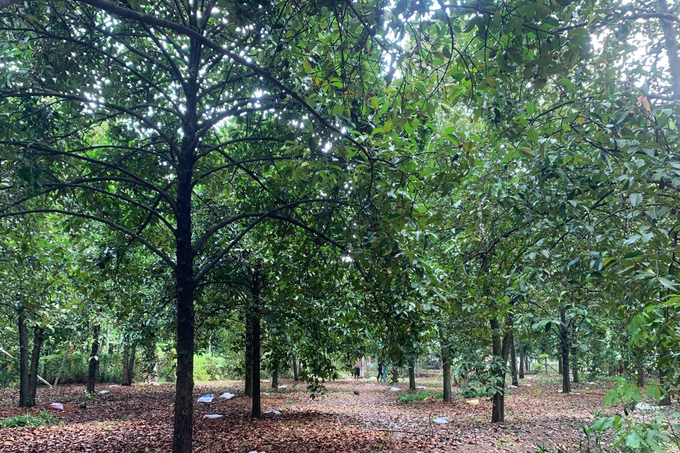 Mr. Tro's mangosteen garden is one of the oldest farmers growing this fruit tree in Thuan An city. The garden was formed before 1975 and has been nurtured and cared for by three generations of homeowners.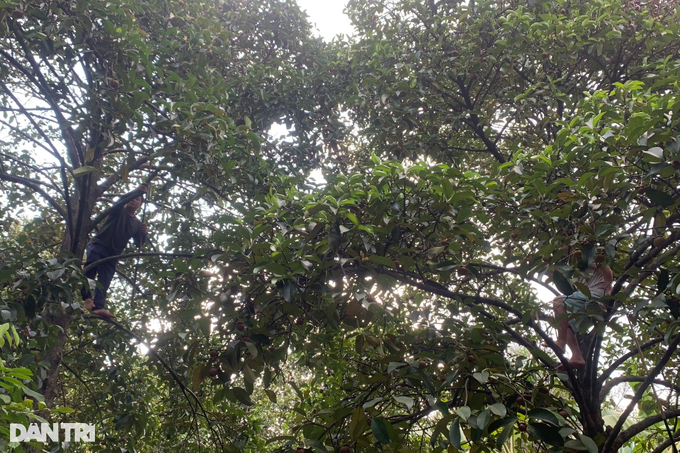 To pick the mangosteen from above, the harvester must climb the tree, use homemade sticks to snatch, cut the mangosteen to fall to the ground. At the bottom, someone will pick up mangosteen, put it in a basket and bring it back to gather, sort, process and supply to the market.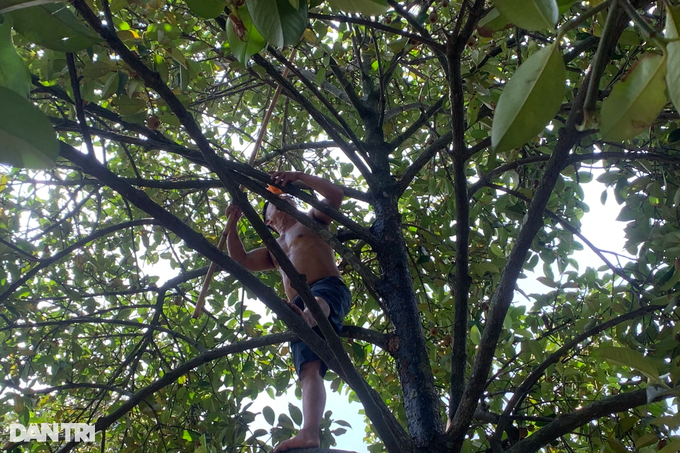 An employee for Mr. Tro's family was naked to cool off the heat, this person climbed up a tens of meters high mangosteen tree to find old and ripe fruit to pick.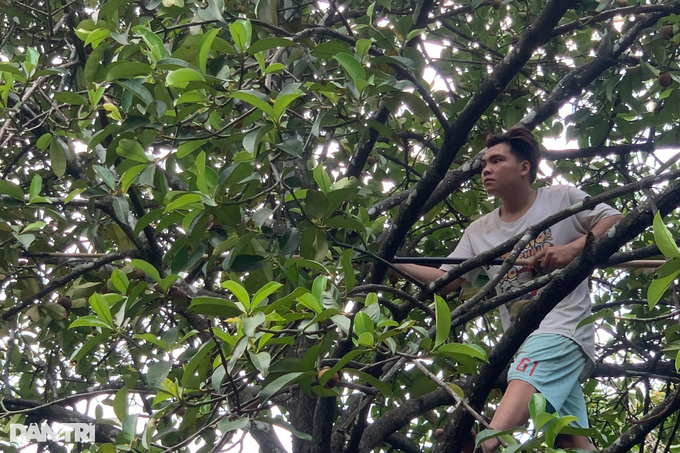 A male worker takes advantage of picking mangosteen in the morning to earn extra income, and returns to work at the company in the afternoon. He was paid 200,000 VND for picking mangosteen in the morning.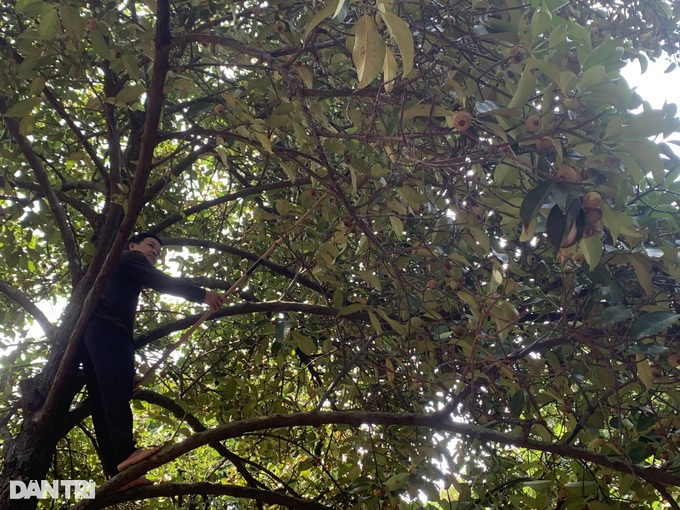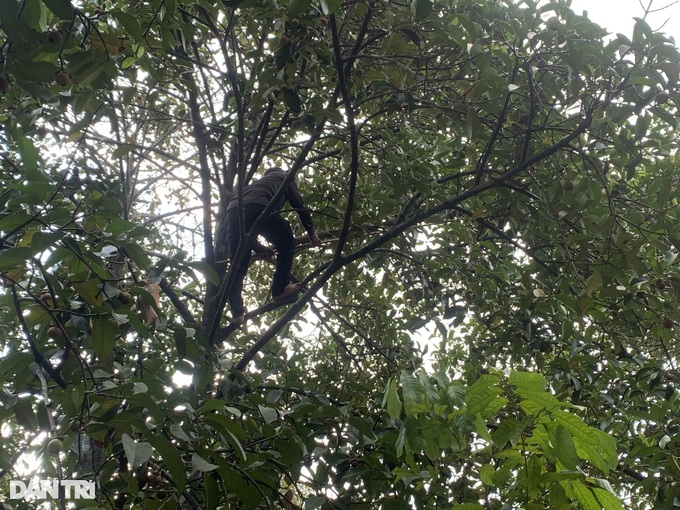 Mr. Nguyen Thanh Nam works as a water painter, currently unemployed, and enlists the help of Mr. Tro's mangosteen garden to apply for a job. His working day starts from 7:30 a.m. to about 5:00 p.m.
According to Mr. Nam, in addition to having to know how to climb trees, the person doing this job also needs to learn to recognize old and ripe bamboo shoots. Although somewhat dangerous, but having a job, providing enough income to support his wife and children, for Mr. Nam, this seasonal job is quite good.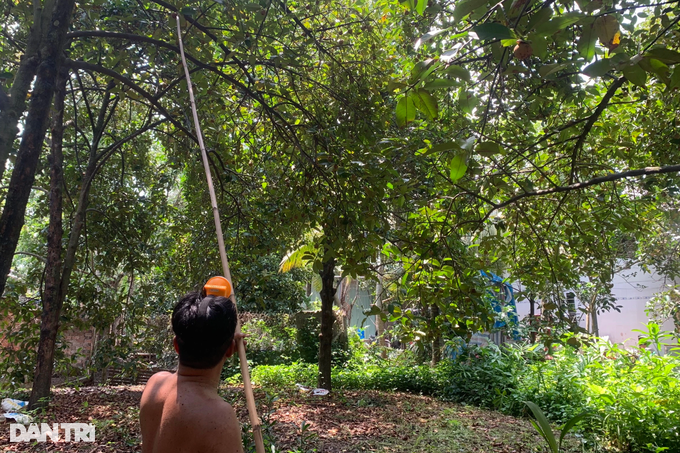 This man said that he had to wear a lamp on his forehead to see the ripe fruit clearly because his eyes were blurred due to age.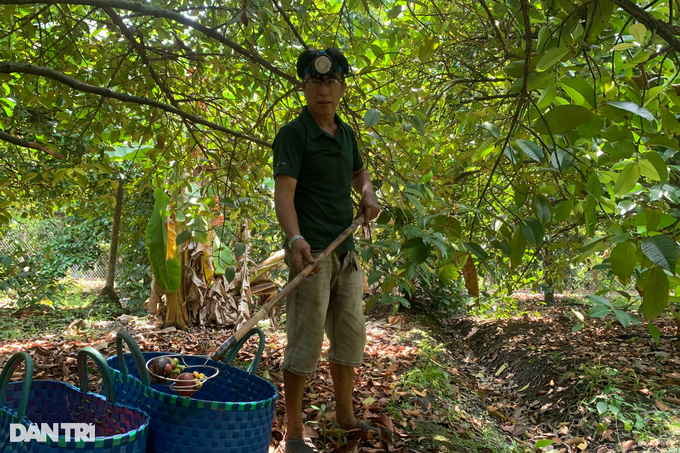 Because the wood company did not have orders, this man lost his job and also chose to hire mangosteen to earn income.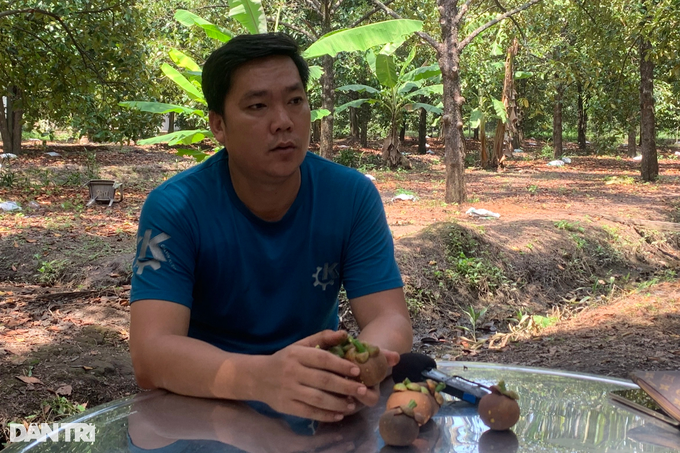 Mr. Nguyen Quang Tro said, many people order green mangosteen at a high price, but very few growers in the area are willing to pick and sell because picking green bamboo shoots must always cut off the petiole, causing the tree to deteriorate, affecting the autumn season. plan next year. Therefore, his family will wait for the fruit to ripen to harvest, not sell green mangosteen.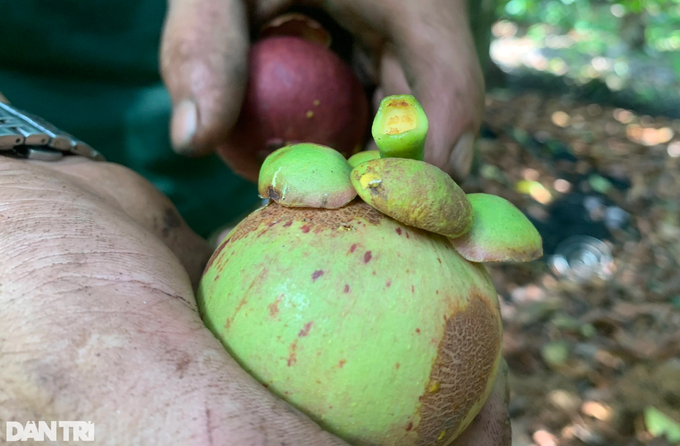 Picking mangosteen for hire every day, workers are paid from 400,000-500,000 VND. The hired pickers will work all afternoon to avoid the rain in the afternoon. Skilled people only need to look at the outer shell to know which mangosteen fruit can be picked, avoid picking the green fruit.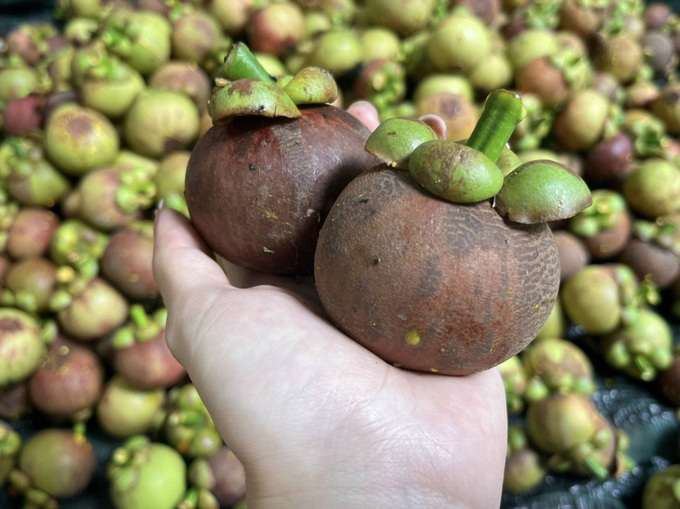 In Binh Duong, the price of peeled green mangosteen ranges from 400,000-500,000 VND/kg, ripe mangosteen costs from 60,000-90,000 VND/kg.
($1=24,000 VND)
Photo: Internet (Vinlove.net)
TAG: