My Tho noodle soup – a famous specialty of Tien Giang
Besides the sweet and savory broth of the West, the dish also scores thanks to the small, dry, chewy, and crispy noodles.
My Tho noodle soup is a famous brand in the South, next to Sa Dec and Nam Vang noodles. This is one of the dishes that can be used for all three breakfasts, lunches, and dinners that are very familiar to the people of the Southwest region.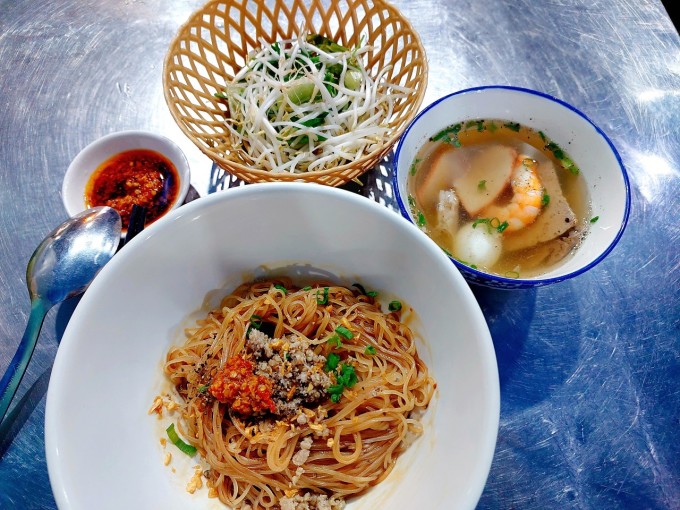 Diners can enjoy My Tho noodle soup in dry mix form, with a cup of broth with sliced ​​meat, liver, pho, shrimp, egg. Photo: Khanh Thien
Ms. Tu – a long-time noodle seller – shared that My Tho noodle soup appeared around the 60s of the 20th century. Over time, the name My Tho noodle soup has become one of the famous specialties in Tien Giang, is known and loved by many tourists.
One of the recognizable points of this dish is the small, dry, chewy, crispy, slightly sour noodles made from Go Cat rice in My Phong commune, My Tho city. This is the type of rice that, when mixed with water, then hot coated, dried, will be cut into tough noodles.
In addition to the typical cake, the noodle dish is also impressive by the sweet, aromatic and rich broth. Tu revealed the secret to having a delicious pot of soup that cannot be without tube bones, dried squid, dried shrimp, white radish and some other ingredients. In particular, this dish also has sliced ​​meat, minced meat, liver, shrimp … with raw bean sprouts, lettuce, celery, fried onion, lemon, chili, pepper, satay.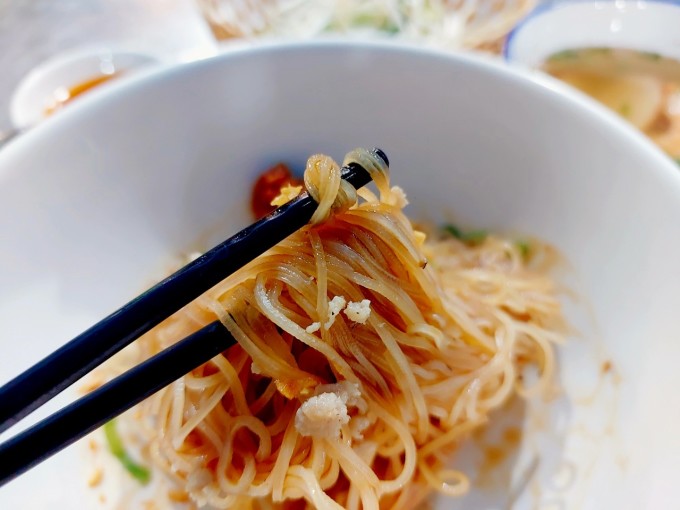 My Tho noodles are small, tough and crispy, made from Go Cat rice, My Phong commune. Photo: Khanh Thien
When diners order, the seller will blanch the noodles in boiling water for a few minutes. If left for too long, the noodles will be friable or soft, not delicious. Then, the seller will put the noodles in a bowl, add some fat, fried onions, soy sauce and mix well. This way helps the noodles to be clear, shiny and eye-catching.
My Tho-style bowl of noodle soup usually has a lot of minced meat. After mixing the noodles, the seller continues to put the fried minced meat on top. If diners choose to eat noodles in the form of water (the broth is poured directly into the bowl), the seller will arrange "toppings" such as sliced ​​pork, liver, pho, shrimp, squid, quail eggs.. . to the top, then pour the broth in. Finally, sprinkle some scallions, grease, fried onions… for aroma.
Some other diners choose to enjoy My Tho noodle soup in a dry form (no broth). The seller will scoop the broth into a separate bowl, inside there will be more meat, liver, shrimp, pork, onions and pepper… The freshly cooked noodles will be mixed with a little soy sauce, sugar vinegar to harmonize the seasoning. to serve with a cup of broth.
If you like a richer taste, you need to add a dipping sauce consisting of ingredients such as soy sauce, a little lemon, sugar, add fresh chili or satay. All these ingredients have been placed at the dining table to help diners mix to their liking. The cup of dipping sauce can be dipped with the accompanying "topping".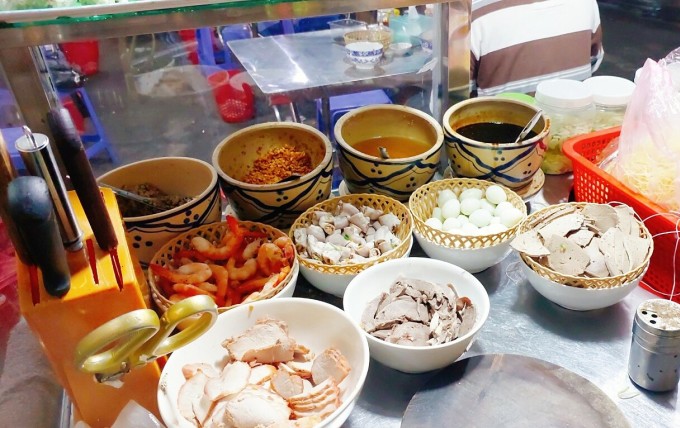 The indispensable "toppings" in My Tho noodle bowl include pho, liver, heart, sliced ​​meat, shrimp, quail eggs… Photo: Khanh Thien
Currently, My Tho noodle soup has become familiar and close to many people. In Ho Chi Minh City, if you like this dish, you can visit shops on Cach Mang Thang Tam Street (Tan Binh District), Hung Vuong (District 5), Le Van Tho (Go Vap District), Hoa Mai (Phu District). Profit)… The price of a bowl of noodles starts from 35,000 VND.($1=25,000 VND)
TAG: