Da Lat style wet cake with chicken hearts
HO CHI MINH CITY – A piece of Da Lat-style wet cake with meat and chicken intestines, soft-boiled eggs, pork tongue, and heart, with fish sauce full of flavor.
Appearing in Saigon 4 years ago, Mr. Phuoc Giau's wet cake shop on Thien Phuoc Street (Tan Binh District) attracts a large number of diners from near and far, with the quantity of 600-700 pieces sold per day. This is one of the culinary addresses that attracts many devotees who love delicious Dalat dishes.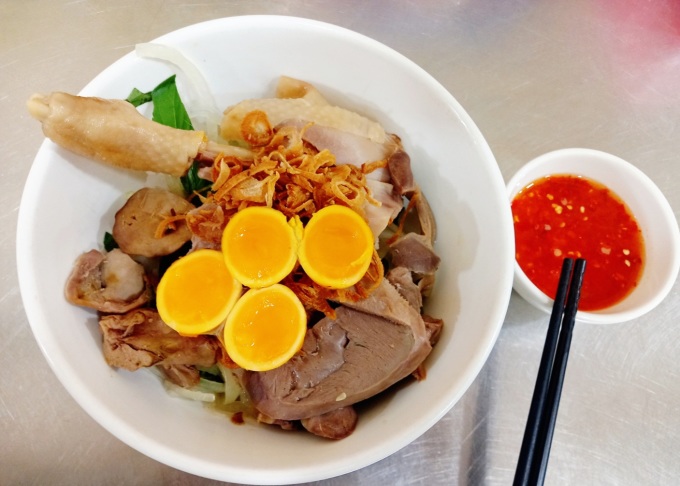 A special part of wet cake with chicken intestine includes chicken, chicken intestine, pork heart, pork tongue, 2 peach eggs. Photo: Khanh Thien
The owner said that because of his passion for chicken intestine cakes during a trip to Da Lat, he decided to find out and open a shop right in Saigon, both serving diners and satisfying his passion for food.
In order for the dish to please many diners, he has chosen ingredients of clear origin, fresh and with a little variation to suit the taste of Saigon people. For example, chickens are the first hens to lay the first litter, so that the meat is chewy, sweet but not dry, and has young eggs. The wet cake will be taken from the familiar oven, handmade. The cakes here are thick, chewy and do not fall apart when re-steamed.
Besides choosing chicken, wet cake… for Mr. Giau, the special feature of this dish is the soft-boiled eggs. In particular, to boil soft-boiled eggs requires knowing how to choose young and fresh eggs (not using frozen eggs), combining with appropriate time and temperature adjustment. With this experience, the young eggs of the restaurant when boiled have eye-catching colors, the peach heart is very fatty, but not fishy.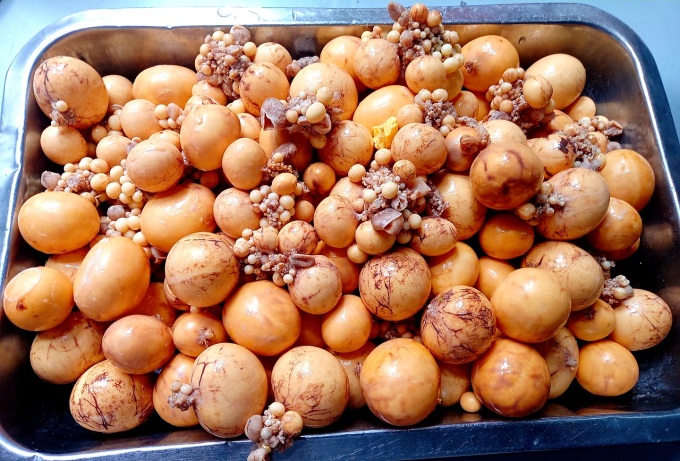 Boil young eggs with temperature and adjust the time to have a soft but not fishy. Photo: Khanh Thien
The chicken hearty cake is indispensable with dipping sauce. According to Mr. Giau, because he is a native of the West, he is used to eating everything that must be sweet, so he has failed many times when he started making dipping sauce. "Many times commented by diners, just a short time after opening the restaurant, I successfully reduced the dipping sauce with all kinds of salty, sweet, sour, spicy flavors, suitable for Saigon people", the owner said. good.
A part of the cake at the shop consists of wet cake that is steamed hot, then taken out and placed under the bowl, on top of onions that have been soaked with spices and herbs (in Da Lat, laksa leaves); Arrange the intestines, chicken thighs, and fried onions on top. The last step is to add 2 young chicken eggs cut in half to make the dish look more eye-catching, with a cup of dipping sauce with a harmonious taste.
Ms. Ngoc Hanh, District 3, Ho Chi Minh City, shared that she really liked the wet chicken cake at this restaurant because, in addition to the hot cake, the chicken was chewy, sweet, not dry, with sweet, sour and salty sauce in harmony and taste. .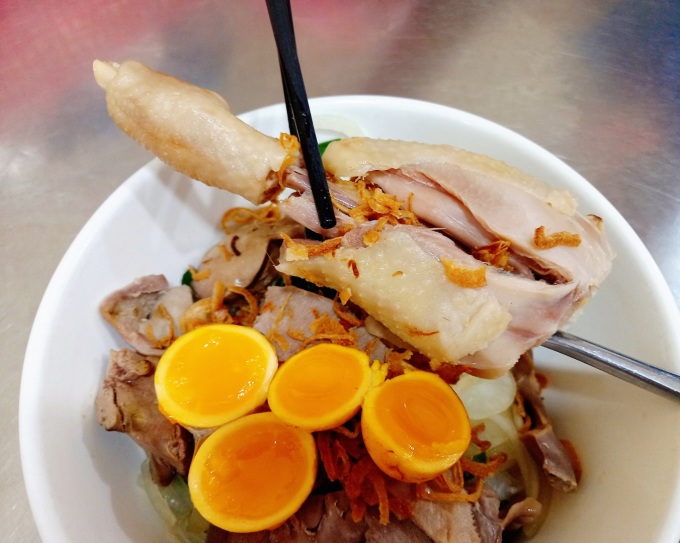 The chicken is tough, not dry, and the soft boiled eggs are mixed with other ingredients. Photo: Khanh Thien
The shop is open from 8 a.m. to 9 p.m. every day, most crowded from 11 a.m. to 13 p.m. and 6 p.m. to 8 p.m. On average, the restaurant sells about 40 chickens, 80 kg of wet cake every day… One limitation of the restaurant is that the space is small, so it is difficult to sit and eat on the spot, especially during peak hours. There is also no large parking space here, so it is ideal for customers to take away or call to order applications.
A special part of chicken intestine wet cake including chicken, chicken intestine, pork heart, pork tongue, and 2 peach-boiled eggs costs 48,000 VND. Besides, the shop also has many other dishes such as noodle soup, chicken heart porridge, salad…
TAG: