MOANA Sapa is the hottest virtual paradise in 2022
In recent years, Sapa tourism has had many beautiful virtual check-in points to serve tourists. The latest is on February 17, 2021, Sapa inaugurated a brand new amusement park, which is called Moana Sapa, it is like a miniature Bali right in the heart of Sapa. Please add this wonderful place to your travel itinerary right away. 
What's HOT in the new virtual living spot in Sapa?

1. Bali Heaven Gate
"Heaven's Gate" is considered a famous landmark in the Pearl Island of Bali, with a design inspired by ancient temples, so many remakes of Bali's heaven gate have appeared around the world, including Vietnam.
Although there was a very famous O Quy Ho heaven gate in Sapa before, as soon as the Bali heaven gate in the Moana tourist area – a new virtual living spot in Sapa was born, it immediately caused a fever and attracted a large number of visitors. The island was visited because the architecture was too similar to the original.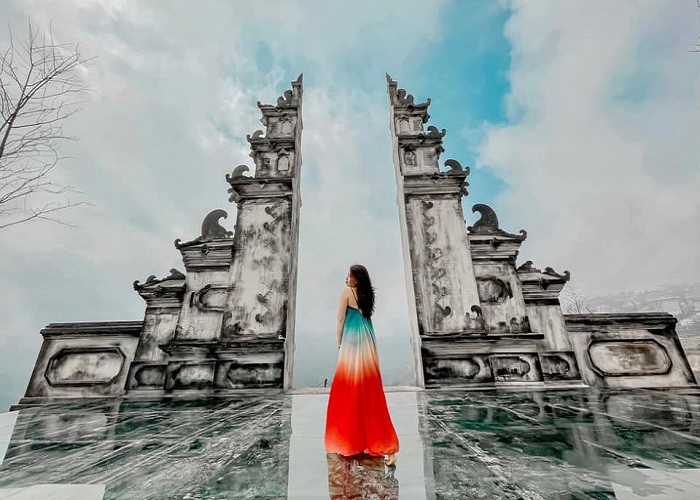 Super impressive heaven gate (Photo Fb Huyen Ruby)
Moreover, the tiles below are used respectfully throughout, which can reflect the image like a mirror, so no additional effects or accessories are needed, just pose naturally and you have a beautiful picture like in Bali already. And because it's located at a height that can capture the majestic mountains and vast blue sky, no matter what time you come, you can buy "quality like distilled water" photos here.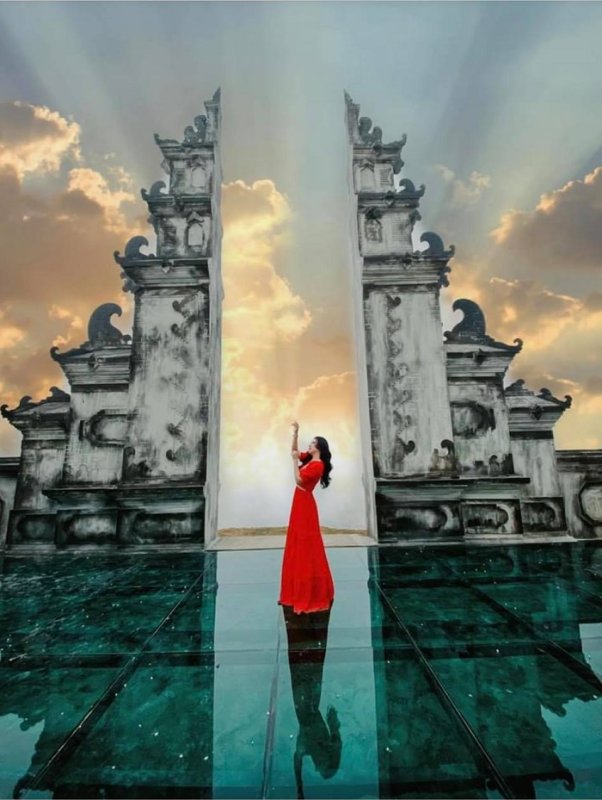 Super cool virtual life at Bali's heaven gate (Photo Fb Le Yen)
2. Moana Girl Statue
"Moana" is a very popular and successful animated film by Walt Disney in 2016, since then the image of the brave Moana girl has become an endless inspiration for many works of art and architecture. bamboo. 
If you are a "customer" of Da Lat, you may also know that in the foggy city there is also a tourist destination with a statue of Moana, but the statue of Moana girl in the "brand new" virtual living spot in Sapa is impressive. due to its monumental scale and total height of up to 6m. The image of the giant Moana Sapa girl with her eyes closed and raising her hands as if lifting something in the deep blue sky, will definitely make your photo unique.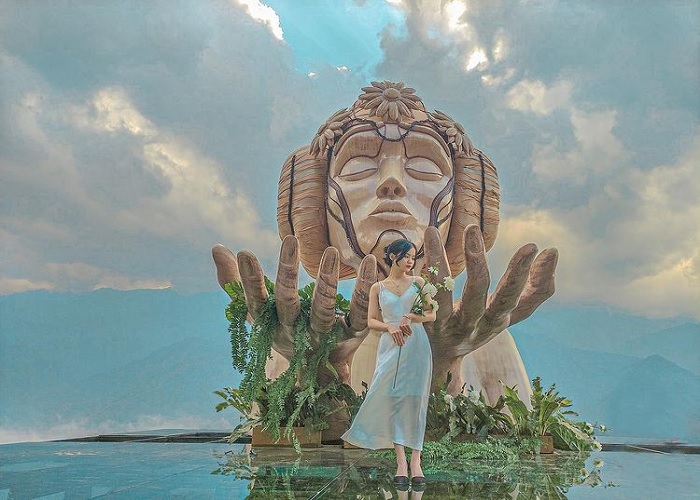 Unique Moana girl statue (Photo @lalinmoonnn)
3. Infinity Lake
Infinity Lake is not a strange destination, especially for the "rich kid" world, because most resorts or luxury hotels now provide this service. However, putting the lake into a tourist area with a "popular" price, not everywhere dares to do it like Moana Sapa .
Like many other infinity pools, this lake also has crystal clear water like a mirror, reflecting the color of the sky and clouds, when the sunlight shines on, it becomes sparkling like silver. However, its highlight is the piano located in the middle of the lake. It was inspired by the scene of Captain Ri in a white shirt playing the guitar on the bank of a super romantic lake in Switzerland in the Korean movie "Crash Landing on You" once hit.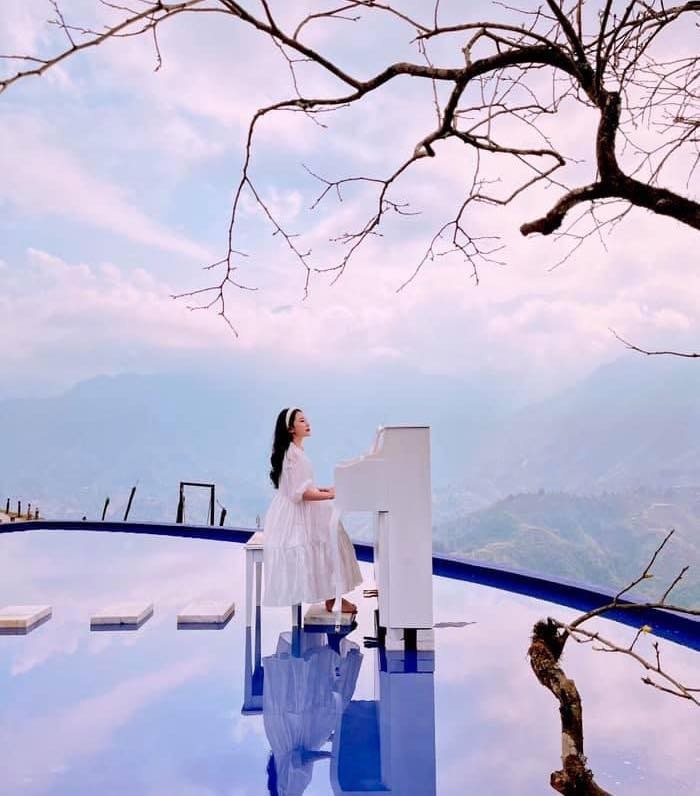 A poetic piano in the middle of the pool (Photo: On Ngoc Linh)
Therefore, if you wear a leisurely outfit and then sit and wander by the piano, in the distance are rolling mountains, above is the blue sky, surrounded by white clouds like cotton embracing the body, sometimes Once in a while, the wind blows and blows the hair and skirt, it's like sitting in paradise.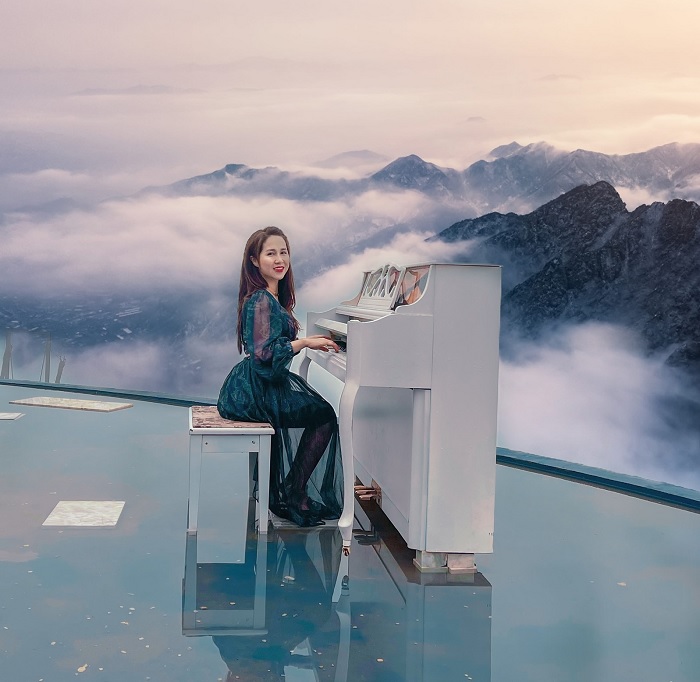 Beautiful scenery like paradise on the lake (Photo Facebook Hanh Nguyen)
It can be said that, with just a little creativity and quick "catching the trend", this new virtual living spot in Sapa knows how to take advantage of "late birth" to make itself unique instead of just a copy. boring star of an existing construction.
4. Golden hand
Another super-impressive virtual living corner at Moana Sapa resort is a giant golden hand floating in the air as if it wants to catch the whole majestic Northwest. Especially coming here on misty days, visitors also feel like sitting in the middle of a fairy tale scene in a fantasy movie.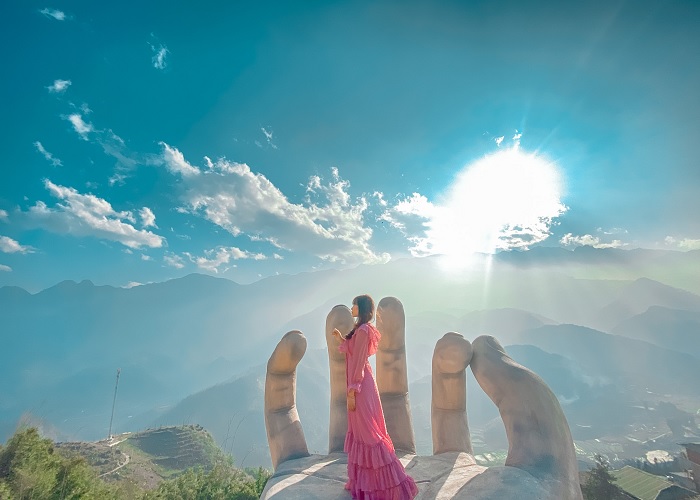 As beautiful as a fairyland (Photo Facebook Tran Nhat Anh)
5. Swing of death
As a "virtual maniac" who loves thrills, the death swing at the new virtual living spot in Sapa is your "paradise". The feeling of being swayed in the vast space, as if you can reach the clouds and be blown by the cool breeze will surely make you fall in love with it.
In particular, do not close your eyes when you are taken up high, because you may miss the green color of the forests, the bright yellow color of the ripe rice fields and the lovely villages hiding under the brilliant wildflowers. in the distance – beautiful like a fairy scene.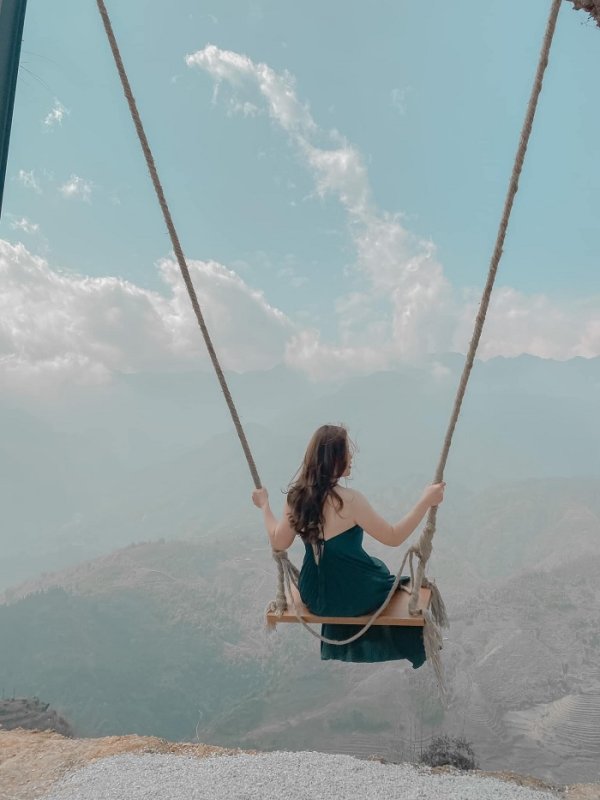 The dreamy scene under the swing (Photo Facebook Moana Sapa)
6. Lonely tree
Lonely tree can be said to be a virtual "specialty" stretching across the S-shaped strip of land, Sapa alone has a few trees in O Quy Ho pass or Swing Sapa, but it is still extremely attractive to tourists. Moana Sapa because of the image of thin, thin and alone in the vast sky and earth, it seems that there is no life left but still strangely steadfast.
Moreover, around the tree is a very large lawn for visitors to organize a small picnic party. So, just a carpet with a gentle pattern, decorate with a little fruit, cake and coffee or wine, beer, you can both relax and have thousands of extremely impressive photos.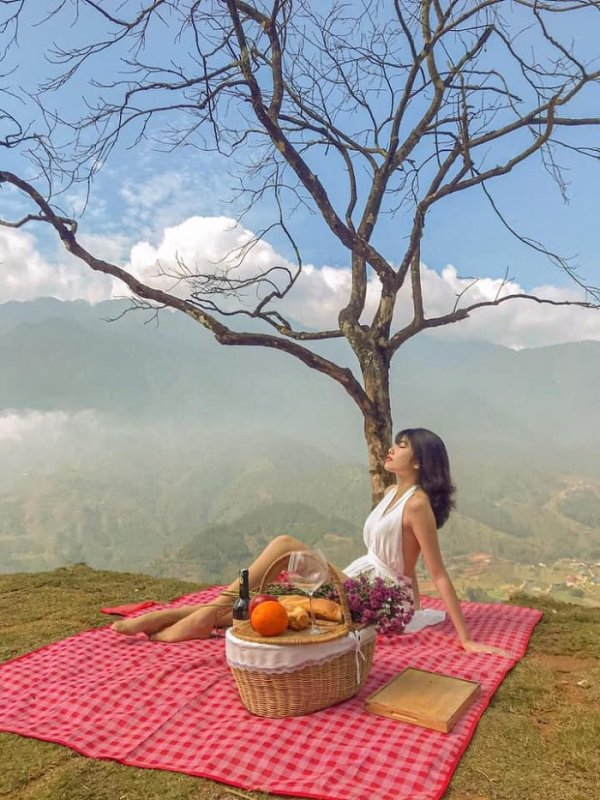 Live virtual so deep at the lonely tree (Photo Fb Huyen Trang)
7. Coffee area
If you take a photo, don't forget to stop by Panorama coffee shop in the new virtual living place in Sapa to rest. Here, you can not only sip a cup of hot, fragrant coffee or a cup of cool fruit tea in the gentle fluttering love songs, but also admire the beauty of the poetic Lien Son range. The majestic Fansipan peak and the dreamy Muong Hoa valley in the distance are too ideal for a vacation, right!
The cafe has a super nice view (Photo @nana_libra90)
How to move to a new virtual living spot in Sapa 
From the center of Sapa town, visitors can use motorbikes or cars to go west on Thach Son towards Pham Xuan Huan, then turn left at the People's Committee of Ham Rong ward to Pham Xuan Huan, then turn left Turn right at Tho Cam Dung Nhu Store to Tue Tinh, continue to turn left at Friendly Hotel, enter Cau May Alley, then turn right to Violet Street to arrive.
Besides, because this new virtual living spot is not too far from the center, if you go with a lot of people, you can take a taxi or tram to move around, it's not difficult to find it, but it's also not expensive. out too much. Rest assured that trams and taxis are parked a lot in the town, so you just need to wave and you will be caught immediately.
Some notes when visiting the Moana Sapa tourist area
Opening hours : 7 a.m. to 5 p.m. daily.
Ticket price : 
There are 4 types of entrance tickets from 80,000 VND / person to 180,000 VND / person.
Tickets include free drinking water.
Particularly with combos from 150,000 VND, visitors are provided with additional clothing rental services at Moana Sapa to live virtual.
Time to visit : It is recommended to take photos in the early morning or late afternoon at sunset to make the photo more magical and attractive.
How to behave : When organizing small parties and picnics inside the resort, you must follow the regulations of the management board.
Costumes and accessories :
Please wear bright and vibrant colors such as: blue, red, orange, yellow… to stand out in the picture.
Because it is a place to live virtual, surely cameras and phones with full batteries are indispensable items, to be more sure, you can bring backup chargers.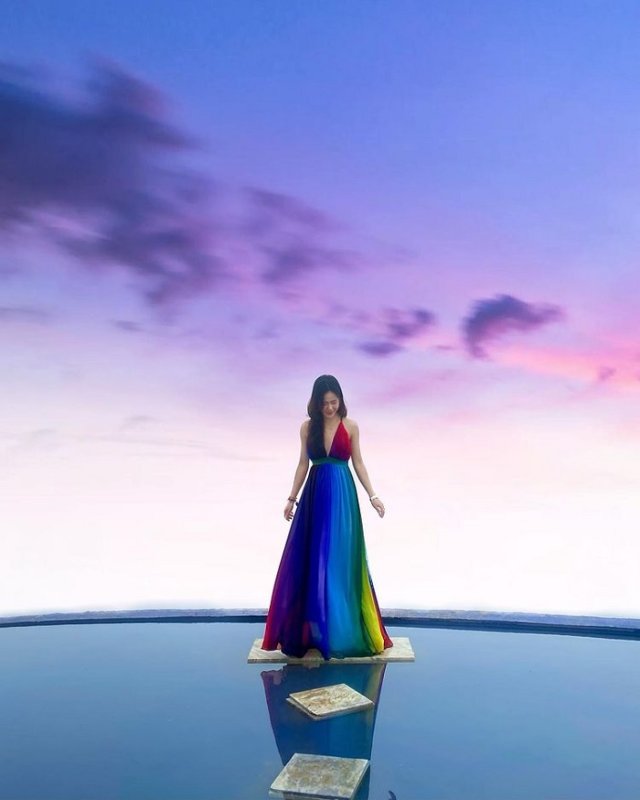 Outstanding costumes will make the photo impressive (Photo @hip.tw88)
If you are too familiar with heaven's gate, Fansipan and ethnic villages, refresh your Instagram with beautiful views like Bali at the new virtual living spot in Sapa – Moana Sapa , let's go!
Photo: Internet
TAG: