International Yoga Day 2022: Five ideal destinations in Vietnam for yoga practitioners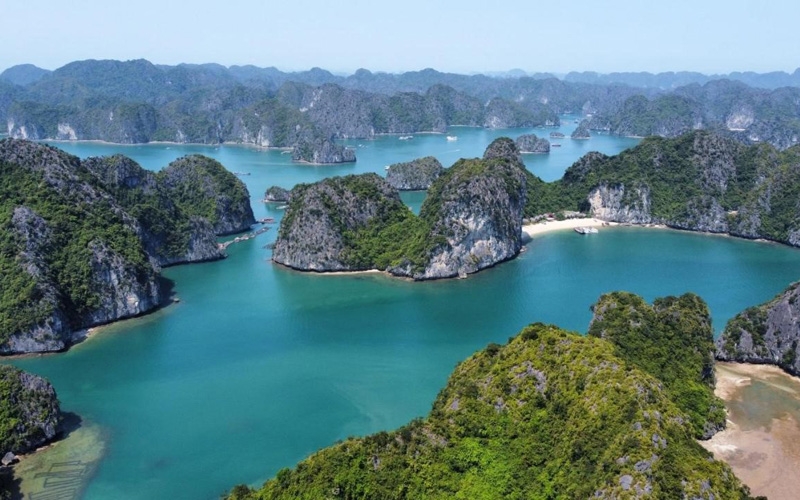 Outdoor yoga can help to relax your body and refuel on energy from nature.   
NDO - If you want to celebrate a memorable International Yoga Day (June 21) and escape from the sweltering summer in big cities, the following five natural destinations are ideal options for relaxing your body and refuelling on energy from nature.
Yen Tu Mountain, Quang Ninh Province
Nestled in the hills and bamboo forests in the north-eastern Vietnam is Yen Tu Mountain, which is known as a cradle of meditation. Bestowed with picturesque natural scenery and a time-honoured history, the road to Yen Tu is said to be the path to peace and tranquillity.
Visitors can reach the top of the mountain by cable car or by hiking, during which they can admire the breath-taking scenery of Yen Tu National Forest and leave all their troubles behind them. There are many religious places for tourists to visit to meditate such as Truc Lam Yen Tu Zen Monastery, Giai Oan Stream, Hoa Yen Pagoda, Hue Quang Tower, or Dong Pagoda.
Legacy Yen Tu - McGallery is the ideal destination for yoga activities
Recommendation for accommodation: Located near Yen Tu Mountain, the 5-star Legacy Yen Tu - McGallery Hotel provides the perfect space for your spiritual vacation. The property offers a wide range of yoga-meditation activities, from shared classes to individual sessions. Visitors can also admire the spectacular classical architecture of the 13th century, enjoy world-class service and sample assorted culinary options.
Ba Be Lake, Bac Kan Province
The peaceful landscape and unique culture of local ethnic groups make Ba Be Lake a tourist magnet of the north-eastern region of Vietnam, and also the perfect destination for authentic yoga sessions.
Visitors can stay at the traditional stilt houses of the local Tay ethnic people located around the lake to feel the primordial energy from heaven and earth as well as the hospitality of the locals. They can also taste traditional savoury dishes and aromatic rice wine as well as take part in canoeing and fishing activities.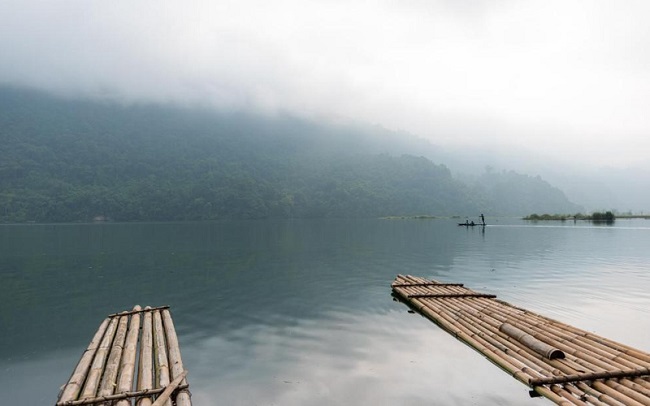 The poetic scenery of Ba Be Lake makes it a perfect place for meditation.
Recommendation for accommodation: Minh Quang Homestay is surrounded by lush gardens and stunning mountain views. From the homestay, guests can go boating on the lake, go hiking in the mountains, and enjoy a cosy outdoor BBQ.
Mai Chau District, Hoa Binh Province
Only 139km from Hanoi, Mai Chau District is a suitable option for a get-away weekend or short trips. The poetic Mai Chau Valley attracts visitors thanks to its pristine mountain scenery, traditional villages of ethnic groups, and the elegant Xoe dances of Thai ethnic women.
Mai Chau boasts an idyllic countryside appearance with green rice fields and peaceful villages, making it a perfect place for yoga enthusiasts to relax and free their minds from the hustle and bustle of life.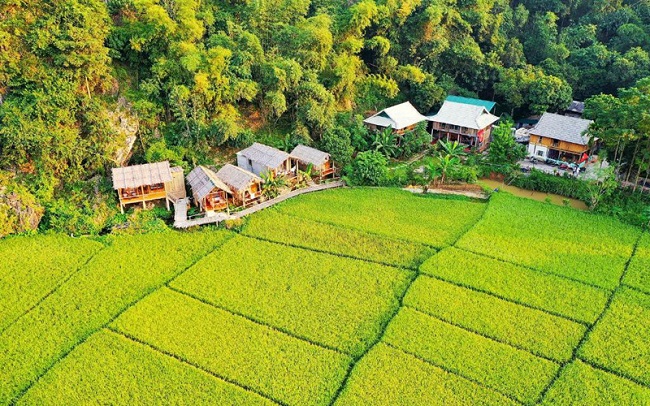 The poetic Mai Chau Valley is definitely the ideal place for yoga enthusiasts to feel in harmony with nature.
Recommendation of accommodation: Little Mai Chau Homestay ranks on the top of the list for relaxation and comfort. No matter which type of room is booked, guests can look out over the vast fields and mountains to feel the relaxation and peace to the fullest. The property also offers a variety of services for guests to explore the local culture, including long meditative walks and bicycle tours.
Cat Ba Island, Hai Phong City
Those who have dreamed of a yoga session at dawn by the beach, breathing in the fresh air with the smell of salty salt, a trip to Cat Ba island will make their dreams come true!
Known for its beautiful beaches with white sand and peaceful mountain vistas, Cat Ba is the ideal destination for travellers who want to rest and relax in the midst of nature.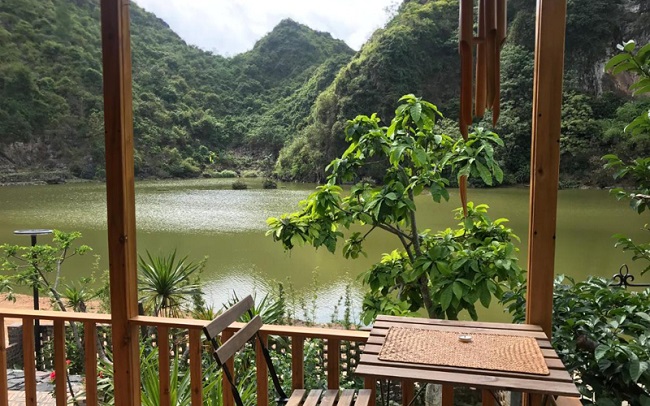 Cat Ba is an ideal destination for travellers who want to rest and relax right in the middle of nature.
Recommendation of accommodation: Blue Lagoon Cat Ba is a beautiful resort just a short walk from Tung Beach. Most rooms here have great views of the sea or the lush tropical gardens. In the morning, guests can enjoy relaxing yoga sessions on the terrace, admiring a panoramic view of the sea and sky. The on-site restaurant also serves a variety of local dishes and fresh seafood.
Tuyen Lam Lake, Da Lat City
Da Lat City has been establishing itself as popular destination to get away from the heat and bustle of the city since the first half of the 20th century. This beautiful plateau town, which is home to pine forests and beautiful lakes, win the hearts of tourists thanks to its classic hotels, ancient French-architectural styled villas, and especially its peaceful and contemplative appearance.
One of the most iconic tourist attractions in Da Lat is Truc Lam Zen Monastery, which is located on the side of Tuyen Lam Lake. With picturesque natural scenery and a quiet and gentle space, it is an ideal place for yoga practitioners.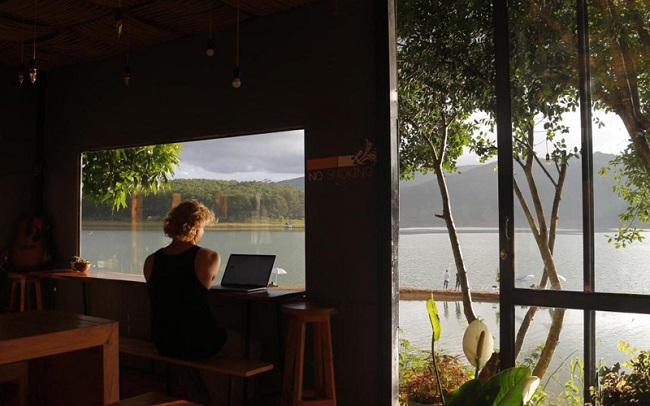 The quiet, gentle space of Tuyen Lam Lake is an ideal place for yoga practitioners
Recommendation of accommodation: The Lake House Dalat is an suggestion for travellers who want to relax and practice yoga in the beautiful scenery of Tuyen Lam Lake. Rooms are decorated in a bohemian style with classic furnishings. Guests can spend hours reading in a hammock, relaxing on the terrace by the calm lake, or taking part in exciting sports activities such as kayaking, waterfall skiing or hiking.
TAG: