Vermicelli – a specialty you should try when coming to Binh Dinh
A bowl of vermicelli with sweet and fatty rice bran, bar broth, and no fussy topping, impresses diners for the first time to enjoy.
Coming to Quy Nhon city, in addition to specialties such as grilled vermicelli, jumping shrimp pancakes, mixed tre, shrimp vermicelli… visitors are also introduced to vermicelli noodles by locals. At first glance, many people mistakenly think this is vermicelli, but the taste is completely different, less spicy. The deliciousness of the dish depends on the quality of the braised meat.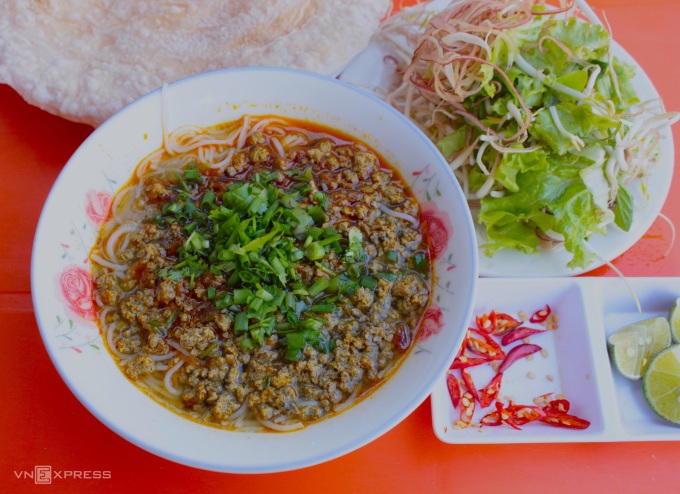 The bowl of vermicelli is filled with fatty rice bran meat, served with raw vegetables and grilled rice paper. Photo: Huynh Nhi
Lam Huu Hoang's restaurant at 01A, Tran An Tu, Quy Nhon City is the address for selling vermicelli and shrimp vermicelli frequented by many locals. Every morning, the shop sells several hundred bowls, the price of one bowl is 17,000 VND. Mr. Hoang shared that vermicelli is a specialty of Phu My district, Binh Dinh province. His family has many people, and many generations have followed the profession of selling vermicelli, it can be said that this is an heirloom dish.
"Bun rum is as familiar to the Phu My people as Quang noodles are associated with the Quang Nam people. Almost every house in Phu My district and the area of ​​Tra O lagoon (Chau Truc lagoon) knows how to cook this dish. The frugal dish should be enjoyed by everyone. Many people love it," said Mr. Hoang.
The ingredients for cooking vermicelli are simple, the main part is Tra O vermicelli. Ram is a species of crab, hard shell, and sweet meat. When brought back, the mud is washed, pureed, cooked meat is filtered, and spices are added to taste. The dish is finished cooking the broth has a characteristic sweetness, just add a little cilantro and green onions to round out the taste.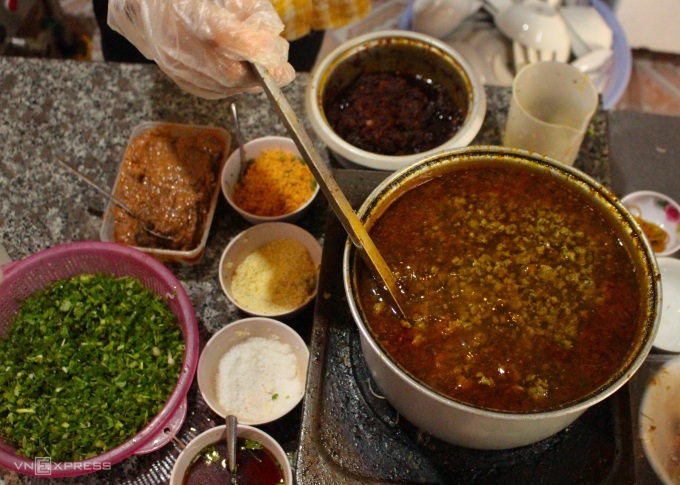 The pot of broth is full of rice bran, always kept hot, and refilled every time. Photo: Huynh Nhi
Unlike vermicelli, cooking vermicelli does not add too many additives or side dishes, the sweetness and aroma of the meat remain intact. If vermicelli vermicelli has more toppings of pork, rolls, tofu, fish sauce, and blood… then vermicelli only has rice bran meat, vermicelli broth, served with raw vegetables and rice paper. The first-time customers who are not used to the rice noodles will find it difficult to eat, but the aroma of cilantro softens the taste of the noodle bowl.
In addition, in order to make the food more delicious, Mr. Hoang invested in a noodle press at the restaurant, where he sold the vermicelli to the place, the noodles were soft, chewy and hot. A bowl of vermicelli at the restaurant costs 17,000 VND, if you add rice bran meat, it costs 12,000 VND per cup. Rice paper is a dish that diners order more to eat, and rice paper cake is baked with crispy charcoal and is priced at 3,000 VND.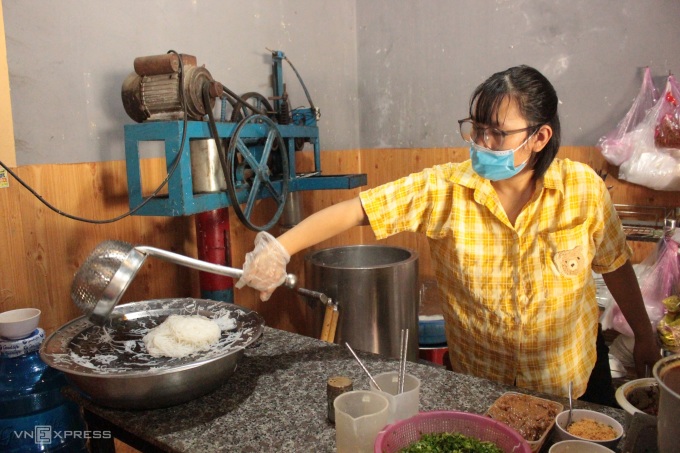 After the vermicelli is finished, it is drained, divided into small bowls and sold to customers. Photo: Huynh Nhi
Most customers know about the restaurant through word of mouth. Ms. Hue, 62 years old, has been a "true customer" at the shop for nearly a year, every morning she comes here to eat vermicelli and shrimp vermicelli. "I like frugal dishes that are not too greasy and spicy, so the food here is delicious, the broth is delicious. This place is affordable, every time I order a bowl of 20,000 VND to eat to fill it up. What I like most. It's still the way the shop sells goods, very polite and friendly, talking to customers, so I come to support", Ms. Hue said.
The noodle shop is open for sale from 5:30 to 11 a.m. and 15:30 to 20:30, the most crowded in the morning. The shop has parking for motorbikes and small cars. The shop is located on the roadside, so customers going at noon can feel hot.
TAG: