Summer vacation spots in Binh Dinh
BINH DINH – Aurora Villas & Resort on Quy Hoa hill, Casa Marina Resort on Xep beach or Suoi Mo eco-tourism area… are interesting destinations in Binh Dinh in the summer.
Summer is the right time for many families and young people to plan trips. Many tourists share, they choose to go to prosperous places to enjoy modern entertainment space; But some people choose a quiet, deserted place with calm sea nature, or wild mountains and forests for their hearts to settle down…
If you are a lover of both types of tourism above, you can refer to the destinations in Binh Dinh below.
Modern resorts suitable for rest and entertainment
Binh Dinh possesses natural beauty, so it has been interested and invested by many large tourist groups quite early. If you want to find a beach resort with full facilities to serve the needs of modern rest and entertainment, you can choose the resorts on Quy Nhon – Song Cau street, the resort of the group. FLC Nhon Ly group… for a relaxing trip.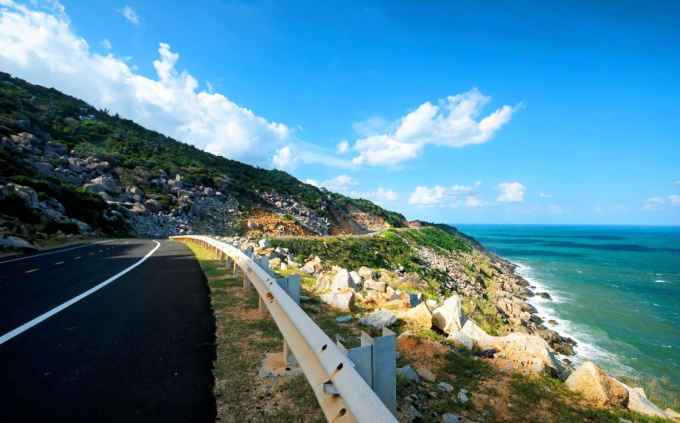 The coastal road of Quy Nhon – Phu Yen. Photo: Shuterstock – Vivanvu
Quy Nhon – Song Cau road is impressed by the harmony between trees, rocky mountains, small streams, sea, mountains, green coconuts, rice fields and clear clouds. This route starts from Song Ngang bridge – the gateway to Quy Nhon city, and ends at Xuan Hai commune, Song Cau town, Phu Yen, with a total length of more than 33 km, of which 19 km is located in Binh Dinh land. . There are many tourism and entertainment corporations that invest in building luxury and high-class resorts that can meet the needs of tourists.
As soon as you set foot on Quy Hoa hill, visitors will encounter Aurora Villas & Resort. This resort is located on a high hill overlooking the sea, is one of the places to welcome the early morning sunshine. Each room is arranged far away from each other, creating a sense of peace and freedom; bougainvillea and roses are scattered everywhere, which is a condition for interesting check-in photos. If you like, in the evening, you can go out close to the cliffs to listen to the waves and enjoy intimate BBQ sessions.
The next resort that visitors can set foot on is Casa Marina Resort located in Bai Xep, Ghenh Rang. It is built on a large area and offers accommodation with a restaurant, free private parking, an outdoor swimming pool and a fitness center.
The resort has 56 rooms scattered on the hills with the architecture using many natural materials such as wood, bamboo, and bamboo, creating a very close and cool feeling. Guests can check-in, swim in a separate swimming pool, enjoy a variety of delicious buffets prepared by famous chefs.
Avani Resort is a high-class resort in Binh Dinh, built into two areas with many luxurious rooms and villas, stretching from high hills to the sea. In addition to independent swimming pools, the resort also has a large sandy beach and blue sea, which is one of the places to watch the beautiful sunrise in Binh Dinh. The resort used to be the stopping place of many important people at home and abroad when visiting and working in Binh Dinh.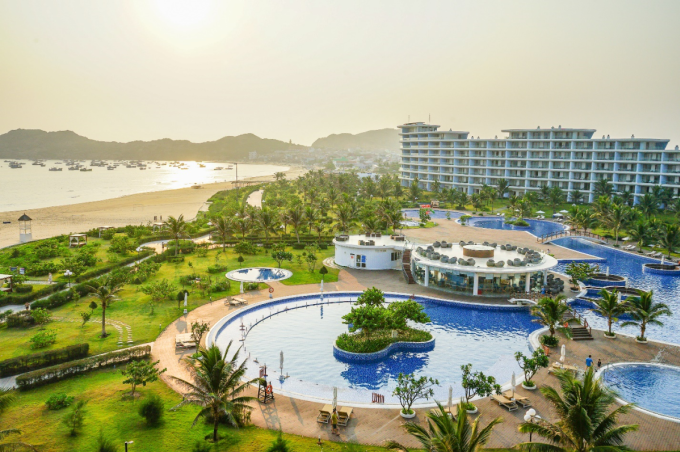 The campus is full of trees at FLC Resort Quy Nhon. Photo: Shuterstock – Hikari0909
Referring to the luxury resort system in Quy Nhon, it is impossible not to mention FLC Luxury Hotel & Resort Quy Nhon, part of a chain of 5-star luxury resorts belonging to FLC Group. The resort owns an impressive resort space with a pristine beach, a campus filled with green trees, all rooms are designed with sea views, and a series of facilities such as restaurants, golf courses, conference centers. , swimming pool… This is one of the places chosen by many tourists for their trip to Quy Nhon city.
Quiet and peaceful destinations
Binh Dinh has a rich natural terrain, both the immense sea and the rolling mountains. If you are too familiar with sea travel, you can experience more activities with the mountains and forests in Binh Dinh.
Ham Ho
As one of the first eco-tourism areas of Binh Dinh province, Ham Ho is only about 30 km from the center of Quy Nhon city. This is a destination for those who love to travel, explore, and relax after a long and hard day. Ham Ho converges mountains, rocks of various shapes and rivers, sometimes gentle, sometimes roaring with bubbles to create a natural scene that attracts tourists.
For those who love backpacking, a trip to explore the forest road to come to nature, Ham Ho plants will be very interesting. In particular, this place also scores points thanks to a lot of sesame buds, so when the flower blooms, a vast forest is full of colorful flowers.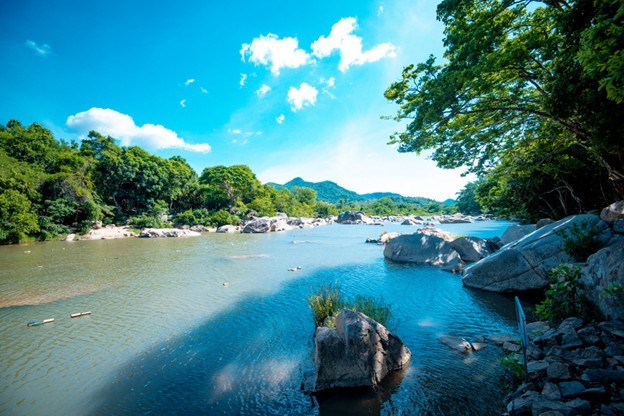 Ham Ho eco-tourism area. Photo: Shuterstock – KernelNguyen
Hoi Van Hot Springs
Hoi Van hot spring is located in Cat Trinh commune, Phu Cat district, Binh Dinh province, about 50 km northwest of Quy Nhon city. The stream is formed by volcanic lava flows that are still silently flowing deep in the ground. Starting from the low mountains in the Northwest, to Hoi Van village, the water flows into the lake bed about 400 m wide, about 1 m deep, from here forming hot geysers erupting on the water surface. The highest water temperature has a place to 70-80 degrees, containing about 20 minerals that are beneficial to human health.
Hoi Van hot spring owns a natural landscape, not much impact by human exploitation, so this place is still quite wild. The natural beauty of the stream at every moment of the day seems unique. Possessing an inexhaustible source of precious water and impressive natural scenery, Hoi Van has become one of the destinations attracting tourists from near and far.
Suoi Mo Waterfall
Suoi Mo eco-tourism area is located under Cu Mong pass road (the pass connecting Binh Dinh and Phu Yen provinces). The highlight of Suoi Mo eco-tourism area is a large system of ponds and lakes, surrounded by green trees and comfortable for a dip, followed by a stream of water towards the source of a smaller lake.
The beauty of Suoi Mo waterfall is that when the sunset falls, the pale yellow sun shines through the old old trees and then gradually fades away, leaving only the sound of the waterfall flowing throughout the mountains and forests. The waterfall is about 4-5 m high and falls rumblingly from above all year round, creating a landscape that is both majestic and fierce.
Tra O lagoon
Known as one of the famous eco-tourism destinations of Phu My district with its wild beauty and rich aquatic resources, Tra O is the province's large freshwater lagoon. Coming to Tra O lagoon, visitors will be attracted by the natural scenery of four seasons. Autumn starts from October with light breezes, golden sky, light sunshine, cool air. Through the cold and windy winter, the rains caused the water level of the lagoon to rise to cover each harvested field along the lagoon. Spring is the season of fertility, the trees around the lagoon create a green color. In the summer, the lagoon water begins to decrease. Residents around the lagoon begin the summer-autumn crop in the fields exposed after the water recedes into a deep golden yellow.
Coming to Tra O lagoon, visitors can enjoy the fresh air and gentle breezes blowing in from the lagoon, bringing with them the strong aroma of rice. Visitors will have a day as a farmer, feel the village life… It is an interesting experience that tourists should not miss when coming to the land of Phu My, Binh Dinh.
TAG: