Quy Nhon – Phu Yen travel experience by a self-driving car
Huyen Tran and her husband had a 4-day 3-night trip, a journey of 500 km, rented a self-drive car, picked up and dropped off the car at the airport.
Huyen Tran and The Hien (both 28 years old) living in Ho Chi Minh City have just had a trip to Quy Nhon and Phu Yen from April 7 to 10.
The wedding was right at the time of the pandemic and there was no honeymoon in nearly two years, so the couple wanted to travel independently and schedule their own. And the most comfortable transportation option is to rent a self-driving car, so Tran chose to pick up the car at Tuy Hoa airport and return it at Phu Cat airport for convenient transportation.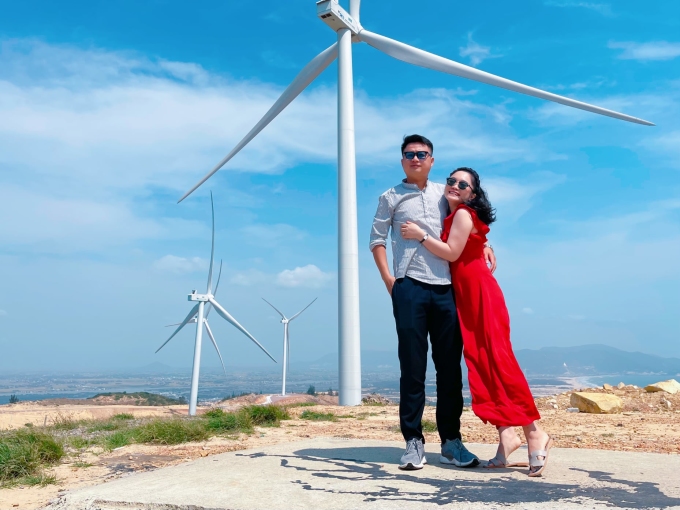 Huyen Tran and The Hien took a photo in the Quy Nhon wind power field.
Here are the details shared by the young couple about the trip:
Move
From Ho Chi Minh City to Quy Nhon
Phu Yen and Binh Dinh are two adjacent provinces. If you check the fare, you can fly to Tuy Hoa – returning from Quy Nhon is cheaper than the opposite way, so you decide to go to Phu Yen first and then move slowly to Binh Dinh. The total airfare for the two routes Ho Chi Minh City – Tuy Hoa and Quy Nhon – Ho Chi Minh City of the couple is 3.4 million VND.
Moving in Quy Nhon – Phu Yen
Going out to Tuy Hoa, due to self-sufficiency, guests often have three options: renting a motorbike, renting a car with a driver cum guide, or renting a self-driving car. Due to the distance between the destinations and the hot sun from noon to noon, riding a motorbike will be time-consuming and tiring. If you rent a car with a driver with a young couple for 4 days, it will take a natural part, so Tran and her husband choose to rent a self-drive car.
She rented a car and asked for a quote, including delivery at Tuy Hoa airport, and paying at Phu Cat airport to avoid other costs. The principle of renting a car is to receive a full tank and return it, Tran shared that guests must check the gas when receiving the car to avoid disputes later.
Car rental price depends on the type of 4 seats or 7 seats. For example, Vios and Mazda cars are about 600,000 – 700,000 VND/day, Elantra and Honda City cars are about 800,000 to 1 million VND/day, Civic/Kia K5 cars are 1-1.2 million VND/day. The total rent for a car for 4 days by Tran and his wife is 4.2 million VND, in addition, she sends an additional tip of 500,000 VND to the rental service.
The advantage of renting a self-driving car is the autonomy of the journey and the private space. If the schedule has problems, you can flexibly adjust. For Tran and his wife, who usually go to work all day and all night to meet each other, this trip is an opportunity for them to have more time to talk, review memories and discuss new plans. However, Tran also said that the disadvantage of renting a self-driving car is that it takes effort to find out, make a schedule, see if the road is difficult to go, and whether the car can enter the place and be safe. Without a preliminary schedule in advance, it will take time to move around.
Stay
Determined to go out, move continuously, go far to Quy Nhon every day to finish the journey and not return, so Tran booked three different hotels with a total price of nearly 3 million VND.
Night 1: Hotel in the center of Tuy Hoa city. The price of hotels in Tuy Hoa is cheaper than other places I've been and it's also new.
Night 2: Resort at Song Cau, Binh Dinh. This is a section bordering Phu Yen, due to the terrain on one side of the mountain and the other side of the sea, so it is very beautiful, so there are many resorts. Resort here is cheap, only 1.5 million VND but not as new as the northern area (near Phu Cat).
Night 3: Hotel in the center of Quy Nhon. Compared to Phu Yen, the hotel in Quy Nhon has a higher price, but in return, the facilities are better and more professional. If you book a hotel in the center, you can walk to the beach in the evening, and there are many restaurants around to eat and drink.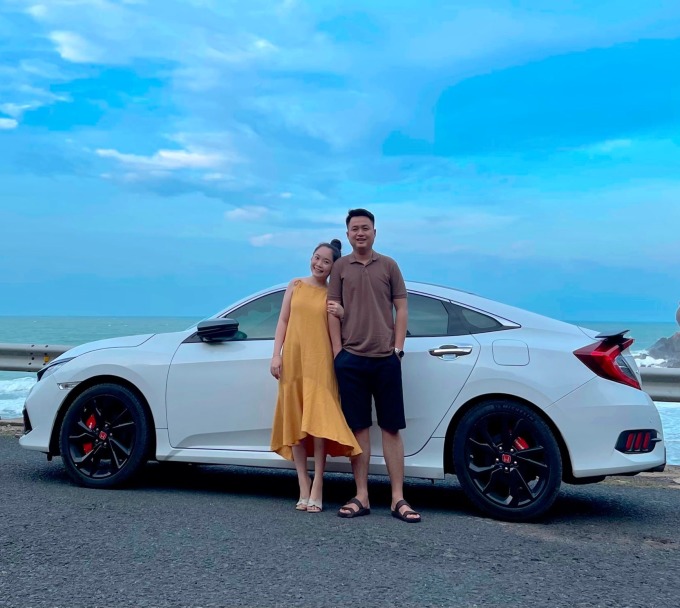 The car and the couple went through 4 days of traveling to Quy Nhon – Phu Yen.
Schedule
Day 1: Fly to Tuy Hoa – visit Golden Flower Film Studio, Bai Xep, Dai Lanh Lighthouse, Vung Ro
The original flight was delayed by the airline, so the couple had to make up for the ticket and change it to 9:20 am. Then receiving the car was also later than expected because the lessor delivered the wrong place. After having lunch and checking in at the hotel, the two of them set out to explore the outstanding coastal destinations of Phu Yen.
Day 2: Ganh Da Dia – Mang Lang Church – Quy Nhon
At 7:00 am, after breakfast, we both went to Ganh Da Dia and Mang Lang church, with a little more stop at the Tam Giang spillway.
Day 3: Ky Co – Eo Gio
Initially, Tran and his wife would take the boat to Cu Lao Xanh, but the weather was not favorable, the boathouses returned the money, so the two changed directions to visit Ky Co – Eo Gio tourist area. Tickets to Ky Co are 100,000 VND/person, and electric car fare to the place is 50,000 VND/person.
Day 4: Hon Kho – Thien Hung Pagoda – Phu Cat airport – fly to Ho Chi Minh City
Check out the hotel, both drive to Nhon Hai fishing village, buy a ticket of 100,000 VND/person to take a boat to Hon Kho to have fun. There is still time, so the young couple visits more Thien Hung pagodas before going to Phu Cat airport to return the car.
Dining spot
Restaurants in Tuy Hoa and Quy Nhon can be accessed by car, and Nghia Ghe restaurant is located a bit deep and has to walk a bit. Tran said: "If the restaurant is crowded, ask for the price and try it. Everyone's taste is different, you have to eat it to know if it's good or bad. It's not necessary that the restaurant gets a lot of praise, but it's better than the local eateries." The shops Tran and her husband visited during their 4 day outing are:
– Tuyet Nhung Chicken Rice (Tuy Hoa): The restaurant is a bit old but crowded and the chicken and dipping sauce are just right.
– Bo Bo pancakes (Tuy Hoa): 20,000 VND/piece mixed with whole eggs, meat, shrimp and squid served with lots of raw vegetables.
– 1989 rice restaurant (Quy Nhon): new, clean, cool, diverse menu. 70,000-120,000 VND/dish.
– Bun Ram – Shrimp My Hanh (Quy Nhon): this is a strange dish you should try.
– Nghia Ghe (Quy Nhon): The seafood restaurant that Tran finds the best is steamed dishes such as crabs and crayfish. Snails and squid dishes are also attractive and fresh.
– Ngoc Lien fish noodle soup (Quy Nhon): a large restaurant, selling many noodle dishes with rich broth.
– Que Huong chicken rice (Quy Nhon): the typical dish of this restaurant is boiled or fried chicken rice.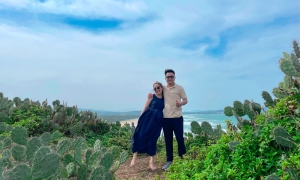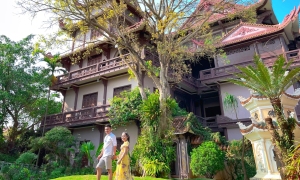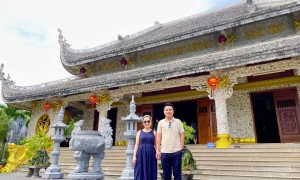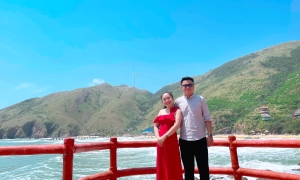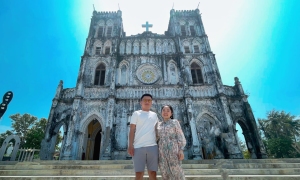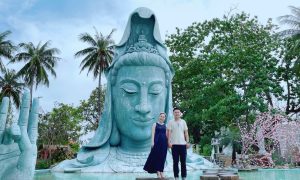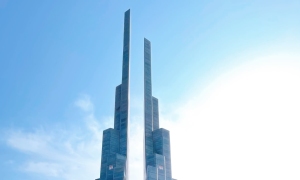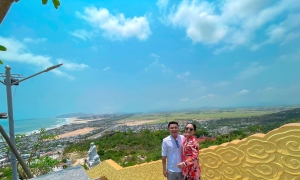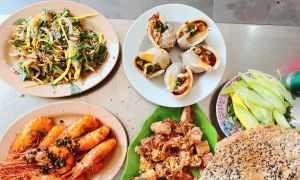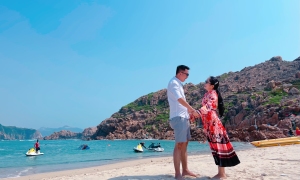 Note
According to Tran, the roads in Tuy Hoa are mostly new, big, wide, and very empty. You can go fast, but the driver still has to pay attention to the speed. The road to the attractions has two ways, which is to go to the National Highway, the driver will be stronger, if you follow Google Maps, you will encounter a small, but the very beautiful country road in return. The road to Dai Lanh lighthouse has some sections under repair and is about to be completed. In addition, the road or there are many grazing cows need to be carefully observed.
The roads in Quy Nhon are mostly wide, clean and beautiful.
Most attractions can be accessed by car. Parking fee is about 15,000 – 20,000 VND/time.
Photo: Huyen Tran
TAG: