H'Mong village in medlar flower season
SON LA – March in Nam Nghiep village, Ngoc Chien commune, Muong La district, everywhere is filled with the pure white color of medlar flowers.
Ngoc Chien commune has more than 2,260 ha of medlar trees, concentrated in Luat, Nam Nghiep, Dong Xuong, Phay villages… Which, Nam Nghiep village is located at an average altitude of 2,200 m with a large area of ​​medlar cultivation. and many ancient trees 300-500 years old.
The medlar flower season usually lasts from the end of February to the beginning of April of the solar calendar, but the most beautiful and blooming time is the first half of March. The medlar flowers in Nam Nghiep are more beautiful than in other places because at the same time. bloom, many trees can be as white as cotton. According to Mr. Trang A Chu, a homestay owner in Moc Chau came to Ngoc Chien to see flowers last weekend, medlar flowers will still bloom in 1-2 weeks if it doesn't rain much.
Sticking with the H'Mong people for many generations, medlar is not only a poverty alleviation tree, but every spring, the flowers bloom also attract tourists to trekking and sightseeing. White flowers bloom in clusters of 3-5 flowers and like plum and pear flowers, but the pistil is yellow and lasts longer. This is a rustic tree, resistant to wind and rain, symbolizing the enduring and resilient vitality of the H'Mong people.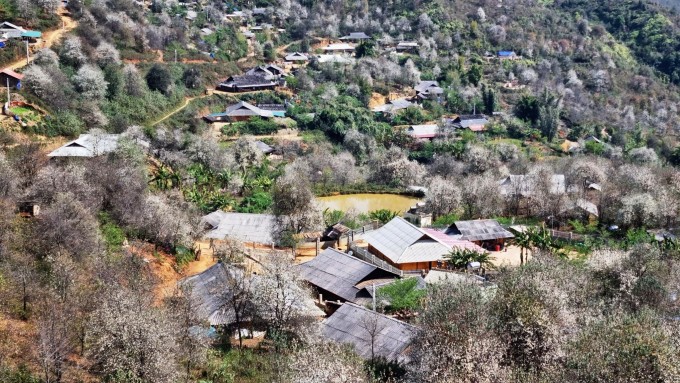 Nam Nghiep village is seen from above. Photo: Lu A Cu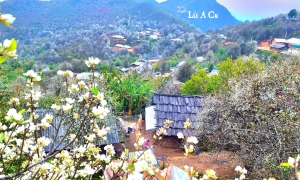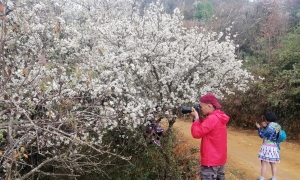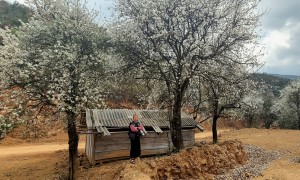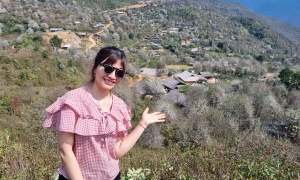 Visitors to Ngoc Chien can choose two directions or from Hanoi to Son La, go towards Muong La along road 106 to the sea turning Ngoc Chien (about 25 km). Or from Hanoi, go towards Mu Cang Chai, Yen Bai to the foot of Khau Pha pass with the sea turning to Nam Khat, go 11 km to Nam Khat, then turn to Muong La – Ngoc Chien.
These days, visitors can come to Nam Nghiep to see medlar flowers, hunt clouds, and bathe in Ngoc Chien hot spring. If you have 2-3 days, visitors combine trekking on Ta Chi Nhu mountain road (going from Yen Bai side) to see the azalea season. According to Giang A Sua, a porter who specializes in leading Yen Bai mountain climbing tours, the road through Nam Nghiep village is a new way to Ta Chi Nhu, helping visitors shorten the time and being at the time of beautiful blooms, so it is very attractive. guide.
Currently, in Ngoc Chien commune, there are many homestays for guests to stay overnight, experience the indigenous life of the H'Mong, Thai… from only 100,000 VND/night. Hot spring bath service is very popular from single pool to shared bath, a bathing fee of several tens of thousands per person.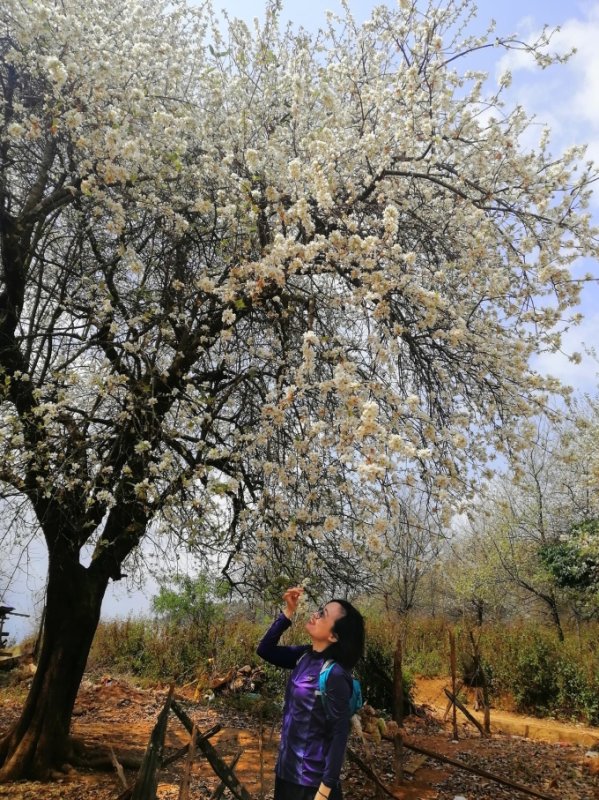 Visitors enjoy medlar flowers on the way to climb Ta Chi Nhu. Photo: Giang A Sua
TAG: