Number of passengers through airports soars nearly 58% in February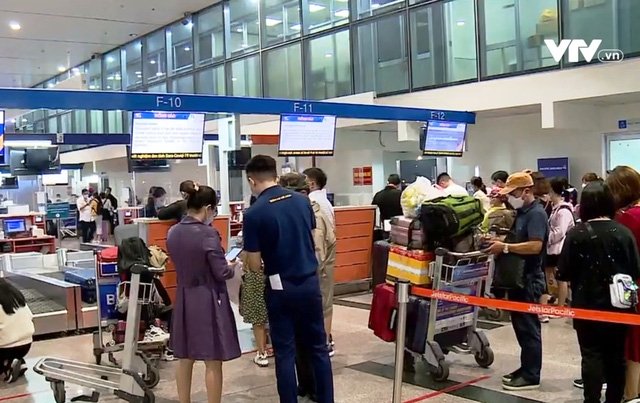 Domestic airlines transported more than three million passengers in February, an increase of 56.8% compared to February 2021. (Photo: VTV.VN)   
NDO - The number of passengers through airports across the country, reached more than 6.1 million in February, a sharp increase of 57 .8% compared to February 2021, according to the Civil Aviation Authority of Vietnam.
The Vietnam Air Traffic Management Corporation (VATM) has operated about 60,500 flights, an increase of 157% compared to February 2021, including 13,200 transit flights, up 67.4% over the same period last year.
Of the total passengers, there are 105,000 international visitors, an increase of 350% compared to February 2021. Domestic visitors reached more than six million arrivals, up 56.1%. Cargo throughput reached 113,000 tonnes, up 27.6% compared to February 2021.
Also in February 2022, domestic airlines transported more than three million passengers, an increase of 56.8% compared to February 2021. Of the total, there were 39,400 international visitors and nearly three million domestic visitors.
The Civil Aviation Authority of Vietnam has recently assessed that the market has recovered in the domestic segment. Regarding international flights, international passengers in general and Vietnamese citizens and overseas Vietnamese in particular, can enter Vietnam via regular flights from Japan, the Republic of Korea, China, Taipei (China), Singapore, Thailand, Cambodia, Laos, the US, Australia, the UK, France, Germany, Russia and irregularly from Hong Kong (China), Malaysia, Qatar, UAE, and Turkey.
Vietnam has reopened international routes to and from 20 countries and territories, while the number before the COVID-19 pandemic in the winter of 2019, was 28 countries and territories.
TAG: