Fishermen get chiseled fish season
HA TINH – The waters of Loc Ha district are in the season of opaque fish, many fishermen use small boats to catch 30-50 kg per day, selling for millions.
In mid-February, at the lock of Thinh Loc commune, Loc Ha district, dozens of wooden boats with a capacity of 6-24 CV from offshore arrived and parked close to the embankment with their compartments full of chisels.
The fishermen divided each group of two people to sit on the boat to remove the fish caught in the net and put it in plastic baskets and buckets. The scad is then brought to the coastal road of Ha Tinh about 40 m to sell to people and traders.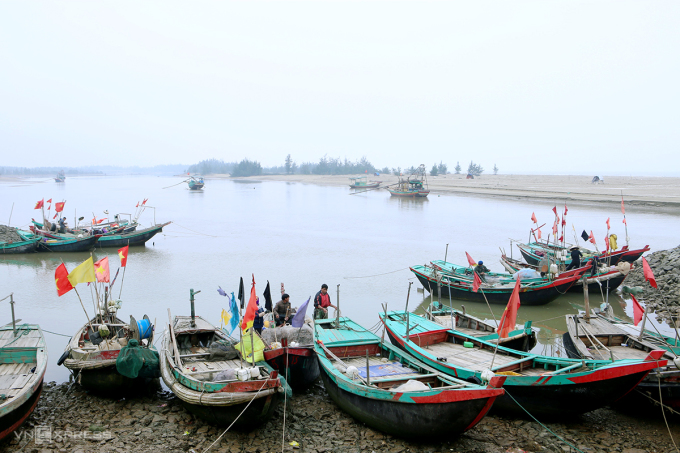 Boats catching chisel fish at the lock of Thinh Loc commune, Loc Ha district. Photo: Duc Hung
Mr. Tran Xuan Loc, 52 years old, residing in Thinh Loc commune, said that the season of chisels starts from January to the end of March (lunar calendar). This species lives about 5-7 nautical miles offshore, at a depth of 30-70 cm. Boats go out to sea to fish at 4am and return at 3pm the same day. The fishing net is a second-class net, with eyes about 2-4 cm.
One boat has about three fishermen. Every day they control boats, casting nets hundreds of meters long in the middle of the sea. After nearly an hour, the fisherman gathered up the net, removed the fish and put it in the compartment and continued working.
"I set sail from the 6th of the Lunar New Year. When I was lucky enough to drop my net and hit a large fish channel, I could collect about 100 kg. For the past two weeks, on average, about 6-7 hours a day out at sea, a boat catches 30-50 kg of opaque fish," Mr. Loc said.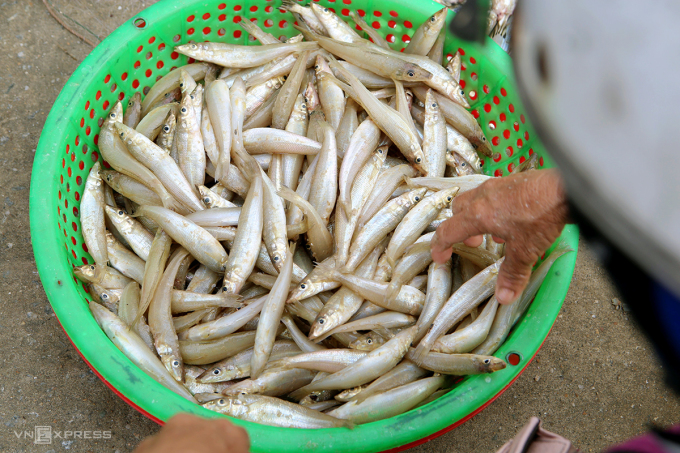 A batch of 3 kg of opaque fish that people prepare to sell to customers. Photo: Duc Hung
Near noon or early afternoon, many traders drove motorbikes with buckets, plastic pots and styrofoam boxes of ice-cold standing at Thinh Loc lock to wait to buy chiseled fish. Some people, when they saw the boats docked, waded out to the access compartment, assisted the boat owner to remove the fish from the net and paid the purchase price for fear of running out of stock.
"Chili fish are expensive, many days we have to compete to collect more. On average, I can buy 40 kg a day, lucky days about 60 kg", a trader said.
According to Mr. Vo Van Nam, 60 years old, residing in Thinh Loc commune, on this occasion, each time a fishing boat goes out to sea, a fishing boat earns two million dongs after deducting all costs of labor, fuel, and depreciation of fishing gear. Besides chisels, some boats also won herring, squid… "Since Tet, my family's seafood sales have been more than 30 million dongs. This signals a lucky year," he said. Nam said.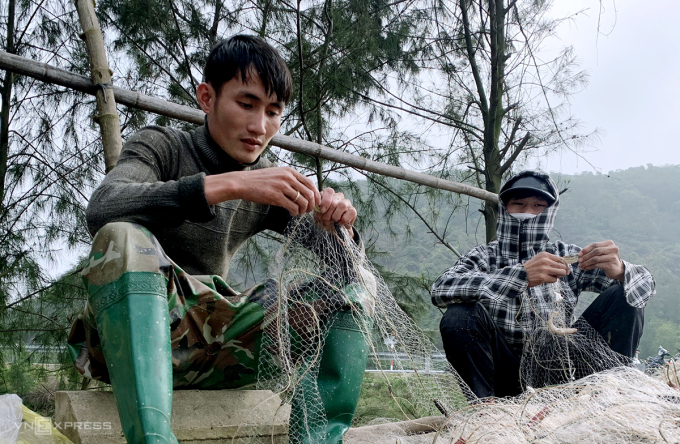 Two fishermen are removing chisel fish caught in the net. Photo: Duc Hung
The fish is sold at the lock and imported to traders at the price of 50,000-60,000 VND per kilogram; If put on the market in the area, the price is about 10,000 VND higher depending on the type.
Goby fish, also known as sea goby, the body is bigger than a thumb, about 13-18 cm long, looks like freshwater goby. The fish has a firm, white flesh and can be processed into many dishes such as: salad, grilled, deep-fried, braised with pepper, sour soup… Turquoise fish salad is a specialty of Ha Tinh, named in 100 dishes and gifts. gifts of Vietnamese specialties (2020-2021) announced by the Vietnam Record Association.
Follow (vnexpress)
TAG: