Playing Tet in incense village nearly 100 years old
HO CHI MINH CITY –  Le Minh Xuan incense village in Binh Chanh district is bustling with Tet orders and attracts tourists to take pictures.
In the last days of the year, the two sides of Mai Ba Huong street (Le Minh Xuan commune) are bright yellow with incense. The workers were busy spreading incense to dry in the sun, always collecting dried incense to divide it into large bundles.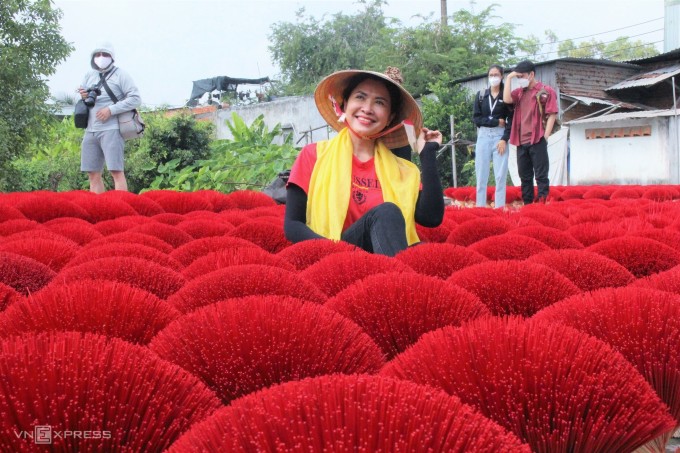 Visitors take pictures in the colorful incense drying area. In the last days of 2021, the atmosphere here is busier and busier because no matter how many orders are made, they will be delivered to customers. Photo: Huynh Nhi
Ms. Nguyen Cat Bui Thuy, 45 years old, a member of the cooperative group making incense in Le Minh Xuan commune has been in this work for more than 20 years. This year, the price of raw materials has increased and is more scarce, plus the time off from the epidemic, so the work is concentrated at the end of the year. "Before 6 o'clock, I got up, worked until 17 o'clock, took a break, but now plowing day and night, getting up to work at 3 o'clock at 8 o'clock. Because of 4 months of translation, I took a break, so I didn't have any products. Thuy said.
18 years ago, Ms. Thuy's incense factory switched to mechanical incense making instead of traditional hand-sewing. On average, each worker can make 50-60 incense sticks/day (1000 trees each).
Visitors to the incense village will see the process of making a finished incense stick, from the stage of mixing the powder, adding flavorings such as agarwood, melaleuca powder, cinnamon powder… to the stages of drying, drying, and packing the incense. package. You can buy incense for home use at a wholesale price, from 25,000 to 40,000 VND / heaven, about 1-1.2 kg of incense.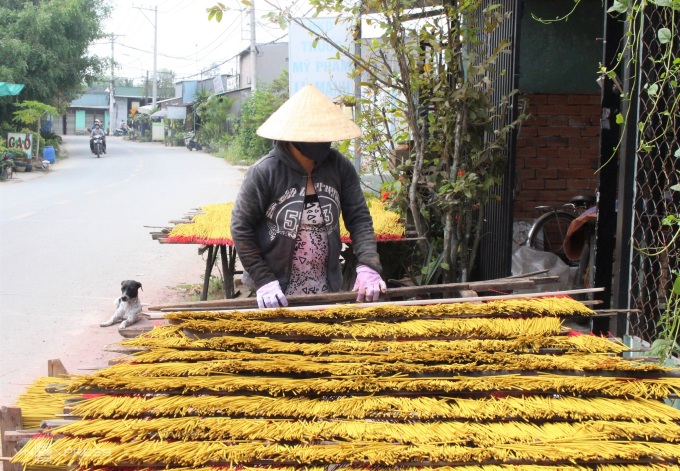 People dry incense along roads in Le Minh Xuan commune, Binh Chanh district. Photo: Huynh Nhi
Ms. Thuy said that before there was a cooperative to make incense, tourists only came in small groups, went individually, and watched the scene of incense drying by the roadside. There are still places to stop for visitors, more people come to Le Minh Xuan incense village, even tour operators.
"In the past, the people here mostly planted sugar cane or worked as weeding. Since the incense industry, the commune has supported machines and raw materials… people can get out of poverty. I also hope that many visitors will come to visit and introduce them to everyone. introduce people to traditional craft villages in Ho Chi Minh City", Ms. Thuy expressed.
Le Minh Xuan incense village is located about 30 km from the city center, in the Binh Chanh district. The incense village stretches from the direction of Thanh Tam Pagoda (the temple of the lonely Buddha) to the Lang le Bau Co relic site, with more than 350 households and incense-making facilities.
The book "Traditional handicraft villages in Ho Chi Minh City" mentions that before 1975, the city's incense production center was concentrated in District 6, where a large number of Chinese people lived with traditional incense making. Gradually the city developed, the incense-making community gradually moved away to Le Minh Xuan and Pham Van Hai communes in the Binh Chanh district.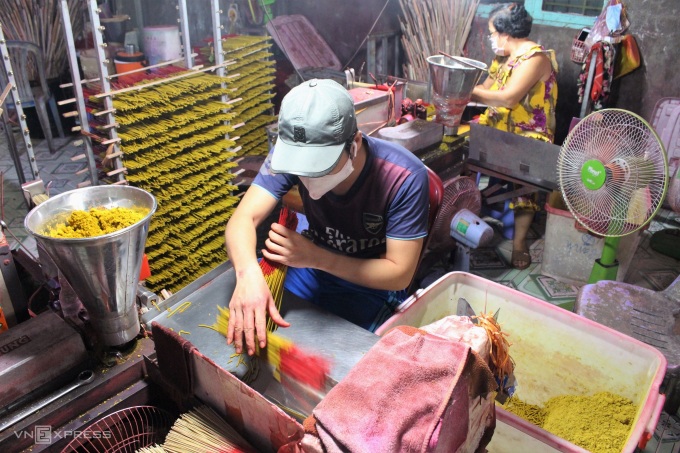 Incense workers receive 200,000-300,000 VND per day. Photo: Huynh Nhi
In addition to Le Minh Xuan incense village, visitors to Binh Chanh can combine visiting Lang le Bau Co relic site, visiting Thanh Tam Tu (Lonely Buddha temple), cycling in the cool forests, enjoying the atmosphere. fresh and enjoy the country food.
Follow (vnexpress)
TAG: