Strange fresh milk hotpot in Moc Chau
SON LA – Hot pot is fragrant and milky, suitable for a mid-winter dinner in Moc Chau.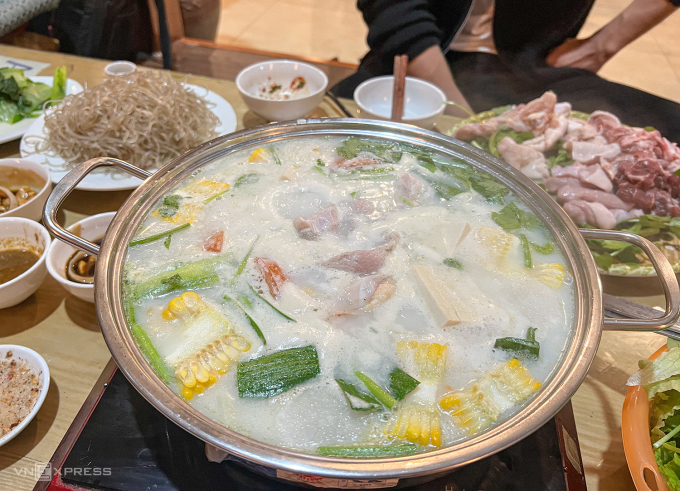 The white-hot pot looks beautiful and greasy. Photo: Trung Nghia
In the middle of the winter night, when the fog covered the town, diners opened the lid of the hot pot. In the steam that blends into the dew, we will discover an unexpected combination of beef, tofu, and milk.
Moc Chau fresh milk hotpot, like other hotspots, the broth is simmered from bones and vegetables. After that, a moderate amount of milk is added so that there is enough milky white color and enough mild flavor to penetrate the meat. To increase the sweet flavor of the hot pot, the chef will pre-heat the corn in the milk. When the hot pot starts to boil, the upper layer of milk begins to thicken, with a fatty taste, making the hot pot like a pot of pureed porridge. This is also when the hot pot sauce is at its best. The broth is milky, sweet with the smell of bones, corn, hot.
The ideal way to enjoy it is to quickly scoop some broth into the bowl and slowly sip your lips. If you are a fan of dairy-related foods, this is the hot pot dish for you.
Hot pot dip includes chicken, beef, ribs, and beans. As for beef, you should dip it in the upper layer of water because there is more milk, when it's just cooked, eat it right away so that the meat is soft and absorbs the milk flavor. If you love the beauty of apricot flowers, Moc Chau plum flowers, you should also drink plum wine, apricots to enjoy the full Moc Chau flavor.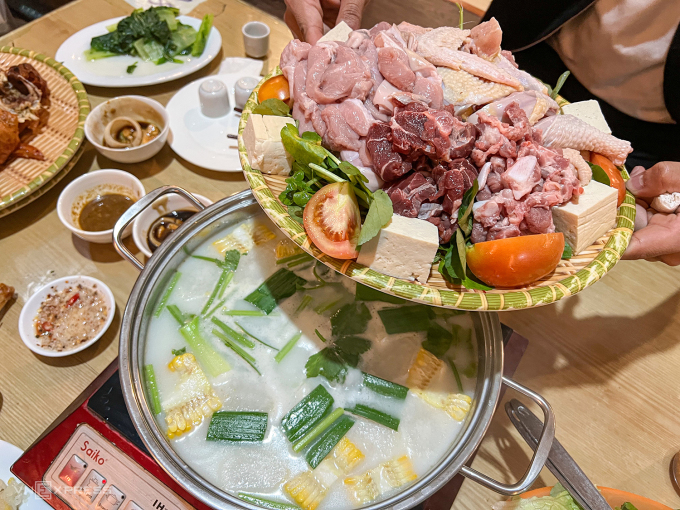 A full pot of Moc Chau fresh milk hotpot, priced at 370,000 VND, is suitable for 3-4 people to eat. You can find food at Tuan Gu restaurant branches or some other local restaurants. Photo: Trung Nghia
Dang Doan Sang, a diner from Hanoi, was surprised to know that Moc Chau had this dish and immediately ordered it. "Fresh milk hotpot is a unique dish that I enjoyed for the first time. The hot pot sauce is sweet, mixed with the fat, and a slightly thick taste of fresh milk, served with the dip is Son La hill chicken. All create an unforgettable taste that cannot be found anywhere else," Sang described. He said the taste of this hot pot is really the highlight every time he remembers about Moc Chau.
Follow (vnexpress)
TAG: