What to eat at Chua Lang street? Top delicious, nutritious, and cheap dishes that can't be missed
Don't know what to eat at Chua Lang Street? Immediately refer to the popular delicacies, which are loved by young Ha Thanh right here. 
What to eat at Chua Lang street? Suggest the hottest delicious dishes that you should try 

1. Boiled snails
When you don't know what to eat on Chua Lang Street , try enjoying hot boiled snails on cool afternoons. Boiled snails are a popular delicacy in Hanoi, not only at Lang Pagoda. However, on this street, there are also many delicious and famous snail restaurants.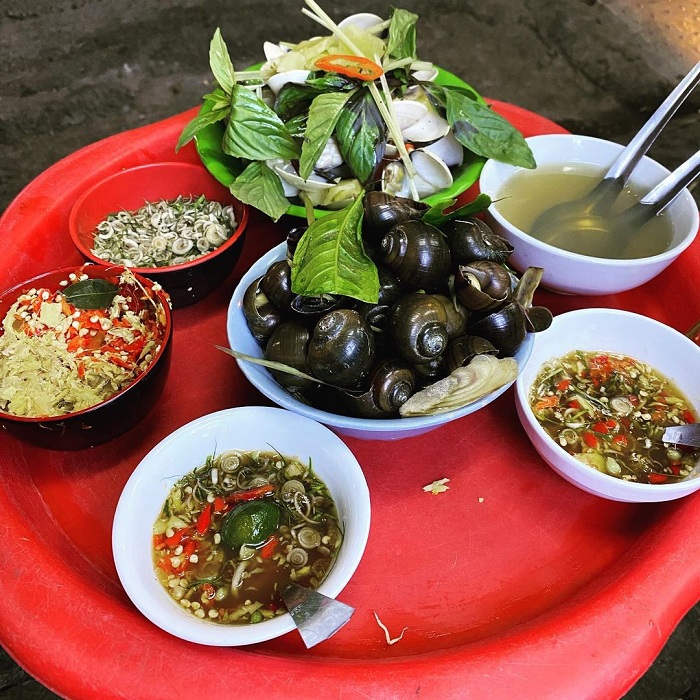 In Lang Pagoda, there are many delicious snail shops. Photo: @quangmytom

Processing is not fussy, the recipe is not complicated, but boiled snails are really a snack that is very popular with young people in the capital. Fresh and delicious snails are carefully selected, cooked with lemon, lemongrass, chili, .. up to an attractive aroma. In addition to boiled snails, diners can also enjoy steamed snails, fried snails, etc. with an irresistible taste.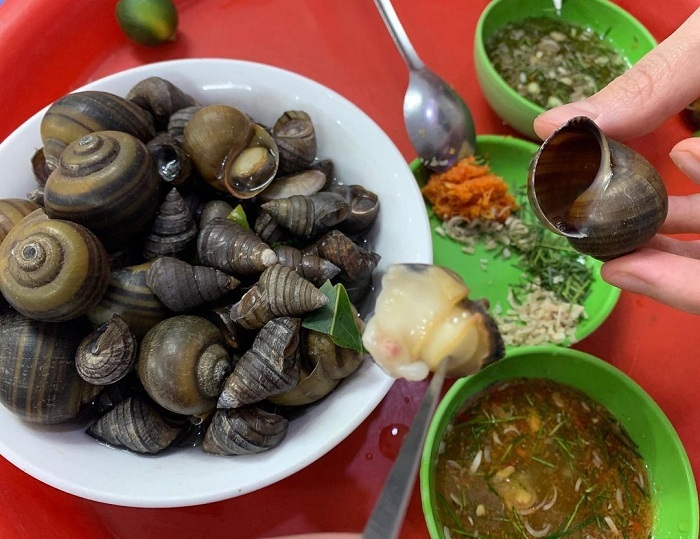 The fresh and delicious snails attract diners. Photo: @flavorsofhanoi

If you want to eat boiled snails on Chua Lang Street, you can visit the snail shop at 215 Chua Lang. This is a shop specializing in selling boiled snails, boiled quails, sweet potatoes, chicken feet, fried spring rolls, etc., priced from 50,000 to 165,000 VND. 

2. Mixed rice paper
One of the dishes that make the diversity of Hanoi cuisine is mixed rice paper. This is a dish that many young people are fascinated by because of its rich delicious taste, reasonable price, suitable for sipping in summer and winter. Of course, you can enjoy mixed rice paper in many places in Hanoi. But going to Lang Pagoda and forgetting this dish is negligent.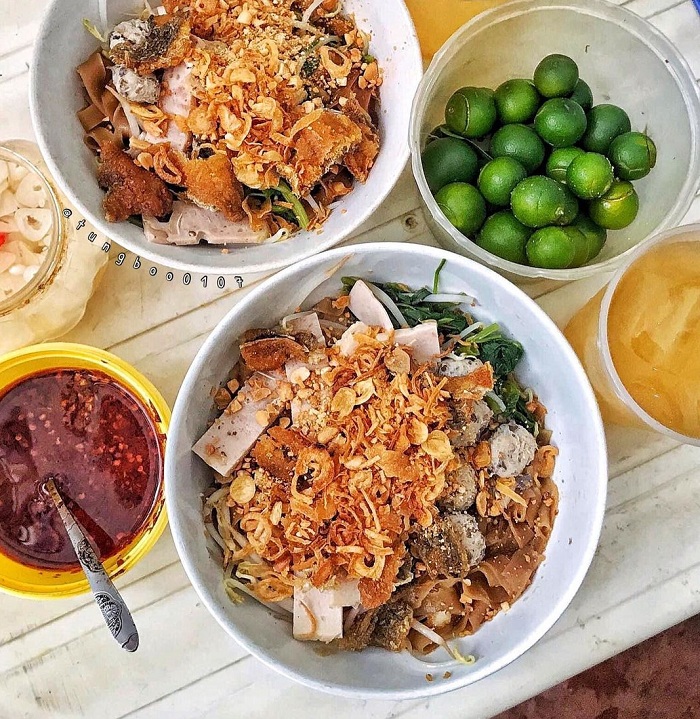 Coming to Lang Pagoda, you cannot ignore the attractive mixed rice cake. Photo: @asiatop80

Chua Lang mixed rice paper has a delicious taste, processed according to a special recipe to keep its toughness. In addition, the presence of fresh toppings is also a plus point for this dish. If you don't know what to eat on Chua Lang Street, mixed rice paper is a suggestion that you should consider.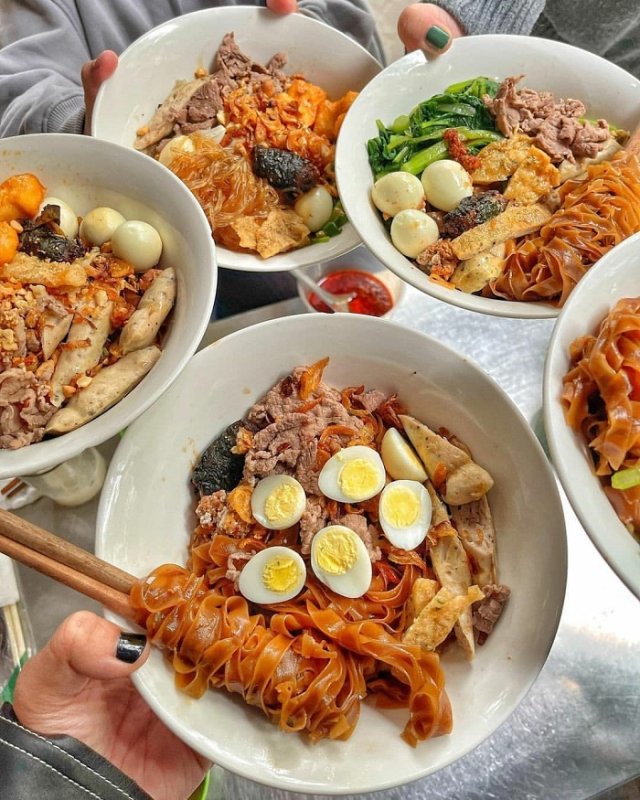 The food is beautifully presented and attractive. Photo: @riviu.vn_hanoi

This road has many shops selling delicious mixed rice cakes, but Lane 84 Chua Lang is the most reviewed coordinate. Here, not only selling mixed rice paper, but also rice noodle soup with attractive topping. From only 25,000 VND, you can "get rid of" extremely delicious rice-related dishes. 
>See more:  Food tour Ha Thanh: Summary of restaurants by the district of Hanoi

3. Sour rib vermicelli
If you are a "vermicelli system" player, you cannot ignore the sour ribs noodle dish. This is a popular dish on Chua Lang Street, prepared according to a very special recipe with rich broth, tender ribs and sweetness that "fascinates" the tip of the tongue when first tasting.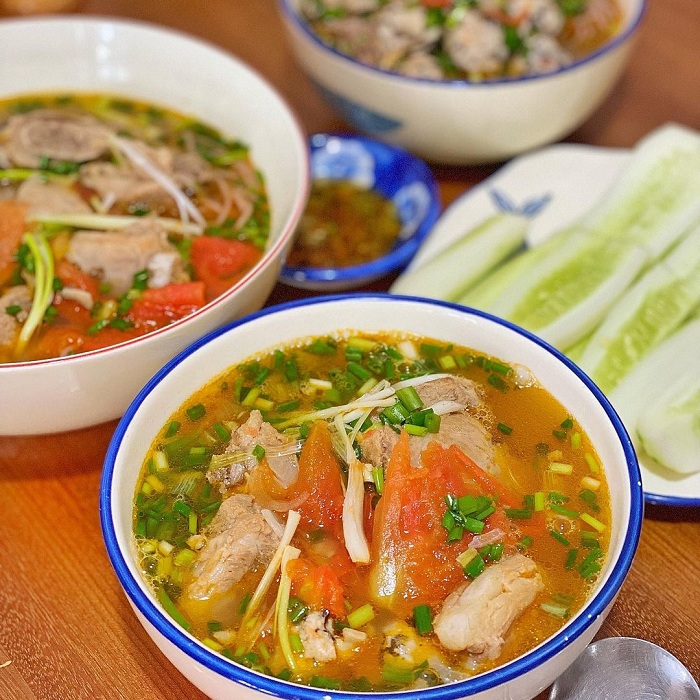 Going to Chua Lang street, you should try the delicious sour rib noodle soup. Photo: @bo.con.bo

In Hanoi, of course, there will be many shops selling sour ribs vermicelli, but if you are visiting Lang Pagoda, you should try to visit number 75. This noodle shop is loved by young people because of its affordable price, standard broth, and delicious food. Want to come back again and again.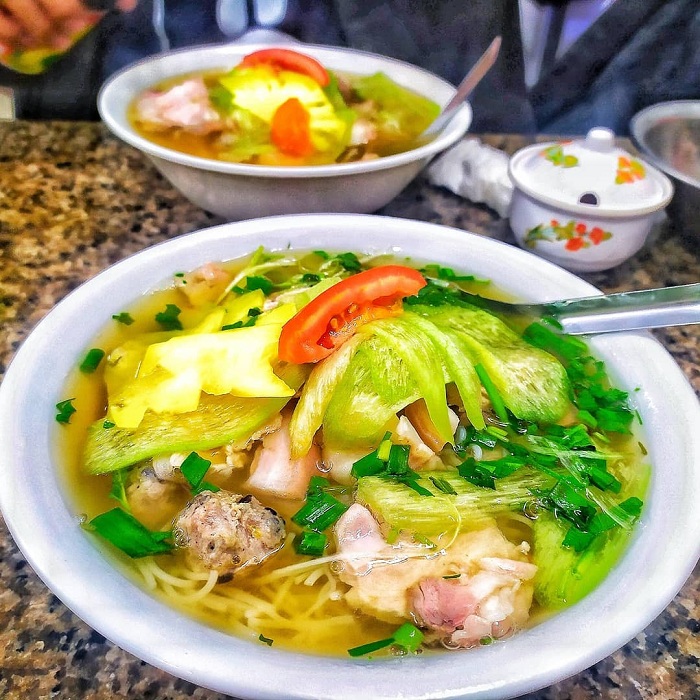 Delicious dishes captivate diners. Photo: @pantyfood

Right at this restaurant, each bowl of vermicelli costs 25,000 VND but is very good. The bowl of vermicelli is full, the broth is fragrant and fragrant, while the topping includes ribs, eggplant, … are presented on top extremely attractive. Just looking at it is fascinating. 

4. Salt and pepper bread
Chua Lang Street is located near major universities in Hanoi, so there is never a shortage of delicious snacks. And if you suddenly don't know what to eat on Chua Lang Street , try the salted chili bread. This is a pretty famous snack in Vietnam and of course indispensable in the capital Hanoi.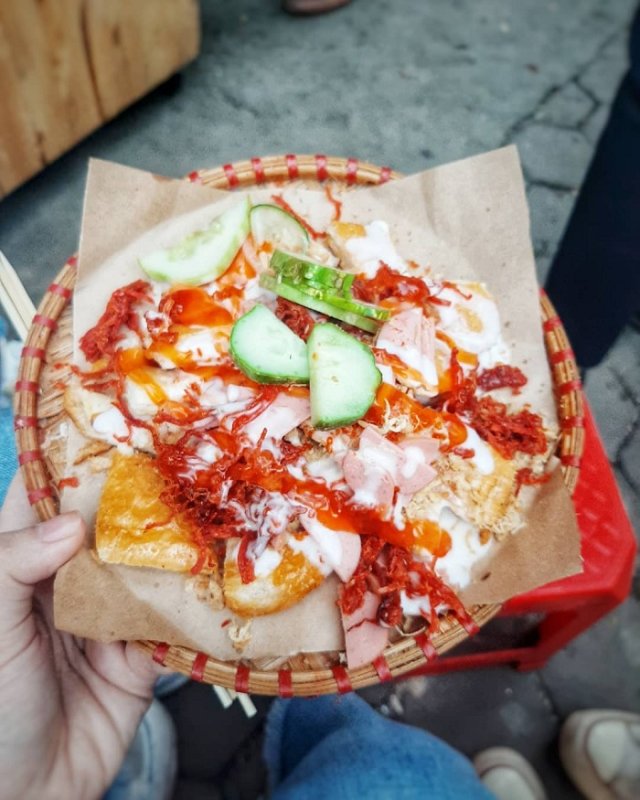 Salt and pepper bread is also an attractive dish in Lang Pagoda. Photo: @dimxfood

Salt and pepper bread is not too complicated, but the taste is delicious. Toasted bread with a crispy outside, soft inside, seasoned with a variety of toppings, guaranteed to make you crave just looking at it. Enjoying hot aniseed bread with coke or Hanoi lemon tea is only "the top of the top".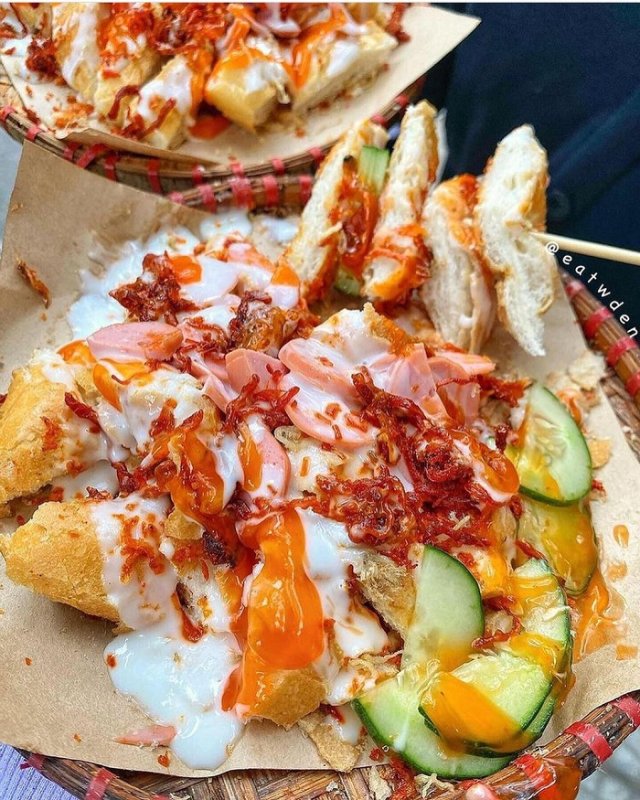 You can enjoy this delicacy at 29 and 91 Chua Lang. Photo: @eatwden

On Chua Lang street, there are many shops selling delicious salted chili bread, among them are 2 addresses at 29 Chua Lang and 91 Chua Lang. This is a place where many young Ha Thanh people and tourists often come to eat because of its delicious taste, standard taste, and reasonable price.
 

5. Grilled skewers
Don't know what to eat at Chua Lang Street? Invite your close friends to eat grilled meat on skewers. This dish is nothing new, but this is a delicious dish that once you eat it, you will fall in love and want to come back again and again. Especially on this street, there is only one famous grilled meat skewers restaurant, which is Hoang Duc restaurant.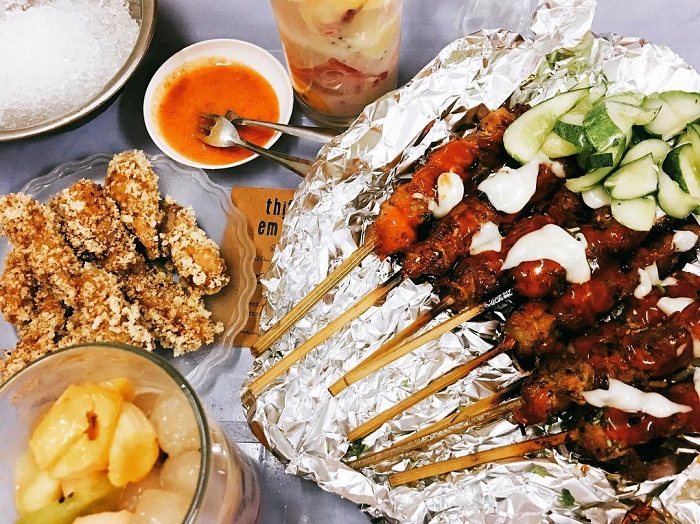 Coming to Lang Pagoda, you should try the attractive grilled skewers. Photo: @eatwithpeachy

Hoang Duc grilled meat skewers shop is often visited by young people because it has a very special recipe for marinating meat. Not to mention, professional barbecue techniques have created a hot, delicious and irresistible grilled skewers. Just passing by the shop, you are attracted by the aroma and want to stop to enjoy it immediately.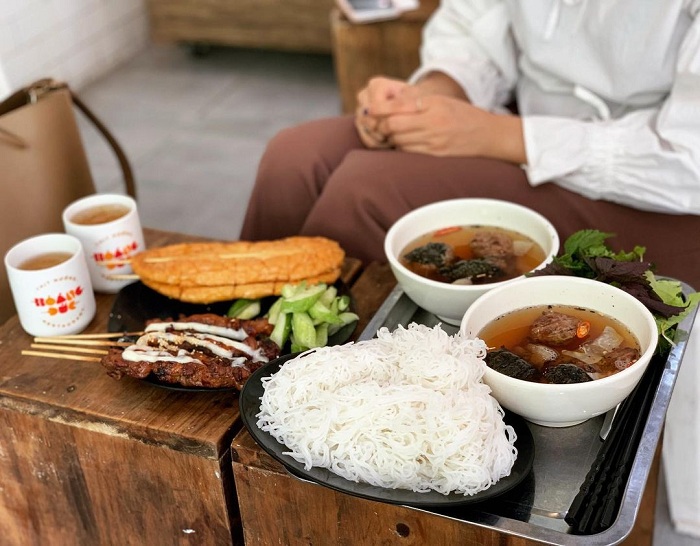 Hoang Duc grilled meat skewers shop is the only famous and unique restaurant on Chua Lang Street. Photo: @minhtrangta

In addition to grilled skewers, Hoang Duc restaurant also sells many delicious dishes such as french fries, avocado bread, chicken soup, banana flower salad, cocoon, salad, etc. The dishes here are priced very student, only from 10,000 – 20,000 VND / serving but delicious and quality guaranteed.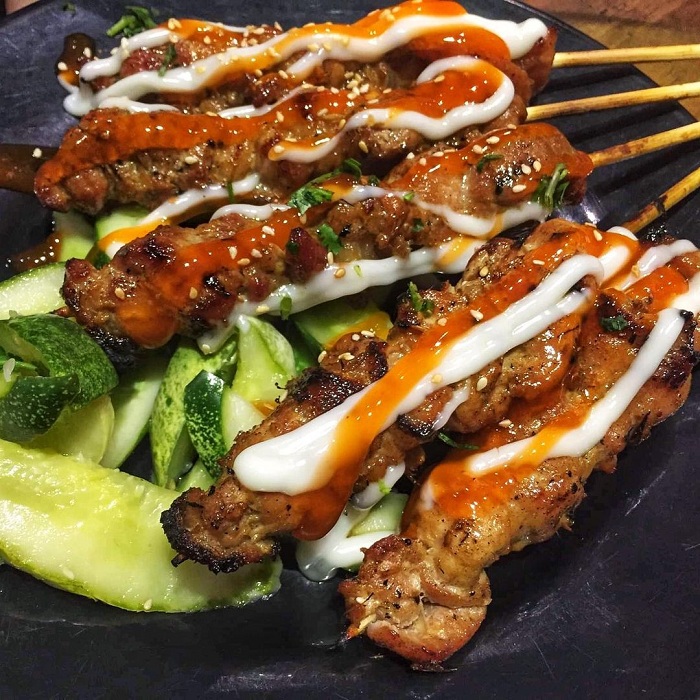 The skewers are so attractive, it's too much of a waste not to try. Photo: @twinstaste

Perhaps with the 5 dishes introduced above, you already know what to eat on Chua Lang Street , right? If you have the opportunity to pass this road or suddenly crave something, try the delicious dishes introduced in the above article to have more choices for yourself.
Photo: Instagram
TAG: