The profession of cutting leaves and breaking buds "makes money" during Tet
 At the end of the year, laborers are hired by flower garden owners to cut leaves and break buds for apricot and chrysanthemum flowers; This job brings a good source of income for people during Tet.
From mid-November (lunar calendar) until now, many flower growers in Quang Tri hire a large number of workers to take care of Tet flowers.
This period is at the end of the Tet flower crop, the workers focus on pruning chrysanthemum buds, fixing the stems, and rearranging the flowers in the garden to prepare for the market.
The purpose of cutting flower buds is to help the plant concentrate nutrients for the main bud, thereby producing beautiful flower pots to supply to the market during Tet.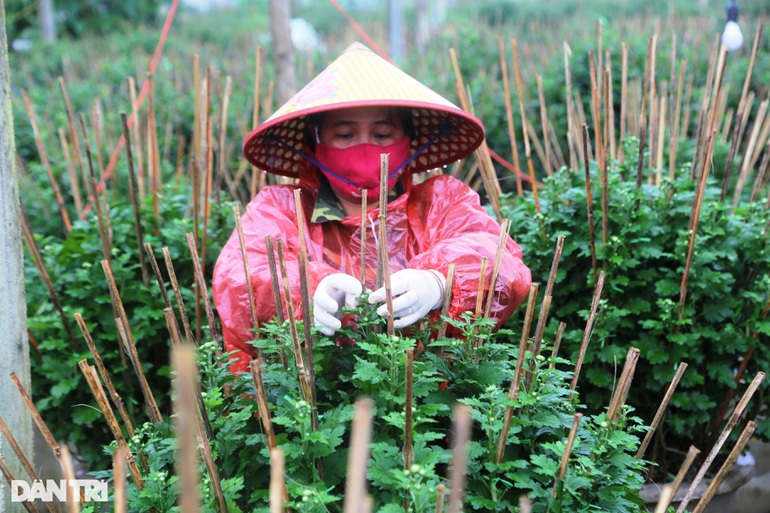 Le Thi Nguyen has been hired to pick flower buds for more than half a month (Photo: Dang Duc).
An Lac flower garden (Dong Giang ward, Dong Ha city) always attracts dozens of workers every day.
Le Thi Nguyen said that at this time chrysanthemum flowers have many buds, but too thick flowers will limit the size of the flower. Therefore, the gardener must prune the branch flowers, leaving only the female flower to bloom large and evenly. In addition, the workers will prune the branches and cut off the bamboo sticks to fix the flowers.
"Doing this job is also quite light, the income is calculated by working days, every day the gardener pays from 200-250 thousand VND. There is only a short time left for the flower crop to end, so I enlisted to work to earn money. to cover family life during Tet," said Nguyen.
For more than a month now, Mr. Nguyen Van Khanh has been hired to work in a flower garden. "Near the end of the season, work becomes busier, because there are only about 15 days left to start selling flowers to serve people playing Tet. Every working day, the workers are paid up to 250,000 VND.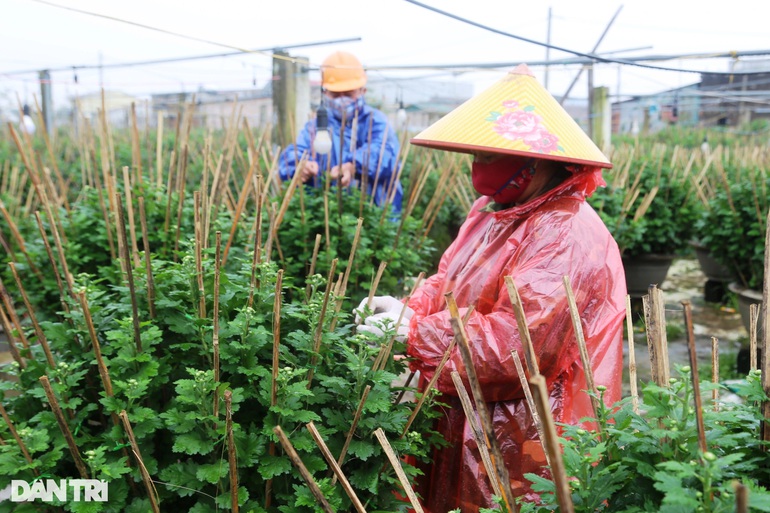 Many gardeners hire 2-3 workers to take care of Tet flowers (Photo: Dang Duc).
In this year's Tet flower crop, Mr. Hoang Huu Khiem's ​​household planted more than 1,000 pots of chrysanthemums, so his flower garden always needs 4-5 workers to work regularly.
The stages from sowing, weeding, fertilizing, taking care of flowers… all need labor. On average, each month, garden owners pay workers from 6-6.5 million.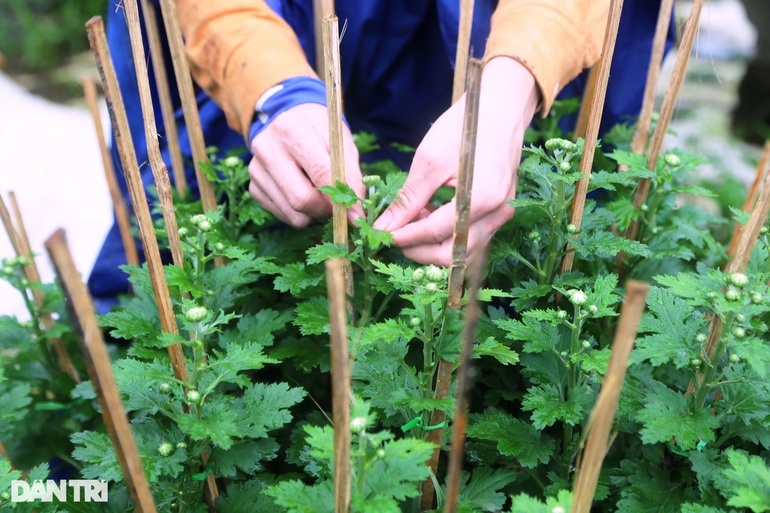 Workers prune the branches, leaving only the main flower to concentrate nutrients to make the flower bigger (Photo: Dang Duc).
In addition to chrysanthemum flowers, in recent years, apricot flowers and peach flowers are also loved by many people and bought for display during Tet. Recorded in some flower gardens in Dong Ha city, currently, garden owners are importing a large number of apricot flowers, so they need to hire workers to prune leaves.
Ms. Le Thi Hong – who was hired to prune flowers, said that on this occasion the leaves of apricot flowers were yellow, the tree was about to bloom, so it was necessary to prune the leaves to promote the flowers to bloom evenly and beautifully. The gardeners who hire apricot leaf pruners are also paid from 250-300 thousand VND/day.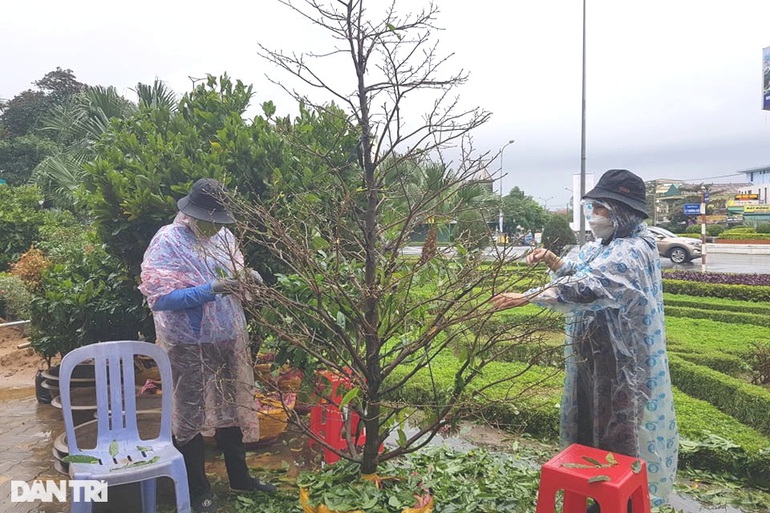 Workers cut apricot leaves so that the tree can bloom in time for Tet (Photo: Dang Duc).
Thanks to a good income from taking care of Tet flowers, many workers will have more money to take care of their families during the upcoming Lunar New Year.
According to flower garden owners, after pruning buds and cutting branches, gardeners need to hire workers to repaint flower pots as well as rearrange plants in the garden.
Sticking with flower care since the beginning of the crop, Mr. Hoang Hiep (residing in Dong Giang ward) said that every year I am hired to take care of Tet flowers.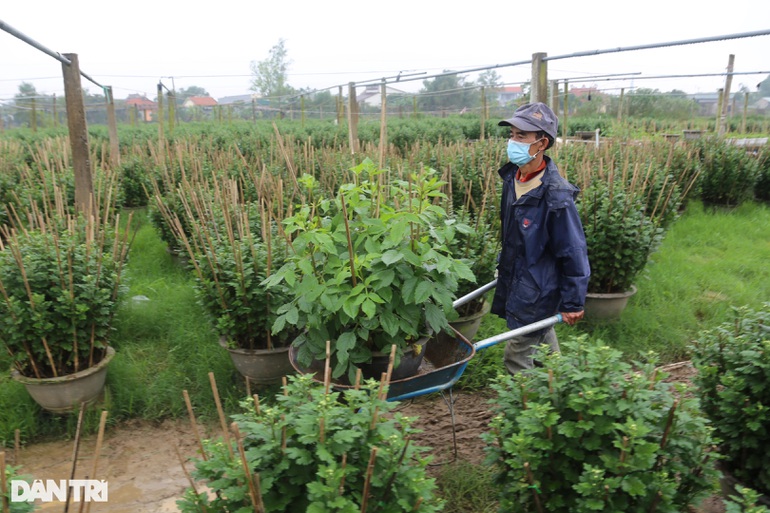 Mr. Hiep rearranges flower pots in the garden to prepare to sell on the Tet holiday (Photo: Dang Duc).
"Thanks to the Tet flower crop, flower growers earn a good amount of money after selling flowers. Besides, self-employed workers also have extra income to buy Tet clothes for their families," Mr. Hiep said. .
Follow (Dan Tri)
TAG: