Broken rice restaurant hiding in an alley full of customers for 20 years
HO CHI MINH CITY – Every day at 8 pm, alley 95 Le Van Duyet is bustling again, 20 tables full of customers eat Huyen broken rice.
Huyen broken rice is one of the favorite addresses of diners in the Binh Thanh district. The shop has been open for more than 20 years, currently owned by 55-year-old Ms. Nguyen Thi Ngoc You. Unlike other broken rice shops that usually sell in the early morning or noon, Huyen's rice restaurant doesn't clean up until the afternoon and picks up customers until 1 am the next morning.
"This rice shop belongs to my sister, Huyen's name. Later, when she passed away, she left me to sell. The recipe for marinating ribs, choosing rice to cook rice, making fish sauce, skin, rolls, pickles… was passed down and. She kept her job until now, nothing has changed," she said. Several times, the shop changed its address, went to the front of the main street, but finally, she moved to Le Van Duyet alley, selling permanently as it is today.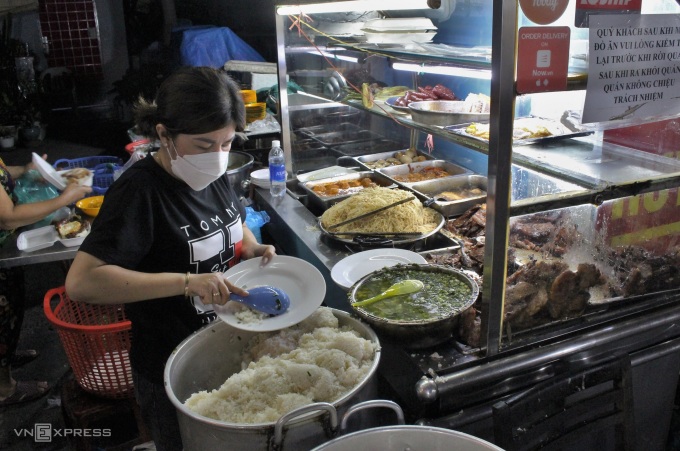 Before the fourth Covid-19 epidemic, the restaurant had about 10 new waiters. Photo: Huynh Nhi
First-time visitors to the shop will be surprised by the bustle of the alley at night. 20 low tables, small plastic chairs are always full of guests, nearby is a row of motorbikes closely lined up. Each meal at the restaurant costs 35,000 VND.
Serving rice, customers order continuously, some people wait for the rice to be brought back. At the counter, the staff never rests. From time to time, someone would bring a steaming pot of steaming rice, trays of fragrant grilled ribs placed in the cupboard. Tray of packaging, rolls, and onion fat kept falling, but someone brought it up and filled it up.
The owner shared, broken rice and grilled ribs are sold to where they are cooked, not ready-made. "Once cooked rice will cool, the seeds will be hard. If the ribs are left for a long time, it will feel like the meat is dry, so when you sell it, it will be delicious," Ms. You said.
She added that selling at late hours, the shop has many customers who are small traders in the markets in the area. "There are customers trading at Ba Chieu market, the wholesale market goes to get vegetables, leaves things late at night, early in the morning, I come to my shop to buy rice to take with me, the restaurant is crowded partly because of that number of customers," she said.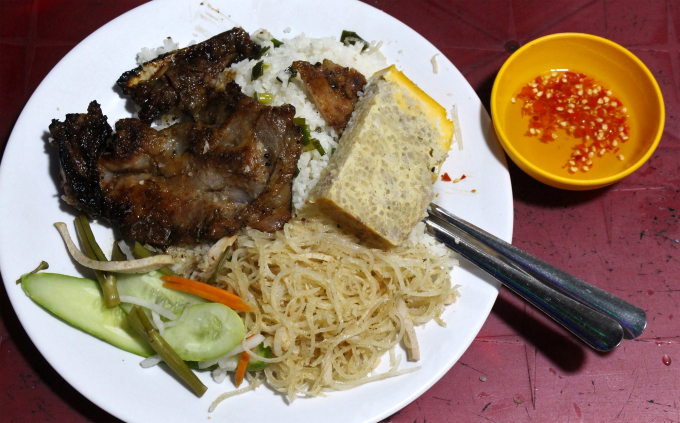 The price of pork ribs rice is 50,000 VND at the restaurant. Guests who order more soup will be served a full bowl, with meat, bones, vegetables will add 10,000 VND. Photo: Huynh Nhi
Mr. Anh Kiet in Binh Thanh with his wife and son came to dinner, evaluating the restaurant's rice as delicious, filling and affordable. "The broken rice grain here is one-third as small as a normal grain of rice, just the right standard broken rice. Whenever I come home late from work, I always stop by this restaurant to eat or buy takeout," said Mr. Kiet. As for his wife, the family's three meals are only about 120,000 VND, affordable.
Mr. Siddhartha, Thu Duc City, was led to the restaurant by a colleague. "The grilled meat is soft and sweet in the Western style, and I like it very much, and the fish sauce is very similar and delicious in every drop," he shared.
Some other diners were also quite satisfied with the quality of the food but suggested that the restaurant should improve hygiene because the dining table did not have trash cans and tissues were thrown indiscriminately.
Follow(vnexpress)
TAG: