The entertainment places in the Long Bien district are both beautiful and quality
No need to go all the way to Hanoi, just go to fun places in the Long Bien district and you will have a really fun and comfortable time with lots of cool virtual check-in photos.
Fun places in Long Bien district are both fun and beautiful

1. Long Bien Flowering Prairie
Long Bien flower steppe is a very famous entertainment place in the Long Bien district in recent years. This place is like a virtual living paradise with a vast, large space with many beautiful flower fields and gardens. Four seasons of the year, the Flower Prairie are beautiful coordinates for visitors to check-in.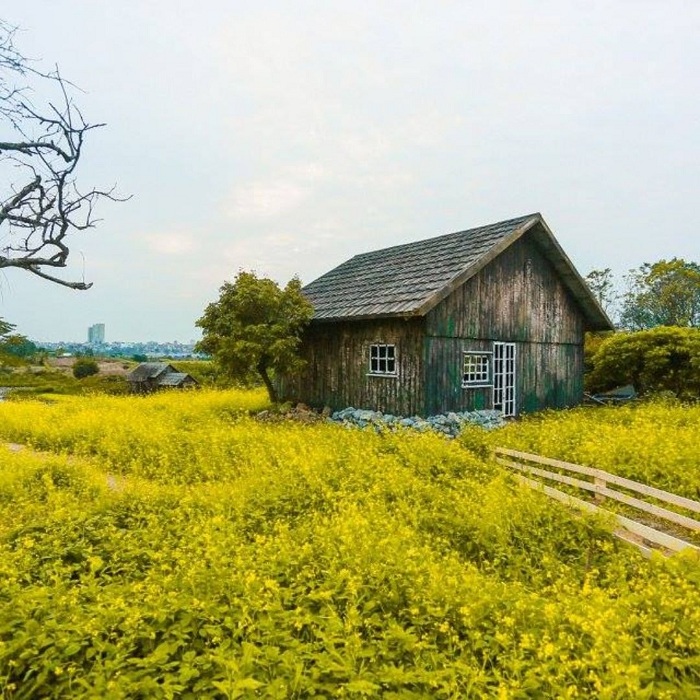 Long Bien flower steppe is located in Thach Cau. Photo: @thaonguyehoa_longbien

Long Bien flower meadow is located at Thach Cau beach, Long Bien ward, Long Bien district, Hanoi city. With a total area of ​​​​up to 6 hectares, this place owns a beautiful scene like a "miniature Da Lat" with a poetic, fresh space and many flowers blooming throughout the 4 seasons of the year.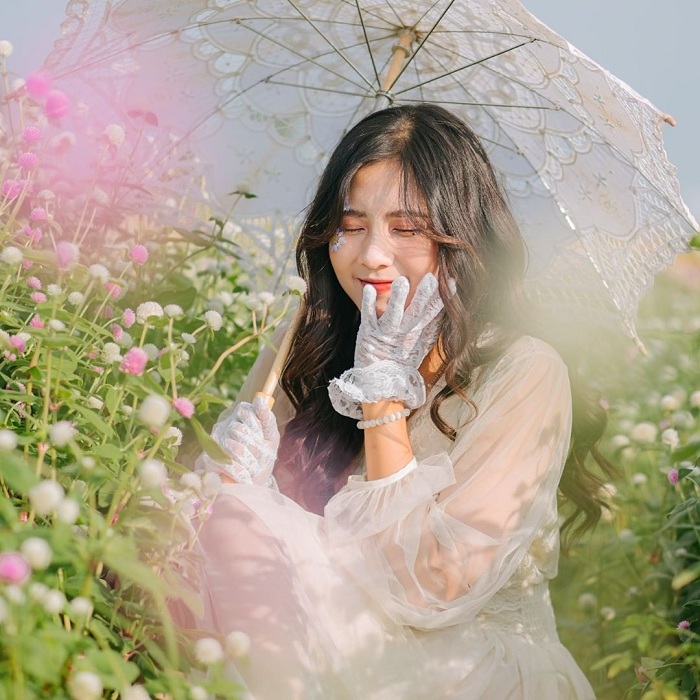 There are many beautiful flowers here. Photo: @thaonguyehoa_longbien

What to do when going to the Flower Prairie? The first experience is probably walking, sightseeing, breathing in the fresh, fragrant air that this place brings. The beauty of this flower garden converges between the poetic features of Da Lat, the European landscape and a very unique rural imprint of Ha Thanh.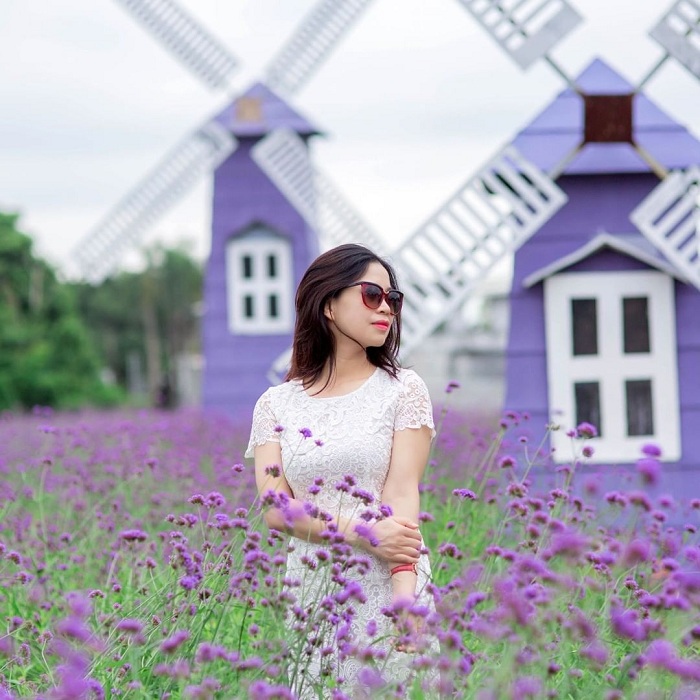 This place owns a poetic and peaceful space. Photo: @thaonguyehoa_longbien

Long Bien flower steppe has many different kinds of flowers, depending on the season of the year, there will be beautiful flowers in bloom. You will admire the pure white chrysanthemum garden, be immersed in the romantic space of the purple flower garden, admire the golden sunflowers. Not to mention there are lotus flowers, butterfly wings, roses, … planted everywhere.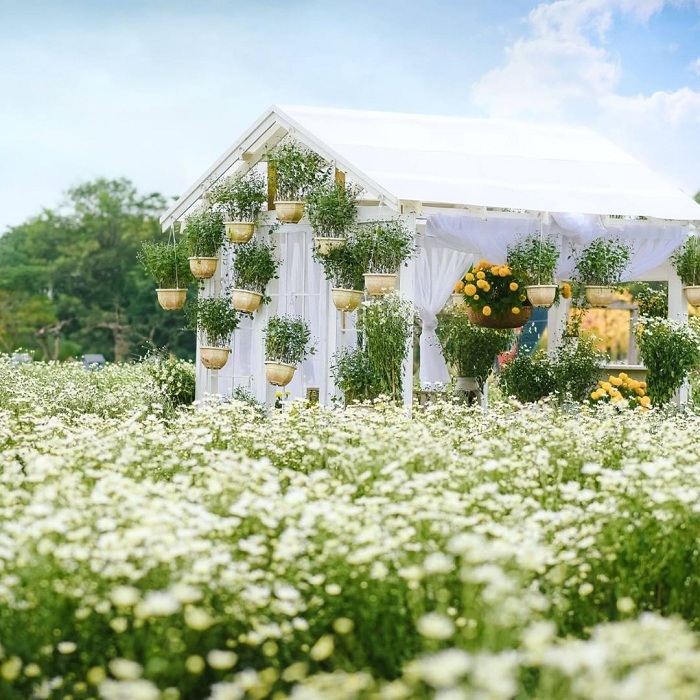 The beauty of Long Bien flower meadow in the season of white daisies. Photo: @thaonguyehoa_longbien

This flower steppe is truly a famous destination of Long Bien district, frequented by local residents and tourists. You can come here to take virtual live photos, take wedding photos, shoot MVs, etc. depending on your needs with the entrance fee of 70,000 VND/person. If you follow the team, the ticket price will be different. 
> See more:  Do you know what to do when coming to Hanoi?

2. Rose Park Rose Park
If you are a lover of Rose Park roses, the entertainment place in the Long Bien district cannot be missed. This beautiful park is located in Thach Ban Ward, Long Bien District, about 10km northeast of Hanoi's city center. Coming here, you will be lost in a "rose kingdom" with an extremely sweet and romantic space.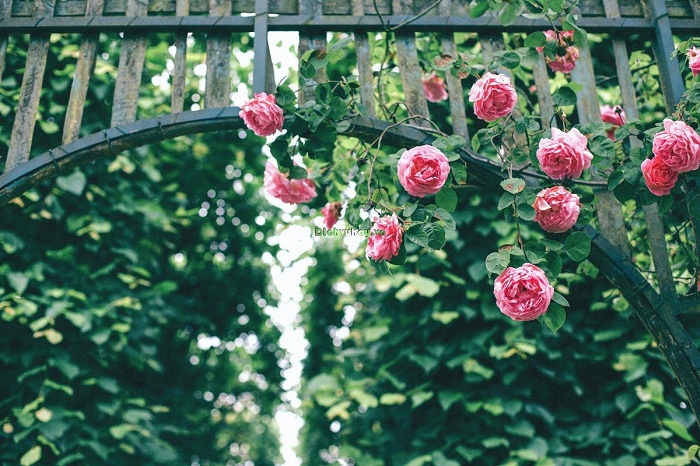 Rose Park is a rose park invested on a large scale. Photo: Good service 

What's attractive about Rose Park? This place is an eco-tourism space with a rose garden, culinary restaurant, entertainment area, fishing and space for picnic activities of visitors.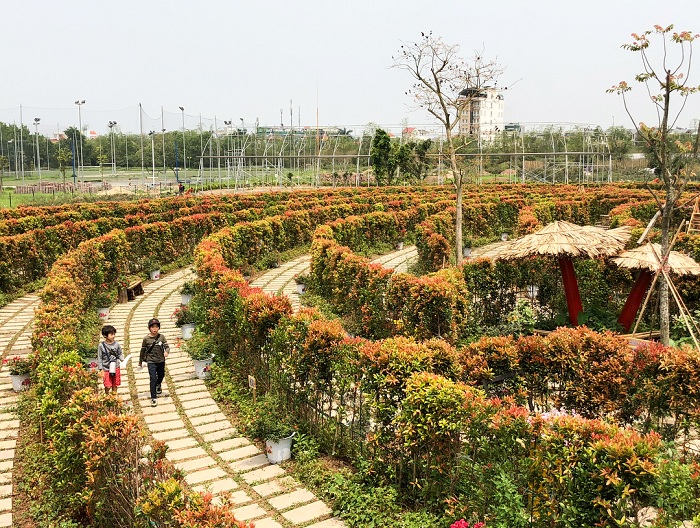 This place has a maze of roses and many attractive entertainment and entertainment facilities. Photo: Halo Travel 

The highlight of Rose Park is the largest rose maze in Vietnam. There are a total of 10 concentrically designed flower circles, planted with more than 12000 beautiful roses. Coming here, you will discover a flower maze with a length of 1.8 km. The whole space is covered with fresh roses with neat paved paths, intelligently arranged like a fairy garden.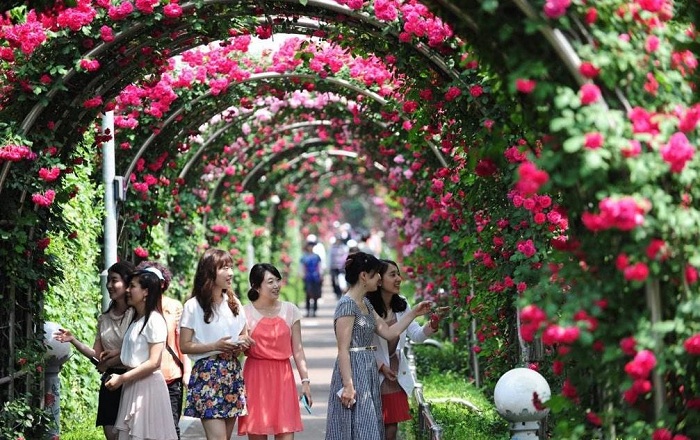 Space filled with flowers in Rose Park. Photo: Internet 

Coming to this beautiful rose park, in addition to experiencing the romantic beauty of roses, visitors can also explore elaborately and methodically invested miniatures. It is a rustic cottage, a fresh waterfall, a green oasis that is extremely unique and interesting.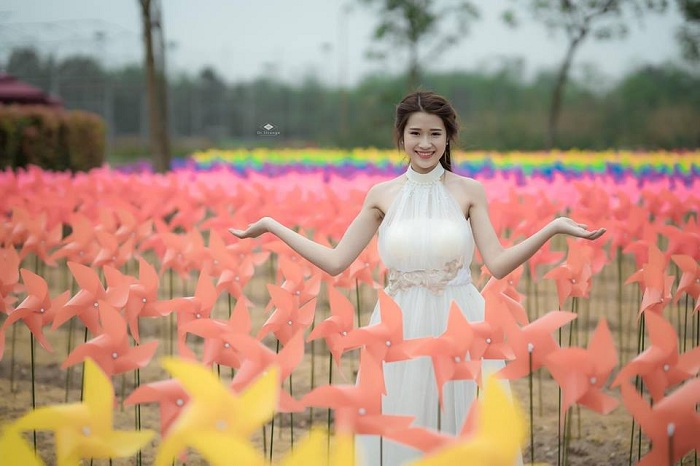 The beautiful pinwheel field in the Rose Park campus. Photo: Internet 

Not only impressing with the beautiful rose maze, but this amusement park in Long Bien district also has many other attractive items such as a pinwheel garden with 10,000 colorful pinwheels, a filming site for For couples taking wedding photos, but there is also even an event picnic area with an area of ​​​​up to 200,000 m2, providing a variety of experiences for visitors.
 

3. Aeon Mall Long Bien
One of the most attractive entertainment places in Long Bien district is Aeon Mall, Long Bien. This is a commercial center complex located at 27 Co Linh, Long Bien ward, Long Bien district, Hanoi city. Visit Aeon Mall Long Bien, you can both shop freely, have fun and eat comfortably.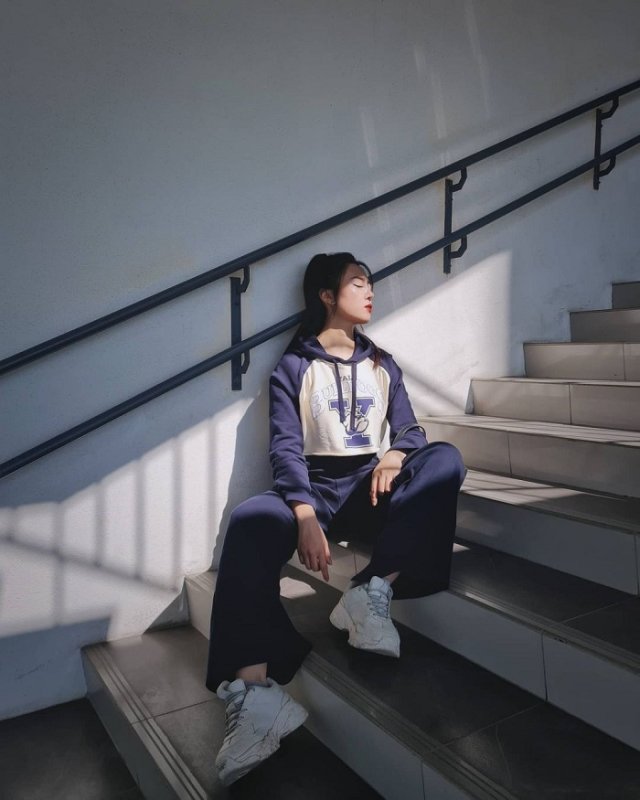 Aeon Mall Long Bien is the coordinates that many young people love. Photo: @vivii.tran_

The area of ​​Aeon Mall is up to 9.6 hectares, planned into 4 floors and divided according to the area of ​​​​each separate area. In which, the first floor is a supermarket, department store, cosmetic and fashion store. The 2nd floor is an attractive play area for children. The 3rd and 4th floors are entertainment centers, with cinemas and extremely attractive game areas.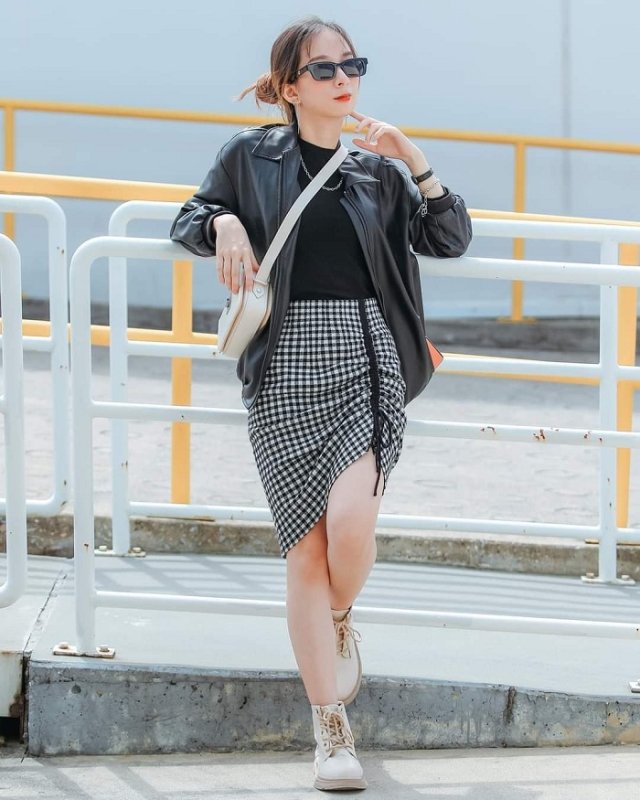 This is a commercial center with an area of ​​9.6 hectares. Photo: @nt.hare

If you don't know what to play in the Long Bien district , come to Aeon Mall to have fun and shop. A series of restaurants, supermarkets, entertainment, services from popular to high-class are always ready to serve you, bringing the best experience. In particular, the commercial center space is designed with modern, shimmering light, bringing a lot of beautiful and impressive check-in corners.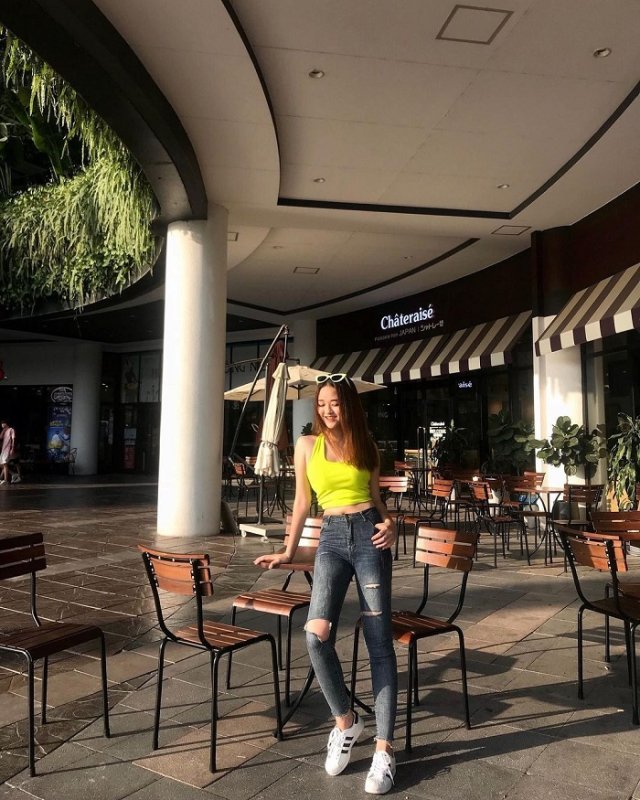 Aeon Mall Long Bien has many entertainment facilities, food, entertainment,… Photo: @ngccgo.ttn

For dynamic young people who love to have fun and explore, Aeon Mall is the place where you and your friends can explore Aeon Mall Dream Games Bowling, experience thrills at Aeon Mall Long Bien. In addition, you can also spend time watching movies or having coffee, eating at the food court.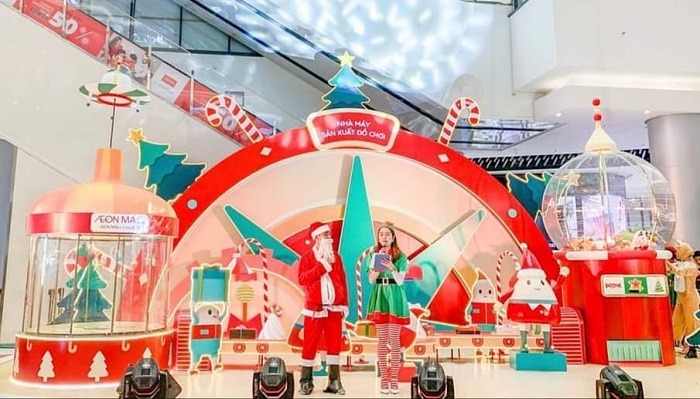 This place regularly organizes large and small events. Photo: @ba_gia_298

Just 1 day visit Aeon Mall Long Bien, you can shop, play, entertain and experience comfortably, recharged with energy after a long time of hard work and study. If you are a tourist traveling to Hanoi , this is also an attractive coordinate worth visiting and experiencing.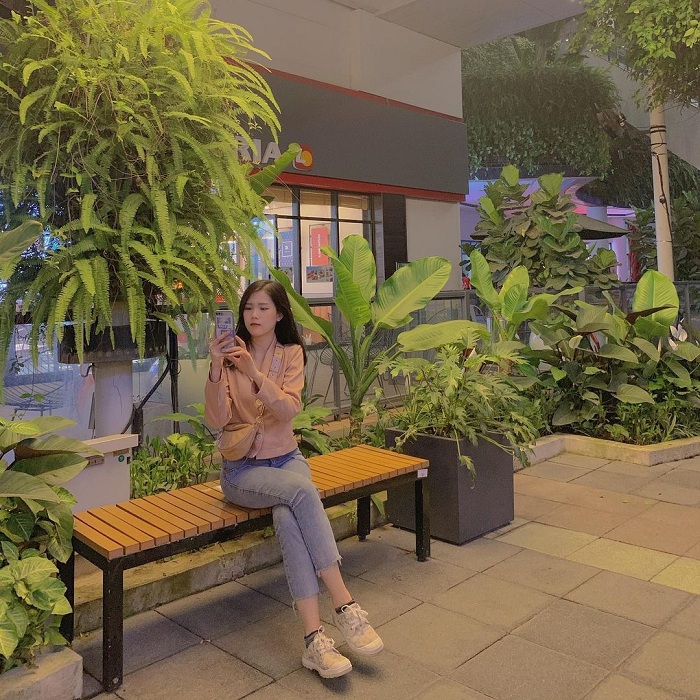 In your journey to discover the Long Bien district, you should spend time going to Aeon Mall. Photo: @linmegghacn_

Flower grassland, Rose Park and Aeon Mall are fun places in the Long Bien district that are both beautiful, fun, and attractive that you should experience. Whether you are a resident of Ha Thanh or a tourist, these are a series of destinations that bring many interesting and memorable activities for you. 
Photo: Instagram + Internet
TAG: