Whispering with delicious snack bars in Saigon that are 'making a splash'
It would be a big mistake to ignore the delicious snacks in Saigon to enjoy the irresistible delicacies and chat with friends and aunts. Let's find out which are "delicious, nutritious, cheap" snack shops in Saigon . 
Famous street food restaurants in Saigon
Here is a review of the most popular delicious snacks in Saigon today:     

1. Sai Gon Di Nii restaurant
– Address: 243/30 Ton Dan, District 4, Saigon
– Opening time: 3pm – 10pm
– Reference price: 10,000 VND – 33,000 VND
Referring to delicious snacks in Saigon, it is impossible to ignore Di Noi's restaurant at 243/30 Ton Dan, District 4. The plus point of this restaurant is that the ingredients are new and cleanly processed. so there is no bad smell when eating. Coming to the restaurant, you will be impressed with the beautifully colored pot of fried rice with all kinds of pho, lungs, sugar cane leaves, liver and Thang long. What makes the attraction of Auntie Nii restaurant is that it is cooked with delicious, greasy coconut water and crispy ingredients.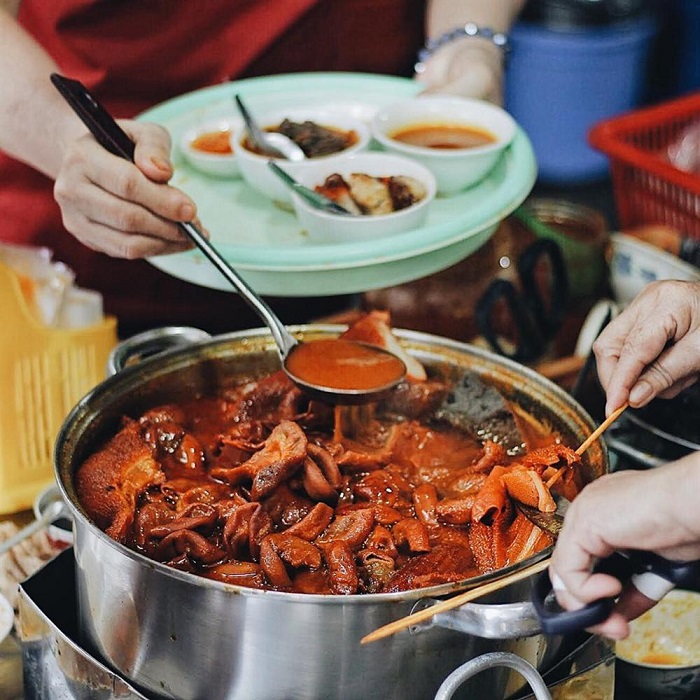 Saigon Di Nii restaurant is famously delicious

In particular, the sauce is prepared super delicious, full of salty, sweet and spicy flavors. Just eat it with hot crispy bread with dipping sauce and delicious and hard to resist. In addition, Di Nui restaurant also serves delicious crispy fried beef and fried rice.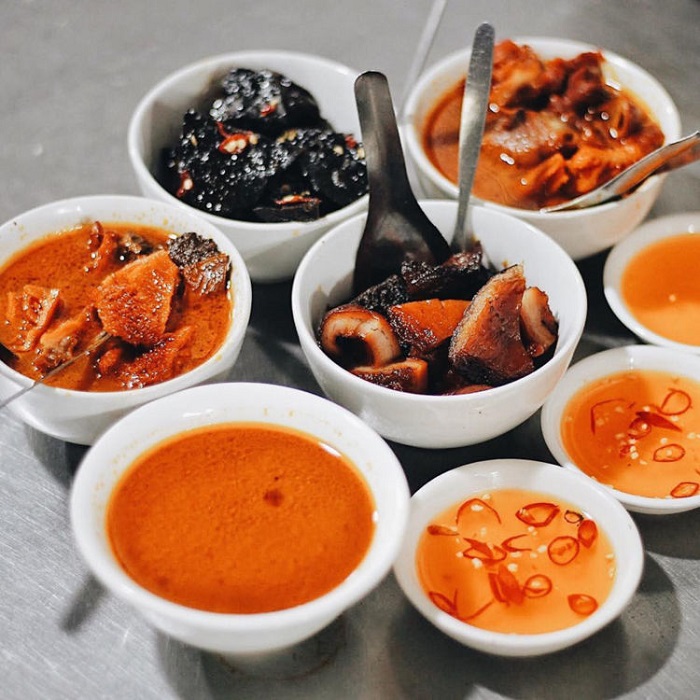 The menu of attractive dishes at the restaurant

2. Hanh crab soup
– Address: No. 517 Su Van Hanh Street, District 10, Ho Chi Minh City
– Opening time: 6h15 – 22h30
– Price range: VND 12,000 – VND 22,000
Hanh Crab Soup is one of the most popular delicious snacks in Saigon today. The restaurant is famous for its delicious, clean, and reasonably priced food. Hanh's crab soup is full of ingredients with shredded chicken, crab meat and wild mushrooms. The bowl of crab soup is seasoned with seasoning to taste and can be enjoyed with chili, cilantro and a little bit of delicious pepper.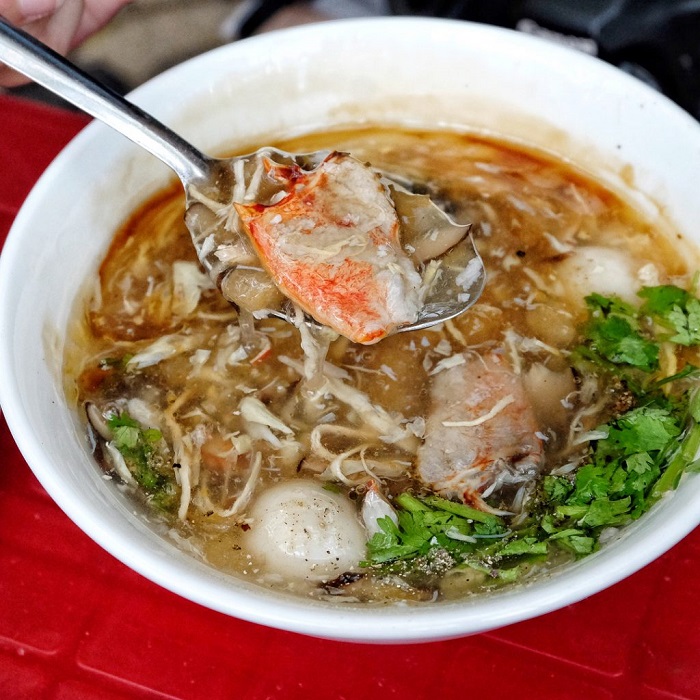 Hanh crab soup is loved by many tourists when coming to Saigon

The shop has a modest space, so most of the customers are mainly take-out. Besides the famous crab soup, the restaurant also serves grilled chicken feet, fried chicken wings… Note, the shop is very crowded in the evening, so you should arrange your time to go early to avoid long waits.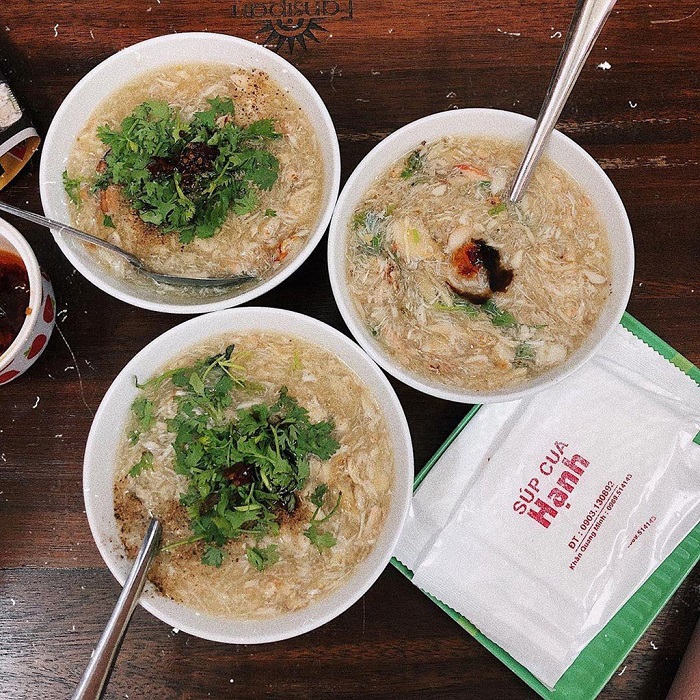 The attractive crab soup makes me crave for it

3. Le Quang Sung shallot cake 
– Address: No. 142 Le Quang Sung Street, District 6, Ho Chi Minh City
– Opening hours: 13h00 – 15h30
– Price range: 5,000 VND – 15,000 VND
Does Saigon have any good snacks ? Le Quang Sung shallot cake is an address that once made a storm and is very popular with young people. This is a famous cake originating from China. The cake is made from chives mixed with flour and ground pork. Then, fry the cake with crispy and fragrant oil. To make the cake more delicious, it can be served with sweet and sour sauce or chili sauce. In addition to chives, you can choose taro cake or cabbage. After frying, the cake is very crispy and especially there is no pungent smell from onions.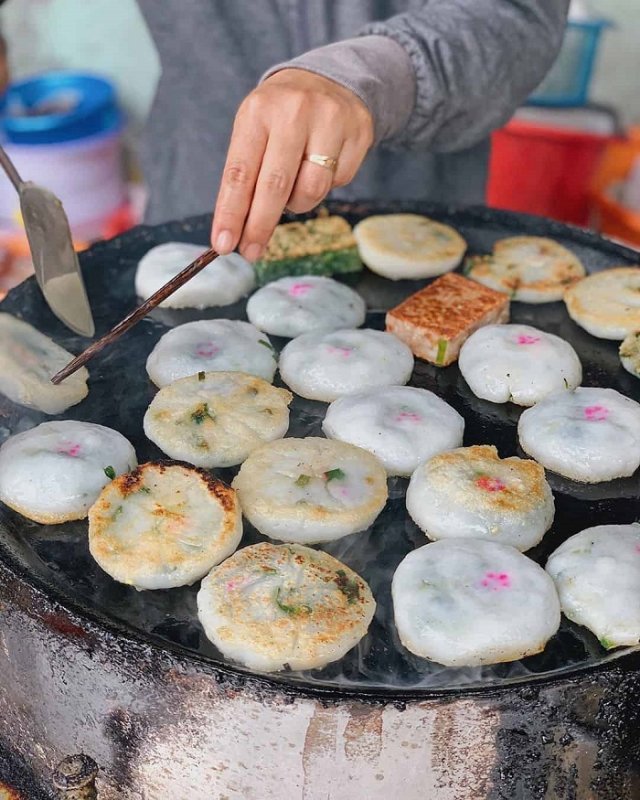 Le Quang Sung shallot cake 
The shop is located in a snack paradise in District 6, always crowded with customers, especially in the evening. Cakes sold by people of Chinese origin should ensure the traditional recipe. Reasonable prices, delicious food is the plus point of the restaurant.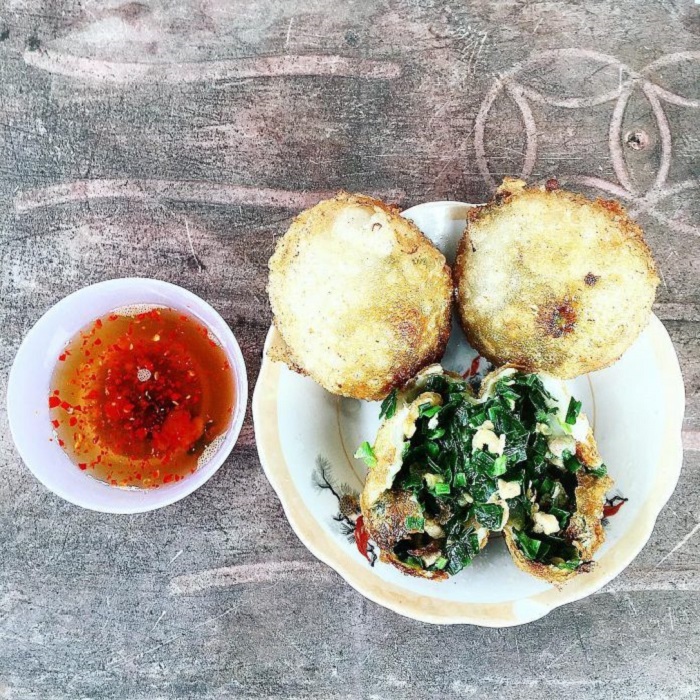 Le Quang Sung shallot cake is crispy and delicious

4. Uncle Vien mixed rice paper
– Address: No. 38 Nguyen Thuong Hien, Ward 5, District 3, Ho Chi Minh City
– Opening time: 10:30 – 19:00
– Reference price: 20,000 VND – 35,000 VND
The next delicious cheap snack shop in Saigon that you should not miss is Uncle Vien's mixed rice paper shop at 28 Nguyen Thuong Hien Street, District 3. The special thing about this snack shop is that it doesn't use oil. Fat ensures health so it is very popular. The shop does not use satay to mix the cake, but insSweet Soupd it is mixed with beef sauce, so it is very rich.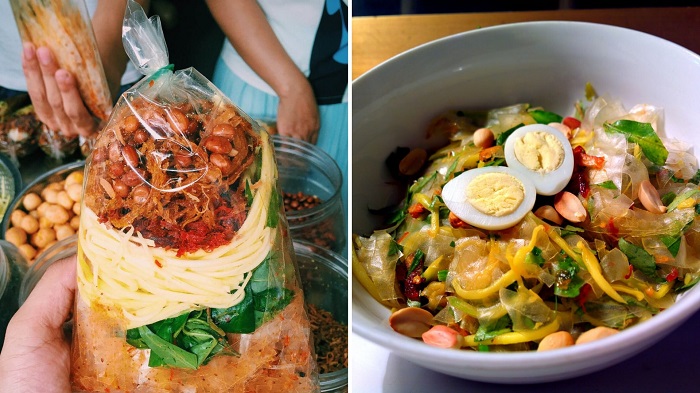 The famous Uncle Vien mixed rice paper in Saigon

The ingredients for making mixed rice paper include quail eggs, dried shrimp, rice paper, dried squid, dried beef, shredded mango, laksa leaves, peanuts… All mixed together to make the cake evenly seasoned and soft. The plus point of the shop is that the rice paper after mixing does not stick to lumps, so it is easy to eat. The shop mainly sells takeout and delivery.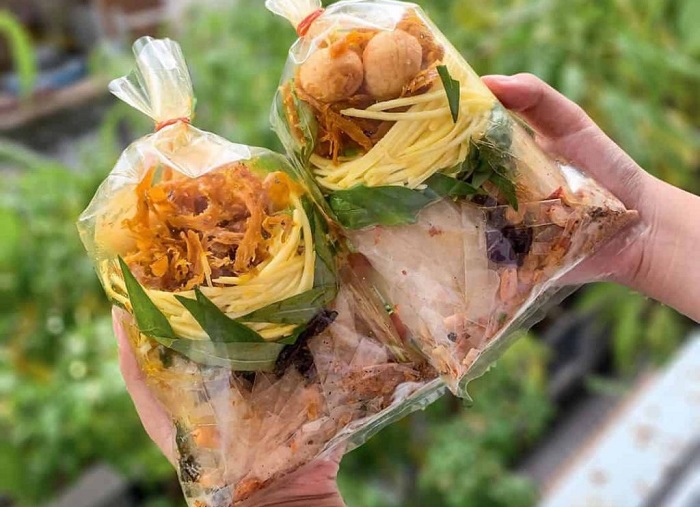 The shop has shipping according to customer's request

5. To' snail shop
– Address: 224 Xóm Chieu, Ward 16, District 4, Ho Chi Minh City
– Opening time: 11am – 21h30
– Reference price: 50,000 VND – 150,000 VND
Delicious snacks in Saigon cannot be missed the famous snail To restaurant in Xom Chieu area. All dishes at the restaurant are prepared according to a very different recipe. Each large bowl of snails is full of shells, priced from only 50,000 VND. Most diners when coming to the restaurant choose Thai sSweet Soupmed clams, fried eggplant with garlic, fried blood cockles with garlic, salted and pepper crab claws, grilled scallops with onion fat…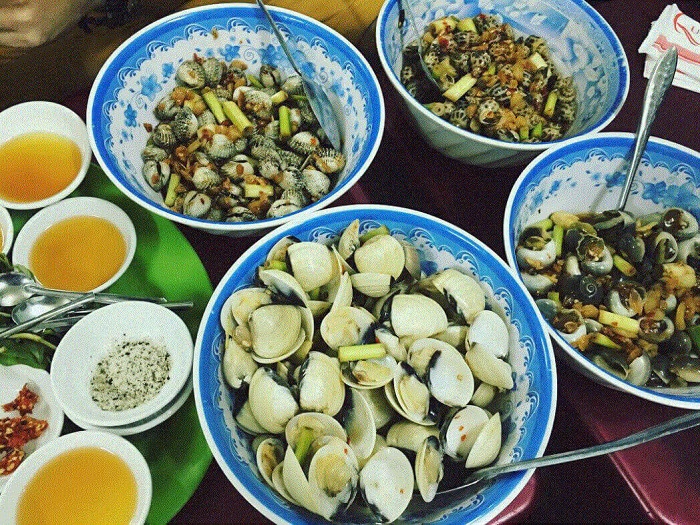 Snail To restaurant is a famous snacking address in Saigon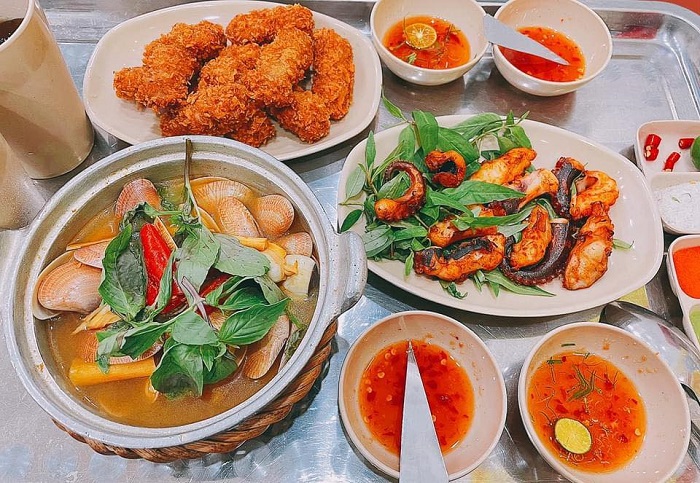 Lots of delicious snacks at the shop

6. Ha Ky Sweet Soup
– Address: No. 138 Chau Van Liem Street, Ward 11, District 5, Ho Chi Minh City
– Opening time: 14h – 23h
– Reference price: 20,000 VND – 40,000 VND
Ha Ky Sweet Soup is a delicious snack shop in Saigon associated with the people of Saigon for nearly 50 years. This is a very famous restaurant and is loved by many tourists every time they have the opportunity to come to Saigon. The restaurant's menu has all 38 Sweet Soup dishes, with all kinds of hot Sweet Soup to cold Sweet Soup for you to enjoy.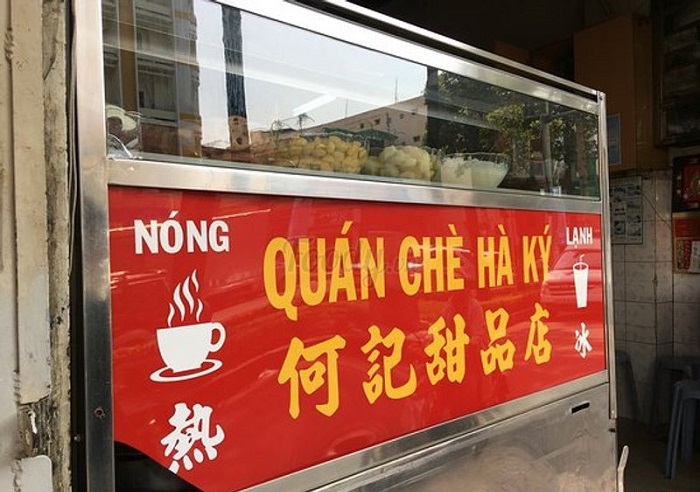 Ha Ky Sweet Soup originates from China

In particular, the Sweet Soup dishes at Ha Ky restaurant are named with very impressive names such as: Snow ear tea with red apple with potential papaya, fresh milk tea with chicken seeds, ginkgo biloba tea, tofu ky,… Besides, , the shop is also famous for many other attractive snacks such as: Wet cake, silkworm cake, vegetarian wrap.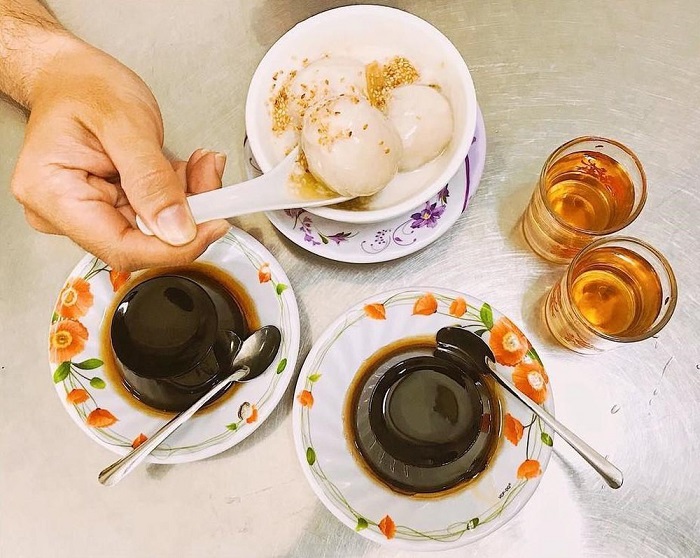 Many attractive tea dishes at Ha Ky shop

Hopefully with the reviews of delicious snacks in Saigon: The address, menu, and prices above will help you choose the most suitable restaurant for yourself. In addition, you can refer to Detailed Saigon travel experience. 
Photo: Internet
TAG: