3 restaurants in Da Lat are always crowded
Quan Go beef hotpot, Tao Ngo e chicken hot pot, Ba Hung grilled spring rolls are attractive culinary addresses, even having to wait in line for their turn.
Ba Hung grilled spring rolls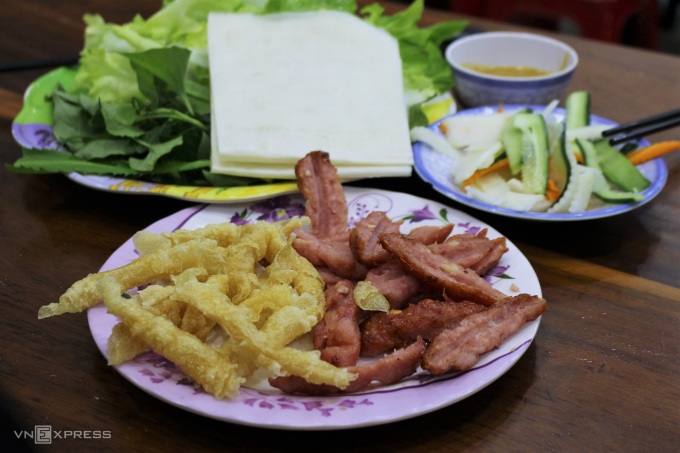 Grilled spring rolls for two people at the restaurant. Photo: Huynh Nhi
The shop is located at 328 Phan Dinh Phung Street, Ward 2, open from 9:30 a.m. to 9:00 p.m. daily. The busiest hours here are early afternoon and evening. The restaurant has few staff to serve, so when the table is full, diners have to wait about 20-30 minutes to have their food. In the meantime, you can use warm soy milk.
The price of each piece of grilled spring rolls is 50,000 VND, including grilled spring rolls, crispy fried rice paper, raw vegetables, and sour food. The cup of dipping sauce that is always warm is considered the soul of the dish, made from liver, shrimp, meat and beans pureed into a greasy paste.
Grilled spring rolls are soft, sweet, and medium-tough, outside iridescent fat. Each spring roll is often combined with small crispy fried rice rolls. Spring rolls served with fresh vegetables, adding a little sour from carrots, cucumbers, and white radishes will not be afraid of being fed up.
Quan Go beef hot pot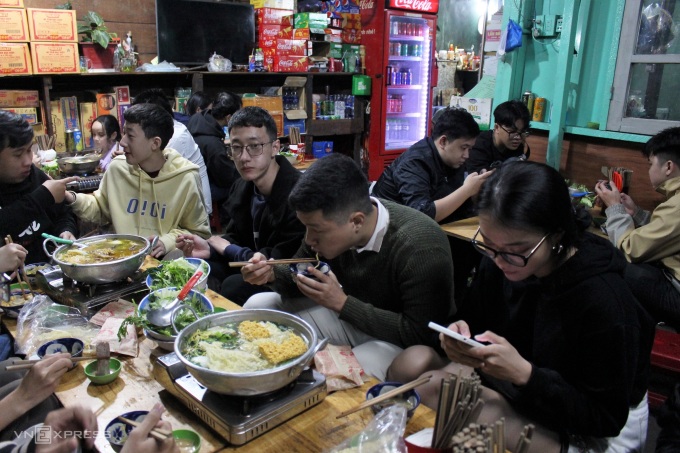 Guests enjoy beef hotpot at Quan Go in the last days of 2021. Photo: Huynh Nhi
The section of To Ngoc Van street that leads through Hoang Dieu alley, ward 6 is known by tourists as the beef hot pot area, because along the way there are over a dozen different hotpot restaurants. The most crowded address is the Quan Go beef hot pot located at the end of Hoang Dieu alley. Visitors for the first time may feel overwhelmed because of the line of cars, and inside is a full parking lot for motorbikes.
The shop is open from 10 a.m. to 10 p.m. daily, most crowded from 6 p.m. onwards. Guests arriving at this time will have to wait for the owner to arrange a table. Inside the close-up dining tables, any table that has just been used is immediately replaced by another guest. Serving always with hands and feet, after ordering, the food will be brought up almost immediately, without having to wait long.
Each hot pot costs from 200,000 VND. Fragrant broth, keeping the sweetness of beef bones lightly grilled over fire. Customers order dip depending on the number of people, the menu has lean meats, tendons, tails, or sausages cooked soft, young tofu cut square. Dipping sauce made from Chao and satay. Delicious beef hotpot cannot be without the green vegetables of Da Lat, including broccoli, cabbage, spinach, Centella Asiatica, fresh young fenugreek, more delicious when used with golden egg noodles, with toughness.
Tao Ngoi chicken hot pot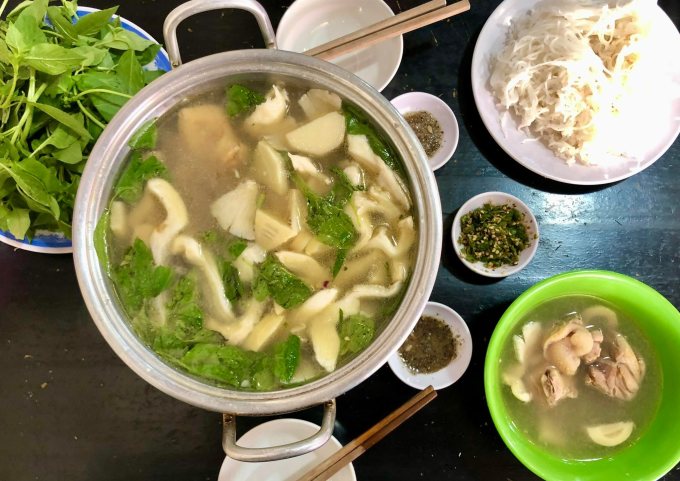 Delicious tender chicken, sweet mushrooms, crispy bamboo shoots and the lightness of e leaves impress diners, whispering in the cold of the night sky in Da Lat.
Chicken leaf e hot pot also won the hearts of visitors to Da Lat. The shop has many addresses, in which number 5, 3/4 street, ward 3 is always full, especially at night. Customers go in and out of the restaurant continuously and are served quickly, without having to wait long.
Each hot pot portion costs from 200,000 to 400,000 VND depending on the request of the guest, which is fully appreciated. The meal includes a full chicken hot pot, plus a separate bowl of meat outside. The chicken we cut into bite-sized pieces cooked soft, add bamboo shoots, mushrooms, fresh vermicelli and a plate of e leaves. Diners dip the chicken with spicy chili salt or lemon pepper salt to enjoy. In addition, guests can also use extra crispy rice paper.
Enjoying e leaf chicken hot pot is quite simple. Wait for the hot pot to boil, add the fresh basil leaves, dip it wherever you go and don't forget to slurp the sweet hot broth from chicken, fresh mushrooms, the pungent taste of chili peppers, and the slightly sourness of bamboo shoots.Follow (vnexpress)
TAG: