Quang Dong Hall in the Old Quarter of Hanoi
After a period of renovation, the Quang Dong Hall on Hang Buom Street became an exhibition center, attracting people in the capital.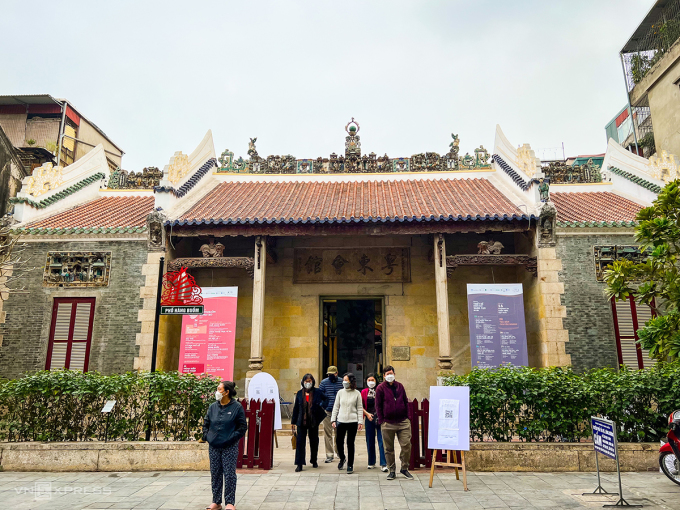 Cantonese Assembly Hall is the place to keep the memory of Hang Buom street. There are life stories, street stories, old stories, stories of the people of Ke Cho, of overseas Chinese and of Hanoians today. "The street is like a river that flows non-stop, many lives pass, many lives come. In that endless flow of time, every street is full of happy and sad memories…", quoted Introduction line for the exhibition Space of memory 22 Hang Buom .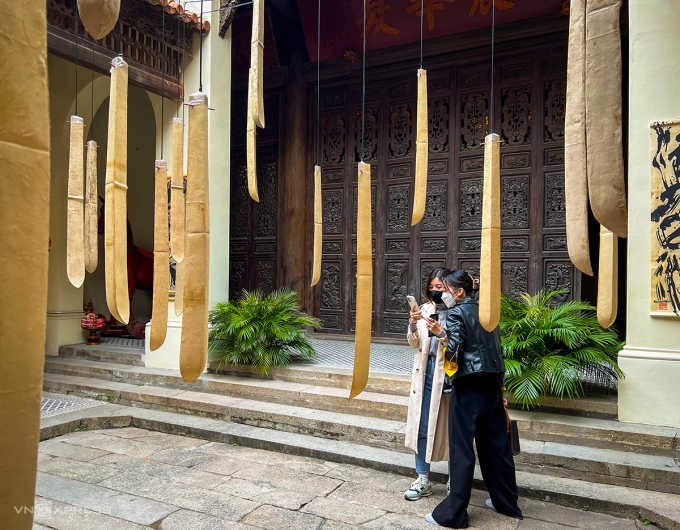 Cantonese Assembly Hall used to be a place of religious and community activities for Chinese people. This ancient architecture was embellished at the end of 2018, completed by the end of 2021 and turned into an art exhibition center. The current official name is Art and Culture Center 22 Hang Buom.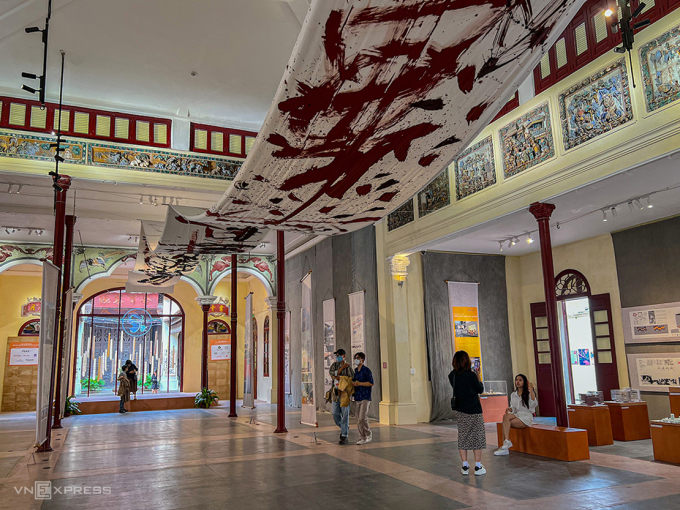 The space and architecture of the assembly hall retain many ancient features, combining Western – Vietnamese – Chinese cultures. The nostalgia of this place is suitable for artists to freely arrange creative artworks.
Some outstanding exhibitions are "Phieu Dieu", "Sketch of the Old Quarter 2021", "Hanoi is…", "Memory space 22 Hang Buom". Here, artists piece together the fragments of history so that it sparkles with a beauty that seems to be accidental but full of meaning, simple but profound.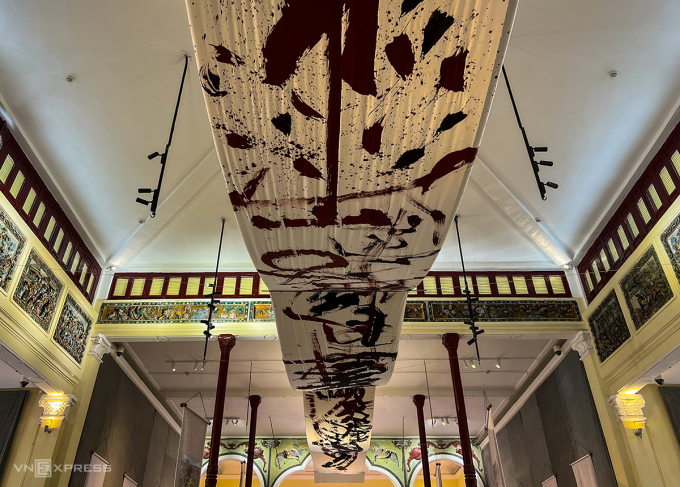 In the main pavilion, the calligraphy artwork "Dragon snakes up in the clouds" is prominently hung on the ceiling. The work is written on silk, in earthen ink and expressed in Nom with the content implying that the dragonflies to the sky, in addition, it also shows the spirit of solidarity, holding hands as in the original rhyme, to develop and " up" again. Photo: Trung Nghia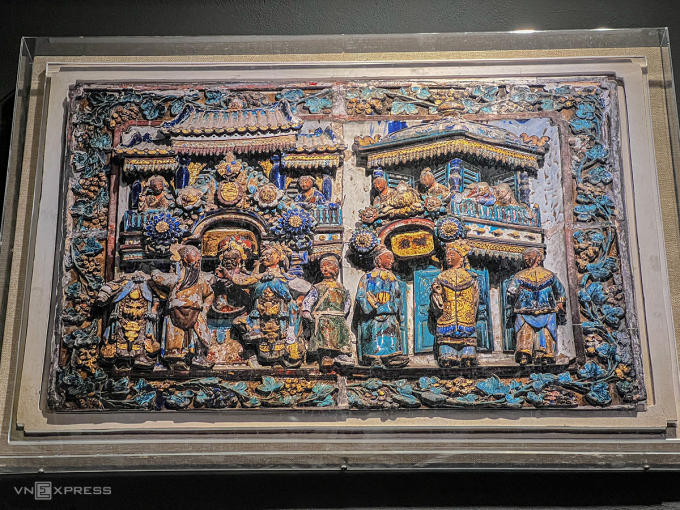 Artifacts in the exhibition "Memory space 22 Hang Buom". Currently, the club is hosting a series of events from the "Inspire Creativity" week, including exhibition and performance art spaces on display until the end of February. These exhibitions attract many people to come and enjoy. art and photography, check-in.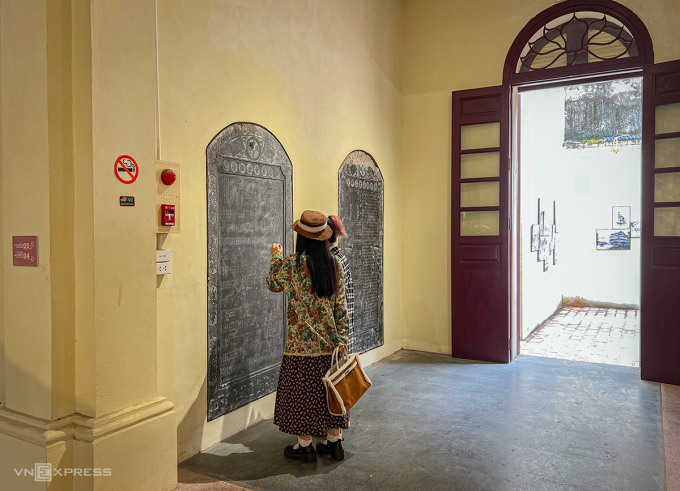 Most of the visitors are conscious and let each other take pictures in order, without jostling.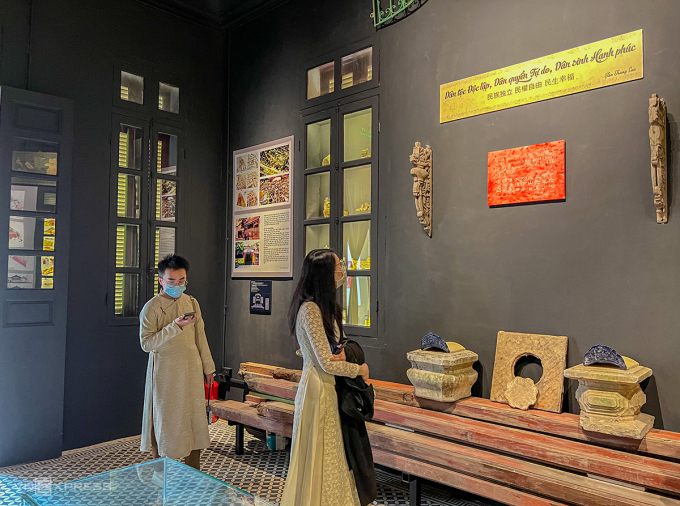 However, some visitors are quite annoyed because many people come to the clubhouse just to check in. Some fashion brands even take pictures to advertise their products here, making it difficult for visitors. "It's not bad to take pictures, but it hinders others a lot," said Duong Trung, 23.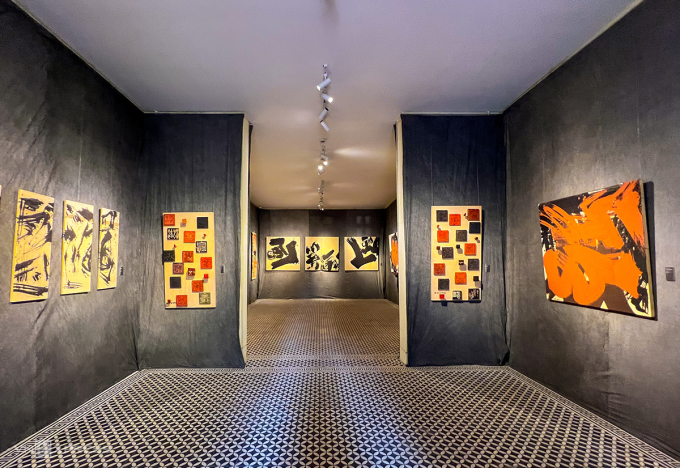 Exhibition "Adventure" with calligraphy works. The exhibition center is open to the public freely, in which weekdays it is open from 8:00 am to 5:00 pm, weekends are open from 8 am to 9 pm. Visitors to visit can park the car opposite 22 Hang Buom for 5,000 VND/way. Follow (vnexpress)
TAG: