Da Nang Golden Sand Beach – a wild backpacking destination that makes young people fall in love
Da Nang is a vibrant, modern city, a destination with many beautiful landscapes and charming beaches. But this place in the eyes of many souls is still beautiful because of the wild places. In which, the typical beach includes Da Nang Golden Sand Beach, where mountains, sea, and rivers converge,… All create a wonderful natural picture that captivates people's hearts. 
Locating Da Nang Golden Sand Beach 
Da Nang Golden Sand Beach is located on the Son Tra peninsula with the terrain on one side is the wide sea and the other side is high mountains. The tourist area is located about 16km from the city center. With an area of ​​​​about 10,000m2, this place not only possesses great scenery but also is home to many rare animals.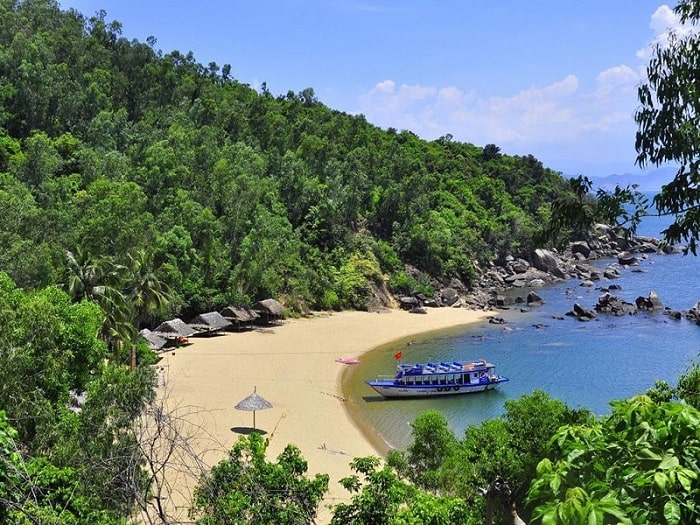 Da Nang Golden Sand Beach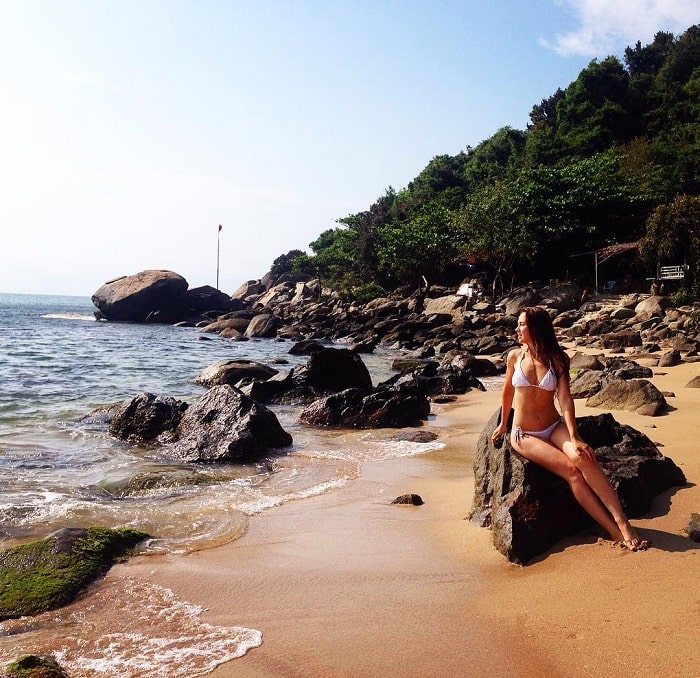 Golden Sand Beach belongs to Son Tra peninsula 
Because of its location quite separate from the hustle and bustle of urban life, Golden Sands Beach is an ideal vacation spot every weekend. Here you can listen to the sound of waves, walk on the vast sand or immerse yourself in the cool space of the ocean.
(Photo: doanthao712)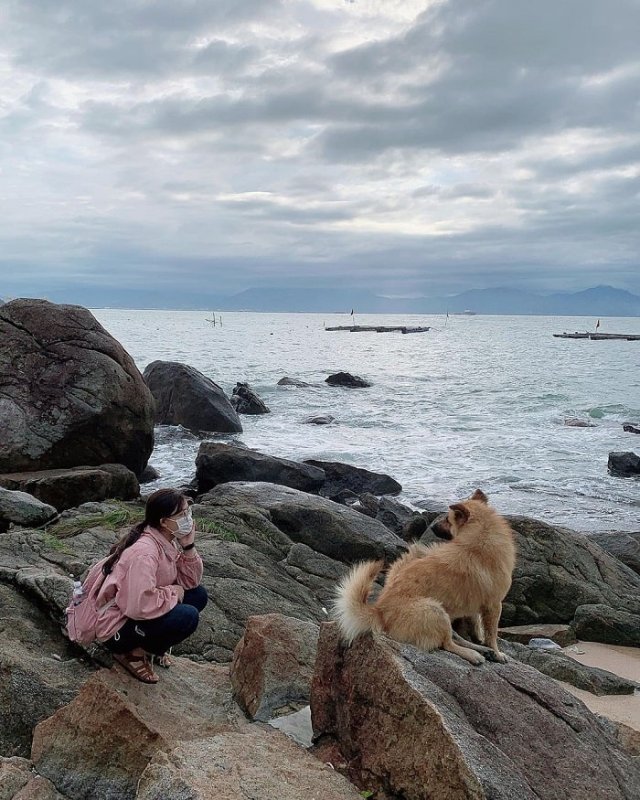 (Photo: innerpharbus)
Moving to Da Nang Golden Sand Beach 
The way to Golden Sand Beach has 2 options, you can take a boat or walk: 
If walking, take Thuan Phuoc bridge as a starting point, go straight through Le Duc Tho and then turn into Yet Kieu. Go to National Highway 14B for about 5 minutes, you will see a signboard guiding the way to Da Nang Golden Sand Beach resort . From there, you only need to move about 4km to reach the Son Tra peninsula, continue to follow the signboard to arrive. 
If going by water, you can go by boat or ship depending on the needs and preferences of visitors.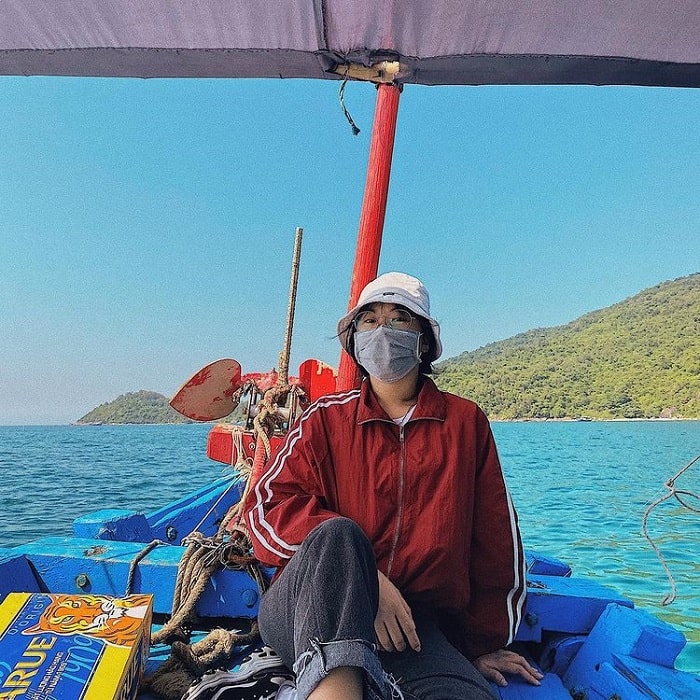 Traveling by boat (Photo: nl_1908)
Ticket price list to visit Golden Sand Beach 
Da Nang Golden Sand Beach has been invested and developed into an attractive tourist area for many domestic and foreign tourists. Therefore, to be able to come here to explore, visitors need to prepare a little money. Depending on the different visiting needs, the cost also varies.
Entrance fee: 30k/person (including: zipline swing, diving goggles, fresh water bath)
Beverage: 10k – 15k/bottle
Rent a wooden hut: 500k / hut / 10 people
Campfire: 300k – 500k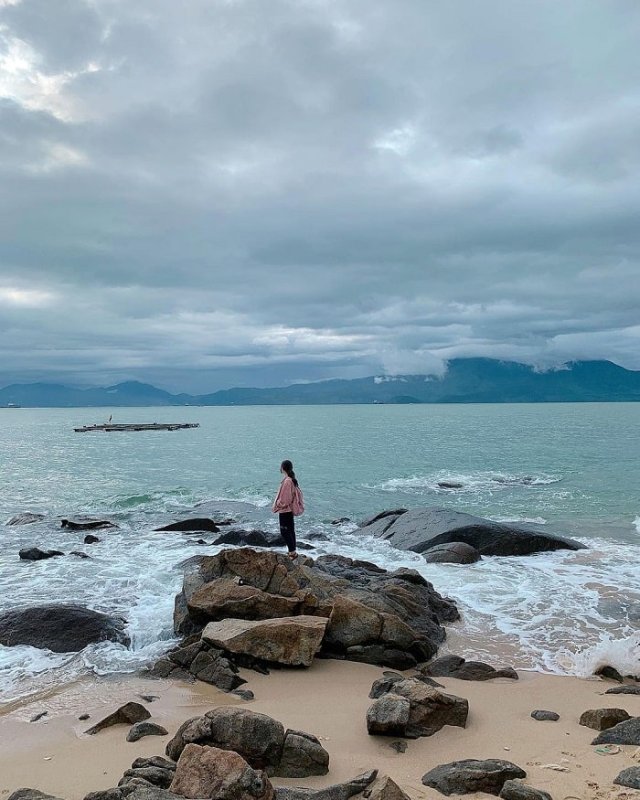 (Photo: innerpharbus)
When should you go to Da Nang Golden Sand Beach? 
Da Nang weather has 2 seasons each year: dry season and rainy season. Each season has its own characteristics and beauty. However, according to Da Nang's travel experience, it is not always the right time to go to Golden Sands Beach. Most tourists usually come in the dry season because at that time there is little rain, clear blue sky, cool seawater, very suitable for sightseeing and entertainment at sea.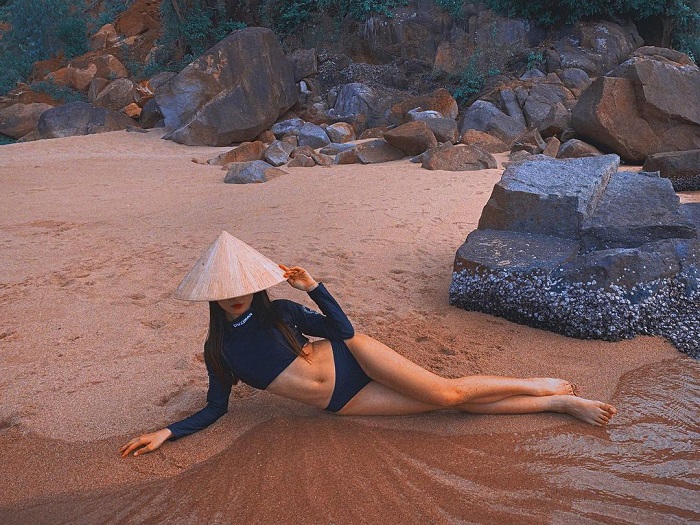 (Photo: quat.page)
Great experiences at Da Nang Golden Sand Beach 
 
Go to the beach 
[/b]Currently,[b] Da Nang Golden Sand Beach still retains a rare and peaceful feature, so when swimming in the sea, visitors will clearly feel the special of this place. There is a small tip that is to prepare some equipment such as: swimming buoys, swimwear, swimming goggles, … well!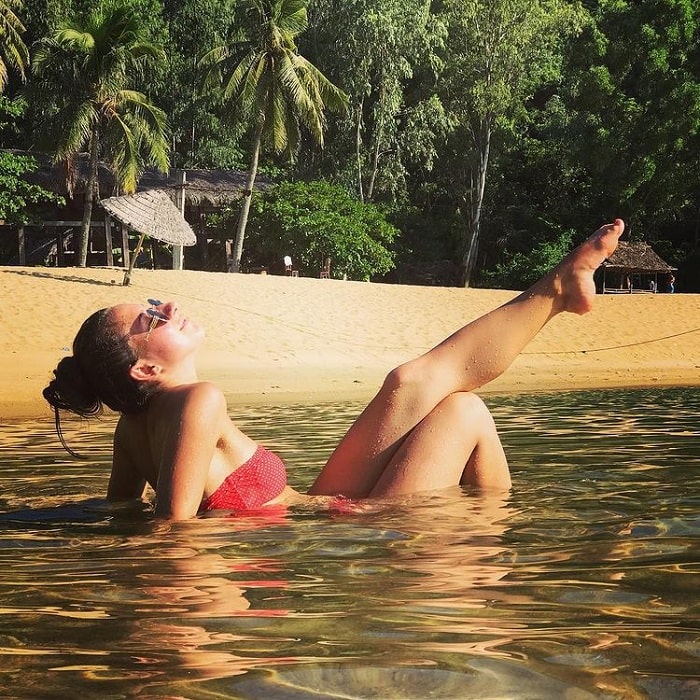 (Photo: tetiana_voroniuk)
Zipline aerial swing
Zipline swing is a very popular sport among young people. When swinging in the air, visitors will admire the  Golden Sands Beach under a panoramic, larger and more attractive perspective.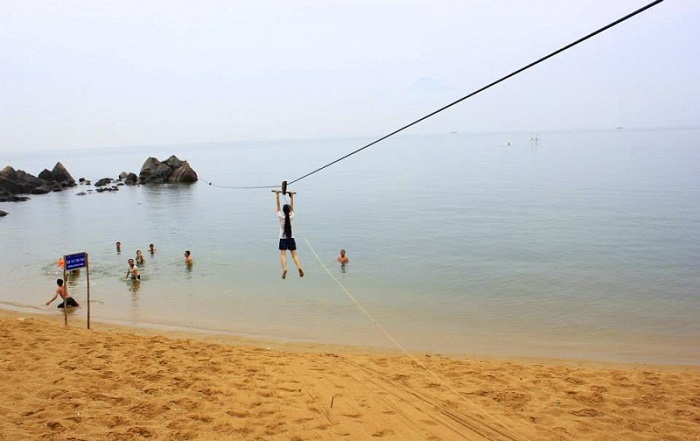 Zipline swing
Dive and see coral
Diving to see the coral at Bai Vang Vang Da Nang is very interesting. When diving deep below you will discover many secrets of the ocean. Moreover, visitors can freely admire the colorful coral system with diverse shapes.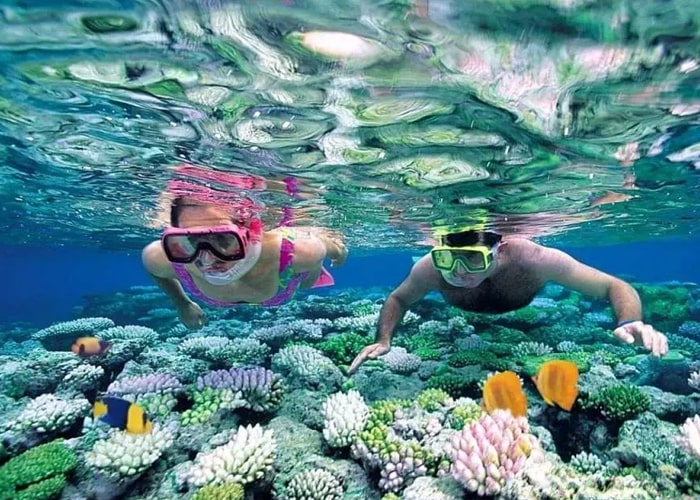 Dive and see coral 
Watch the sunrise and sunset
Perhaps the most romantic and peaceful moment in Golden Sands Beach is when the whole space is tinged with a brilliant orange-red color of the sun. The captivating beauty of the sky and water has made many people fall in love. Fainting right in that picturesque scene, you will forget all worries and troubles of life.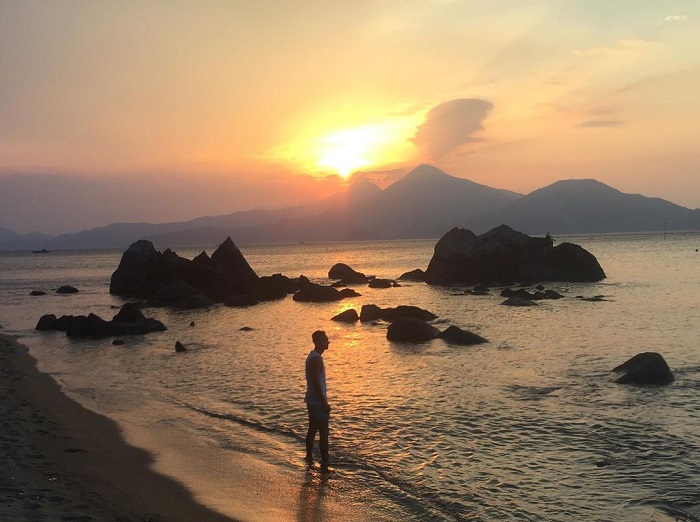 Charming sunset at Golden Sands Beach (Photo: igorbassplayer)
Camp 
Camping is an activity with very high group solidarity if you go with a large number of people. There will be nothing more wonderful than placing a small hut right on the sand and then organizing barbecue parties, singing and chatting together.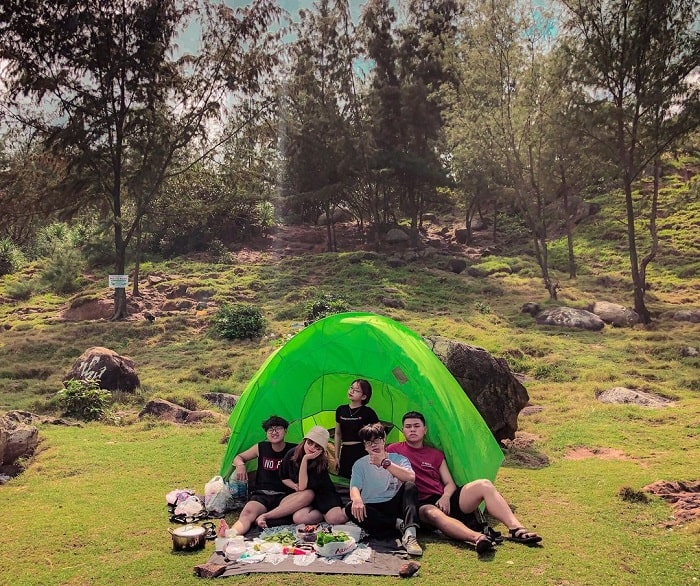 (Photo: tandattho)
See the brown-shanked douc langur
Not anywhere on the Son Tra peninsula you will also see the brown-shanked douc langur. This is known as the queen of primates. Compared to monkeys, the brown-shanked douc langur has a very funny appearance, but it is shyer than monkeys, so it rarely appears. Da Nang Golden Sands Beach is the place where you will have the opportunity to see them more.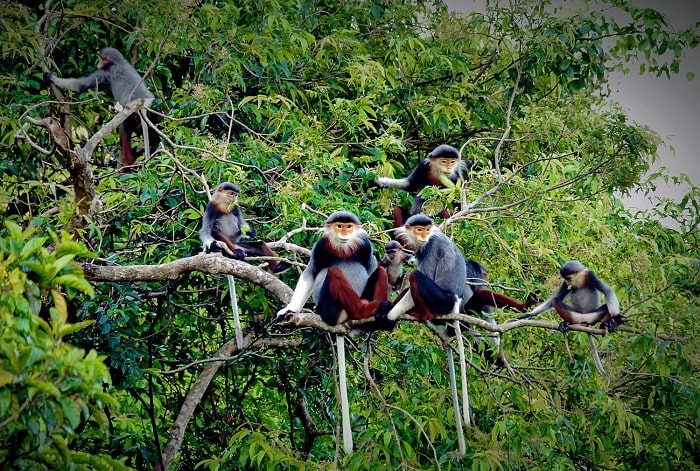 Brown-legged langur 
Rowing on the sea
There is a pretty good activity in Golden Sand Beach that is rowing a boat to see the clouds, the ocean, seeing corals, fishes,…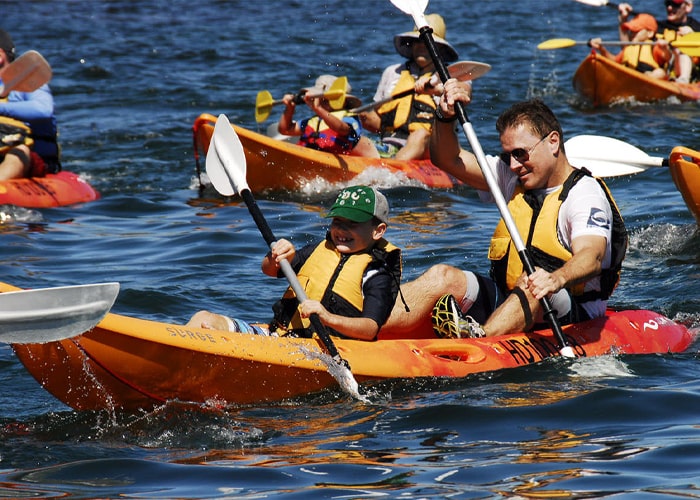 Rowing on the sea 
If you feel that life is too tiring and stressful, then come to Da Nang Golden Sand Beach . This place is always ready to wait for you to relieve all your sorrows. 
Photo: Internet
TAG: