The coffee shop where customers order by hand
HANOI – Can't be heard, the staff bowed slightly, put their hands over their mouths, and then opened them in front of them to thank them when diners used their food at the restaurant.
That is the job 20-year-old girl Nguyen Thi Hang has mastered during the past year at the cafe. When guests arrived, she quickly brought out tea and offered them a menu written in sign language. On it are printed hand movements to order food such as coffee, tea, oranges, peaches… and hot or iced.
Standing in front of the counter, there were customers pointing at the menu, writing on paper to order, but there were also many people trying to use sign language to communicate, even though it was awkward. At those times, Hang feels very happy and she will thank them with a bright smile behind the mask that can only be seen clearly in her eyes.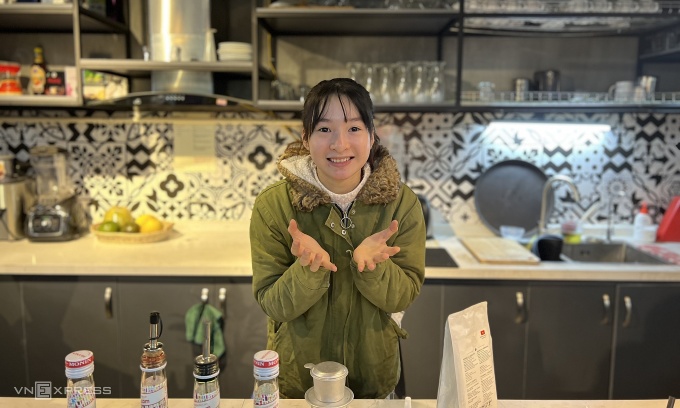 Nguyen Thi Hang, an employee of the cafe, thanked guests in sign language. Photo: Trung Nghia
The "common home" of the deaf
KymViet Space complex will come into operation in 2020 on Trung Van street. Here is not only a coffee shop but also a craft factory since 2013 and a product display space on an area of ​​450 m2 with 2 floors. The first floor has indoor and outdoor seating. Currently, the shop also has 2 other establishments in Hanoi, with more than 30 employees, most of them are disabled people, especially deaf people.
Not the drinks, the biggest difference at the bar is the space and the experience of communicating with the staff. On the walls, tables, and shelves are displayed many handmade products such as bags, stuffed animals with diverse colors and fine lines. Each product has the scent of essential oils. All are the work of the staff here.
Guests will be able to refer to the drink menu next to the name of the dish in sign language to follow. At each table, there is a button that lights up to let the staff know that the customer needs assistance. In addition, there will be sign language cards such as "Thank you", "Hello"… for guests to easily communicate.
Hang and many other employees call this place "home" instead of a workplace. Here, they have friends in the community, bartenders, desk workers, or factory workers. Outside of work, they cook and eat lunch together, and those far from home are supported to rent rooms.
Through her manager and translator, Hang shared that she was born and raised in a farming family in Hoa Binh. Her three sisters were born deaf, so it was very difficult to study in normal schools. The teacher taught at the top, the students below could not understand. Trying to finish 9th grade, Hang stayed at home to help her parents with housework and farming. At the age of 18, like her two older sisters, she went to work at a garment factory but had difficulty communicating with people, so she had low self-esteem and soon quit her job.
In 2020, through the recommendation of a friend in the deaf community, she applied for a job at a cafe. She was trained in preparing drinks and welcoming guests, jobs she never thought possible. In the process of working, the most memorable memory for her is being presented with notes by the guests praising the delicious drinks, they are satisfied and the space is comfortable. Even if it's a small action, Hang feels happy because it's recognized, she can do a good job like many others.
Not only Hang, but most of the staff at the shop have also left school and started working early, some have not finished 3rd grade and are not fluent in reading. Ms. Nguyen Thi Dinh, the manager, said that it has been more than 8 years since the days of accompanying the company, she has heard many honest stories from employees. For example, in the past when they worked with people who could hear and speak normally, deaf people were often not shared and assigned more heavy work, which made them self-conscious. When they return to the workshop and coffee shop to work, although there are many surprises in their work, they always do it with all their responsibilities. What makes Mrs. Dinh happiest is that employees often confided that they were happy and satisfied with the work they were doing.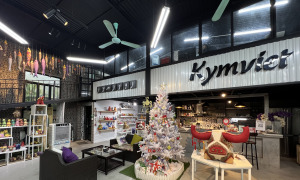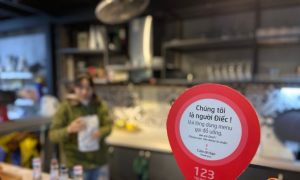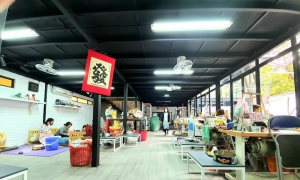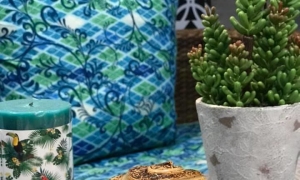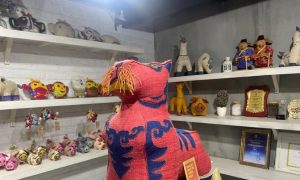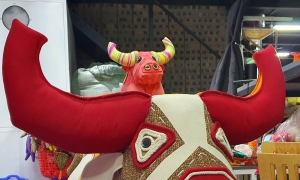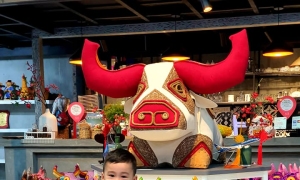 Products instead of words
As a regular customer, Ms. Thanh Huong shared that she knew this place through a friend's recommendation. The first impression when coming to the restaurant is the airy and quiet space. The cafe is run by people with disabilities, but it doesn't have a heavy sense of charity like many other places. The staff here make her fall in love with thoughtful products that look like they want to cherish. She also used to take her children to the shop to interact with the staff, monitor the stages of making souvenirs and directly test the stuffing for keychains, so that children would understand that there are many feats behind each product.
The first time he came to the shop, Mr. Dung Anh also felt the same way. But he especially loves the humanity in the restaurant, when each customer has the opportunity to communicate with the deaf. He said he will introduce many friends, groups of students and students here to have fun and experience.
People choose services and products at the shop because they are valuable, not love, which is also the desire of Mr. Pham Viet Hoai (49 years old), Chairman of the Board of Directors of the company. Paralyzed and confined to a wheelchair after an accident at the age of 7, he understands that disabled people always lack confidence and feel unlucky. All those barriers stem from the love of family and society towards them.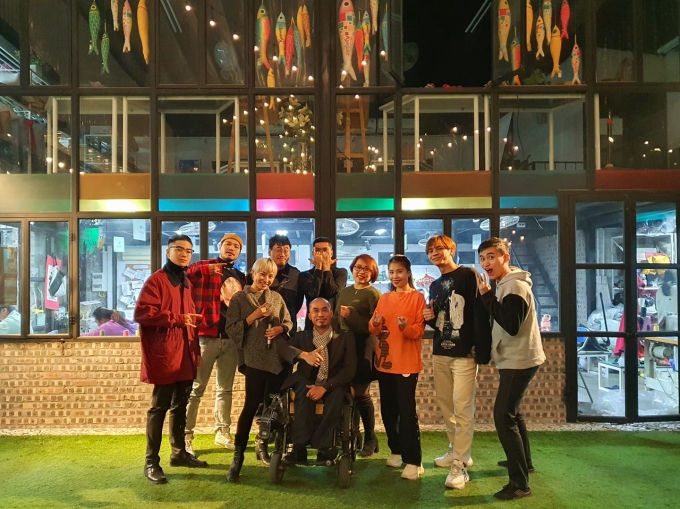 Hoai took a photo with guests in the space outside the cafe. Photo: NVCC
In 2013, when establishing a social enterprise, Mr. Hoai wished to make a small contribution to change the community's perception of people with disabilities, that they are not pitiful or burdened, but have a desire to work and dedicate themselves. a society with acceptable products and services. Or more simply, visitors coming here will call them right with the name "deaf community" instead of "hearing-impaired". We are people with disabilities, but we should not let our products be disabled products", Mr. Hoai said about the operating motto.
After the handicraft factory, the coffee complex, and the attractions are the model Hoai built to diversify products and create more jobs for people with disabilities. He said there are more than 2 million deaf people in Vietnam, a potential workforce. Their only barrier is communication, but it is easy to remove if there is a means of support. Currently, 3 establishments have only one manager, the rest all employees are empowered to decide on their own work.
From 2020, the complex has welcomed hundreds of guests to visit, experience, combine tours to visit Van Phuc silk village (Ha Dong). Here, you will not only learn sign language to communicate with the staff, you will also experience making souvenirs and enjoying attractive drinks and regional specialties.
Currently, many districts of Hanoi are changing the orange zone, so only the Vo Chi Cong facility (Cau Giay district) welcomes guests to drink coffee, and the establishment in Trung Van (Nam Tu Liem district) is open to visitors to the area. display. The cafe is open from 9 am to 9 pm, serving drinks priced at 35,000 – 50,000 VND.
Follow (vnexpress)
TAG: