Unique "hot" chicken specialties, guests over hundreds of kilometers enjoy in An Giang
 From a dish originating in Cambodia, chicken with burning leaves was introduced to An Giang and quickly became a famous specialty of this land, "attracting" visitors from all over the world to enjoy.
Coming to An Giang, visitors can not only visit many pagodas with unique architecture, admire the beautiful natural scenery but also enjoy a variety of famous delicacies that only this land has. In addition to the famous specialties such as Tri Ton beef porridge, mollusks, Bay Nui scorpions, … in An Giang, there is also the famous chicken dish with burning leaves. 
It is known that the chicken that burns the leaves originated in Cambodia but has been introduced to An Giang for a long time. Over the years, this dish has gradually become a "brand" specialty of the land here. Coming to An Giang, visitors can enjoy burning chicken in many places, but the most famous and delicious is still at Ho O Thum, Tri Ton district.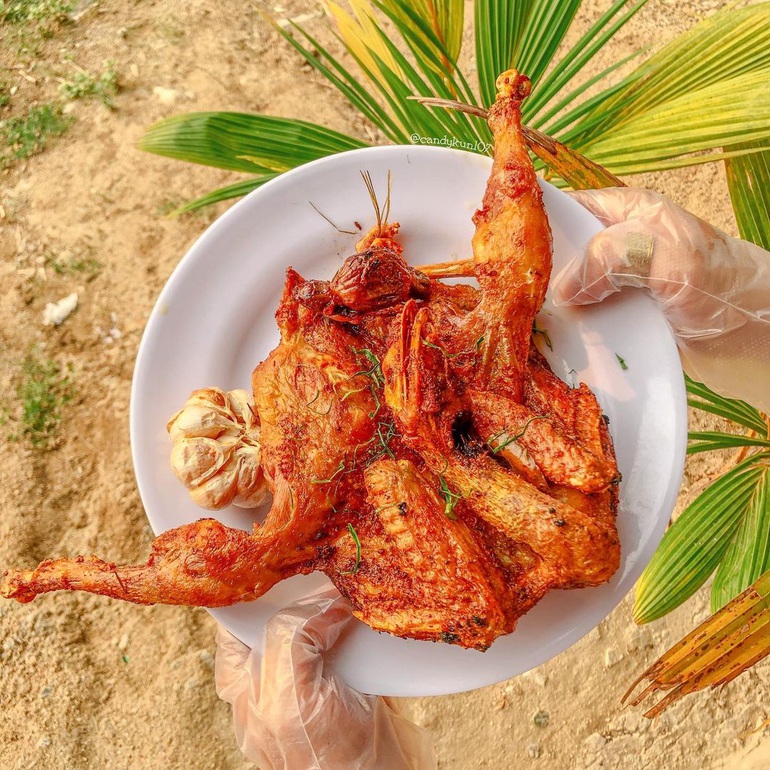 Burnt chicken is a famous specialty in Ho O Thum, Tri Ton district, An Giang province (Photo: @candykun107).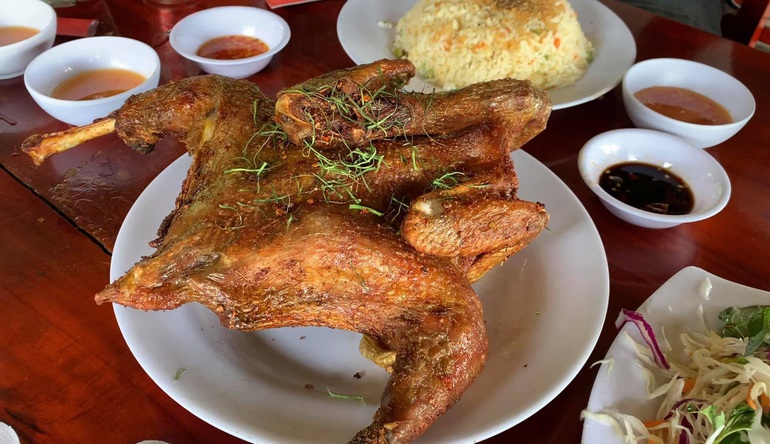 The dish is made from hill chicken in the Bay Nui region with marinated spices, especially chrysanthemum leaves. This type of leaf is usually only found in An Giang (Photo: An Giang people). 
To make the most delicious chicken dish, local people often choose hill chickens that are grazed freely, run and jump regularly with a moderate weight from 1.3kg to 1.8kg. Because this breed of chicken works hard, the meat is firm, when grilled, it is soft and sweet.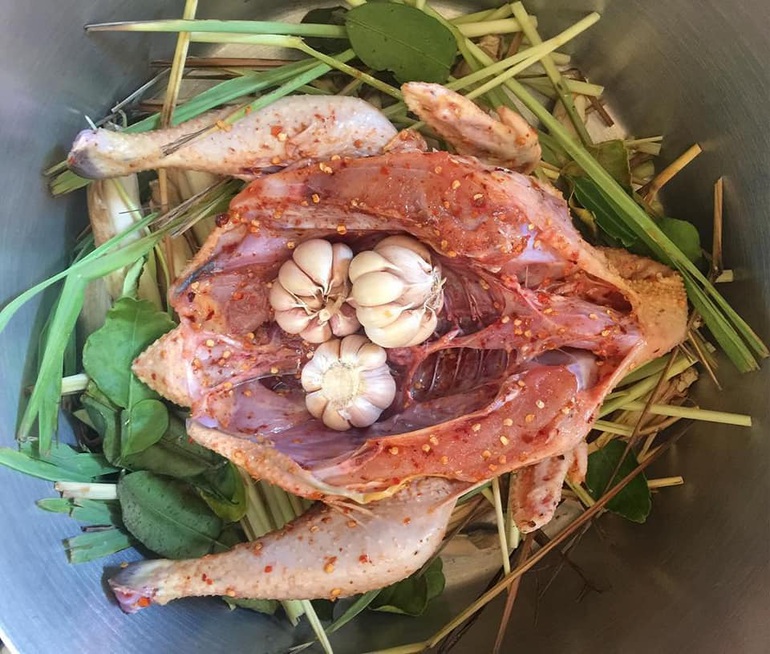 A whole chicken is not ready-made, when a customer orders, the chef will start processing and marinating spices. That's why chicken is always fresh, juicy, and has an attractive aroma (Photo: Nguyen Linh).
Although it is made from familiar ingredients, the grilled chicken dish also requires ingenuity and meticulousness in each stage. The chicken is cleaned, halved, and seasoned with salt, lemongrass, chili, and garlic. In addition, an important ingredient that plays a role in determining the delicious taste of the dish is the wish leaf.
Chut tree is an endemic plant species of Bay Nui land, An Giang province. The fruit is quite similar to a lemon, but the skin is rough, the taste is sourer and the smell is very fragrant. The fruit and leaves are used by locals as a special spice to process, so the famous delicacies are only available here.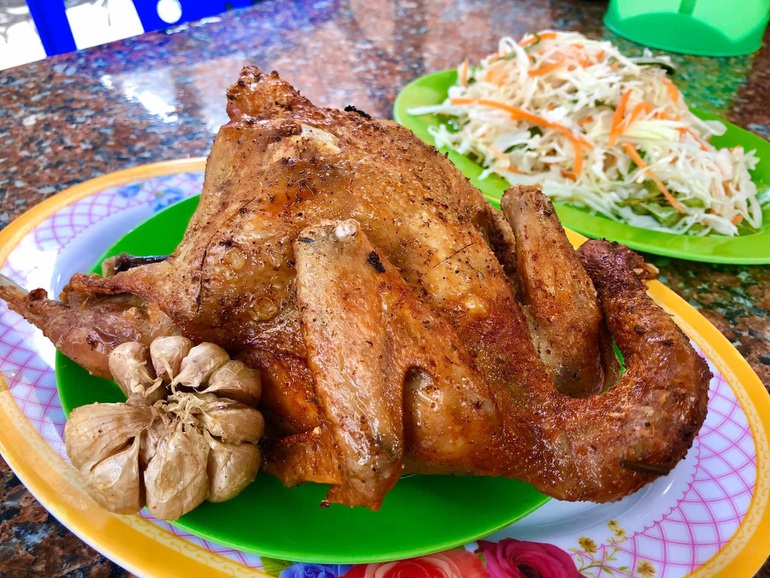 Firm chicken, marinated with leaves and special spices of the Bay Nui region has created a famous dish (Photo: Hoang Minh).
Chicken is grilled with an earthen pot and a burning stove, so it is called a chicken that burns with leaves. After the chicken is soaked in spices, it will be smeared with a little oil or honey on the surface of the skin so that when it is finished baking, it will have a beautiful golden color. Then place the chicken in an earthen pot lined with a layer of lemongrass leaves, coriander leaves and salt on the bottom.
According to Mr. Dat – the owner of a restaurant specializing in serving An Giang specialties in Tri Ton district, said that the stage of roasting chicken is very important, determining the quality and taste of the dish. When grilling, you must watch the fire correctly, keep the heat very high at first and then reduce the heat gradually so that the chicken is cooked evenly on all sides, cooked from the inside out. The baking process takes about 30-40 minutes, depending on the weight of the chicken. When the chicken wakes up with a delicious smell, the dish is cooked.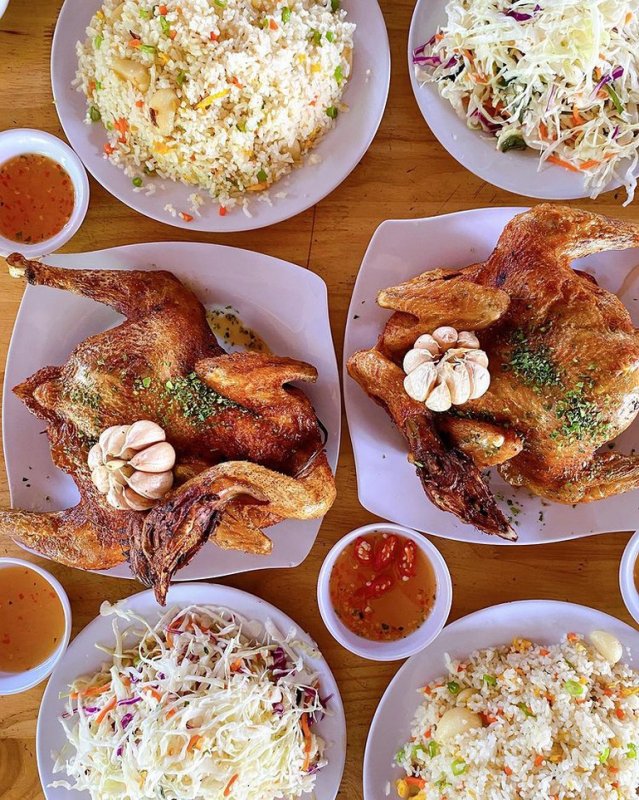 Each set of chicken burned with leaves costs about 280,000 – 380,000 VND, excluding side dishes (Photo: @tonybb3012).
After grilling, the burned chicken has crispy golden skin, looks beautiful and gives off the characteristic aroma of the willow leaves. When enjoying, diners will feel the firmness but still soft, not dry of the chicken. This dish is often torn by hand or cut with scissors instead of chopping to preserve the quality and delicious taste.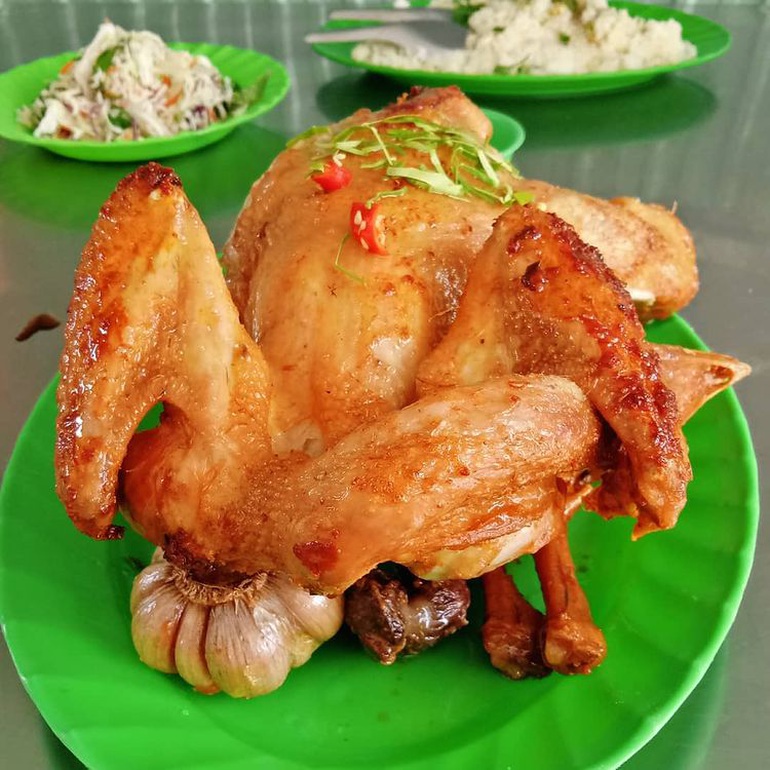 Although only in the most remote area of ​​An Giang province, the chicken dish still "sucks" customers. Many diners are willing to travel hundreds of kilometers to the Tri Ton area to enjoy this specialty (Photo: @carmennngoc.nguyen).
Mr. Le Vinh (who lives in Ho Chi Minh City) said that even though he had to cross more than 200km to An Giang and wait for nearly an hour to process chicken with leaves, he still enjoyed it.
"Although I have to go far and wait a long time to enjoy the famous Ho O Thum leaf-burned chicken, I feel it's completely worth it, it's not worth the effort. The dish has a delicious taste that is hard to find anywhere. Any kind of specialty or any place. The whole grilled chicken has a beautiful golden color, served with fried rice, steamed rice, or sticky rice, with a few raw vegetables, cucumber to fight nausea. This dish can be seasoned with salt, pepper, and lemon. Or the leaves are full of flavor," Vinh said.
Follow(Dan Tri)
TAG: