The profession of plucking peach leaves for hire
HA TINH – People in Luu Vinh Son commune, Thach Ha district, plucking peach leaves to push the tree to bloom on the occasion of the Lunar New Year, earn more than 200,000 VND per day.
In the afternoon of late December, at the peach orchards in Dong Vinh village, Luu Vinh Son commune, Thach Ha district, farmers divided into groups of 5-7 people gathered to pluck leaves for hire. This work usually takes place 30-45 days before the Lunar New Year.
Peach leaf plucking is a folk experience for decades of people, the purpose of which is to stimulate flowering. When the leaves are plucked, all the nutrients of the plant will no longer feed on the leaves, but switch to growing buds. Since then, the tree bloomed at the right time for gardeners to align, usually near the Lunar New Year.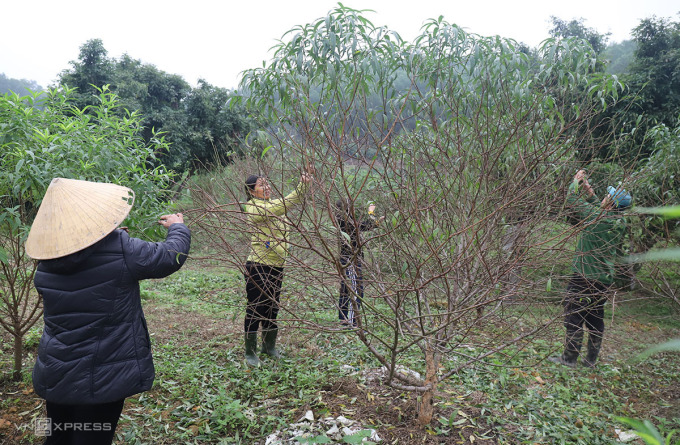 People plucking peach leaves for rent at Mr. Bui Cong Ven's garden, on the afternoon of December 30. Photo: Duc Hung
Working as a plumber for 9 years, Ms. Dao Thi Dan, 49, residing in Xuan Son village, said that from the middle or late November of the lunar calendar, the garden owner always calls to "order". The time to pick leaves depends on the weather, one crop she can do for 2-3 households.
Ms. Dan works from 6 am to 11 am in the morning, from 13 pm to 17 pm in the afternoon. With a wide canopy of peach trees and dense leaves, she and some farmers held the branches lightly with her left hand, and with her right hand gently plucked the leaves to fall to the base. With trees taller than 2m, they have to use aluminum ladders or wooden chairs to stand up high.
"Pulling leaves requires care, grasping branches horizontally or from the bottom up. If plucked straight from the top, it will hurt the flower buds," Ms. Dan said.
After the peach leaves are plucked, they do not have to be cleaned, but they will be kept and covered evenly on the ground to prevent weeds from growing. In addition, leaves also create moisture, helping small plants grow well.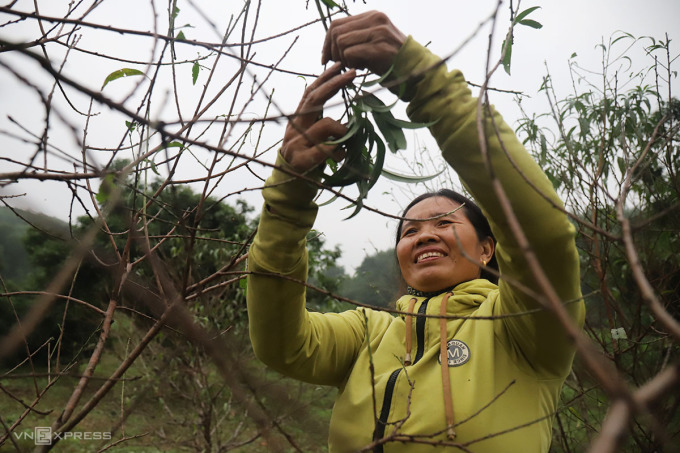 Dan used her hand to gently stroke the leaves to pluck them, to avoid hurting the buds. Photo: Duc Hung
Mr. Bui Cong Van, 60 years old, owns 650 faded peach trees on an area of ​​nearly a hectare in Dong Vinh village. He often hires 7-10 people to pluck leaves every year so that the trees can bloom in time to sell on the occasion of Tet. In previous years, it rained and was cold a lot, Mr. Van was hired to pluck leaves 10 days earlier, this year it was warm, so he did it now.
This year, Mr. Van hires about 10 people, with 650 peach trees expected to finish plucking leaves in 6 days. On average, a person is paid 200,000-250,000 VND/working day. The cost for a leaf plucking service is about 12 million VND.
Harvesting peach leaves for hire is a seasonal occupation of the people of Luu Vinh Son commune. For families with a few dozen small roots, when they finish their garden, they come to help their relatives plant a large number of trees so that the tree blooms on the occasion of spring.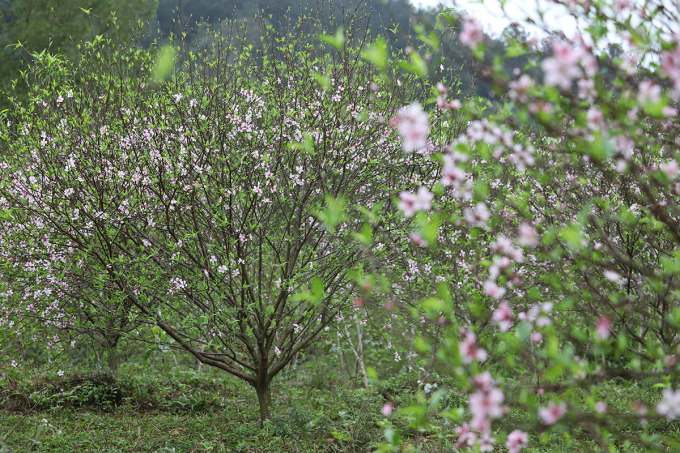 A peach tree planted in Luu Vinh Son commune, if it blooms on the occasion of Tet, can sell from 500,000 to 4 million VND. Photo: Duc Hung
Luu Vinh Son commune is the peach blossom capital of Thach Ha district with more than 85 hectares, with more than 600 growing households. This is the main tree in the economic development of the commune. People often take advantage of garden land or rent hilly land for planting from 50 to 600 trees.
A faded peach tree sells for 15,000-20,000 VND, planted in February every year, after 24 months can be sold. If the peach tree blooms on the occasion of Tet, on average, each root can sell 500,000-700,000 VND. Some roots have many big buds, beautiful shapes, cost 3-4 million dong. After harvesting, the owner of the garden has to plow the land to plant a new litter.
Near Tet, traders often go to Luu Vinh Son commune to order hundreds of peach trees in the garden, then tie the canopy with ropes, send people to uproot, transport, and import for partners. Many other gardeners will uproot peaches and transport them to Ha Tinh city to sell to traders, or find new sources for agencies and offices.
Follow(vnexpress)
TAG: