People poured into the streets to welcome the new year
No fireworks, many entertainments, and entertainment programs were reduced due to the epidemic, but many people in Ho Chi Minh City, Nha Trang, and Can Tho took to the streets to welcome the new year.
At 11:59 p.m., thousands of people at the countdown stage on Nguyen Hue pedestrian street, district 1 (HCMC) joined together to start counting down the last minute of 2021. When the last 10 seconds came, the sound of each louder before fireworks explode in the sky during the first moments of 2022.
Many young people wish each other Happy New Year, giving each other kisses under bright lights. Taking pictures with friends at the moment of transition, Ms. Nguyen Thi Lan, 27 years old, prays for a stable disease in the new year and a healthy family. "In 2021, everyone has suffered too much. Hopefully, in the new year everything will be better," said Ms. Lan.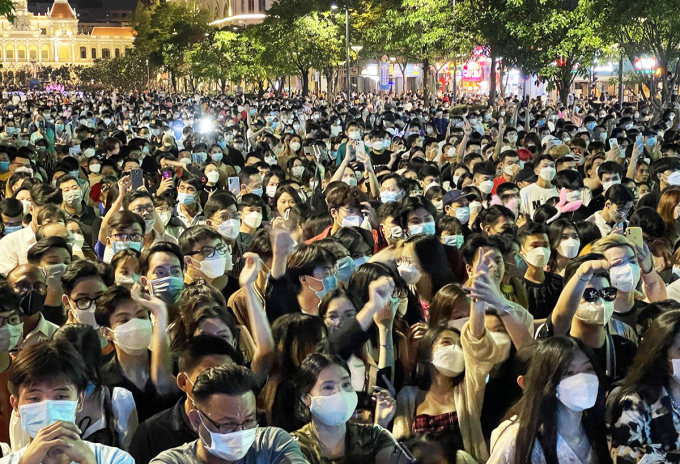 Thousands of people watched the countdown ceremony on Nguyen Hue pedestrian street. Photo: Dinh Van
Before that, from 19:00, the flow of people poured into the center of Ho Chi Minh City was crowded, causing many roads such as Dong Khoi, Le Thanh Ton, Ly Tu Trong (District 1) to be stuck for a long time. Vehicles crowded together to move.
Nguyen Hue pedestrian street must erect a fence to prevent motorbikes, only for pedestrians to welcome the countdown ceremony. The surrounding parking lots are full, causing many people to park their cars 1-2 km away or set up along the sidewalk. Dozens of police, militia, and self-defense forces are scattered throughout the pedestrian street to ensure security and ask people to park their cars in an orderly manner. The speaker system here constantly reminds people to adhere to 5K.
Inside the pedestrian street, thousands of people gathered around the fountain and the countdown area to visit and take souvenir photos. Convenience stores, fast food along this street are operating at full capacity, customers have to wait in long lines to buy food.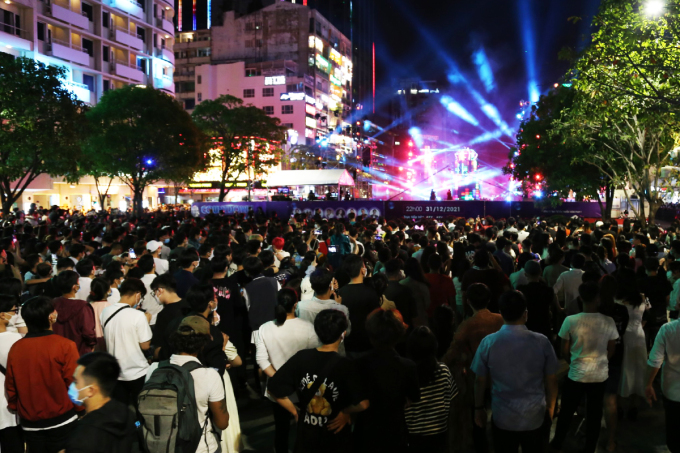 A large number of people are watching the show on the countdown stage. Photo: Dinh Van
Taking her two children to take souvenir photos at the end of the year, Quynh Nhu, 35 years old, said the atmosphere to welcome the New Year was quite boring compared to before. At the moment of entering the year, there are no fireworks, so it is not as exciting as before. "Right now, there is still a pandemic, so I have to limit my entertainment activities. After 10 p.m. I will go home to countdown to the new year on TV," Ms. Nhu said.
About 15 km from the center of Ho Chi Minh City, in Thu Duc City, many roads such as To Ngoc Van, Vo Van Ngan, Le Van Viet… are decorated with flower flags. Welcome gate at Thu Duc intersection with sparkling lights to welcome the new year. Busy traffic on the street, many restaurants and bars are more crowded than usual.
Mr. Vo Khang, 39 years old, the owner of a restaurant on Hoang Dieu 2 Street, said that he had to arrange about 10 more tables to welcome guests. "This year's New Year does not have fireworks, other entertainment activities are also done online, so it is expected that there will be more customers. My restaurant usually closes at 10 p.m. but now serves guests until 1 a.m.," he said.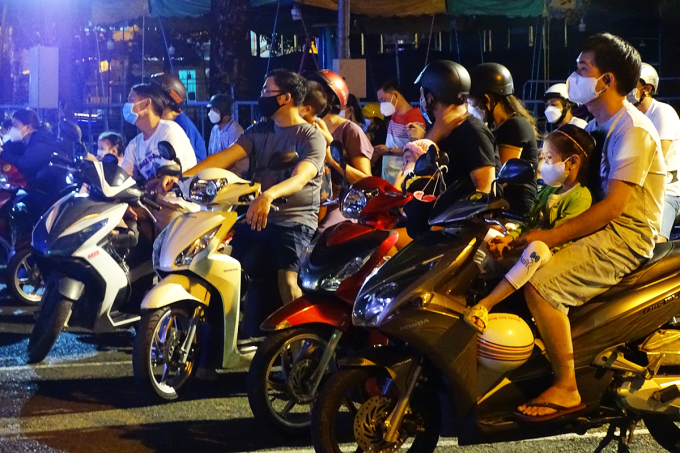 People build motorbikes to watch art shows at Children's House in Thu Duc City. Photo: Ha An
At the children's house in Thu Duc City, the Department of Culture and Sports of Ho Chi Minh City organized an art program to celebrate the New Year to serve the people. The program takes place from 19:30 to 21:00 with singing, dancing, and performing ethnic musical instruments by Bong Sen Music and Dance Theater. More than 400 seats in front of the stage are arranged to serve the people.
In the coastal city of Nha Trang, Khanh Hoa , the weather is cold. Hundreds of people flock to April 2 Square on Tran Phu Street, having fun and walking. Here, a stage was set up with a led screen, the sound system performing the cultural program "welcome the new year 2022", from 8 pm to 9 pm. The performance did not have guests or spectators but was broadcast live on the provincial radio and television station.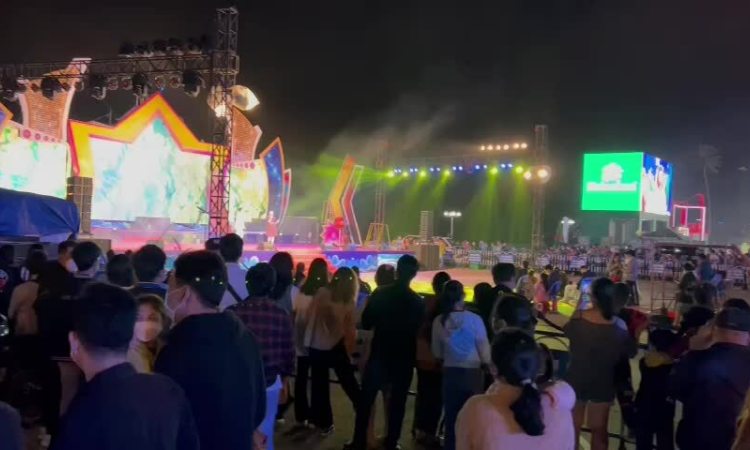 People in Nha Trang gather to watch cultural shows at April 2 Square.
Many children are carried by their parents on motorbikes for a walk. However, the street scene does not have many LED lights to celebrate the new year like every year. The Western quarters on Nguyen Thi Minh Khai, Tran Quang Khai, and Nguyen Thien Thuat streets… are quite deserted, without many joyful performances to welcome spring.
Ms. Nguyen Thi Dieu Hien and her husband (British nationality) take their daughter to welcome the New Year at April 2 Square. Photo: Xuan Ngoc
Carrying his wife and children on a motorbike, 35-year-old Nguyen Hai Lam said that he and his wife both work in tourism, and the impact of Covid-19 makes their work unstable. For many months in a row, the city had an outbreak of infections, and everything had to be focused on fighting the epidemic. Tonight, he took the whole family to see the street, bid farewell to the old year. "I hope the epidemic is controlled. In the new year, everything will be better, the work will go smoothly," said Mr. Lam.
Hoa Binh Boulevard and 30/4 Street in Ninh Kieu Central District, Can Tho , about 2 km long, are decorated with colorful art lights. Commercial centers, supermarkets, fashion stores, and restaurants on the streets of the central district are more crowded than usual… Most people are wearing masks.
New Year's art program at Can Tho City Cultural Center. Photo: Kowloon
Covid-19 is complicated, this year Can Tho does not organize an outdoor New Year's art program at Luu Huu Phuoc Park. Instead, the program is conducted at the City's Cultural Center with a limited number of people, must test quickly with negative results. Like many provinces, the program is only broadcast live on local radio and television stations, and social networking platforms for people to enjoy.
After 8 p.m., more and more people poured into the street. Mr. Nguyen Hai 36 years old, from Ninh Kieu district, said that Can Tho no longer has red zones and districts, so he felt secure, taking advantage of taking his wife and children for a walk around the streets. "The new year comes, my biggest wish, as well as many people in Tay Do, is that the epidemic is soon controlled so that production and business life … return to normal", Mr. Hai said.
In Da Nang, it is cold and the rain stops. Many families take to the streets to take a walk before the New Year's transition, but the atmosphere is still quiet compared to previous years. This is the second year, people in the city of more than 1.1 million people in the Central region welcome the new year amid the Covid-19 epidemic.
This year, Da Nang welcomes a special event – the 25th anniversary of the city directly under the Central Government, after its separation from Quang Nam province, on January 1, 1997. Initially, the city leaders planned to launch fireworks, but then due to the complicated development of the disease, it was postponed.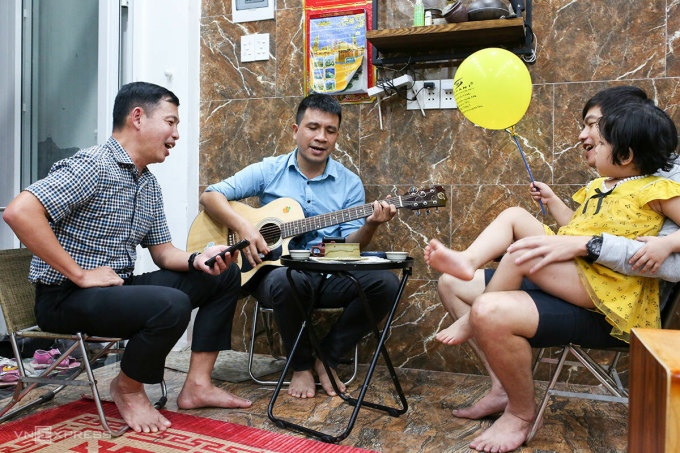 Nguyen Duoc (left cover) and some friends drink tea and sing some songs before the New Year celebration. Photo: Nguyen Dong
Mr. Nguyen Duoc (50 years old, residing in the Cam Le district) said that in the years without the epidemic, he often spent time taking his family out to eat and drink coffee. This year, he restricts going to the shop where there are many people. Instead, make an appointment with a few close friends to share year-end stories.
"Last year, Da Nang continued to suffer heavy damage from the epidemic. The city mainly relies on services, but there are no tourists, so it is difficult to develop. I hope in the new year, the city will control the city. The epidemic is clearly visible to have a direction for economic development", Mr. Duoc said. In the new year, he wishes to have a healthy family and a more convenient job.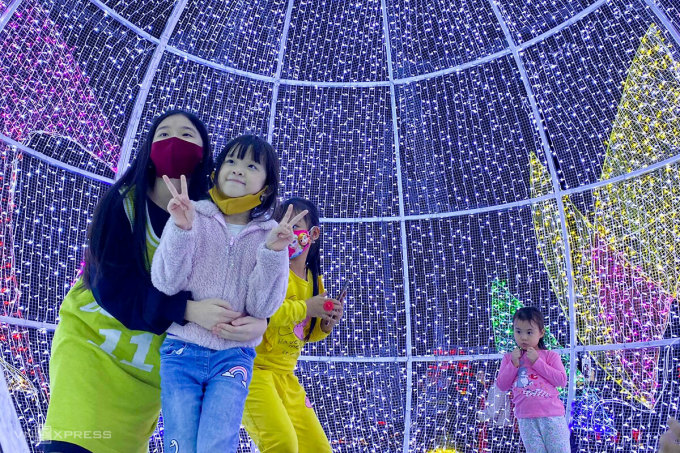 People have fun at the moon decoration at the rear of Dragon Bridge, Hai Chau district. Photo: Nguyen Quang
At 9 p.m., on Bach Dang and Tran Hung Dao streets along the Han River, people began to look for decorative miniatures to have fun and take souvenir photos. "Today is a day for family," said Nguyen Quang, 36 years old, from Son Tra district, and said that tonight he put aside his photography job to take his wife and two children out for coffee.
On the last night of 2021, the weather in Thua Thien Hue is dry, it is a bit chilly. Due to the fact that the number of community Covid-19 infections has not decreased in recent days, the province has proactively stopped New Year's celebrations such as countdown, opening a night walking street around the Imperial Citadel of Hue.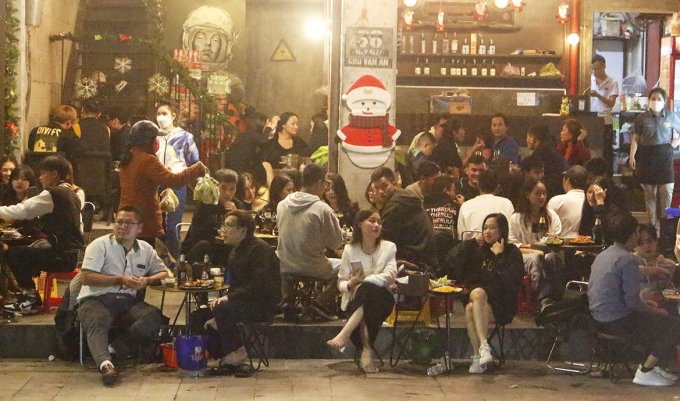 People are crowded at a cafe in the "Western Street" area of ​​Hue City. Photo: Vo Thanh
When the street lights up, people flock to the street to have fun and welcome the new year. The West Quarter area on Chu Van An, Vo Thi Sau, and Pham Ngu Lao streets attract many young people. Although Thua Thien Hue province regulates restaurants and cafes to operate at 50% capacity to prevent the epidemic, many shops here operate at full capacity, people are crowded together.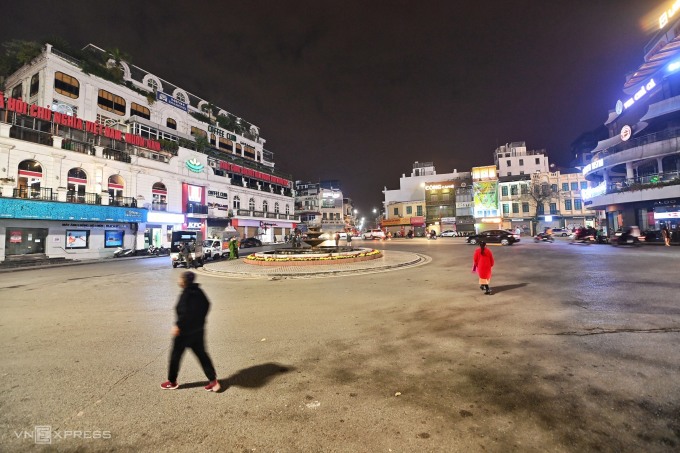 Dong Kinh Nghia Thuc Square, Hanoi, empty on the night of December 31. Photo: Giang Huy
This year, to prevent the Covid-19 epidemic, Hanoi does not hold a countdown to welcome the new year. The central streets are much quieter than in previous years. Sword Lake area is not decorated with colorful lights like every year. Instead, there are many checkpoints, asking people not to gather in large numbers.
Famous places and often attract crowds such as Dong Kinh Nghia Thuc Square, Trang Tien Plaza or the Opera House have all lights off.
There is no place to welcome the new year properly, many Hanoians choose to go around the shore of Sword Lake or drive around before leaving. The shops around Hoan Kiem Lake are closed because Hoan Kiem district is in the orange zone.
On the evening of December 31, the functional forces continuously used vans to remind people to move, some young people gathered were reminded.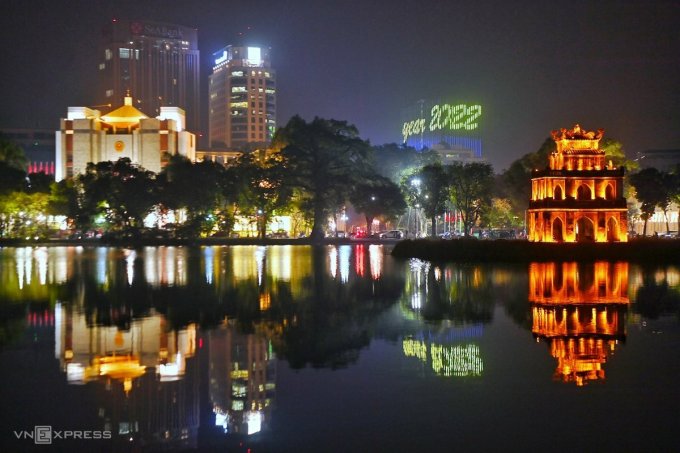 Sword Lake on the night of December 31, 2021. Photo: Giang Huy
Ms. Le Phuong Hoang Yen, Chairman of Trang Tien Ward, Hoan Kiem District, said that the ward established 5 key groups, mobilizing 100% of the army to ensure safety and security, to avoid crowds.
Walking with friends around Sword Lake to welcome the new year 2022, Nguyen Trong Quang Huy, Hoan Kiem district, said he supported the decision not to celebrate the new year despite being quite sad. "Never before has the New Year been so lacking in atmosphere," Huy said.
At 22:30, the number of people on the street began to gradually disappear, the outdoor temperature was more than 10 degrees Celsius.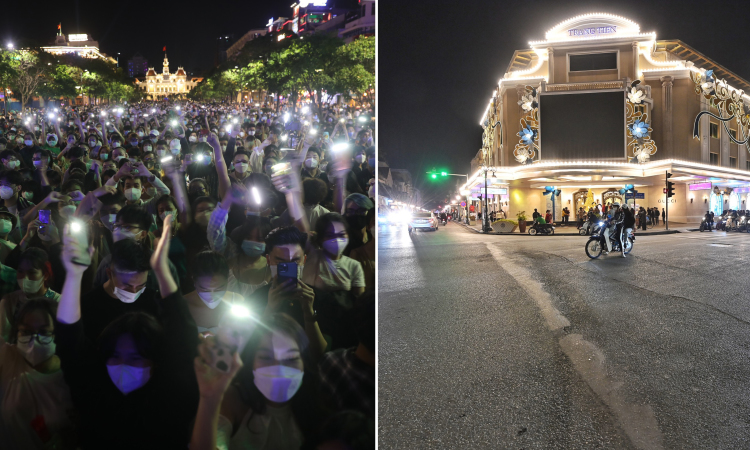 The atmosphere to welcome the New Year is the opposite in Ho Chi Minh City and Hanoi. 
Follow (vnexpress)
TAG: