Night crab nets make millions
BINH THUAN – Fishermen in Rang village, Ham Tien ward (Phan Thiet city) take advantage of night crabs to sell at high prices during the New Year, earning nearly one million dong per person.
These days, every night the basket boat in Rang beach is bustling. At 9 p.m., dozens of mechanical baskets put the crab nets into the yard to remove the nets and sell them at the wharf to seafood vendors. A few women sitting under the coconut trees waiting for their husbands to go to the beach, listening to the sound of the machine getting clearer and clearer, calling each other: "You guys have come in".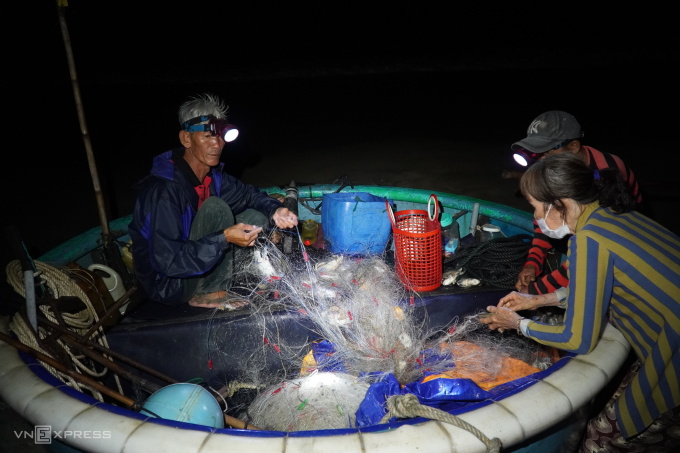 Mr. Nam Lan (left) and his relatives are removing crabs stuck in the net, on the night of December 27. Photo: Viet Quoc
Mr. Nam Lan, 63, and the tanned fishermen helped push the baskets into the sand. The net covered with crabs fits in the machine basket. His wife and nephew in the neighborhood stepped down to help remove the crabs so they wouldn't die before selling them to the barn.
On this trip, Mr. Nam caught 4 kg of crabs and a bunch of snapper and pompano. Two kilograms of large crabs sold for more than 560,000 VND, two kilograms of small crabs sold for 400,000 VND. And the fish he brought home to eat. "This trip also earned nearly a million," Mr. Nam said.
Nguyen Van Thien, 33 years old, is also removing the net from a nearby basket. His net was not as thick as Mr. Nam's net, but he got big crabs, with a total of nearly 3 kg. "Big crabs, selling for 280,000 VND per kg, this trip is more than 800,000 VND", Mr. Thien said.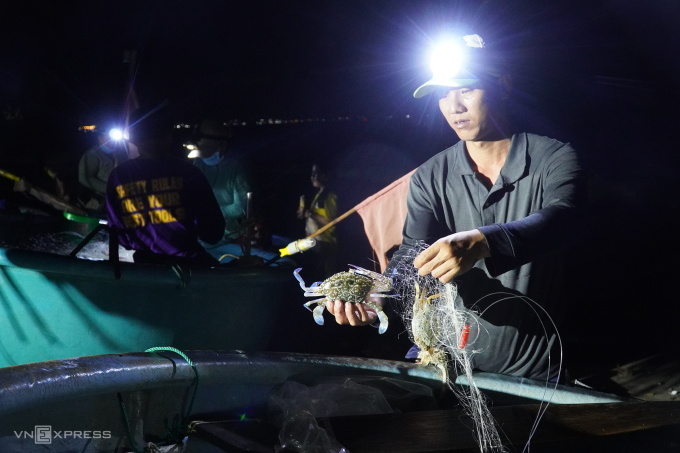 Mr. Nguyen Van Thien removes crabs for sale at night in Rang fishing village, Phan Thiet city. Photo: Viet Quoc
Mr. Thien said that at this time, the North wind season is not much, but the price is higher than the southern season, so the income is also stable, especially in the first few days of 2022.
Ms. Bich Ngoc, a crab trader in Ham Tien ward, has been going down to the wharf to buy net crabs for a few nights to choose and sell to resorts and restaurants in Ham Tien – Mui Ne. On this occasion, many tourists come to Mui Ne, so crabs sell very well.
On a normal day, small crabs are 150,000 VND, big crabs are 250,000 VND; Today, small crabs cost 200,000 VND, large crabs 280,000 – 300,000 VND per kilogram. "On this occasion, Saigon guests go to Mui Ne to travel again, so crabs are very attractive, the price is 50,000 VND a kilo higher than usual," said Ms. Ngoc.
Fishermen in Rang village fished crabs about 2 nautical miles from the shore. In the morning, they run in baskets to the sea to cast their nets, then return to the shore to rest. In the evening, the fisherman drove a basket to visit the net, and after two hours collected the net into a basket and carried it ashore. In addition to crabs, there are also some delicious fish in the net such as: Hanh, birds, pins, stingrays… Follow (vnexpress)
TAG: