Self-coated noodle shop of the Mong people in the heart of Hanoi, 500 bowls sold out a day
A very special chicken noodle shop, unique in Hanoi, the owner is a Hmong (Quan Ba, Ha Giang) who cooks pho himself. The day sold out more than 30 chickens, nearly 500 bowls of pho.
Located neatly on Kim Ma Street (Ba Dinh, Hanoi), a special chicken noodle shop is always crowded with customers, the owner is Mr. Ly Chan Tra, a native of the Mong ethnic group in Quan Ba, Ha Giang. Entering the restaurant, diners can see all the stages of making a traditional bowl of chicken noodle soup.
From the noodle soup made on the spot to the pot of broth that is always boiling hot and smoking.
The first image is a spacious and clean restaurant, with a kitchen layout running all the way to the dining room. Entering the shop is a pot of rice noodle soup that is in charge of an employee. Go to the boiled yellow hens waiting to filter the meat to make pho. Mr. Tra is in charge of slicing the meat and making a complete bowl of pho for diners.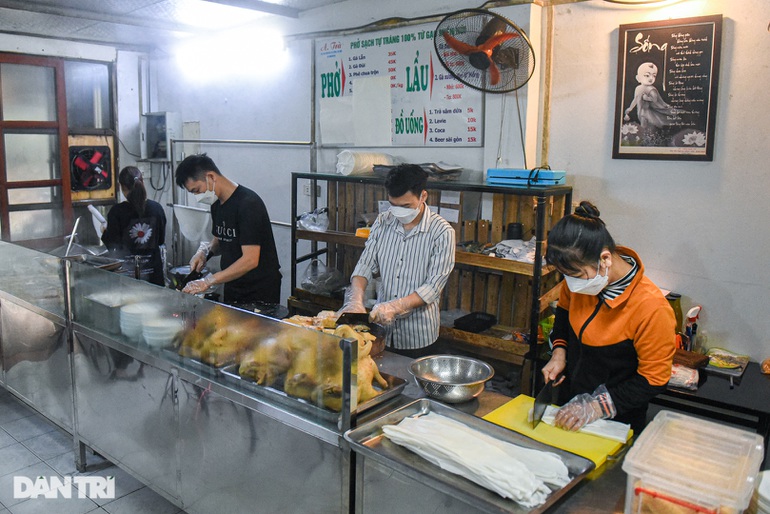 Mr. Tra's chicken noodle shop is neat and tidy. The stages of making a bowl of chicken noodle soup are made "open-air" for diners to witness.
"The shop's pho is made from 100% pure rice without any chemicals. Compared to buying ready-made pho, self-coated pho costs a lot more. To make delicious pho, you must choose the right type of rice. planted by people in the highlands of Ha Giang.
I have tried many other types of rice, but there is no rice that is as delicious as the rice in the countryside," Mr. Tra shared.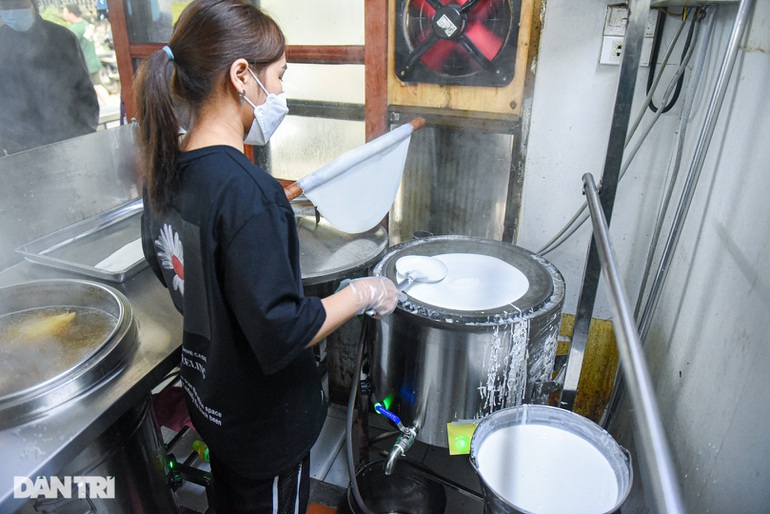 A steam boiler and flour barrel, the pho noodles are coated and used fresh on-site by a staff member in charge.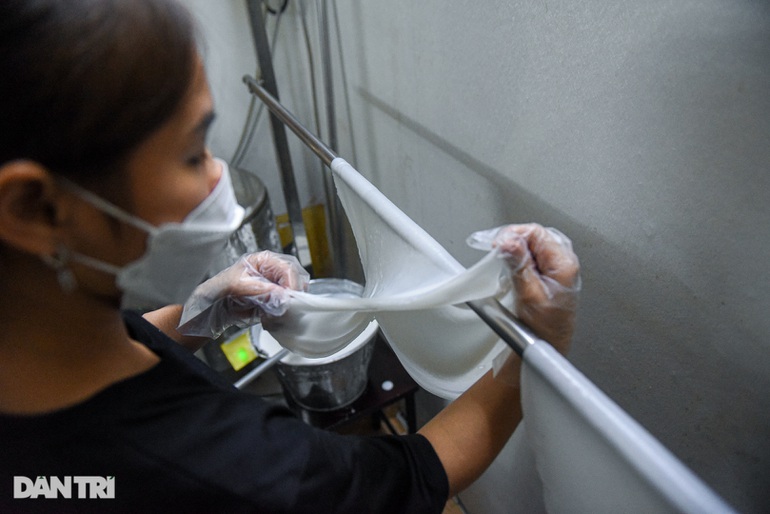 After being coated, the pho cake is left to cool.
To make homemade rice noodle soup, takes many stages and ingenuity. The way to make the cake is the same as the way to make the cake, but the recipe for the dough is different.
And self-coated clean pho uses an heirloom recipe to create perfectly soft, delicious noodles. Coming here, diners will enjoy delicious and clean pho noodles, guaranteed to blend with the irresistible delicious broth.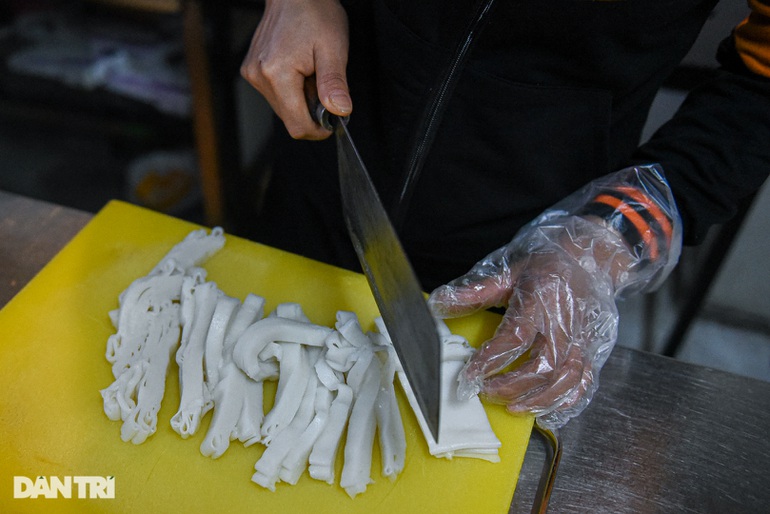 After the pho is cooled and folded into small pieces, then the hand-slicing process produces a complete pho cake and is ready to be used immediately.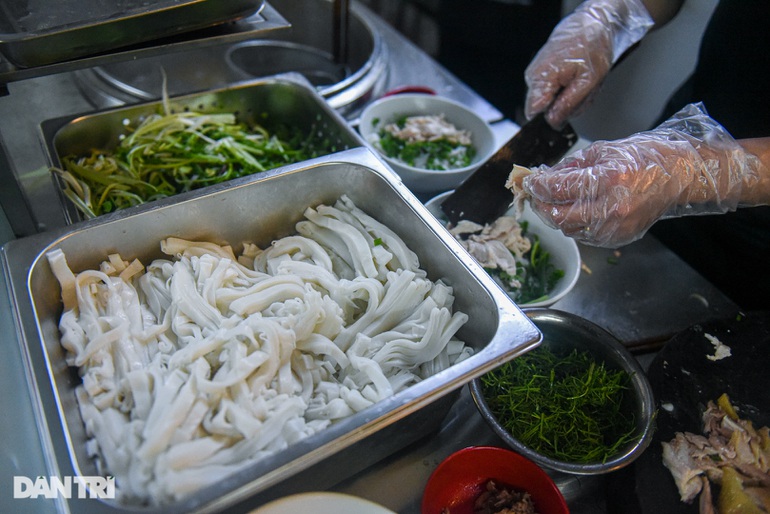 Clean pho is loved by many diners, making a difference in Mr. Tra's traditional chicken noodle shop.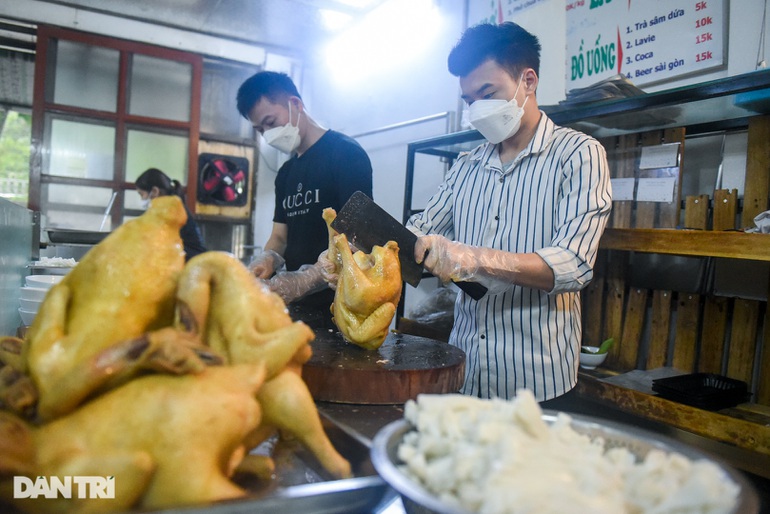 The boiled hens are just cooked, then cut each part into small pieces and then the meat is filtered.
In addition to coated pho, chicken is also carefully selected by Mr. Tra to produce a delicious bowl of chicken noodle soup. A good chicken must be a hen that has laid 2-3 litters because this chicken eats soft and sweet without being too fat. On average, the restaurant sells about 30 chickens per day.
"Delicious chicken is carefully selected, then cleaned and boiled until just cooked, then taken out. If the chicken is too hot, the meat will be mushy and the noodles will lose its taste. Every day, my restaurant sells nearly 500 bowls of pho. Depending on the day , the number of affected by the Covid-19 epidemic is also lower than on normal days, "Mr. Tra said.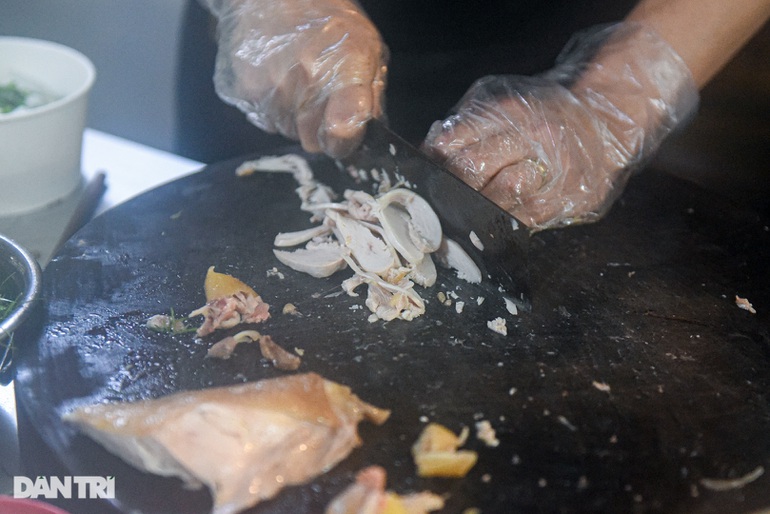 Each piece of chicken is boneless and cut into small pieces.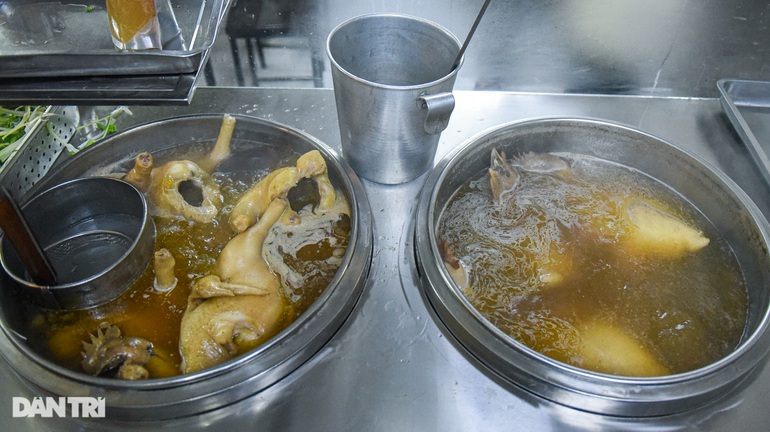 Bone broth and chicken broth are always smoky.
Referring to the pot of broth, Mr. Tra said: "The pot of broth is important to judge whether the pho is delicious or not, that's why I simmered pork bones and chicken broth for many hours.
The foam must be skimmed several times until the water is clear and not cloudy. The most important thing is that the herbs and the restaurant's own secret should be tasted in the pot of simmering bones."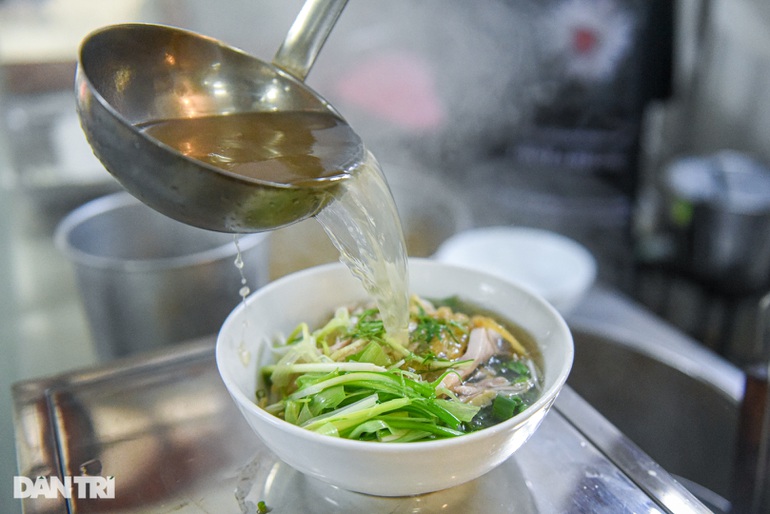 Pork bone broth and sweet chicken broth have more herbal flavors, so when eaten, they will not be too fat or sick. 
A bowl of pho features chewy, fragrant and sweet chicken. The broth is delicious, clear and especially not mixed with the sweetness of the main noodles. The self-coated rice noodle is soft, many people think it will break easily, but it is actually softer in other restaurants. It is known that this chicken noodle shop, Mr. Tra, has been open for 4 years.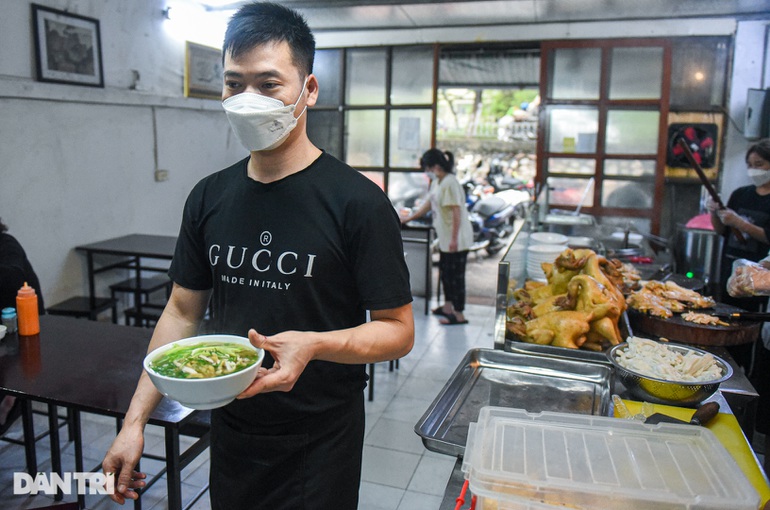 In particular, a bowl of pho here will have a lot of meat, a lot of pho, so when you eat it, you will be full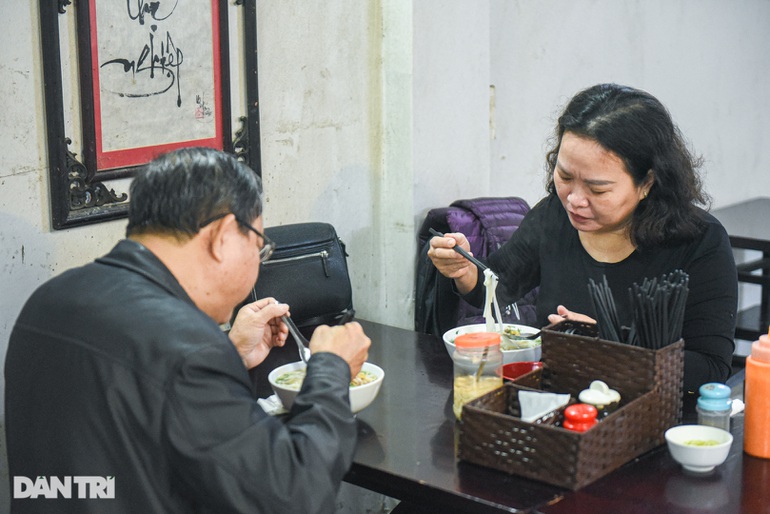 Pho is delicious, clean, and the restaurant has retained many diners to enjoy.
As a regular customer of this self-coated chicken noodle soup restaurant, Mr. Tuan (Cau Giay, Hanoi) said: "I work in the old town area, so I often go through Kim Ma Street, in addition to the days when I have breakfast at home, I sometimes come here to enjoy chicken noodle soup.
Especially, the pho here is self-cooked, so it's softer than other types of pho. The broth here is also sweet, without the smell of main noodles. Especially a bowl of pho with a lot of meat will warm your stomach until noon."
The shop is open from 6:30 to 14:00, on Saturdays and Sundays will be out of stock earlier. The price of each bowl of pho ranges from 35,000 to 50,000 VND.
Follow(Dan Tri)
TAG: