Hoa Trung Lake Da Nang – picturesque camping coordinates
When it comes to Da Nang tourism, there are not only Ba Na Hills, legendary bridges, and clear blue beaches. This city also attracts tourists by many new destinations. Among them, it is impossible to forget to mention Hoa Trung Lake in Da Nang, which owns a beautiful natural space like an ink painting. Here, you can camp, organize team building, immerse yourself in nature, and have many other fascinating experiences. 
About Hoa Trung Lake Da Nang 
Hoa Trung Lake Da Nang is located in the territory of 2 communes Hoa Ninh and Hoa Lien, about 7km from DT602 road, 20km from the city center. This is an artificial lake, built with the purpose of providing domestic and agricultural water sources for residents of Hoa Ninh and Hoa Lien communes. Currently, this place has become great camping, picnic, and team-building address.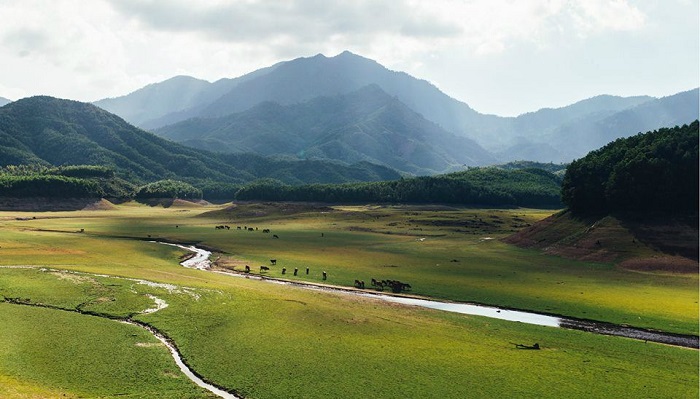 Peaceful scene at Hoa Trung lake
Hoa Trung Lake is a free tourist destination. However, if you want to experience the fun activities here, it will cost a small fee of about 20k/person for river boating service and about 200k for overnight camping tent rental service.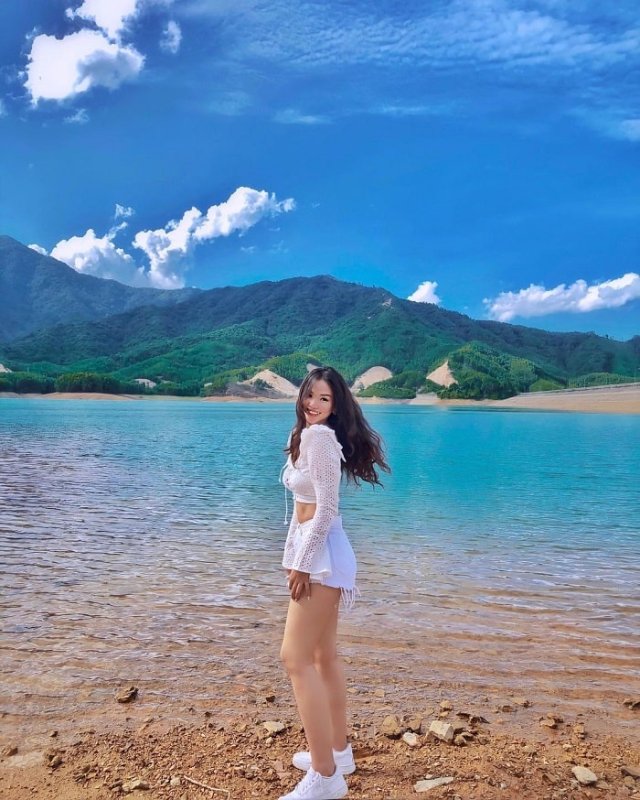 (Photo: __maiquynh)
Means of transportation to Hoa Trung lake
According to Da Nang travel experience , you can use many different types of vehicles to get to Hoa Trung Lake such as taxis, cars, grabs, motorbikes,… Depending on your conditions and preferences that you bring make the most suitable choice. If you like the feeling of going on a trip to take the initiative in time and enjoy the scenery along the way, a motorbike is the most ideal choice. If you are afraid of not knowing the way and do not like to do things, you can hire a taxi or grab.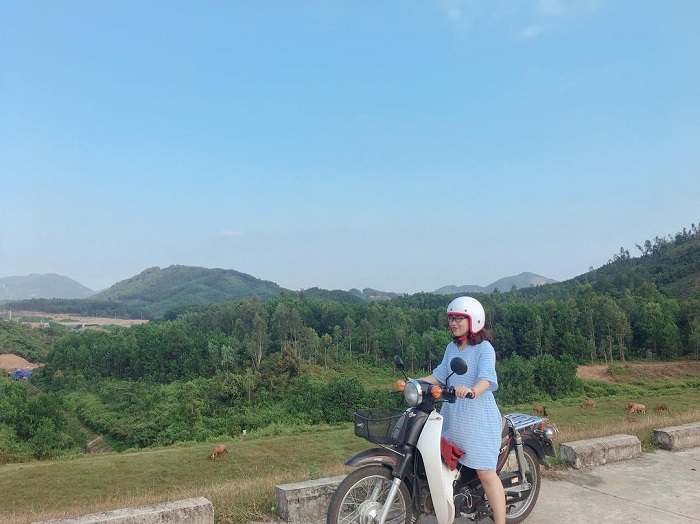 Motorcycles are the most popular means of transport (Photo: i.m_nhu_)
How to move to Hoa Trung lake in Da Nang?
There are many ways to get to Hoa Trung Lake in Da Nang but choose the easiest and most convenient route. If departing from the city center, the trip to the lake will take about 40 minutes. From the center of Da Nang, run to Hoang Van Thai Street, turn right to National Highway 1A. Go a bit and then turn to Tan Ninh Street, run straight this road to reach Hoa Trung Lake. To go down to the lake bed, you go up the dam road on the left side there is a trail to move down to the grass field. 
Another easier way to go. From Hoang Van Thai Street, turn right onto National Highway 1A, go a little further and then turn left onto Au Co Street towards Hoa Ninh parish church. Continue to turn left onto the concrete road, go straight all the way to see the trail leading directly to the lake bed.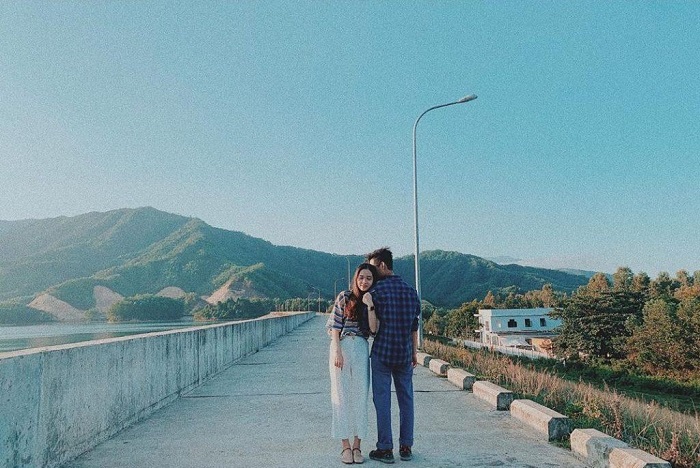 This address is located quite far from the city center 
The right time to go to Hoa Trung lake in Da Nang 
Unlike many indoor tourist attractions, Hoa Trung Lake in Da Nang is located outdoors, so choosing the right time to visit is also quite important. September – October is the best time to explore the lake. In this Muad, the water is dry in the dry season, the grass is green and flat, just like a steppe. Therefore becoming an extremely ideal camping spot. You should come here early in the morning when the dewdrops are still on the leaves. 
The beauty of Hoa Trung Lake, which was already very poetic, becomes even more attractive when it is adorned with each herd of white storks, herds of buffaloes and cows leisurely grazing, and even small boats. April – May, although not as beautiful as September, is a great time for boating and wedding photography.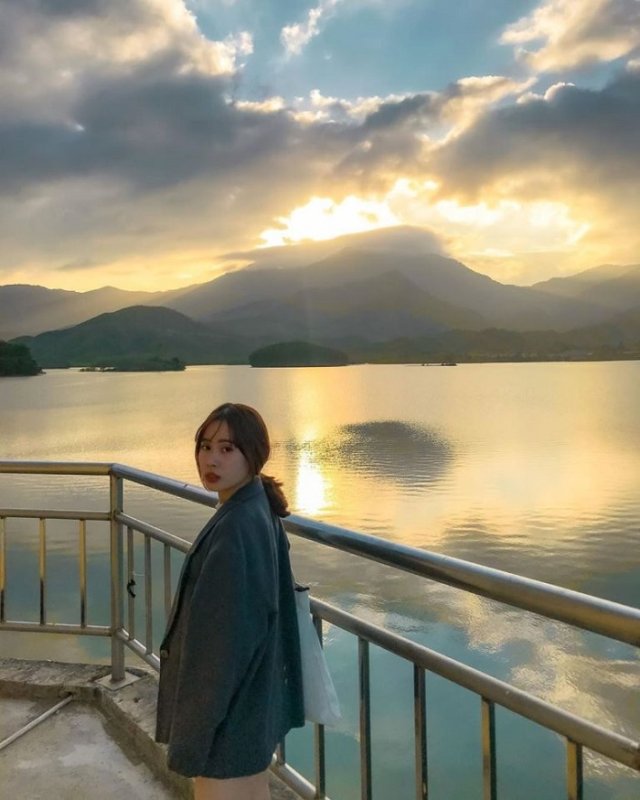 (Photo: lu.filmm)
What's interesting about Hoa Trung Lake in Da Nang? 
 
Fresh and cool natural space 
There is nothing more wonderful than being immersed in the dreamy space of a green lake and breathing in the fresh atmosphere after tiring days of studying. If you're stressed, pack your bags and come here to relax. You will have the opportunity to listen to birds chirping, wind blowing,… A very relaxing and pleasant feeling.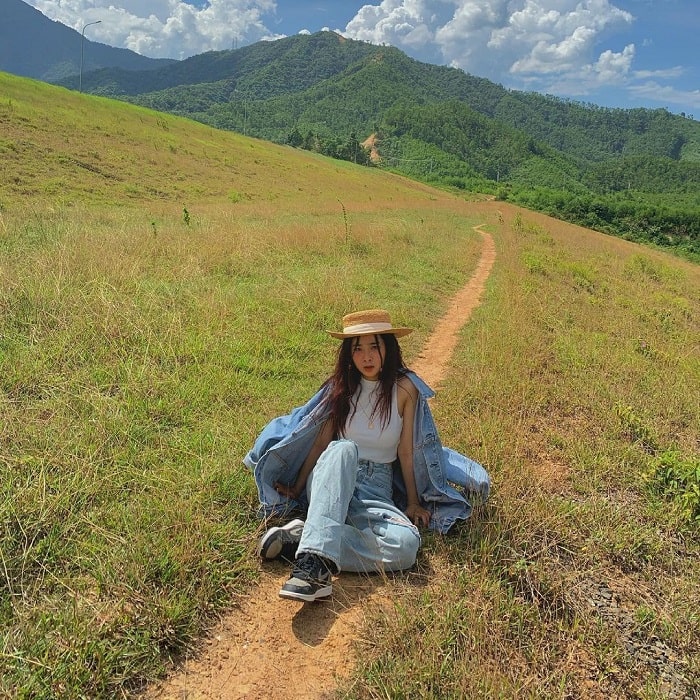 (Photo: waynhnee)
Check in 
Hoa Trung Lake in Da Nang is one of the best check-in points for young people in Da Nang. Here, although there are no lovely miniatures, with a background of green fields, clear lakes, and mountains and hills, it is enough to create many great shooting angles. Remember to choose the right outfits to adventure in the charming countryside!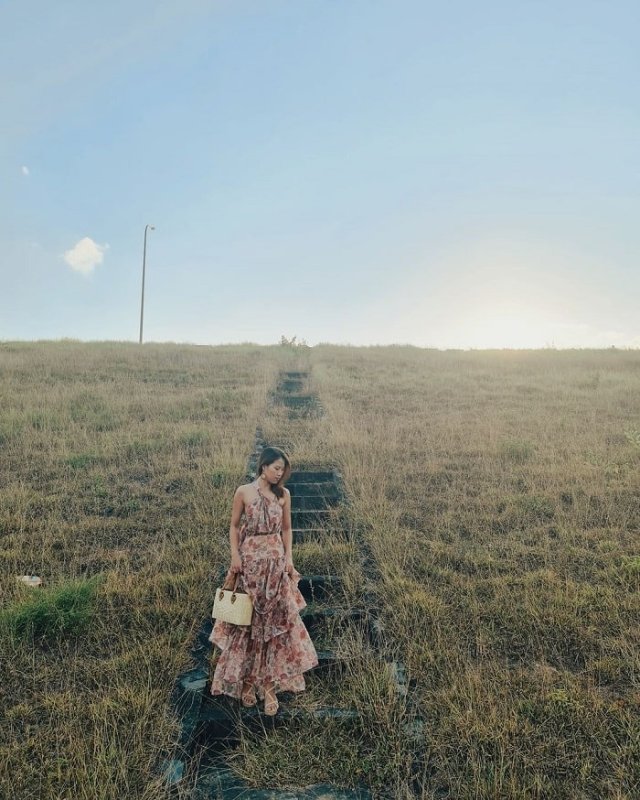 Beautiful check-in corner (Photo: dzit_hi)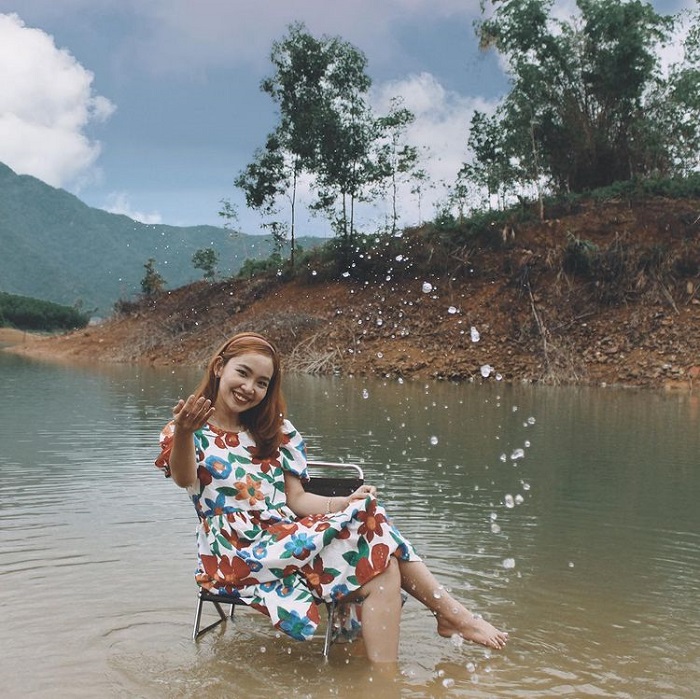 (Photo: bella.wanderlust1127)
Visiting Hoa Trung Lake on a boat
With only 20k, you can rent a "canoe" to paddle out to the lake to enjoy the scenery. It's really interesting to be able to manually control the paddle, let your soul drift with the wind, water, clouds, sky,… At that time, how much fatigue and depression will be washed away.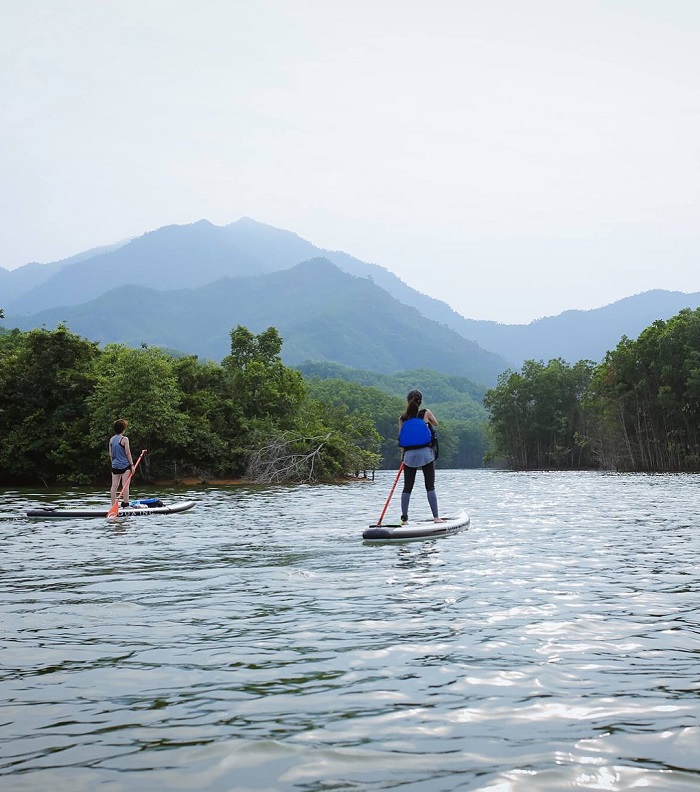 Rowing soup on the lake (Photo: sayruu)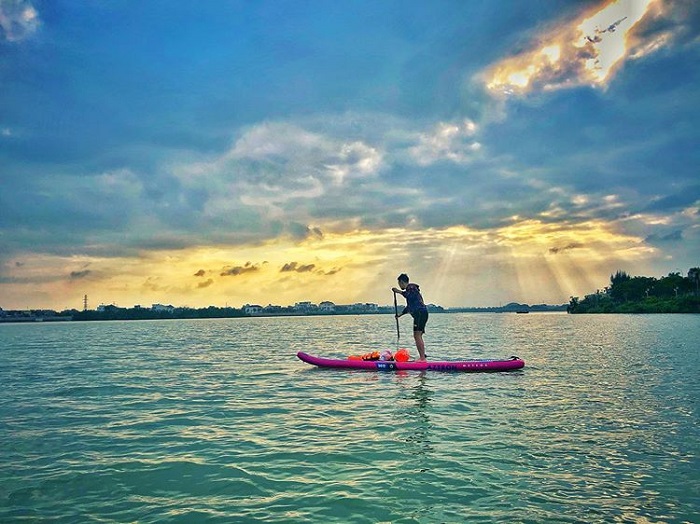 (Photo: kiemhung25)
Teambuilding, camping at Hoa Trung lake Da Nang
Hoa Trung Lake in Da Nang is one of the hottest camping spots. Here visitors can comfortably organize many interesting entertainment activities. This is also an ideal place for overnight picnics. When camping here, wake up a little early to see the beautiful sunrise.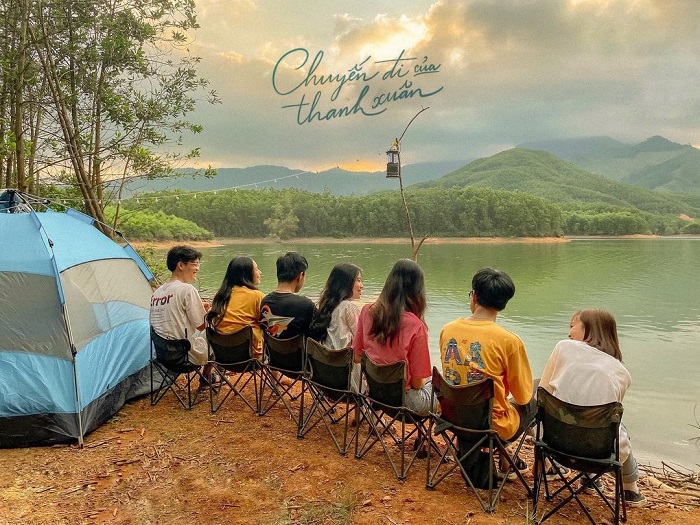 (Photo: dieuhoai.188)
At night, the whole Hoa Trung lake becomes very quiet, looking far away towards the city is a giant patch of light. Due to being far from the city, on clear nights, you have the opportunity to admire an extremely fanciful starry sky.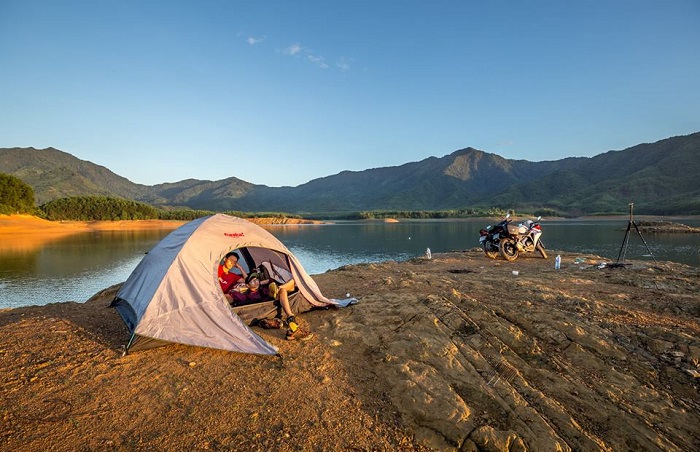 Remember to wake up early to catch the sunrise!
What to eat at Hoa Trung lake in Da Nang?
Because it is still a wild tourist destination, has not yet been invested in tourism development, so there are no food services in Hoa Trung Lake . When you come here, you should prepare food and drinks. A few suggestions such as: grilled seafood, grilled meat, grilled chicken,… Don't forget to prepare pots and pans, grill,… so you can enjoy a great outdoor party.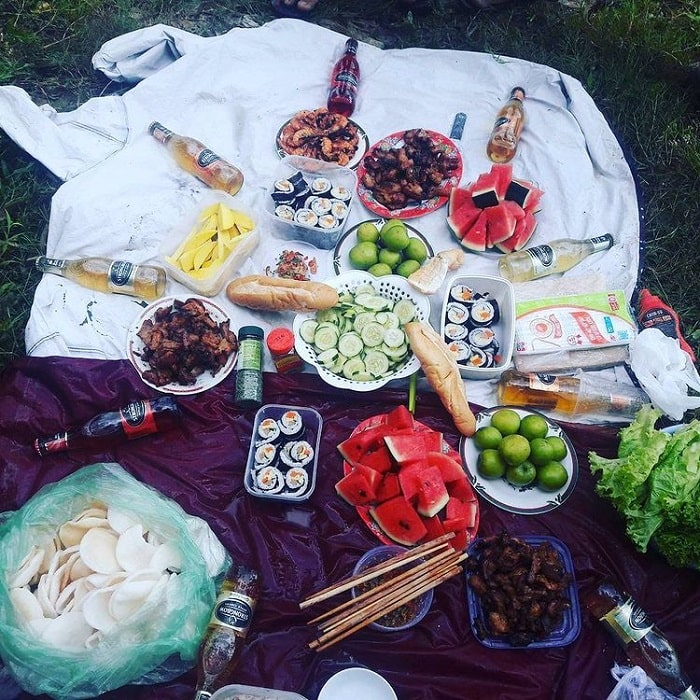 You should prepare food before you come 
Notes when traveling to Hoa Trung Lake
If you stay overnight, remember to bring a jacket because it is quite cold here at night. 
If you go to Hoa Trung lake in the dry season, when the water recedes, you can cross the lake to explore the landscape. 
Don't forget to bring sunscreen, sunglasses, bug spray. 
Remember to pick up trash after camping and eating.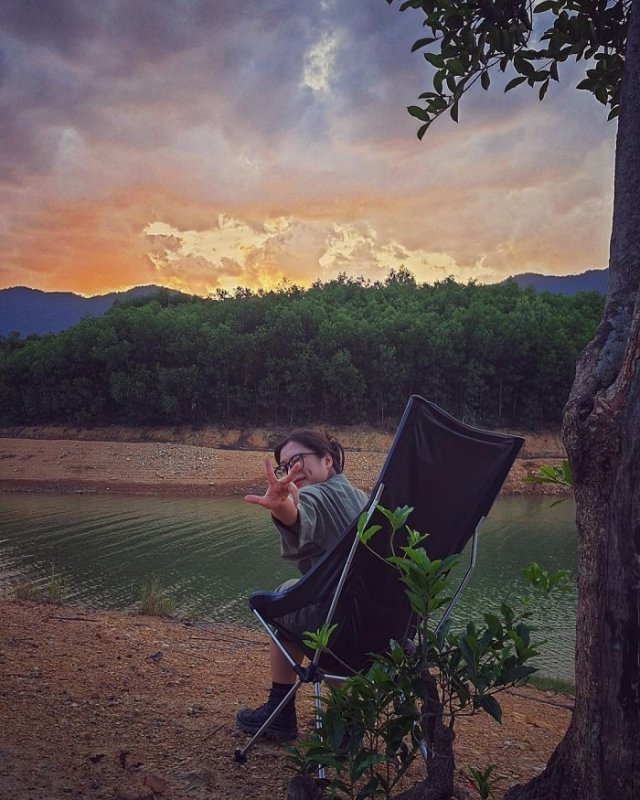 (Photo: __memories125)
If you want to immerse yourself in a green and clear space, then come to Hoa Trung lake in Da Nang , which will give you a very "adventure" and new feeling. 
Photo: Internet
TAG: