Banh Hoi shop Binh Dinh sells hundreds of servings every morning
HO CHI MINH CITY – The cake shop asks for porridge, grilled meat in Binh Thanh district using ingredients from Binh Dinh, priced at 35,000 VND/piece.
Banh ask is a famous and popular dish in Binh Dinh, in Saigon, diners can enjoy the true taste of this dish at a restaurant in an alley in Binh Loi Street, Binh Thanh District. The owner of the shop is Ms. Nguyen Thi Phong, 49 years old, from Binh Dinh, who came to Saigon to start a business 6 years ago. From a restaurant with only 6 small tables, now the restaurant has expanded with two large booths.
In the past, in the countryside, Ms. Phong sold vermicelli and Banh Chung. When she moved to Saigon to live, she saw that there were a few cake shops and typical Binh Dinh dishes, so she opened a shop. At that time, she simply thought: "I sell the food I like, I have to make it delicious, right in Binh Dinh's taste".
Therefore, to make the dish as standard as possible, Ms. Phong took the cake, chives, pork intestines, pork, fish sauce… from Binh Dinh to Saigon. As for herbs, because it is difficult to keep fresh when traveling long distances, she picks up the goods in Saigon.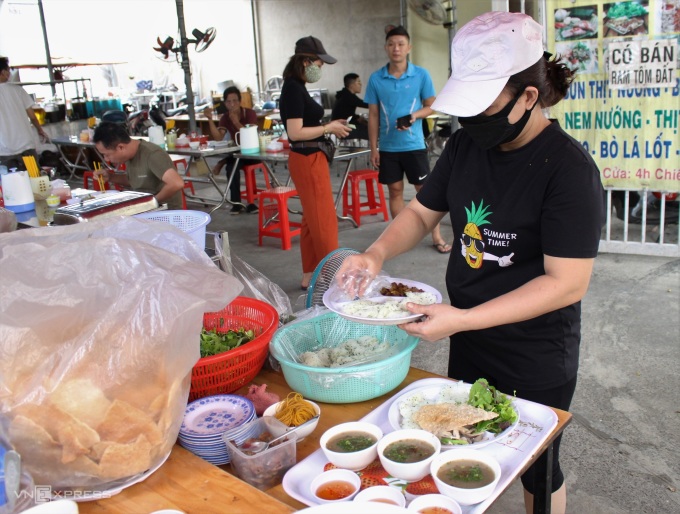 The shop is open from 6am to 12pm every day, selling about 200 servings on average. Photo: Huynh Nhi
Every day, Ms. Phong gets up at 2 a.m. to make pork belly and cook porridge, marinate grilled meat… until the job is done, it's time for the shop to open to welcome customers, not ready to cook and keep warm. According to her, the pork intestines eaten with the cake must be done very carefully, the new dish will have a delicious taste, not overpowering. "My pig's tongue and heart are washed with saltwater, and the stomach must be rubbed with salt, lemon, vinegar, and no longer has a bad smell, then we cook it."
Served with rice cake, there is also porridge heart. Different from porridge in the South, Binh Dinh people tasteless sugar and taste of porridge, not too rich. When combining the cake with porridge, the cake is not too dry, easier to eat and also full for a long time. If you do not like to eat porridge, diners can also try the cake with soft golden grilled meat, fragrant, served with sweet chili fish sauce and indispensable crispy grilled rice paper, fresh vegetables.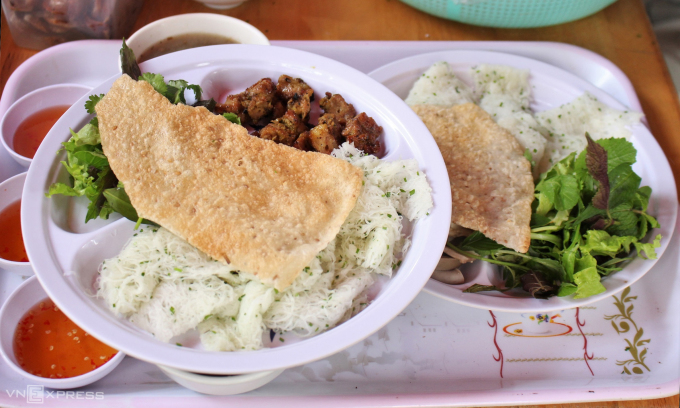 Each meal costs 35,000 VND. Photo: Huynh Nhi
Minh Tien, a Binh Dinh resident living in District 10, drives nearly 10 km to enjoy his favorite food on weekend mornings. Tien said, eating cake to ask for porridge made him feel less homesick. "The cake at the shop is very similar to my hometown, the fish sauce is also very delicious and satisfying. In Saigon, there are few places that can sell the flavor like this, so even if we are far away, we often stop by to eat."
As for Mr. Tuan, a Saigon diner living in Ward 13, Binh Thanh District, he also often stops by to eat porridge after exercising in the morning, commenting: "The food here is quite strange, the cooking method is clean and the price is reasonable. The money is just right, so I like it."
On average, every morning, Ms. Phong's restaurant sells about 200 servings of porridge and grilled meat. In addition, customers also like other dishes such as grilled pork vermicelli, spring rolls, spring rolls, Banh Beo… After social distancing in Ho Chi Minh City, Ms. Phong feels fortunate that the shop still has customers coming to support despite the business. selling is not as favorable as before. The owner of the restaurant said that the price of the food is not increased because of the reason: "The disease has caused many people to lose their jobs, their incomes have decreased, they have to consider whatever their expenses are. If their prices are high, customers will be afraid to buy them."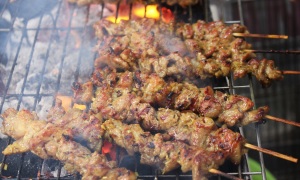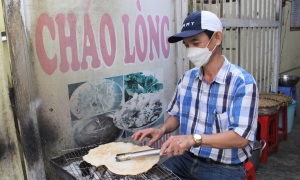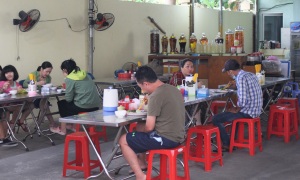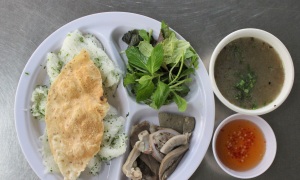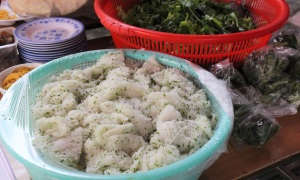 Follow (vnexpress)
TAG: