The owner is supported 400 million VND when the elephant gives birth
DAK LAK – The government supports hundreds of millions of dong for owners and carers during elephant estrus, pregnancy and childbirth.
The policy was approved by the People's Council of Dak Lak, term X, at its meeting on December 10. This move is to support domestic elephants to breed, limit conflicts between elephants and people, and contribute to protecting the local elephant herd which is decreasing in number.
Accordingly, when the elephant is in heat (calculated by day), the female elephant owner will receive 500,000 VND per day, the male elephant owner will receive 600,000 VND per day.
In the first 10 months of pregnancy, the owner will receive 300,000 VND per day. From the 11th month of pregnancy to the 6th month after the elephant's birth, the elephant owner receives 600,000 VND per day. The total amount of money received by the female elephant owner is about 400 million VND. Elephants are among the animals with the longest gestation period, averaging 22-24 months.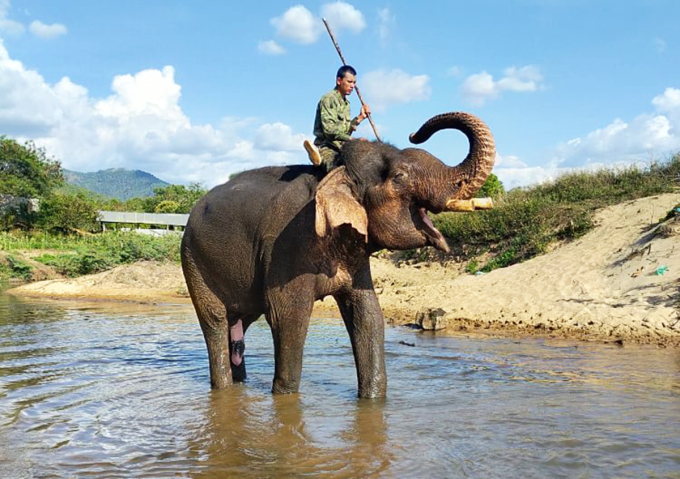 The elephant lord Y Vinh, in Lien Son town, Lak district, let his elephant Kham Sen go to the river to drink water. Photo: Ngoc Oanh
In addition, female elephants (caregivers, trainers) during the elephant's meeting, estrus, and pregnancy are supported 200,000 VND a day, within 29 months. The bull elephant is supported with this amount for 30 months.
Localities where wild elephants often appear are set up to protect groups, each with no more than 10 people to monitor and supervise the movement and chase away destructive elephants. Each group is supported 20 million VND and each person receives 5 million VND a year.
Organizations and households that legally live and produce in the area where wild elephants reside or move when attacked by elephants, will be supported with 100% of the property value of the damage; support for medical examination and treatment caused by elephants…
According to the Dak Lak Elephant Conservation Center, in the 1980-1990 period, the number of domestic elephants in Dak Lak was over 500, now there are 45. For many years, the sanctuary has coordinated with elephant owners in Lak and Buon Don districts to create a space for elephants to "fall in love" with each other, regularly monitor, take blood to test pregnant elephants…
In addition, the province supports 650 million VND for owners of successful breeding elephants; Baby elephants born dead are supported 171 million VND. However, over the past 30 years, there have been three pregnant elephants but all died in the womb.
Wild elephants in Dak Lak are distributed mainly in Buon Don and Ea Sup districts, with about 5 herds, with 80 -100 heads. Elephants are rare and endangered animals, listed in the Red Book of Vietnam.Follow (vnexpress)
TAG: