Top 13 hottest tourist destinations in Vietnam during the Lunar New Year 2021
The upcoming Lunar New Year holiday 2021 is coming, in addition to being reunited with family, this is also an opportunity for everyone to plan a trip to welcome spring and enjoy the warm atmosphere at the beginning of the year. Are you planning a trip for Tet 2021? And you wonder about the next step? Vinlove will suggest attractive tourist destinations that promise to bring you the most complete spring trip.
Moc Chau
Moc Chau is a land with a strange attraction, always attracted by its wild, mysterious and profound beauty at any time of the year. Pure plum blossom, ban flower, brilliant peach blossom, graceful white canola flower season. However, that country is probably the most beautiful in spring with the pink color of peach blossom, the pure white color of apricot blossom, plum blossom… The beauty of the Northwest spring makes people's hearts flutter and urges the feet. love to explore.
Xuan Moc Chau has a cool climate, gentle sunshine spreads throughout the village, making the colors of peach and plum flowers more colorful. Traveling to Moc Chau on the days adjacent to the Lunar New Year, visitors have the opportunity to admire the heartbreaking beauty of pink peaches and white plums intermingling all over the country from Highway 6 to remote villages to the houses. Hidden in the valley of flowers, extremely attractive. Traveling to Moc Chau spring, visitors can also participate in the Khai Ha festival at the beginning of the year, harmonize with the Khen dance of the Thai and H'Mong people and enjoy a warm cup of corn wine.
The Mong people in Moc Chau used to have the custom of celebrating Tet earlier than the traditional Lunar New Year of the nation, people here celebrate Tet around the beginning of the 12th lunar month. However, today, most of the Mong people celebrate Tet like the Kinh people. Therefore, when traveling to Moc Chau spring, visitors will have the opportunity to immerse themselves in the atmosphere of Tet celebration of the people here with many special activities such as throwing pao, martial arts dancing, flute dancing, …
For tourists choosing Moc Chau as a spring holiday destination, it is important to note that around January every year, the temperature in Moc Chau is quite low, especially at night. During the day, Moc Chau is sunny enough to make cheeks pink and visitors can rest assured to have shimmering photos, it will be chilly. The average temperature of Moc Chau during the Lunar New Year varies from 10 to 20 degrees, so you should remember to bring enough gloves, woolen hats, scarves, thin and thick coats to wear accordingly.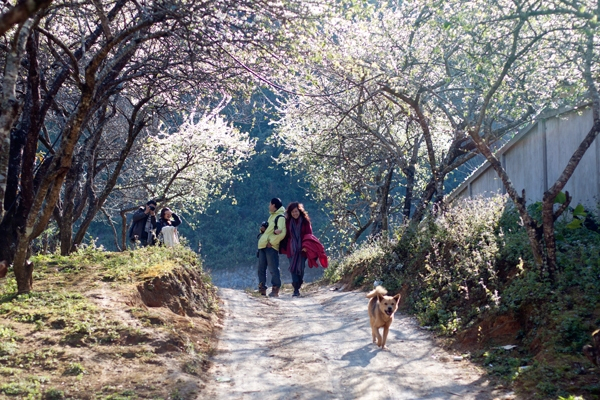 Moc Chau – Spring is rustic but strangely beautiful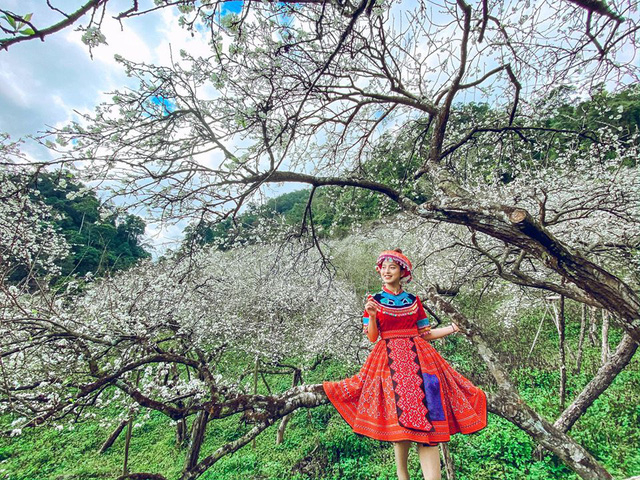 Moc Chau
Ha Giang
Ha Giang is not only known for the majesty of the mountains, or the winding roads but it is also known as a great destination because of the beauty of the people and the flowers here. Like Sapa, Ha Giang's most famous attraction is the majestic mountains. Although the mountains here are not as high as those of Sapa and do not seem steep enough to challenge adventurous climbers, it is outstanding for its limestone area with polar rock formations. It has a unique and unique color, with its black, gray and white colors, it is likened to a species of "Stone Flower" in the Dong Van Plateau. In addition, when coming to Ha Giang, visitors will be immersed with the colors of Canola flower, purple of Manh Triangle flower, and white color of Plum flower. It is these very unique things that Ha Giang has captivated many tourists.
The best time to visit Ha Giang is from October this year until the end of February next year. At this time in Ha Giang, visitors will admire the buckwheat flower season and many festivals of the locals here. Ha Giang not only attracts domestic tourists but also foreign tourists every time they come here, they hope to have a chance to come back. It is a place with majestic mountain scenery, seasonal flowers and the hospitality of the people here. Every year, Ha Giang welcomes millions of domestic and international tourists to visit.

Who comes to Ha Giang? You should also try a bowl of Thang Co before returning because this is a famous national specialty of the rocky plateau. In Ha Giang, in the highland markets, there is usually a pot of Thang Co available so that anyone who travels a long way to the market can eat and leave. In fact, Thang Co is a very nutritious dish made from meat, the viscera of cows and horses with the unique spices of the people here.
Ha Giang has countless beautiful sights to see, countless places to go, each place has its own beauty. It is the season of beautiful buckwheat flowers in October, the majestic and magnificent palace of King Meo, the sacred Lung Cu flagpole, the Dong Van rock plateau with thousands of cat ears, and the Ma Pi pass. The majestic and dangerous Leng is the road to Happiness built from the sweat and efforts of thousands of young volunteers and citizens for 8 consecutive years… and many other places. Ha Giang is truly the promised land of those who love to travel to find the pristine beauty of heaven and earth.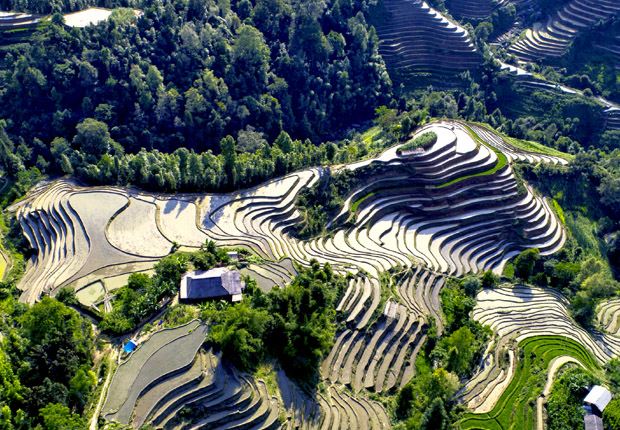 Ha Giang Tourism Tet 2021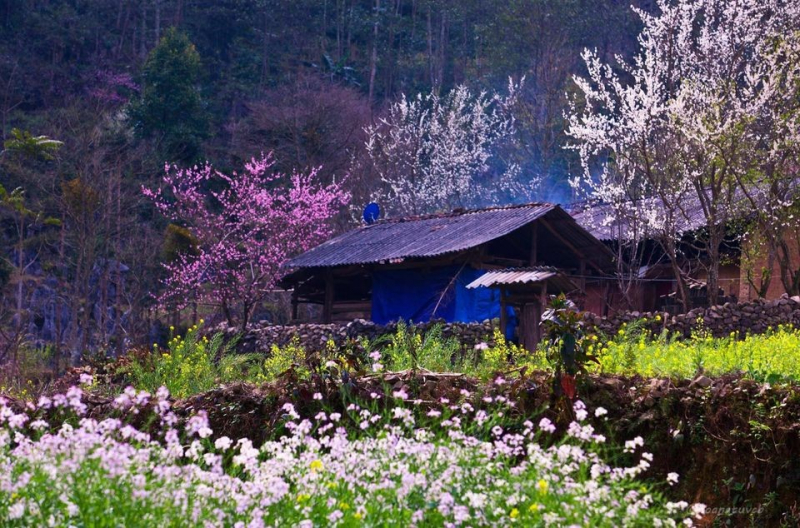 Ha Giang
Sapa
Sapa is a highland district of Lao Cai province, a land of modesty, quiet but hidden many miracles of natural scenery. The natural landscape of Sapa is combined with the creativity of people along with the topography of the mountains and the green of the forest, like a picture arranged in a harmonious layout to create an area with many landscapes. attractively poetic. From the city center, you can expand your eyes to enjoy seeing the immense peaks… Coming to Sapa, visitors will have the opportunity to conquer the famous Fansipan peak or make a backpacking trip to the villages. hidden in the mist. The scenery of mountains and forests with hundreds of flowers blooming, "clouds embrace mountains, mountains embrace clouds" will surely captivate visitors when they have set foot in this place.

Sapa As a famous tourist destination, blessed by nature for a fresh and cool atmosphere, this place is also an attractive place for backpackers. However, Tet may be more deserted, but this is the ideal time for you to have a quiet space to rest and relax, admiring the beautiful scenery in Sapa with terraced fields and houses in the distance. dew. The ancient castles next to the modern villas of Western architecture, winding along the highways or precarious on the slopes and hillsides, captivate photographers. In addition, you can explore nature, conquer Fansipan peak, mingle with nature, flowers are racing to bloom on the first day of spring.
Tet dance is an important and elaborately prepared festival of the Dao Ta Van people, usually held on the 1st or 2nd day of the Lunar New Year. The main content of the ceremony is to pray for "People are safe and prosperous", "When drinking water, remember the source". The sacrificial activities during Tet are very special with 14 dances performed by selected young men, or unique rituals performed by shamans.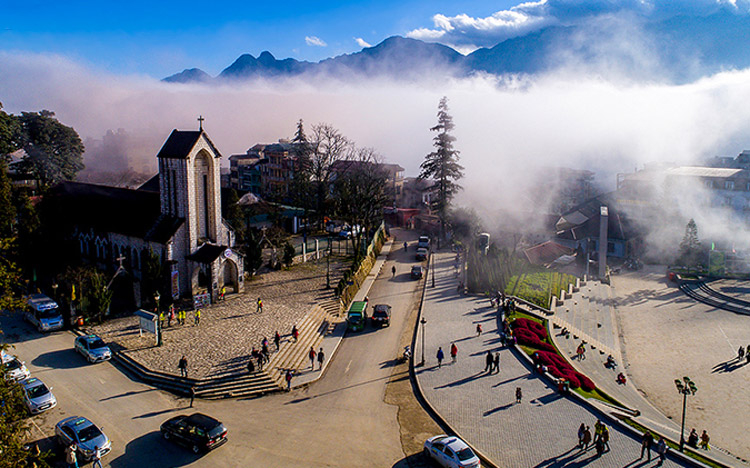 Traveling Sapa Tet 2020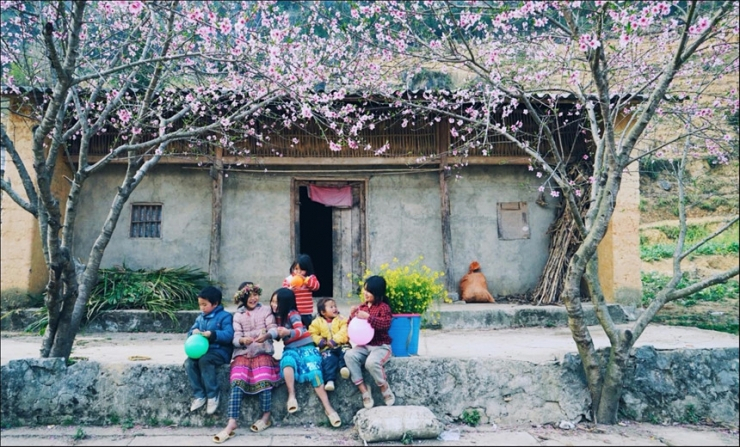 Sapa
Yen Tu
Yen Tu is a high mountain in the Dong Trieu mountain range in northeastern Vietnam. The mountain belongs to Thuong Yen Cong commune, Uong Bi city, Quang Ninh province. As a natural landscape, Yen Tu mountain also preserves many historical relics with the name "Vietnamese Buddhist ancestral land". The top of the mountain is often covered with clouds, so in the past, it was called Bach Van Son.
Yen Tu – Ba Vang Pagodabecame the center of Buddhism since King Tran Nhan Tong gave up his throne and took on a monk's robe and founded a Buddhist lineage typical of Vietnam, which is the Truc Lam Yen Tu Zen lineage and became the third patriarch. with the legal name Dieu Ngu Giac Hoang Tran Nhan Tong He built hundreds of large and small works on Yen Tu mountain to serve as a place to practice and transmit sutras and teachings. After his death, his successor was Phap Loa Dong Kien Cuong, the second patriarch of the Truc Lam lineage. During his 19 years of practice, he compiled the book Thach That My Language and built 800 large and small pagodas, temples and towers in the country with thousands of valuable statues, including famous pagodas such as Quynh Institute. Lam, Ho Thien Pagoda in Dong Trieu… At the mission center of Phap Loa, there was also Quang Ly Dao Tai, the third patriarch of the Truc Lam sect.
Referring to Tet tourism or going to New Year's holidays, it is definitely impossible not to mention Yen Tu, where you can enjoy the scenery at the beginning of the year as well as pray for a new year of luck, especially in Yen Tu, where Dong pagoda is located. The top of the mountain is very sacred, to get here you have to climb to the top of the mountain or take the cable car. At the beginning of the year, Buddhists from all over the world will definitely come here very crowded, the way to the top of the mountain is very difficult, so you must be careful to avoid unfortunate accidents on the first day of the year.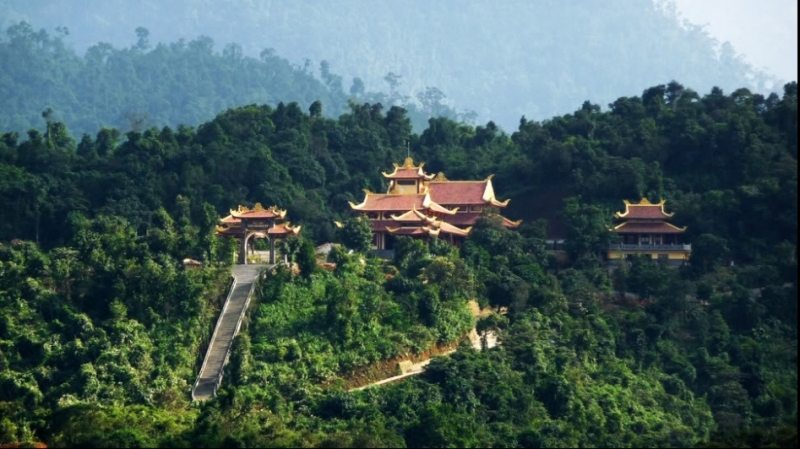 Yen Tu Tourism Tet 2020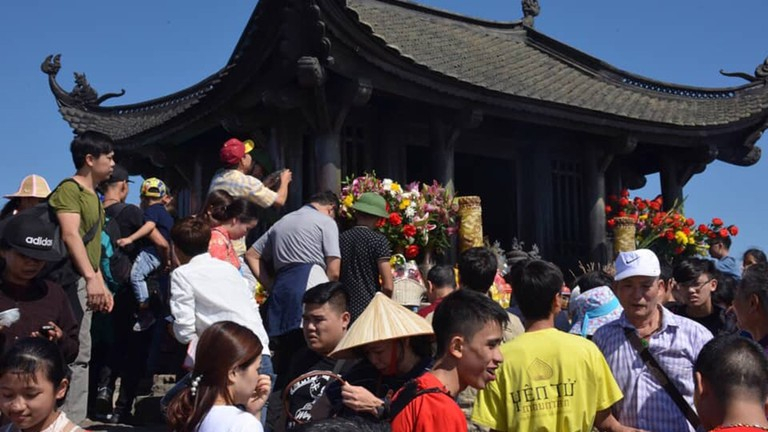 Yen Tu
Trang An – Bai Dinh
Populations scenic Trang An – Bai Dinh Ninh Binh is a combination of both mighty and scenery of natural poetic and spiritual culture, recognized by UNESCO as world cultural heritage. Every New Year's Eve, Trang An – Bai Dinh attracts tourists from near and far to visit to enjoy the scenery and find a place to visit the monastery to pray for peace for the coming year. The magical caves, winding mountains and green rice paddies in Trang An and the mysterious space in Bai Dinh will surely bring many memorable experiences to visitors.
Trang An is a tourist complex including mountains and caves and streams, so when you arrive, you will buy tickets to visit and rent a boat. Ticket prices will vary depending on the season of the year. In addition, Bai Dinh area is very large, so to save travel time, you should rent a tram to visit. Ticket prices are also listed, so visitors can rest assured when traveling to Bai Dinh. If you do not want to rent a tram, you can also walk to visit the pagodas and Buddha statues in Bai Dinh area.

Visiting caves in Trang An: Visitors can rent a boat to visit 12 caves down the stream, including caves: Bright cave, Dark cave, Dia Linh cave, Nau Ruou cave, Sinh cave, and cave. Si, Ba Giot cave, Khong cave… Visiting temples in Trang An such as Trinh Temple, Tran Temple, Phu Khong… Visiting Bai Dinh pagoda complex: This place was built and embellished into a tourist center with many bronze Buddha statues and a corridor of 500 arhats. Coming here, visitors will be immersed in the spiritual realm of Buddhist beliefs.
Traveling to Trang An – Bai Dinh , visitors can also enjoy most of Ninh Binh's delicious dishes such as mountain goats, burnt rice and cotton balls … you can taste and buy them as gifts, which are also very suitable.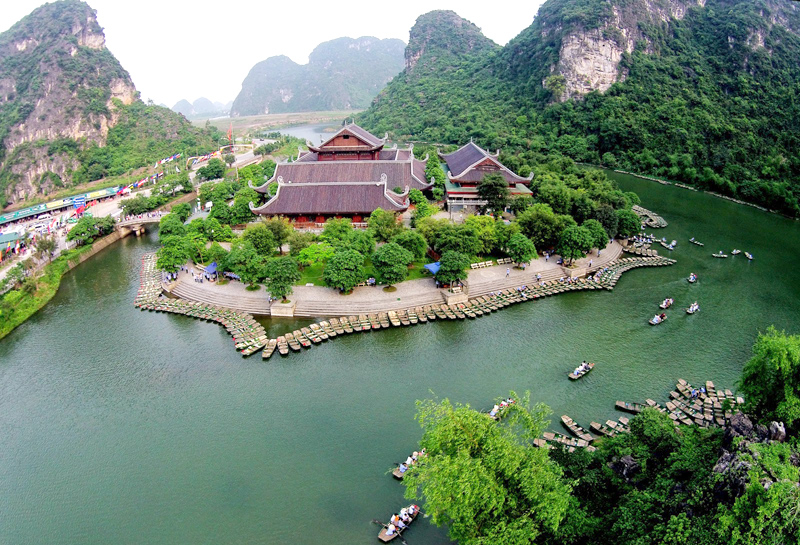 Trang An Tourism – Bai Dinh New Year 2021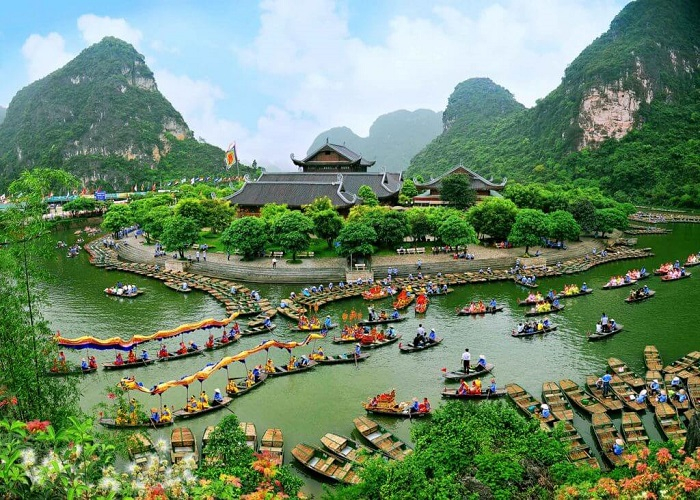 Trang An – Bai Dinh
Hue
Referring to Hue, people often immediately think of the palaces and temples with the ancient breath of a glorious king. Everyone wants to visit Hue once to see firsthand the vivid evidence of the last feudal dynasty. Not only that, the gentle and relaxing features and slow life here are also loved by many people. The weather in Hue is quite harsh and is divided into seasons: summer with intense sunshine, rainy season and autumn with cool and pleasant weather. Each season in Hue has its own beauties and interesting experiences, however, autumn is still the season that tourists choose to come and book hotels in Hue more because this season brings the typical romance of Hue. dream city.
The ancient capital of Hue , where evidence of the last feudal dynasty of Vietnam is kept, comes here, visitors will surely immediately think of the palaces and temples bearing the ancient breath of a glorious king. That's right, when coming to Hue Ancient Capital, you can admire the historical sites, famous sights such as Hue Imperial Citadel, Tu Duc Tomb, Thien Mu Pagoda… enjoy famous Hue dishes such as Hen rice, Hue tea, banh xeo… make it hard for visitors to forget because of its characteristic pungent taste. In addition, you can also experience the bustling festival atmosphere on the Perfume River.

Sitting on a boat watching the dreamy, lyrical Perfume River and listening to Hue folk songs is an experience you should try when traveling to Hue. Especially taking a boat trip in the evening when the weather is cool, you will see the shimmering and fanciful Hue citadel and immerse yourself in the romance of Hue at night. According to experience, you can book a hotel on the banks of the Perfume River to easily participate in these activities.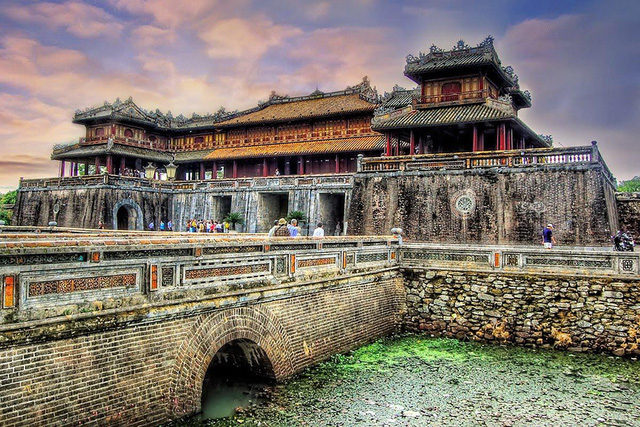 Ancient Hue Ancient Capital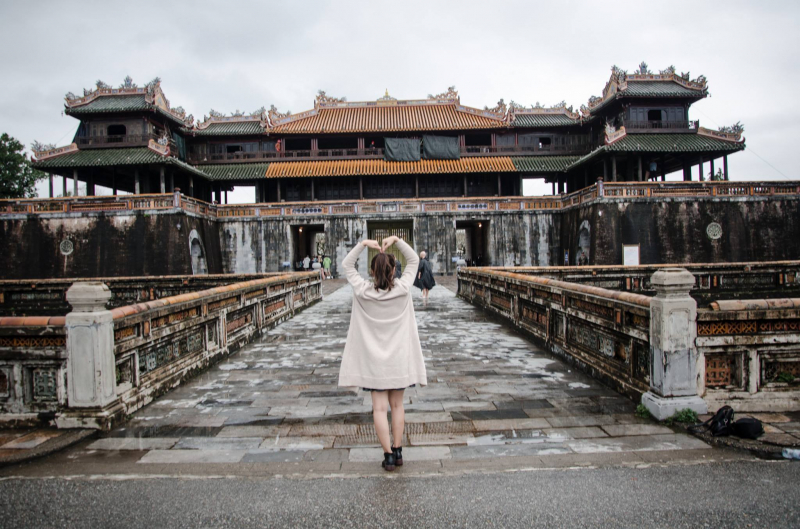 Hue
Da Nang – Hoi An
Da Nang has long been a famous tourist destination in Vietnam attracting millions of domestic and foreign tourists every year. This Lunar New Year 2021, Da Nang still promises to be the hottest tourist "paradise". With professional service quality and countless beautiful landscapes and a fascinating culinary world, all have created a Da Nang that attracts a lot of people to come here every Tet to spring.

Da Nang has the craggy, dangerous Hai Van Pass, which is known as "the most majestic natural scenery in the world". Son Tra peninsula is an ideal rendezvous point for tourists. At the foot of Son Tra, there are Suoi Da, Bai But, Bai Rang, Bai Bac, Bai Nom… giving tourists an interesting feeling when immersed in the splendor of dawn and the silence of sunset of a charming mountainous area. . There is Ba Na – Suoi Mo eco-tourism area which is likened to Da Lat and Sapa of the Central region with 2 world records. There is the legendary Marble Mountain called "Nam Thien scenic spot".
Traveling to Da Nang cannot fail to mention the poetic Han River and Han River Bridge – the first turning bridge in Vietnam – the pride of the city's people. The Han River Bridge is a symbol of new vitality, the aspiration of the city built with the contributions of all people. It seems that all the poetic beauty of the Han River is only revealed in the most perfect way in the windy and cool Han River bridge space. Song Han Bridge, Thuan Phuoc Bridge and the next Dragon Bridge not only create more convenience for transportation, tourism, arouse the economic potential of a large land in the east of the city, but also a sign of the future. the cultural imprint of Danang people today.
Prominent in the central tourist route, Hoi An ancient town that looks like a rustic, simple and poetic picture. Whether it's day or night, Hoi An tourism still has different attractive beauties. In addition to cultural values ​​through diverse architecture, Hoi An also preserves a rather massive intangible cultural foundation. The daily life of residents with customs, religious activities, folk art, cultural festivals along with poetic natural landscapes, specialty dishes… make Hoi An more and more attractive. lead tourists from all over the world.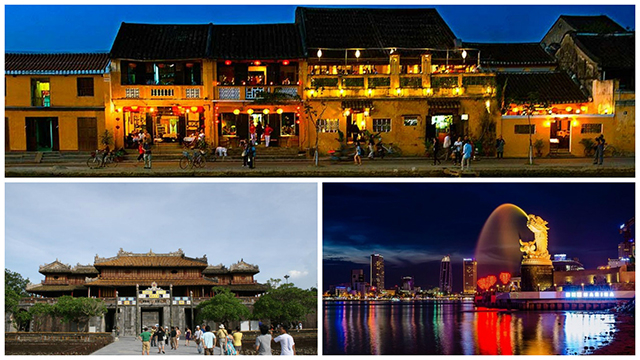 Da Nang Tourism – Hoi An Tet 2021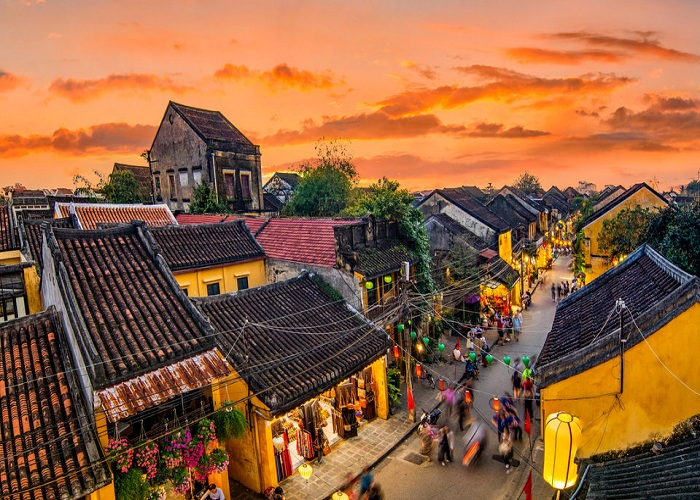 Hoi An
Nha Trang
Nha Trang has many beautiful beaches with white sand, blue sea and light waves such as Hon Mun, Hon Tam, Ninh Van bay, Van Phong bay, Dai Lanh beach, etc. for tourists to participate in water activities. Visitors also have the opportunity to experience many interesting games at Vinpearl Land, shop at Dam market, admire the ocean world at the Institute of Oceanography or visit Ba Ponagar tower – a mark of the Cham people. Nha Trang will definitely make your Tet trip more perfect.
Vinpearl Land Nha Trang also has a water park on the coast of a rare type in the world. Where you can immerse yourself in different slides such as Kamikaze, cosmic black holes… and especially Boomerang slide to enjoy the thrill of free-falling from a height of 21m. If you choose historical-cultural tourism, you cannot forget to mark Ponagar Tower in the travel experience handbook. Built between the 8th and 13th centuries of the Hindu period, this is one of the largest architectural complexes of the Champa culture in Central Vietnam. Ponagar Tower is located on top of a hill about 50 meters above sea level. At the mouth of the Cai River, about 3km north of Nha Trang city center. Choose from Nha Trang hotels in Thap Ba.
Talking about Nha Trang tourism, we cannot forget some exciting sea activities such as parachuting, jet skiing, or scuba diving to see corals. In particular, with the sport of scuba diving, you will freely immerse yourself in the world of hundreds of rich and colorful marine species under the clear blue water of this beautiful bay. For more convenience for fun activities on the sea, you can find yourself a hotel in Nha Trang near the sea to enjoy your vacation in a more wonderful way!
Souvenirs in Nha Trang have many types, diverse and rich in designs and colors. In it, you can choose to buy jewelry (stone rings, necklaces, pearl necklaces, earrings, …), flowers made from snail shells, wind chimes made from tortoise shells, pearl shells or shells. handicraft products from snails and some other special souvenirs.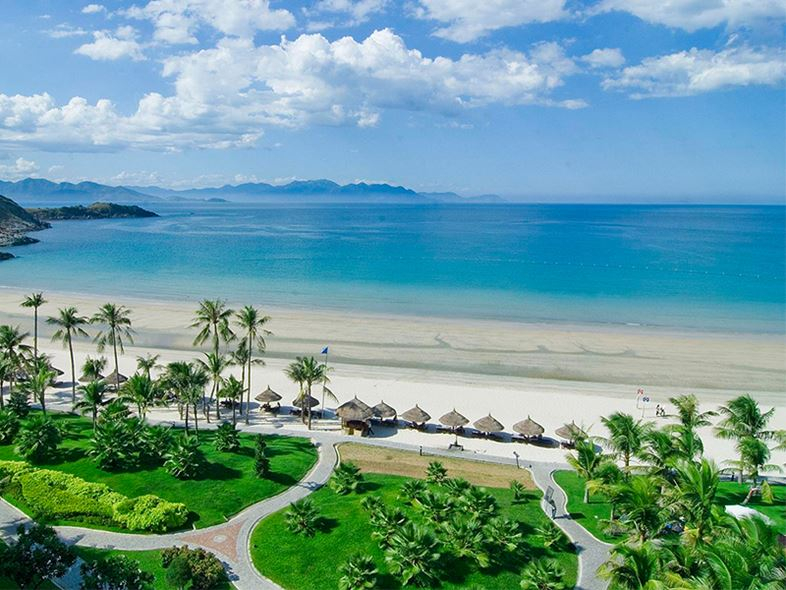 Traveling to Nha Trang for Tet 2021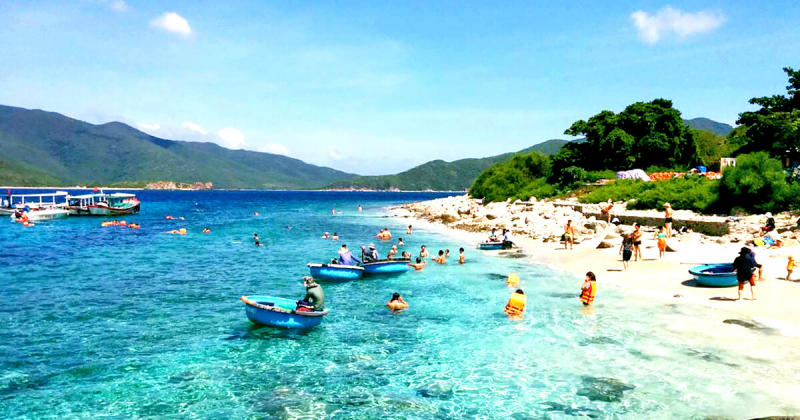 Nha Trang
Phu Quoc
Phu Quoc is the number 1 place of young people when choosing a tourist destination for the Lunar New Year 2021 this year, Phu Quoc is nicknamed the Pearl Island – is the tropical paradise of the South and a wonderful picture of the world. Nature with blue sea, white sand, golden sunshine. Come to Phu Quoc to immerse yourself in the waves and try your hand at yachting, fishing, snorkeling, exploring the deserted island and having a picnic, it will be a memorable New Year for you.
Phu Quoc still retains its wild features and fresh and clean atmosphere despite the number of tourists visiting more and more. Not only attracting tourists by Bai Sao, Bai Dai, Bai Khem, Ganh Dau cape, Dinh Cau, Tranh stream, Da Ban stream, Da Ngon stream…, this peaceful island also owns Phu Quoc National Park. , the ancient fishing village of Ham Ninh, the barrel houses producing specialty fish sauce, the pearl processing workshop or the immense green pepper gardens… The Kien Giang coastal and marine biosphere reserve (including this island district) ) was recognized by UNESCO as a World Biosphere Reserve in 2006.
Coming to Phu Quoc , adventure travel enthusiasts cannot ignore Bai Sao – the most beautiful beach on the island with a length of more than seven kilometers, with a curved, gentle shape in the shape of a crescent moon. Immerse yourself in the blue sea, white sand, and sunshine at Bai Dai – one of the 10 most beautiful unspoiled beaches in the world (according to BBC's poll), relax under the shade of tall, tall blue poplars growing in rows. Straightforward, visitors will feel like they are lost in paradise.
Not only that, watching the sunset from Dinh Cau Cape, admiring the red sun slowly sinking into the sea is an interesting sight that few people will ignore. Besides the natural rock formations like a strangely shaped mountain with three waves crashing, surrounded by a rocky beach next to a towering lighthouse, Dinh Cau is an ancient temple with a dark mossy tiled roof. On the right is Bai Truong with bright yellow sand, on the left is Ganh Gio dune hamlet with cool green coconut trees. Ganh Dau Cape is considered as a fish mouth, when comparing the beautiful island to a big fish wagging its tail. The air is fresh, the waves are gentle, the water is clear to see the bottom. A busy seaport, fishing boats stretching, resting after long journeys of fishing far from the shore. This is also the brick connecting the sea with the forest, with each canopy of tall trees spreading to the water's edge.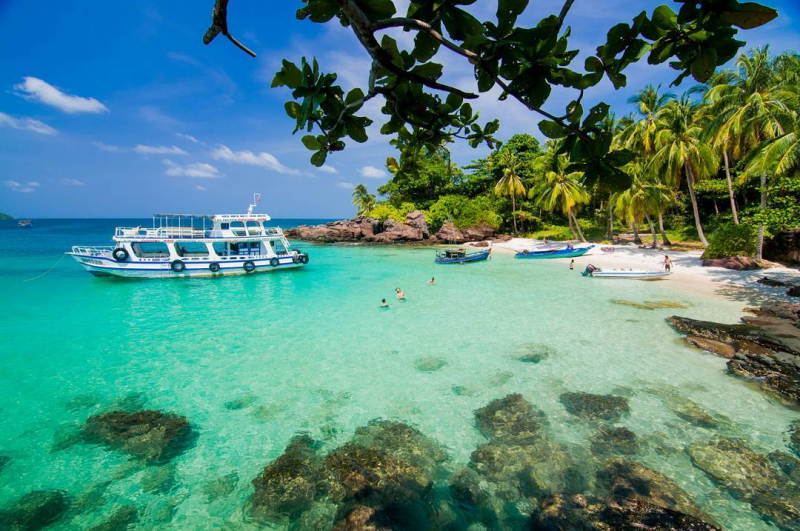 Traveling to Phu Quoc Tet 2021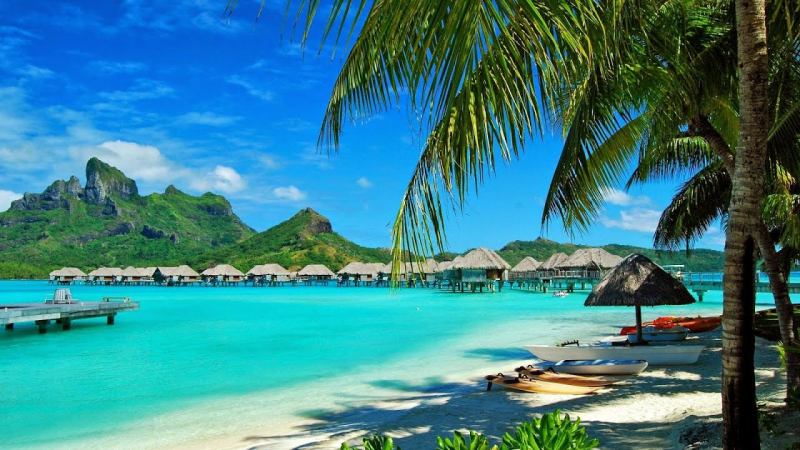 Phu Quoc
Da Lat
Da Lat's nature is as beautiful as a picture, and that picture is even more charming in the spring. The Lunar New Year is the most appropriate time for tourists to plan a spring trip to Dalat . Coming to Dalat and the new spring, visitors will have the opportunity to enjoy the space filled with poetic peach colors. From the end of January to the beginning of February, Da Quy slope, Xuan Huong lake, Tuyen Lam lake, Tran Hung Dao street have "dressed in pink" of cherry apricot blossoms. The New Year's Eve moment of spring resounds. It is also the time when the flower petals show off their pink color in the beautiful sky in Da Lat.

Pongour Waterfall: Located in Duc Trong district, 50km from Da Lat, also known as Thien Thai waterfall. Pongour is a 7-story waterfall with a height of nearly 40m, spreading over 100m, surrounded by rich and diverse vegetation.

Xuan Huong Lake: a symbol of Da Lat located in the city center with a crescent shape. Early morning and evening are always crowded with tourists walking around the lake. Xuan Huong Lake has many services for renting bicycles, riding ducks, enjoying coffee right by the lake. If you like this place, you can choose a hotel near Xuan Huong Lake for convenient sightseeing and sightseeing.
Da Lat Railway Station: is an attractive tourist attraction, containing many cultural values ​​​​of Da Lat in general and the people here in particular. The station was built in 1932 and completed after 6 years. Up to now, the station is no longer in operation, but only serves tourists on the route from the city to Trai Mat. Hotels at the ancient train station of Da Lat are also very popular and chosen by many tourists.

Valley of Love: located 5km from the center, has an area of ​​up to 140ha. This is one of the poetic tourist areas attracting tourists, a place to organize picnics and camping activities. Besides, there are many interesting games such as horseback riding, duck riding, jeep riding, paintball…
Artichoke tea, Oolong tea, coffee are all specialties that tourists love and choose as gifts. If you want to choose souvenirs, wood carvings, fire pen paintings, embroidery paintings are all perfect choices for your loved ones.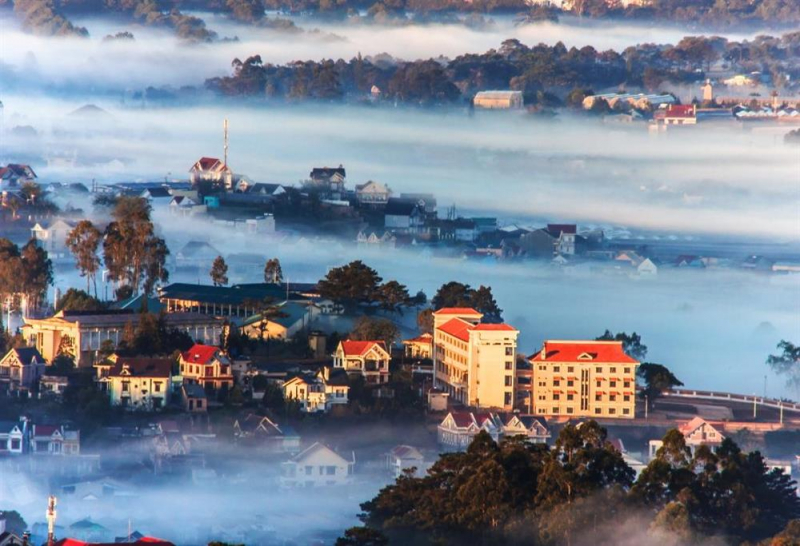 Traveling to Da Lat for Tet 2021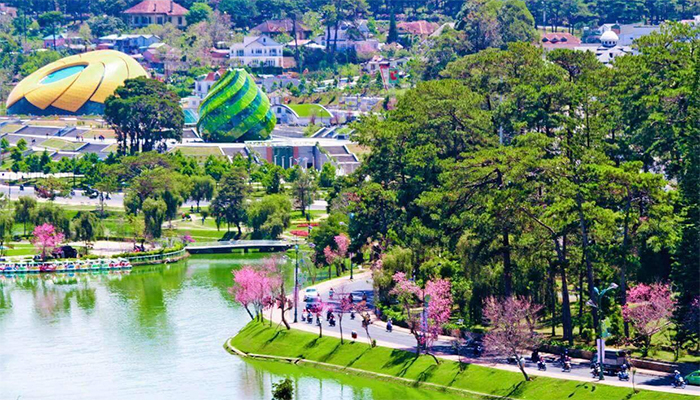 Da Lat
Saigon
It would be remiss if we did not visit the city named after Uncle in the early spring days. If Sapa is cloudy and Phu Quoc island is peaceful, Saigon has a magnificent and vibrant beauty. Many attractions are waiting for you to explore in Saigon such as: Independence Palace, Cu Chi Tunnels, Ben Thanh Market, Cathedral, Suoi Tien Park.
On major holidays, Nguyen Hue pedestrian street has become a must-see entertainment destination for everyone. Coming to Nguyen Hue pedestrian street, you will be able to breathe fresh air, walk leisurely around the streets, immerse yourself in the bustling and vibrant space with street games, enjoy various genres of music. different music.
During the Lunar New Year of the Ox 2021, there will be a countdown festival at the moment of transition between the old year and the new year and a 3D art light show, so it will definitely be an interesting place for everyone. you.
As in previous years, at Dam Sen Park, there was also a countdown festival on the evening of December 31 with exciting sound and light effects with singers and music groups. On the evening of January 1, there will be a music night to welcome the new year at Roman square. All participants will enjoy the hottest dances and countdown the moments between the old year and the new year. In addition, here also organizes a food festival with more than 100 special dishes from countries around the world.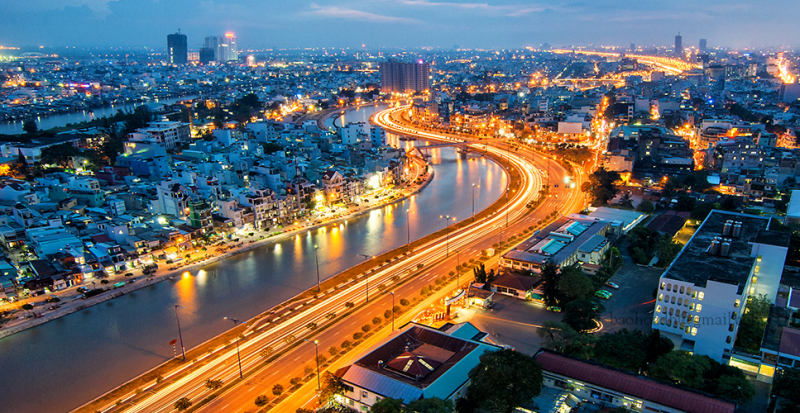 Saigon at night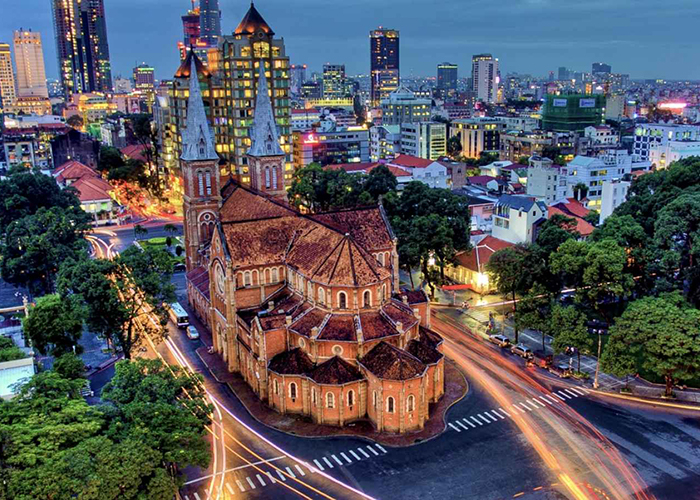 Saigon
Hanoi
Hanoi is a city with a long tradition, history and culture. The old town and the citadel attract visitors with the ancient look of typical craft streets and outstanding monuments such as the Temple of Literature – Quoc Tu Giam. Meanwhile, newer buildings such as the Sofitel Metropole Hotel are boldly marked by the French colonial period. The French Quarter has the Opera House and One Pillar Pagoda, two famous attractions not to be missed when traveling to Hanoi. Other monuments and sights in Hanoi include Ho Chi Minh Mausoleum, Sword Lake, Ngoc Son Temple, West Lake, Perfume Pagoda and famous museums like the Museum of Ethnology these are all tourist attractions that you should visit. should not be missed at the beginning of the year.
The Old Quarter is not only a famous tourist destination in Hanoi with ancient stalls and handicraft products, but young people who come here also want to save pictures with ancient, rustic and gentle features. of Hanoi. Hoan Kiem Lake and the Old Quarter are both must-see places when it comes to beautiful photography locations in Hanoi . Hoan Kiem Lake area is not only a famous tourist destination in Vietnam, at the same time, but many young people both at home and abroad also choose this place to save moments of the thousand-year-old capital of Hanoi. And there are also many couples who choose to take wedding photos.
Located on Au Co street in Tay Ho district, Nhat Tan Flower Garden not only attracts young people during the New Year and spring holidays to take photos and admire the vast colorful flower gardens but any day of the year. This is also one of the beautiful places to take pictures that young people love. Flowers in the Nhat Tan flower garden bloom all year round. Young people are free to come here to pose and create charming photos with all kinds of flowers from cypress flowers, sunflowers, butterfly flowers ….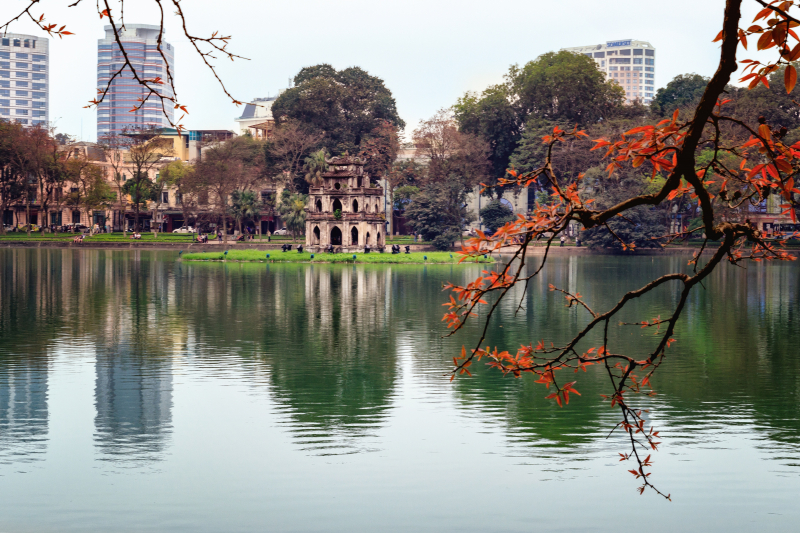 A little corner of Hanoi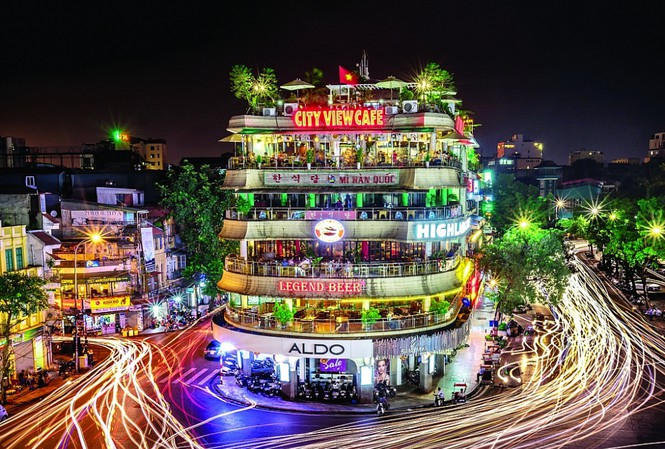 Hanoi
Ha Long Bay
Ha Long Bay is favored by nature for its natural beauty with majestic mountains, beautiful like a mysterious and poetic painting. The land is recognized by UNESCO as a natural wonder of the world and has become one of the tourist attractions attracting millions of visitors every year Ha Long Bay, the new natural wonder of the world, has long been a Proud tourism symbol of Vietnamese people. Therefore, it would be a big omission if not to mention this place in the list of attractive New Year attractions near Hanoi.
Ha Long Bay is located on the west coast of the Gulf of Tonkin in the Northeastern Sea region of Vietnam. The heritage area on Ha Long Bay including many caves and beaches is a sea and island with diverse and rich landscapes. Coming to Ha Long Bay , you will admire an architectural masterpiece of nature that is extremely magnificent and unique, sit on a yacht and watch thousands of large and small limestone islands floating in the sea, mysterious caves. , dreamy islands…
In addition, coming here you also have the opportunity to enjoy a number of specialties from the sea such as white sticky rice with squid ink, Banh Cuon with squid, bored dish, sa worm, sea sam, nodding cake…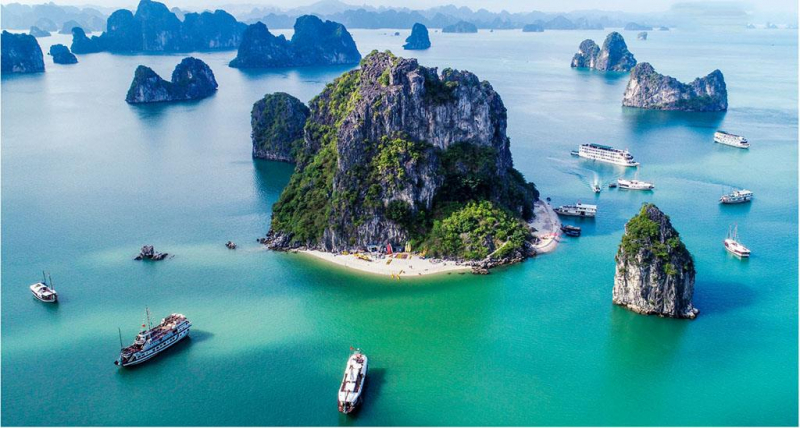 Ha Long Bay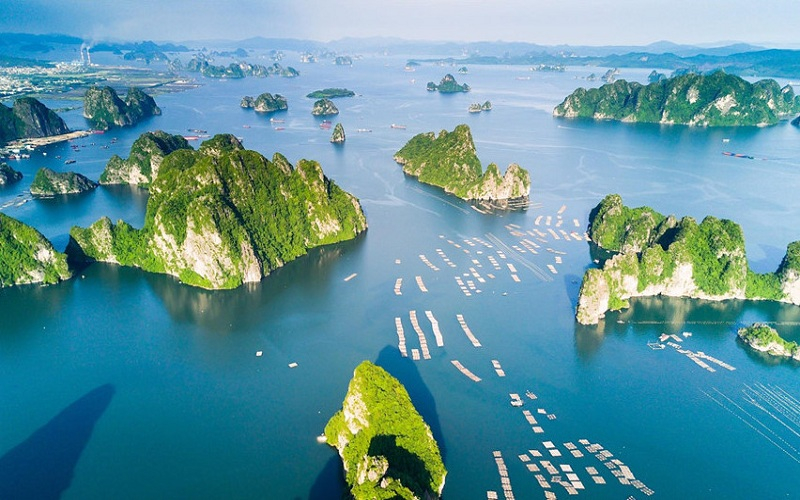 Ha Long Bay
Hopefully, with the above suggestions, you will have an enjoyable and warm Tet holiday with your loved ones. If you find the article interesting and useful, please like – share and interact a lot. Thank you!
TAG: