The 7 most famous post-epidemic destinations in Vietnam
The Covid-19 epidemic has delayed many of your travel plans, but please rest assured because the most difficult time will soon pass. In times like these, you can invest your time in other hobbies, thoroughly research the 7 post-pandemic destinations below, and plan well to have the perfect first trip when everything is back to normal.
1. Nho Que River – Ha Giang
Nho Que River originates from Nghiem Son mountain region – Yunnan China flows to Vietnam through Ha Giang and Cao Bang provinces. The first part of the river flows from Seo Lung village, Lung Cu commune, passing through Tu San alley is the most beautiful part of the river. This is also one of 7 destinations that will definitely be very hot after the epidemic.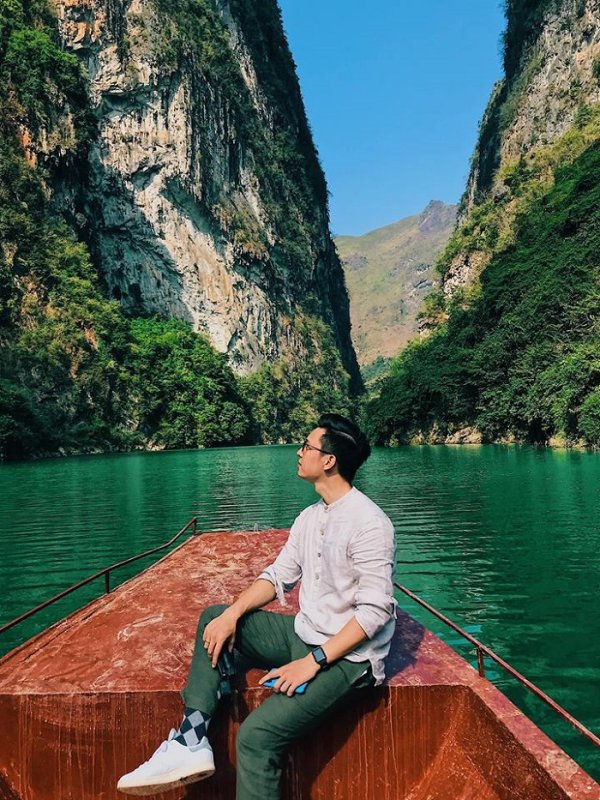 Nho Que river tour in Ha Giang. Photo: zingnews
Standing on the top of Ma Pi Leng pass, you can zoom down to the depths to see the beauty of this river. From this angle, the river looks like a blue silk carpet, gently curving hugging the foot of the mountain, both gentle and poetic and incredibly beautiful.
You can also take a boat ride on the Nho Que River to get a closer look at the beauty of this river. You can choose to ride a motorboat or paddle your own. Advice from experienced tourists in Ha Giang is that, if you want to go through Tu San alley, you should take a motorboat.
Sitting on a boat sailing across the steep cliffs, feeling the fresh air, and taking in the eyes of the beautiful natural scenery here promises to be a memorable memory for you.
2. Quai Son River – Cao Bang
Quai Son River is located in Dam Thuy commune, Trung Khanh district, Cao Bang province. This is also the source of the famous Ban Gioc Waterfall landscape, a post-epidemic destination that everyone wants to visit.
Quai Son River originates from China, creating a beautiful, peaceful and simple mountainous region. The landscape here attracts a lot of young tourists and backpackers from all over the world to explore and admire with their own eyes.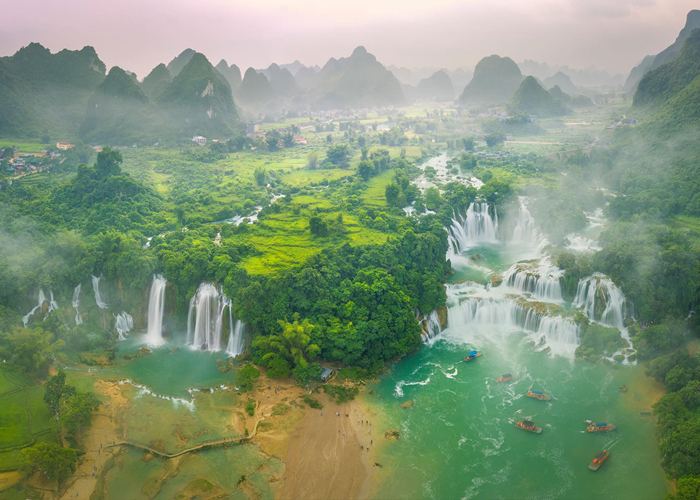 Quai Son River is the source of the famous Ban Gioc Waterfall. Photo: dulichcaobang
To fully enjoy the beauty of the Quay Son river, you can go to the top of the high mountain in Phong Nam commune. Looking down from above, the Quai Son River flows gently, bending through the green fires of the fields and the simple houses. In the distance, there are majestic and majestic limestone mountains.
The water of the Quai Son River is green all year round, except for heavy rainy days. You can rent kayaks and paddles on the river yourself to feel the beauty of the river.
However, if you want to row a boat, you need to go in a group with a leader, with full protective and rescue equipment, to participate. There are dangerous rapids on the river, not suitable for amateurs.
3. Mu Cang Chai – Yen Bai
The end of September and the beginning of October in Mu Cang Chai is the season of ripe rice, the space is like wearing new colors, bright yellow, bright and fresh. This is one of the post-epidemic destinations that young people in the Central and Southern regions choose after life returns to normal.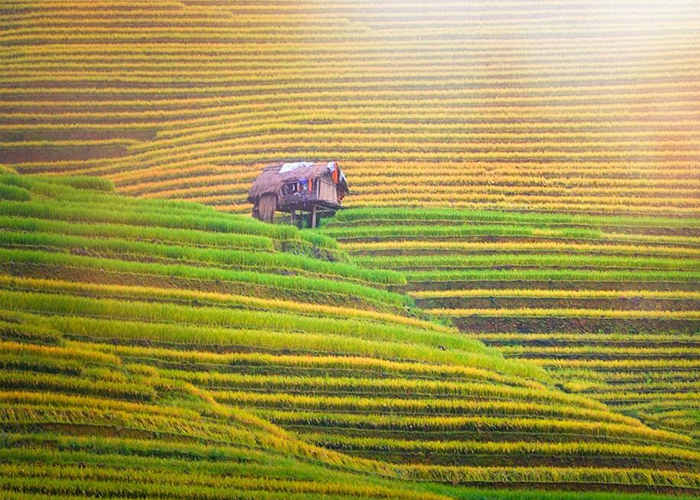 The end of September and the beginning of October in Mu Cang Chai is the ripe rice season. Photo: zingnews
Mu Cang Chai is a highland district in Yen Bai province, 300 km from Hanoi. Mu Cang Chai's topography is mainly high mountain ranges, interspersed with ravines in the Red and Da river basins. This is where the Mong, Thai, and other ethnic minorities live, so they have a rich culture and diverse cuisine.
To get to Mu Cang Chai, you have to go through Khau Pha pass – one of the four most beautiful peaks in the North of Vietnam. The breathtakingly beautiful road makes natural scenery lovers unable to take their eyes off.
Mu Cang Chai also has many other destinations that are also famous for the beautiful and poetic scenery of ripe rice, such as Tu Le terraced fields, Mam Xoi Hill, Horseshoe Hill, Lim Mong – Lim Thai, Lao Chai, La Pan Tan – Che Cu Nha – Cricket Xu Phinh.
4. Trang An – Ninh Binh Scenic Landscape Complex
Trang An belongs to Ninh Binh – the land of the ancient capital, is a wonderfully beautiful eco-tourism area, loved by many people. Trang An has a full range of landscape items such as valleys, lakes, lagoons, caves, flooded forests and limestone mountains.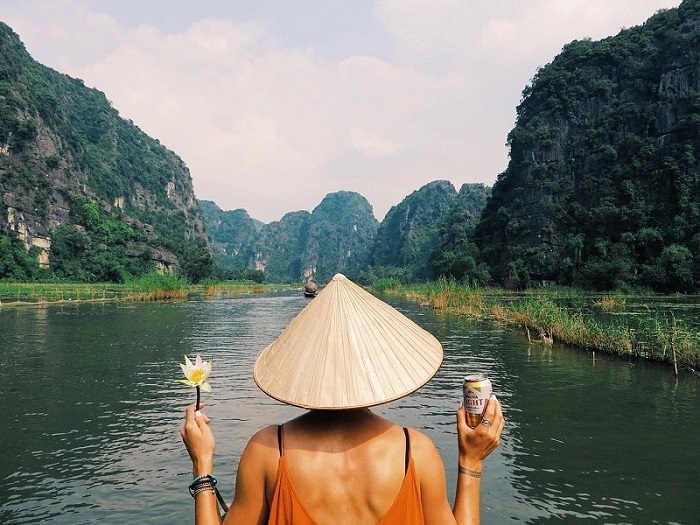 Check-in Trang An. Photo: zingnews
Trang An this season has pleasant weather, ideal for sightseeing and stopping to take pictures. Trang An – Tam Coc – Bich Dong – Hoa Lu ancient capital has many interesting things waiting for you to discover.
In the scenic complex, there are many cultural relics associated with the long history of our nation. You can visit Trinh Temple, Tu Tru Temple, Tran Ninh Binh Temple, Phu Khong, Vu Lam Palace, Cao Son Temple, Suoi Tien Temple.
Trang An has many beautiful caves such as Dia Linh Cave with a length of 1,500 m, Nau Ruou cave with a geyser more than 10 m deep, Ba Giot cave with many colorful stalactites, Boi cave – a valuable archaeological site. Traveling to Trang An – Ninh Binh,  you miss the famous "Kong: Skull Island" film set in recent years.
5. Cu Lao Cham – Quang Nam
Cu Lao Cham is an eco-tourism area in Quang Nam province, famous for its wild and idyllic natural scenery. This island belongs to Tan Hiep island commune, Hoi An city, Quang Nam province, 15 km from Cua Dai beach.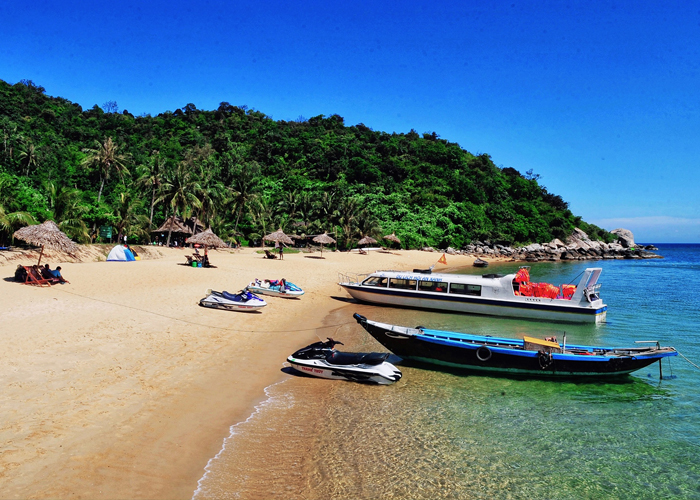 Cu Lao Cham is an eco-tourism area in Quang Nam province. Photo: zingnews
Cu Lao Cham has a wild beauty, recognized by UNESCO as a World Biosphere Reserve since 2009. Visitors here can admire the natural beauty, participate in sports activities on the sea, snorkel, and watch. Coral…
Cu Lao Cham has 8 large and small islands, namely Lao island, Kho Me island, Kho Con island, La island, Dai island, Mo island, Tai island, Ong island. Each place has a different beauty, the common point is that it owns a fine white sand beach, blue coast, suitable for fun activities on the sea or simply walking and sunbathing.
If you come to Cu Lao Cham, you should not miss the main destinations such as: Cu Lao Cham Marine Museum, Temple of the Nest Craftsman, Cham Ancient Well dating back more than 200 years, the sacred Hai Tang Pagoda. If you want to buy specialties or enjoy delicious food, go to Tan Hiep market.
6. Phan Thiet – Binh Thuan
Phan Thiet is in Binh Thuan province, 213 km east of Ho Chi Minh City. This is one of the most famous beach tourist destinations in Vietnam. Phan Thiet has beautiful green beaches, smooth white sand beaches.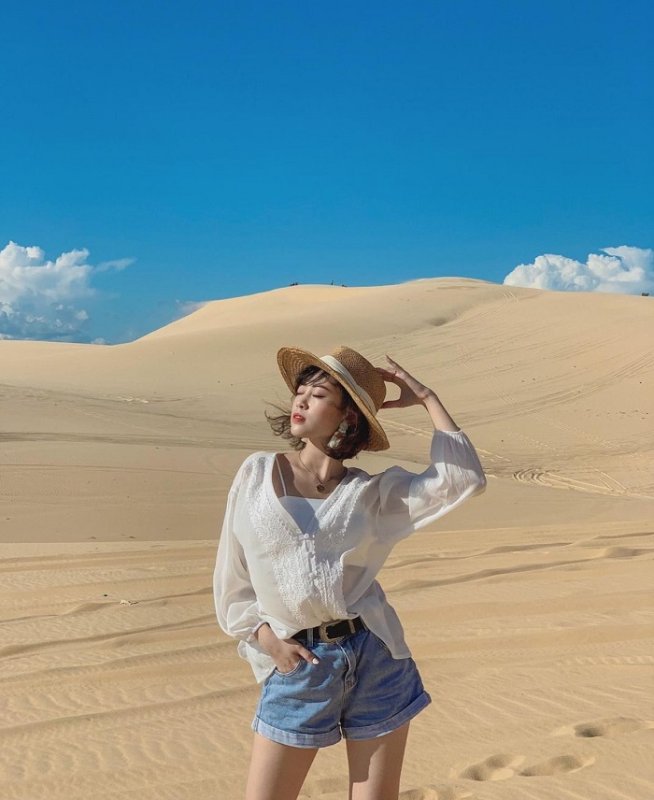 Phan Thiet tourism. Photo: zingnews
Not only has beautiful unspoiled natural scenery, Phan Thiet also attracts visitors by the unique indigenous culture of the Cham people and delicious dishes made from fresh seafood.
Coming to Phan Thiet, you can visit Mui Yen to catch the sunrise and watch the sunset, check-in at Ke Ga Lighthouse. Take a trip to Phu Quy to immerse yourself in the blue sea or snorkel to see the coral. For those who like to take pictures, Co Thach beach is a destination not to be missed.
Phan Thiet is also one of the leading luxury resort destinations in Vietnam. There are many famous resorts from 4 5 to 6 stars, bringing high-class experiences to domestic and foreign tourists.
In addition, Phan Thiet also has other equally interesting destinations such as Duc Thanh School, Van Thuy Tu Palace, Ong Hoang Lau, Ponashu Cham Towers, Hang Pagoda… each place has a different historical and cultural significance, promises to make your trip more memorable.
Bay Sand Dunes, Bau Trang, Bau Sen – Bach Ho, Suoi Tien … respectively are certain landmarks not to be missed. You can experience windsurfing or sandboarding, visit fishing villages, watch Fishermen Show… to make the trip more interesting.
7. Tuyen Lam Lake – Da Lat
Tuyen Lam Lake is about 6 km south of Dalat city center, right below the peaceful Truc Lam Zen Monastery. This place has a quiet space, fresh air, beautiful idyllic natural landscape.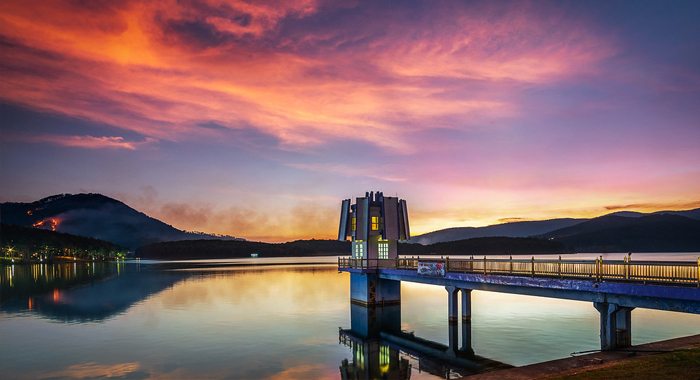 Tuyen Lam Lake has an area of ​​more than 350 hectares, the depth depends on places, up to 30 m in some places. Lake water flows through a 6-step spillway that plays an important role in providing water to irrigate the land at the foot of Prenn waterfall tourist area.
Coming to Tuyen Lam Lake, you can watch the sunset and sunrise, play duck riding on the lake, drink coffee to admire the scenery or go on a boat tour to see the maple leaves. Attractions near the lake include: Sculpture Tunnel, Truc Lam Zen Monastery, Datanla Waterfall, Da Tien Nui Voi tourist area, Sacom Golf Course, Bao Dai Waterfall, Nam Qua KDL… visit all these places.
Above are the 7 most famous post-epidemic destinations in Vietnam , in addition to Phu Quoc (Kien Giang), Cai Rang Floating Market (Can Tho), Wind power fields (Bac Lieu) are equally interesting. Once everything is back to normal, plan to have a fun and memorable trip.
TAG: