Hunters become guardians of 'specialty fish' species
DA NANG – Fish hunters in the bed of Ta Lang – Gian Bi stream have gathered together to protect the annual fish from the danger of extinction in Hoa Vang.
"The annual fish here is countless. The fish meat is white, fragrant and sweet. The stream fish has no fishy smell," said Ms. Thu, the owner of a grocery store in Gian Bi village, Hoa Bac commune, Hoa Vang district, excitedly when there were guests. Ask about the specialty fish year of the Co Tu ethnic group. But that was the memory of the year she was in elementary school.
Vung Foam – the stream behind Ms. Thu's house, is the place where the North and South rivers join, before flowing into the Nam O Sea, Da Nang City, with the name Cu De River. This is the area with the largest number of old fish in the mountainous commune in the northwest of Da Nang. More than 20 years ago, people wading across the stream could also step on an old fish. Year-round, fish is a dish of every family.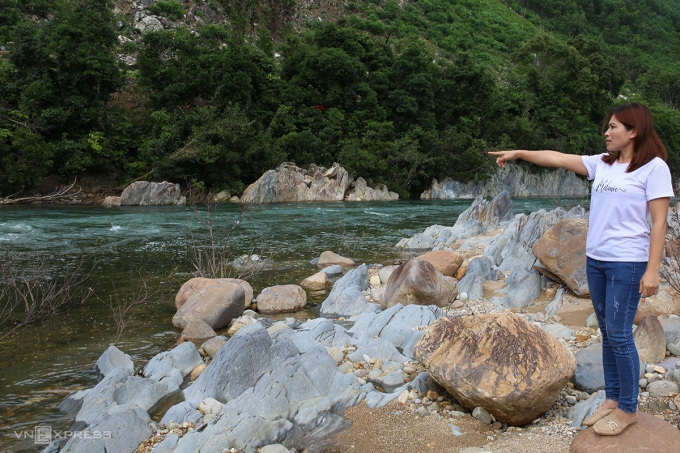 Ms. Thu pointed to Vung Bot, regretting the time when fish can be caught for food all year round. Photo: Nguyen Dong
Ms. Thu remembers when she followed her father to the stream to fish for about an hour, she carried a whole basket of A Xiu hur Linh – the name of the annual fish as the Co Tu people call it, and brought it home. Groups of buffalo herders also often invite each other to the stream to catch fish and bring them back to the rocky beach to gather some firewood, skewer the fish on a bamboo stick and place it on embers to have a delicious grilled fish dish. "Now the kids in this area don't enjoy meals like that anymore," she said.
Mr. Bui Hoai Vu, 31 years old, an annual fish hunter in the area, said that people in Ta Lang and Gian Bi villages have been fishing for food since ancient times, but only ate fish that were three to four fingers big (average size). of an adult fish, about 2 to 3 ounces – equivalent to 0.3 kg each). Hunters often use homemade guns, with a rubber band connected to a sharp iron bar, shooting about 50 cm away, so small fish will not be hit.
According to Mr. Vu, the fish lives in streams, where the water flows fast, so it is very agile. Hunters are not only good at holding their breath to face down to observe but also have to know how to predict the direction of movement, shoot first, and hit the body first to catch fish. Sometimes you have to drive fish into deep caves, diving down 4 to 5 meters to shoot fish. "If you don't have enough breath, even if you hit a fish, you have to temporarily leave it there, swim to the surface to catch your breath, and then go back down to bring the fish up," Vu said.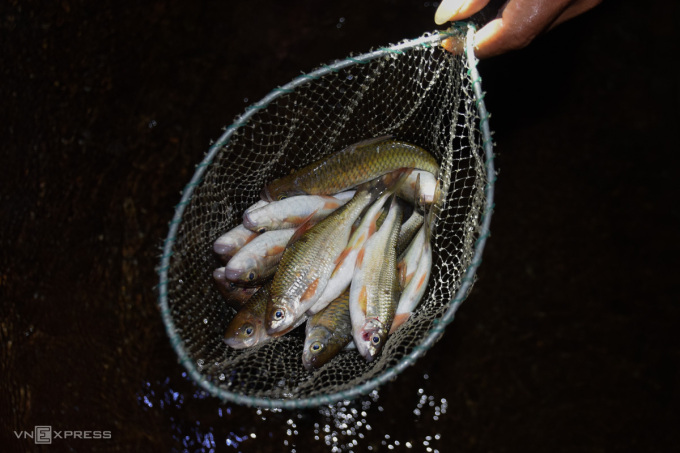 Anchovies are caught in many upstream rivers and streams in the Central region. Photo: Thanh Dong
"We only catch fish to eat, not sell," said Mr. Vu, who said that annual fish with firm, chewy meat is a specialty dish to treat friends from far away, or on the occasions of mountain worship of the compatriots and eat. Tet holiday. People in the area can catch fish to eat all year round and "it's still sustainable". But over the past ten years, many people from other places have come to use electric pulses and mines to fish . The old fish, no matter how big or small, when attacked by this fishing method, they all have white stomachs and are picked up.
When the distance of more than 30 km from the center of Da Nang to Hoa Bac was embellished and convenient for travel, more and more people down the street came to play and the delicious taste of the fish was passed on to each other. A large amount of fish was caught and brought into the restaurant. The price of fish is gradually increasing, currently from 280,000 to 400,000 VND per kg depending on the size.
The more expensive the fish is, the more the fish resources are depleted. Mr. Vu said that in the past, each time he went hunting, he could only shoot 10 kg of fish, but now he can only get 1 kg in a day, with about 2 to 3 fish. As a person doing a discovery tour in Hoa Bac, many days Mr. Vu took guests to wade streams for an hour but did not see any fish.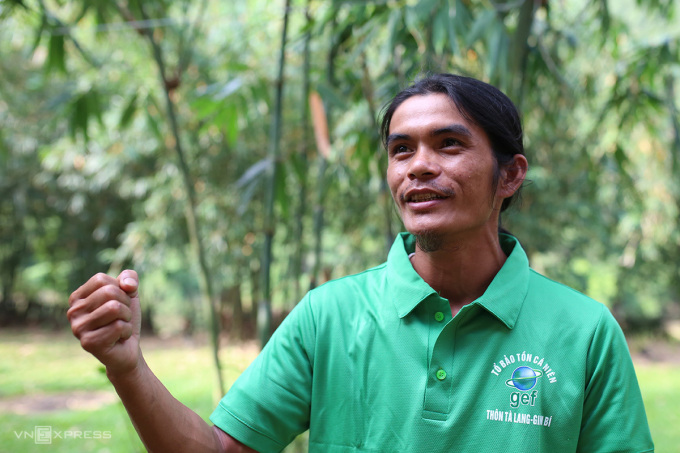 Mr. Bui Hoai Vu, a well-known fish hunter in the region is developing a discovery tour in Hoa Bac. Photo: Nguyen Dong
Faced with the scarcity of annual fish and the risk of being wiped out by destructive fishing methods, the Global Environment Facility (GEF) has coordinated with localities to implement a program to protect and restore this fish species.
On the afternoon of November 19, 30 people in Ta Lang, Giang Bi gathered at the house along the Cu De river of Mr. Dinh Van Nhu, Secretary of the Party cell of Gian Bi village, to listen to the government of Hoa Bac commune read the decision to establish the group. conservation and sustainable exploitation of annual fish . They are mainly fish hunters, familiar with each river and stream wall. Each person was given a green shirt as a sign of the security team, received a diving goggles, a manual fish gun and a bamboo basket to shoot large fish outside of the breeding season ( around March to April of the lunar calendar).
The group's volunteers are responsible for checking and reporting wrongdoings in annual fishing, such as the use of electric pulses, explosives, or improperly sized nets. They can report immediately or take pictures for local authorities to handle.
Dr. Chu Manh Trinh, Project Team Leader of GEF Hoa Bac, who has been successful with a project to conserve rock crabs in Cu Lao Cham (Quang Nam), said to conserve annual fish as well as other fish species in the river. In Cu De, local people have to use traditional tools when exploiting, not catch fish in the breeding season.
Mr. Truong Thanh Nhan, Vice Chairman of Hoa Bac Commune People's Committee, said that if there was no Covid-19 epidemic, the annual conservation and sustainable exploitation team would have been established earlier. The commune authorities are expected to send volunteers to protect the annual fish to Cu Lao Cham to visit the island commune's model of stone crab conservation, when only catching and consuming crabs that have grown to full size.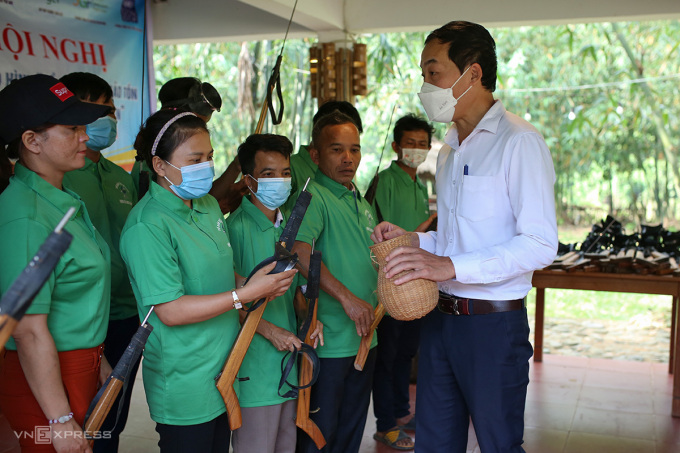 Vice-Chairman of Hoa Bac Commune Truong Thanh Nhan hands over handguns and baskets to members of the annual fish conservation and exploitation team. Photo: Nguyen Dong
"Annulus fish is a species that cannot be farmed, only found in nature, so if it is hunted freely, the fish will be exhausted and at risk of extinction in the Cu De River," Nhan said, adding that the conservation of this fish species difficult because "fish live in the stream, cannot be prevented or managed".
In the coming time, members of the Conservation Team will be trained in knowledge and skills to become propagandists and mobilize the Co Tu community to understand the risks and values ​​of the annual fish. The People's Committee of Hoa Bac Commune plans to select 6 streams and streams as conservation areas, attach warning signs, and absolutely do not allow hunting so that the annual fish can have shelter and spawn. "The village must include the village convention to protect these areas," Mr. Nhan informed.
Hoa Bac is a place that attracts a lot of tourists because of its charming scenery and a place to preserve the culture of the Co Tu ethnic group. Mr. Nhan said that if the annual fish species can be preserved, it will certainly add more reasons to attract tourists to the locality.
Mr. Bui Hoai Vu hopes that when the annual fish is preserved, people in the region will have more jobs, sell more agricultural products. And Ms. Thu calculated that if more tourists go to Ta Lang and Gian Bi, the family will level the land of more than 1,400 m2 with a view overlooking Vung Bot and the pristine rocky beach for overnight camping.
The old fish, also known as the tall fish or the cool fish, has the scientific name Onychostoma gerlachi. In Vietnam, this fish grows naturally in rivers and streams in mountainous areas. The appearance of the annual fish looks like a carp, but the body is slimmer, the scales are silvery, the fins are slightly yellow, iridescent in the sun.
Annual fish often live in groups, concentrated in deep water areas along rivers and streams upstream; eat moss on rocks in rapids and waterfalls. Fish meat has many nutrients, can be processed into many dishes from stock to laksa leaves soup, grilled or deep-fried; Fish intestines can be cooked with wild vegetables, bitter taste but loved by many people. Follow vnexpress
TAG: