Experience guarding bee hive, picking wild vegetables in Ca Mau
Visitors are allowed to place their own nets, spread nets, hang propolis, pick wild vegetables… at Muoi Ngot eco-tourism area in U Minh Ha, Ca Mau.
About 40km from Ca Mau city, Muoi Ngot community eco-tourism stands out with the wild beauty of the primeval melaleuca forest ecosystem. Coming here, visitors will enjoy the natural scenery of dense forests and immense lagoons. Tac gongs and boats take visitors through the canals in the primeval Melaleuca forest, reed fields, lagoons, discovering the peaceful and pristine beauty.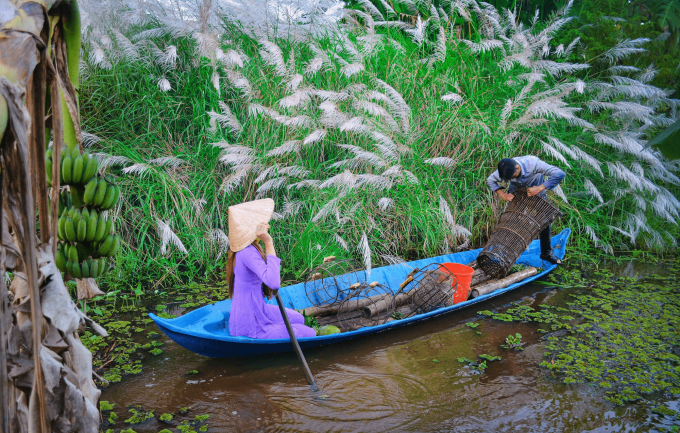 Visitors are free to go and book at Muoi Ngot, U Minh Ha, Ca Mau ecosystems. Photo: Van Dum
Muoi Ngot community eco-tourism area is managed by Mr. Muoi Ngot's family. His family maintains the lifestyle of indigenous people with the desire to create interesting experiences in exploiting this diverse ecotourism resource.
Accordingly, visitors will follow the owner to set a net, set up a net, set up fishing for field fish, and place an order to catch eels; take wild honey; pick wild vegetables, wild vegetables… like the daily life of farmers in U Minh Ha forest. The obtained products will be guided by Mr. Muoi Ngot's family to be processed into traditional dishes such as grilled fish, braised fish, sour soup with field fish, hot pot with wild vegetable sauce…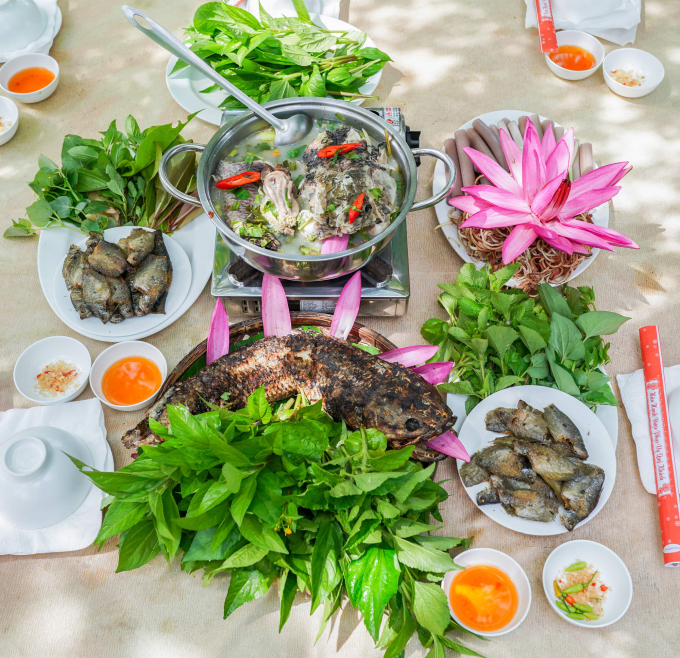 The traditional dishes are prepared according to the instructions of Mr. Muoi Ngot's family. Photo: Huynh Lam
The highlight and the most impressive activity at Muoi Ngot destination are going to guard bees and harvest wild honey. According to local people, bees like to nest in places with dense terrain, forests and reeds. Therefore, the blooming Melaleuca forest becomes the home of bees. The more Melaleuca flowers bloom, the more they attract bees and the higher quality honey is. Hiking bee rafters is also an adventurous experience. Visitors must be equipped with face coverings and follow the indigenous people to find the guardrail.
In Muoi Ngot community eco-tourism, visitors can buy homegrown products such as pure natural melaleuca forest honey, bee wine, bee sauce, beeswax, dried codfish of all kinds. These products are all processed according to traditional manual methods, bearing the characteristics of forest land and people of U Minh Ha.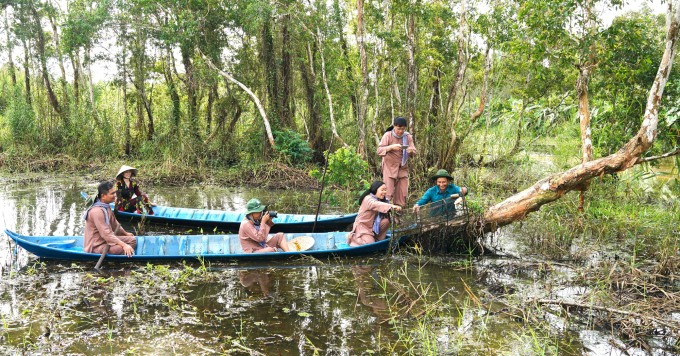 Visitors experience the daily activities of the local people. Photo: Huynh Lam
U Minh Ha is blessed with many natural products. Taking advantage of that benefit, along with the support of sectors and local authorities, Mr. Muoi Ngot's family has invested in developing an eco-tourism model to attract tourists. Ecotourism site based on Muoi Sweet is suitable for organizing group activities. Visitors can also come here with their relatives and friends to breathe the fresh air and enjoy the authentic dishes of their homeland on weekends.
TAG: