Ta Cu forest yam hunting
BINH THUAN – Ham Thuan Nam people go to Ta Cu forest to find mashed potatoes, dig and sell them for 50,000-60,000 VND per kilogram.
At the weekend, Mr. Ba Au, 48 years old (living in Tan Thuan commune), and more than a dozen people in the village rode a motorbike through Ta Cu forest to find mashed potatoes. The whole group rode motorbikes on the trail more than 5 km through the sand. After 20 minutes, all were present at the fork of the dipper tree, where the forest has many mashed potatoes, adjacent to Ham Minh commune.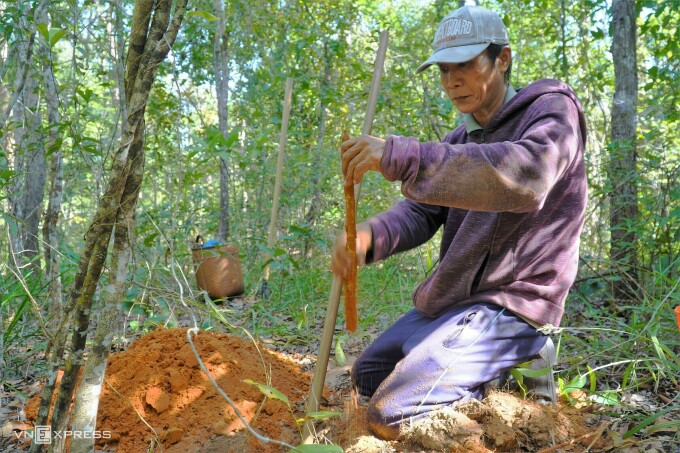 Mr. Ba Au digs for yam in Ta Cu forest. Photo: Viet Quoc
Setting up the car under the tree, these people carried the shovel and scattered in all directions to fine grinding. Just walking ten meters, Mr. Ba Au discovered the first grinding wire. He looked at the oval-shaped leaves, then traced the string with his hand, finding its base.
"This is really a mashed potato, because the rope is rough, and the other ropes are slippery," said Mr. Au, and said that when he first joined the profession 20 years ago, he had been mistaken, dug hard but could not find the tuber.
Mr. Au's spade, sharpening tool is 2 m long, attached with an iron blade longer than a glove. He dug down 30 cm next to the ground to detect tubers. Seeing the grated tuber sticking out, he slowly dug it down in a vertical direction. Clusters of red sand were thrown on top.
When the hole was dug more than a meter deep, he bent down and lifted his hand to pluck the ground tuber from the root. "Grinding grows straight. Diggers have to be patient, but in a hurry, it's easy to slip in or break the tubers, which will not be sold," said Mr. Au.
Ten steps away, Mr. Tran Hai Dong, 34 years old is also digging. Due to the shade, his digging hole looked down in the darkness, unable to determine the direction of the grinding tuber. He took out a flashlight from the basket, put it on his head, and looked down at it.
Sweating profusely, about 5 minutes later he crouched down and pulled the grinding tube up. The grinding tube was nearly 80 cm long, he broke it in two and put it in a basket, then carried it down to find another grinding wire. "Digging from morning to afternoon, I usually gain ten kilograms or more," said Dong.
According to Mr. Dong, at the end of the rainy season, grinding begins to age, the tubers have a lot of powder, so this is the right time to go to the forest to hunt. Tan Thuan forest has sandy soil, so yam has good quality and is popular with many people.
"Mai Tan Thuan sells very well. In the afternoon, when returning to the village, traders come to buy it immediately, the current price is 50,000-60,000 VND per kilogram, depending on the size," said Mr. Dong.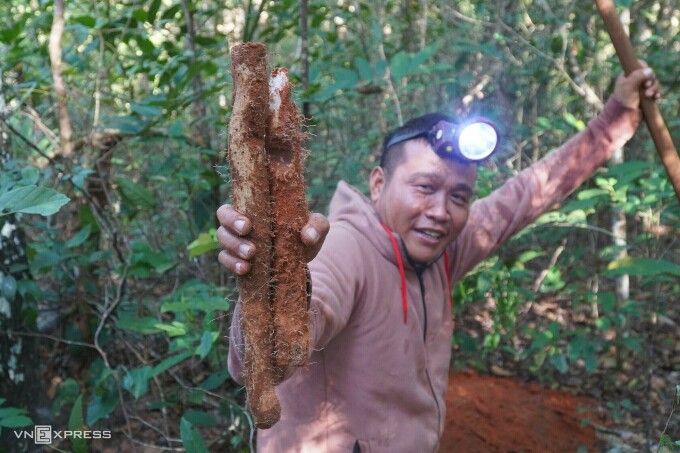 The forest grinding tubers were dug up by Mr. Tran Hai Dong, broken in two before being put in the basket. Photo: Viet Quoc
Mr. Pham Thanh Thai, 50 years old, a resident of Tan Thuan with more than 30 years of working as a digger also said that the ground potatoes grow in sandy soil, but they taste better than the ones that grow in wet soil because the tubers grow in moist soil. ground sand, drained, powdered.
On average, Mr. Thai digs 10-15 kg per day. "Traders collect goods and bring them to Vung Tau and Saigon to sell to traditional Chinese medicine stores or sell to people. Every day I earn from 500,000 to 700,000 VND, sometimes winning millions," said Mr. Thai.
According to this man, the profession of digging potatoes in Tan Thuan has existed since ancient times. During the war, due to the lack of rice to eat, people had to go to the forest to dig and bring back food. "His life is passed on to his father's life, then his father's life is passed on to his children's and grandchildren's lives …", Mr. Thai said.
Ta Cu forest still has a lot of grinding because each time a root is excavated, Mr. Thai and other workers will fill the hole for the old roots to continue to live and grow roots next year. Like that, every year the local people have a sharpener to dig.
"This profession has eaten into the blood of our brothers and sisters since childhood, every family has a dragon fruit field, but in the season, I miss going to the forest to find grinding," said Mr. Thai while carrying a basket full of tubers to the car..
Potato diggers take a lunch break in Ta Cu forest, each person digging on average about 10 kg per day. Photo: Viet Quoc
Ta Cu forest is over 10,000 ha, in Ham Thuan Nam district. Potatoes grow mainly in forest areas along sandy beaches along with Ham Minh, Tan Thuan, Thuan Quy, and Tan Thanh communes. Currently, in Tan Thuan commune, there are about 20 professional diggers, not to mention many people who dig to eat for fun.
Grinding tubers, also known as Hoai Son tubers, is medicine in Oriental medicine, sweet, has the effect of nourishing the spleen and kidneys, often used for people with anorexia, treating depression, and improving health. Grind can be used to boil food, cook tea, cook meat soup, stew bones and many other specialties. Follow vnexpress
TAG: