Barbecue shop sells more than 1,000 skewers a session
HANOI – No name but grilled meat skewers located in the alley opposite Ham Long church attracts customers thanks to its cheap price and reputation.
Every day from 14:00 to 20:00, the alley opposite Ham Long church is filled with fragrant smoke from the oven of husband and wife Thang – Loan. The grilled skewers shop has no name but has been given hundreds of interesting names by visitors such as "skewered meat from Vo Thi Sau school", "church view skewers", "Ham Long church skewered meat"… Every session In the evening, the two brothers and sisters fan the meat without resting their hands. On peak days, the shop sells more than 1,000 skewers.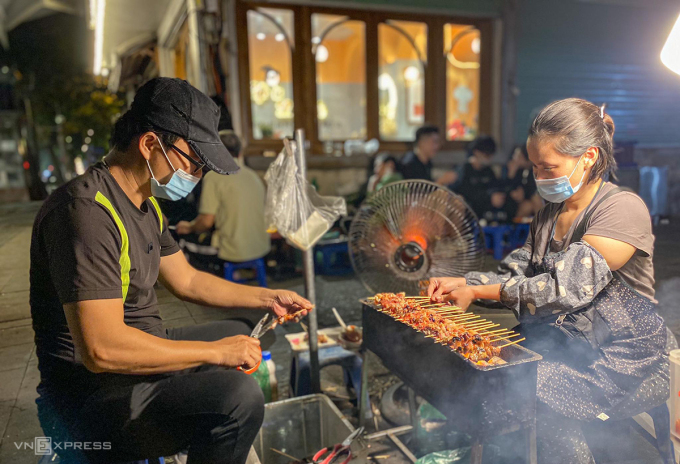 Thang Loan and his wife next to the oven smoked fragrant meat. The restaurant has only a few chairs, located at the beginning of lane 18 Ham Long. Photo: Trung Nghia
Ms. Loan shared that the restaurant is always popular in every season, but in winter, people prefer to eat grilled meat on skewers. On average, the couple sells from 25 to 35 kg of pork every day. The number has not changed much during the epidemic. People order take-out quite large.
Initially, when the new shop opened, the couple set a price of 4,000 VND per skewer. "No matter what, I still don't want to increase because the restaurant's motto is delicious, nutritious, and cheap. I stabilize the price to sell to regular customers who come back. If the pork price is too high, I will make the skewers a little smaller, but the price will be smaller. it's still the same", Mr. Thang shared while taking scissors to cut the burnt part to bring the meat to the guests. Opened the shop since 2007, nearly 15 years now, the shop only increased the price once about 3 years ago, from 4,000 VND to 5,000 VND per skewer and kept that price until now.
The restaurant's grilled skewers impress with sweet pieces of meat that are grilled to perfection, very tender. Thanks to the secret of its own marinade, the restaurant's skewers are fresh and fragrant. The gravy that comes out is suitable for dipping the bread, which is sold for 2,000 VND each. Small skewers, eat just enough, cleverly arranged, alternating lean pieces, pieces of fat, eat just enough, don't get sick. Served with a pure ground chili sauce like the one used with pho, spicy but still hard to stop because the sweetness of the meat goes well with this chili.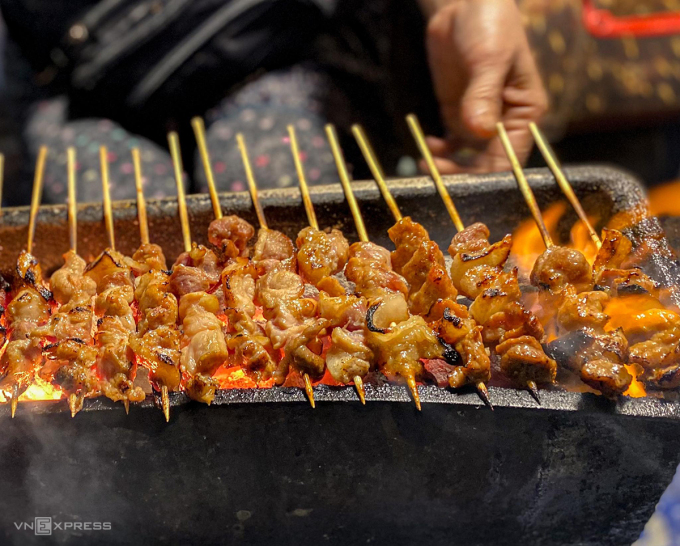 Small meat skewers, alternating lean fat and marinated with their own secret should be eaten sweet and fragrant. Photo: Trung Nghia
Giang Thi Thuy, 25 years old, has been a customer of these meat skewers for 7 years. "I've tried many other places in Hanoi, but I can only satisfy my mouth here. The two brothers and sisters are very accommodating and familiar, so almost every time I go out to eat, I get less money for iced tea and bread. My favorite is the taste of meat. Sweet and spicy chili. Sitting around 6 pm, I can still hear the church bell opposite. Another point I like because this is a snack alley, so there are many options, you can order meat skewers to eat with other dishes, "Thuy shared. and recalled many memories associated with the butcher shop when I was in school.
Located at the beginning of the alley known as the street of snacks with delicious dishes such as dried beef salad, filter cake, snails, wormwood eggs… the skewered meat shop of Mr. aroma. The sound of church bells and the smoke of grilled skewers seem to have become a "nostalgic" thing for Hanoians and those who often pass through Ham Long street. However, the skewers still have some disadvantages such as limited seating. The chili sauce is quite spicy, not for people who can't eat spicily.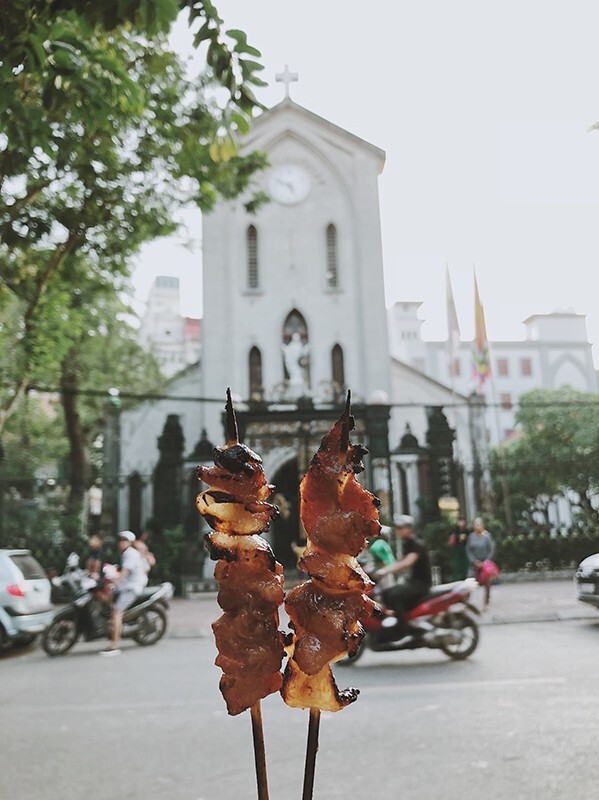 Sitting here eating grilled meat on skewers, guests can look out over Ham Long church. Photo: Thuy Anh
Sunday is the couple's day off, passing without seeing smoke, surely anyone who is a regular customer will also find "missing". Located near two primary schools, Vo Thi Sau and Ngo Si Lien, the main customers are students, but as Ms. Loan shared, her butcher shop is also a favorite dating spot for many couples. Many people are lucky because they invite each other to eat grilled skewers. Follow vnexpress
TAG: