Enjoy a fairy picnic at Ban Xoi Ba Vi
The suburbs of Hanoi have always been considered an extremely ideal destination for vacations with countless tourist resorts and resorts springing up like mushrooms. And if you are looking for a picnic spot that is both luxurious and in harmony with nature, Ban Xoi Ba Vi is the destination that you cannot ignore.
About Ban Xoi Ba Vi
Located in Xóm Chong, Yen Bai commune, Ba Vi district, about 50km from the center of Hanoi capital to the west, Ban Xoi tourist area is becoming more and more a famous picnic spot in the suburbs of Hanoi. as in the community of travel enthusiasts.
This place is planned into 9 main areas, of which zones 1 to 6 are for high-class resorts with private villas, restaurants, luxury hotels and a system of high-quality luxury services. such as: spa, golf course, sauna…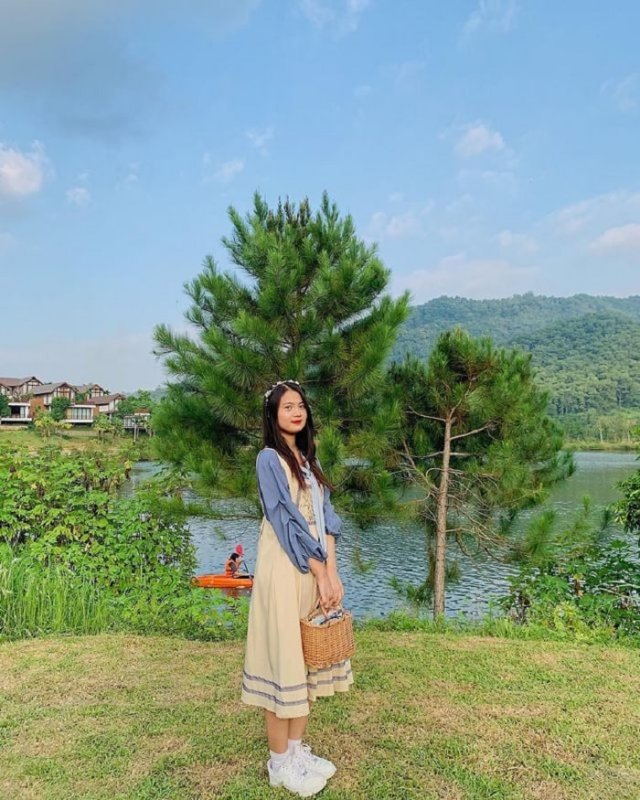 Green scenery in the village (Photo @yenphuong_1908)
The rest is an amusement area aimed at ordinary tourists with poetic natural scenery with lakes – green trees, a system of unique stilt houses, amusement parks, and restaurants… for you the most memorable resort experience.
How to get to Ban Xoi Ba Vi
Located not too far from the city center, motorbikes or personal cars are the most used means of transport when traveling to Ban Xoi Ba Vi, because it both helps you to be proactive in terms of time and save money. save cost but not take too much time, just over 1 hour only. 
Accordingly, there are 2 routes that you can refer to: going to Son Tay along road 32 and then going in the direction of Yen Bai commune towards Chong village to reach Ban Xoi valley. Or go in the direction of Thang Long Boulevard to Lang – Hoa Lac and then through the cultural village of Vietnamese ethnic groups to arrive.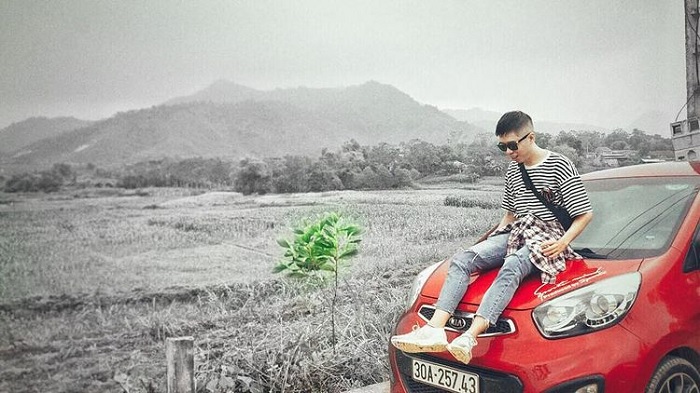 Personal vehicles are given priority (Photo @vutruongloc)
What is the most beautiful season to travel to Ban Xoi Ba Vi?
According to the Ban Xoi travel experience of the forerunners as well as the locals, Ba Vi is most beautiful in autumn, the weather is not only cool and pleasant but also has a lot of beautiful blooming flowers. So you will have the most wonderful vacation. Of course, you should also avoid rainy days because the mountain road will be very difficult and dangerous, the scenery is not beautiful to live virtual anymore.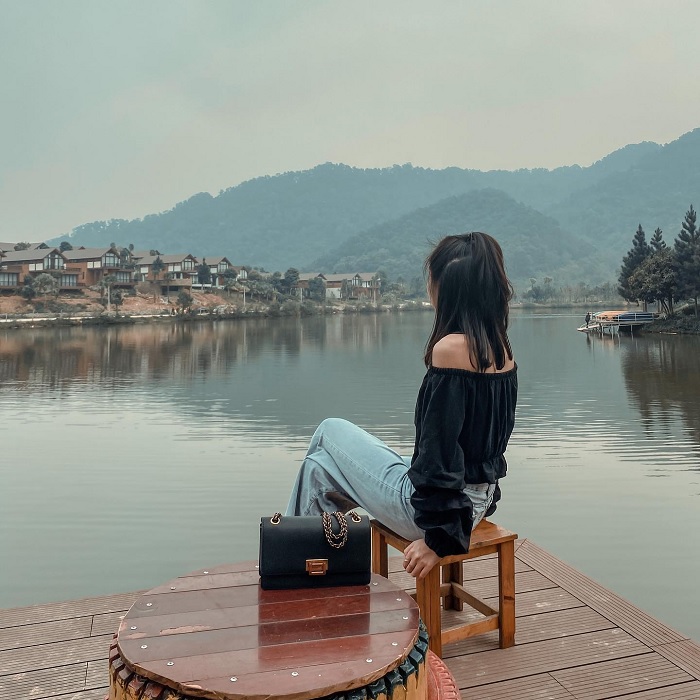 Autumn space here is very beautiful (Photo @billycandy.98)
What's interesting in Ba Vi Xoi?
 
Many beautiful virtual living corners
In addition to the poetic natural scenery with a vast and clear lake like a giant mirror reflecting everything and a green forest, the Ban Xoi Ba Vi eco-tourism area also has countless virtual living corners. Unique, quality makes people fall in love.
Typically, the wooden swings are hung everywhere in the village, although the design is simple, when combined with the view angle here, it creates shimmering and luxurious pictures just like dreamy Bali. Or the colorful tire area located right by the lake is also an extremely ideal place to pose with friends.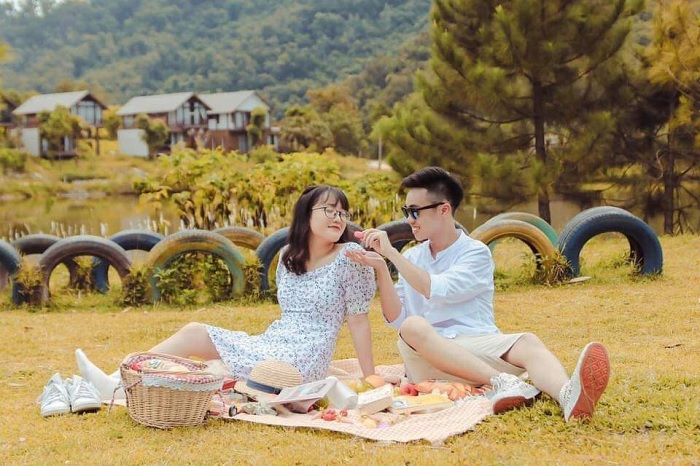 Very good virtual living corner (Photo: Nghiduongbavi.com)
If you like a style that brings back a little bit of childhood, the bamboo bridge leading to the middle of the lake with two rows of cool bamboo swaying in the wind in the center of Ban Xoi is your ultimate check-in place. Each shooting angle here will bring a different style and beauty. Revealing, taking photos with a drone to get the whole scene of the bridge and lake will be even better.
Virtual living corner with a bit of a rustic vibe (Photo @made_in_dh)
Experience many exciting outdoor activities
It would be a huge omission if you come to Ban Xoi valley without participating in interesting outdoor games such as kayaking on the lake or playing teambuilding on the vast grass to bond with friends. Colleagues and family…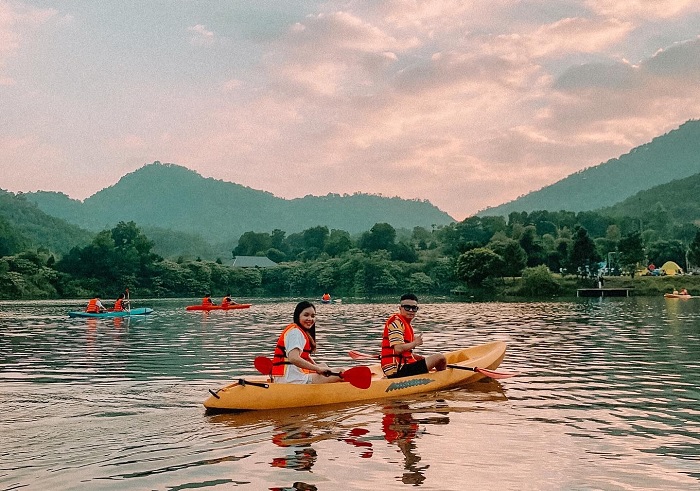 Great kayaking (Photo @bukmk.team)
In particular, the grass here is also an extremely ideal place for camping as well as outdoor BBQ parties. Imagine that, under the red, fanciful and fanciful sunset sky, you are gathered around the smoky grill, emitting a fragrant aroma, laughing and talking, and then lying down on the grass at night. Watching the starry sky and telling each other things from the sky and the sea, what could be more wonderful than this.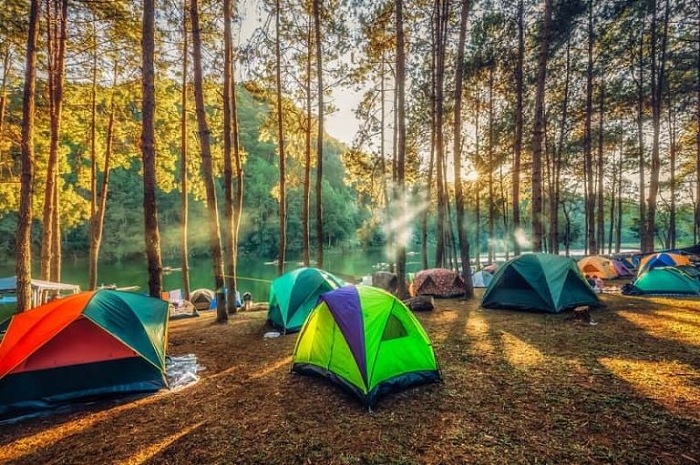 The camping experience here is always the best (Photo: motogo.vn)
Delicious cuisine
Whether you bring food or not, definitely do not miss the extremely delicious specialties here such as: steamed hill chicken, grilled Muong pig, fragrant rice, Muong sticky rice, spring rolls and wild vegetables… It will definitely make you eat once and remember it for a lifetime.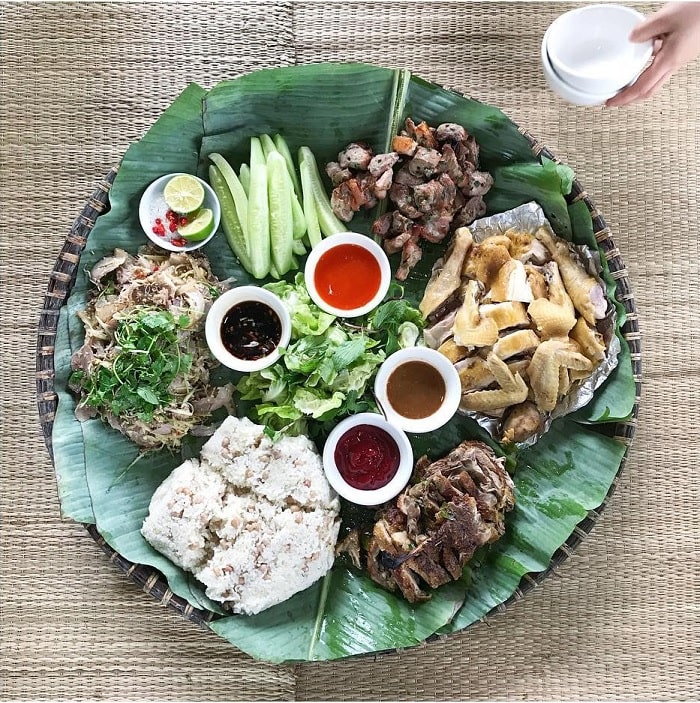 The local cuisine is super delicious and mouth-watering (Photo @ofbongbong)
Staying at Ban Xoi Ba Vi
Ban Xoi Villa & Resort is the most luxurious resort in Ban Xoi Ba Vi with buildings designed in a unique rustic architectural style that is both a little Nordic and a little rustic of Asia, The surrounding area is surrounded by lots of green trees, and has a wonderful lake view, typically MyBinSu Villa and Clear Villa 209…will bring you extremely memorable moments of rest.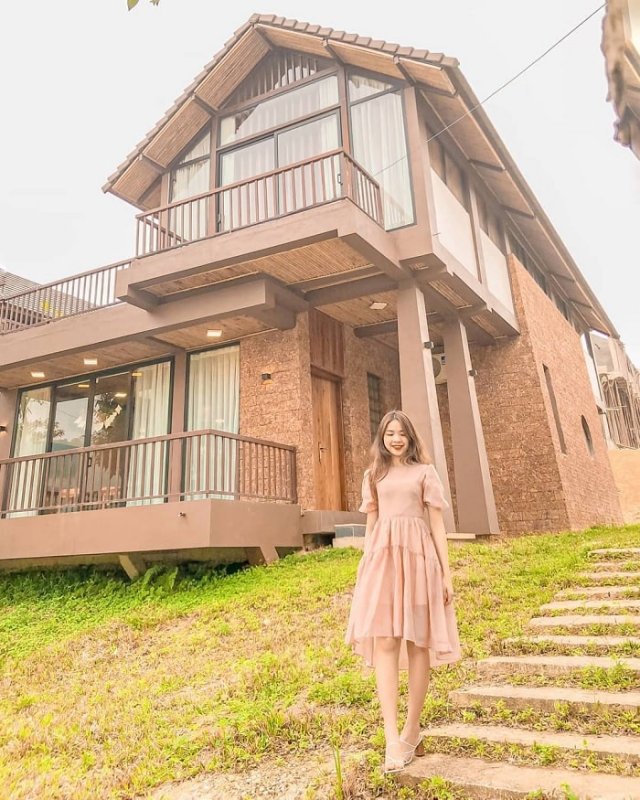 Luxury resort like Europe (Photo @ki.cloudy)
If you want to save more, you can stay in a stilt house, with a small house on stilts costing from VND 1,000,000 to VND 1,200,000 for 4 to 7 people, and a large house on stilts costing over VND 2,000,000 for over 20 people.
A few notes when visiting Ban Xoi Ba Vi
Ticket price : 30,000 VND / person.
Bringing supplies: If you need to camp overnight, remember to bring your tent, stove, food, grill, and personal items such as toilet paper, face towel, etc., because there are not many in the village. shop where to buy.
If the city is too busy, I should pack my backpack and go to Ban Xoi Ba Vi to relax!
Photo: Internet
TAG: