The 'beautiful to forget the way home' viewing spot for buckwheat flowers in Ha Giang
Sung La Valley, Lung Cu, Dong Van Plateau… are destinations for tourists who love buckwheat flowers in Ha Giang.
Buckwheat is a type of flower that grows in fields stretching on hillsides, rocky valleys, along roads, and in villages throughout Ha Giang province. Flowers usually bloom in late autumn and early winter. The gentle, elegant white, pink, and purple patches of the buckwheat triangle captivate many visitors.
The blooming season lasts for about 3 months, but the color of the flowers changes gradually over time, from white to light pink, dark pink, and finally purple-red and then withered. If tourists want to admire the beauty of buckwheat flowers in Ha Giang, they can arrange a time to come here around October-December, to places like Sung La, Lung Tao, Lung Cu, Meo Vac, Dong Van …
Sung La Valley
Sung La has not been explored much, so the natural scenery still retains much wild and peaceful beauty. Dong Bao ethnic Mong in Sung La often grow buckwheat in high hillsides, so this place is considered one of the most beautiful spots to see this flower in Ha Giang.
Coming to Sung La, visitors will admire the whole valley of buckwheat flowers blooming purple and pink in green grass, looking very beautiful.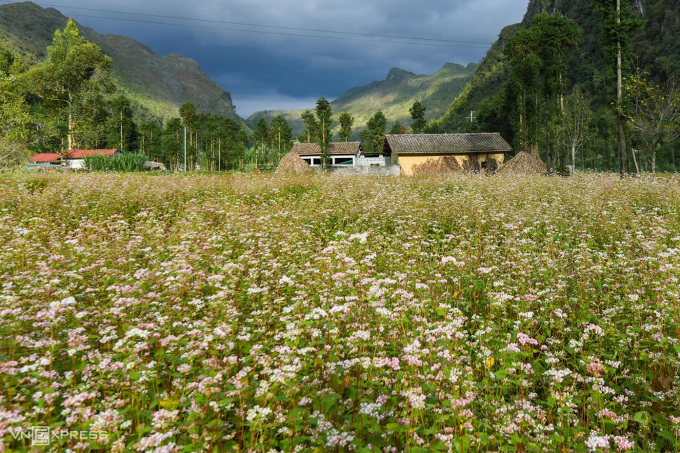 Visitors have the opportunity to admire the buckwheat flower blooming on the rocky plateau when coming to Ha Giang. Photo: Kieu Duong
Dong Van Plateau
The fields of buckwheat flowers in the Dong Van rocky plateau stretch one after another, forming a pink sky. Visitors here can enjoy check-in, take photos to keep good memories of a trip.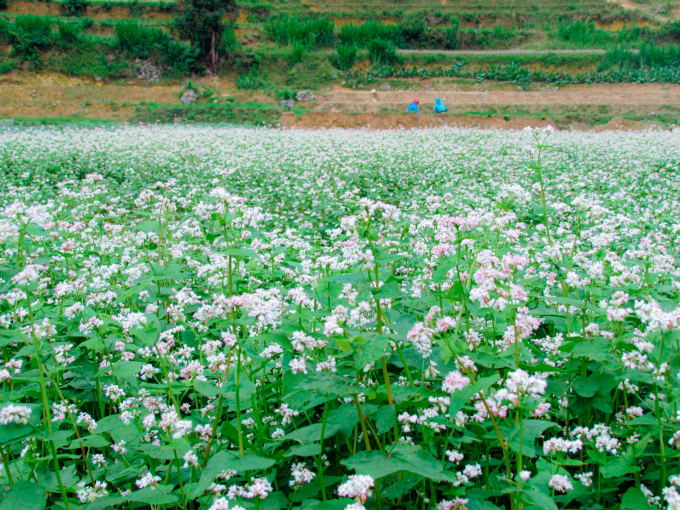 Vast fields of buckwheat flowers stretching in the Dong Van plateau attract many tourists to admire every year. Photo: Ngo Tran Hai An
Lung Cu flagpole foot
Lung Cu is known as the first place in the country, one of the places not to be missed when traveling to Ha Giang. The field of buckwheat flowers at the foot of the Lung Cu flagpole attracts visitors thanks to the flower strips arranged in many layers of unique terraced fields. On the way to visit here, visitors can freely admire the beautiful scenery and take some photos with the vast buckwheat fields.
Lung Tao hillside
Buckwheat flowers in Lung Tao are planted scattered on hillsides and mountains. Visitors must climb Ma Le mountain to be able to fully capture the gentle and elegant colors of this flower.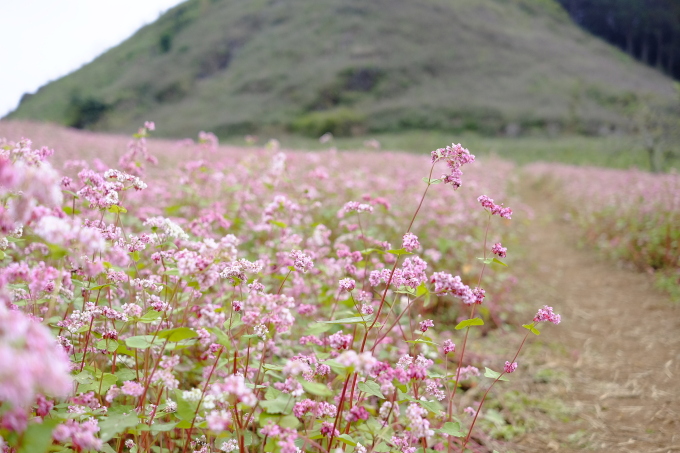 The buckwheat flower buds look delicate and delicate but add color and vitality to Ha Giang. Photo: Nguyen Quynh Trang Chu
Chin Khoang Slope
Chin Khoang slope is a mountain road connecting Pho Cao commune with Sung La commune, Dong Van district, Ha Giang province. Visitors can stop by here to check in many impressive photos with buckwheat triangles, clouds, and mountains.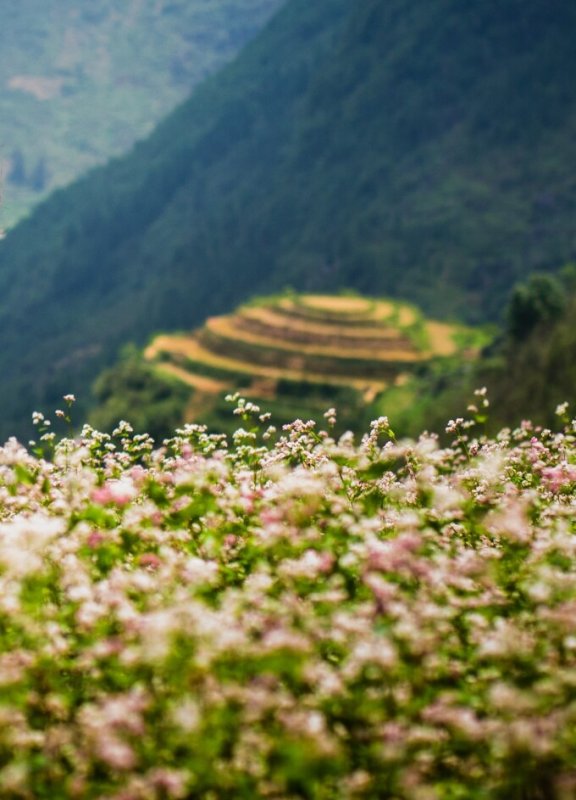 The steep passes winding around the mountains are adorned with the beauty of buckwheat flowers. Photo: Nguyen Quynh Trang Chu
The foot of Ma Pi Leng pass
Ma Pi Leng is one of the four great peaks of Ha Giang pass. Looking down from the top is the image of the green Nho Que stream squeezing through the majestic mountains. At the foot of the pass are colorful buckwheat flower beds, allowing visitors to enjoy the special beauty of this flower.
Fox Street
Located on Highway 4C, Pho Cao is not only impressive with many old houses, with an ancient design, over 100 years old, but also a destination for visitors to see the vast white and pink buckwheat flowers. eye-catching purple.
Breathe in the fresh air, enjoy the buckwheat flowers blooming in the sun… leaving visitors with many memorable memories when coming to Ha Giang. Follow vnexpress
TAG: