23 days cycling from Hanoi to Ca Mau
The discovery trip was kept secret from everyone and even his parents when he stopped by his house in Thanh Hoa.
One day in early May right before the fourth Covid-19 epidemic, Nguyen Tuan (22 years old) got on a sports bike to cross Vietnam, realizing a dream he had cherished since high school. The trip was kept a secret by Tuan from everyone. Before that, his mother had repeatedly dissuaded him, but this time when she saw that her son was determined, she warned him carefully, at any stop, she would post pictures on social networks for her peace of mind. As for Tuan's father, he supported his son to fulfill his youthful passion and gave him extra fees.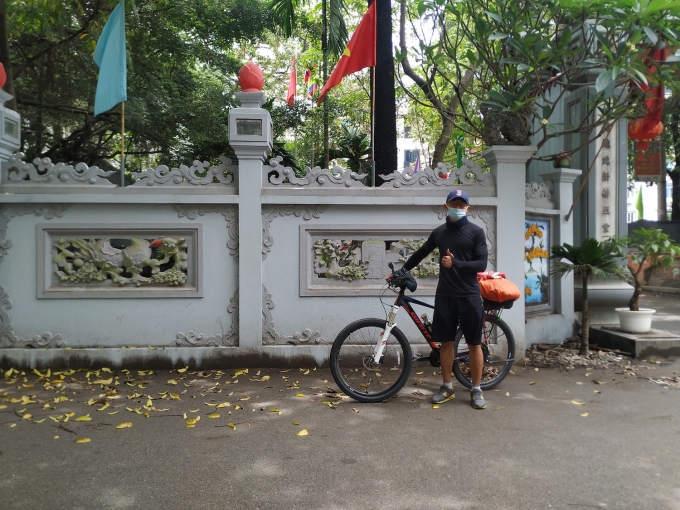 The luggage Tuan brought was a sports bike, some clothes, protective gear, and a raincoat.
The house is a stopover in Tuan's first leg of Hanoi – Hai Duong – Thai Binh – Thanh Hoa. Resting for one night, the next morning he continued on the road. Follow Highway 1 to Ca Mau, the route is divided by Tuan into 4 small stages. Each endpoint is where he stops for a day to explore tourist attractions, enjoy delicious food.
Specifically, stage 2 Tuan cycled through Vinh (Nghe An) – Ky Phuong (Ha Tinh) – Ngang pass (Ha Tinh – Quang Binh) – Da Nhay sea, Le Thuy sea (Quang Binh), and Hue. Stage 3 includes Lap An lagoon (Hue) – Hai Van pass – Da Nang – Hoi An – Tam Ky (Quang Nam) – An Nhon (Binh Dinh) – Tuy Hoa (Phu Yen) – Ca pass – Nha Trang. The fourth leg includes Khanh Vinh (Khanh Hoa) – Khanh Le pass – Da Lat – Bao Lam – Bao Loc (Lam Dong) – Bao Loc pass – Chau Thoi pagoda (Binh Duong) – Ho Chi Minh City. Finally, he went to Long An – My Tho City (Tien Giang) – Ben Tre – Khmer Ang Pagoda (Tra Vinh) – Soc Trang – Bac Lieu Prince's house (Bac Lieu City), and Ca Mau Cape.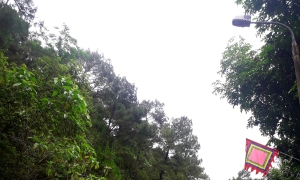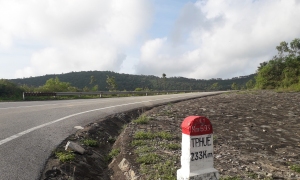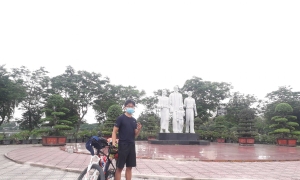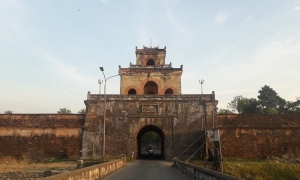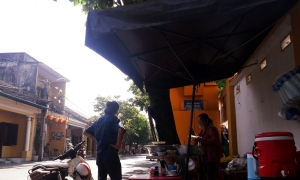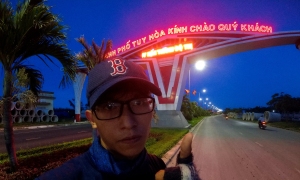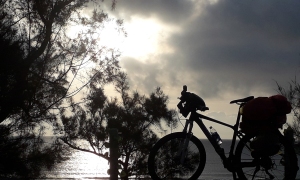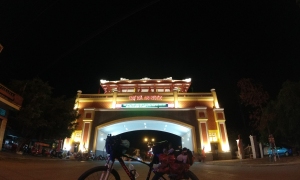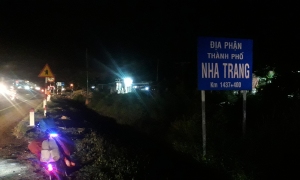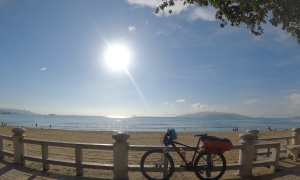 Tuan shared that he cycled through Vietnam partly because of his hobby, partly because he wanted to challenge his youth on the roads. In addition, he also wants to visit places across the country for the first time in a special way. Tuan also traveled by motorbike to the northern provinces with his friends. This trip he wants to do alone because time is long and not everyone has the same passion. Before that, since high school, Tuan was familiar with cycling. To university, he still regularly rides a bicycle, to his part-time job is a bicycle shop, with a total distance of about 20 km per day.
On the way, Tuan's most memorable memory is crossing Hai Van's pass, to Da Nang. When he stood at the foot of the pass at 17:30 to rest before continuing, he was stopped by people, because cycling would not be able to cross the pass tonight. Hearing that, Tuan's spirit increased even more, determined to face 11 km of uphill and 10 km of downhill. Sometimes, he couldn't pedal enough, he pushed the bicycle while singing to forget his fatigue. From time to time he turned back to see how far he had gone, thinking in his heart that he had failed to cross the pass, then turned back to find a place to rest. After more than 3 hours of walking and cycling successfully through the pass, he couldn't hide his joy but shouted loudly, shaking his limbs wildly, in his words at that time he felt like a "monkey down the mountain".
Or many other times Tuan got lost, it was dark, but there was no motel or stop, so he had to sleep on the roadside "dust", but he thinks he is still lucky because he didn't encounter robbers and accidents like he thought. statue. The biggest difficulty for Tuan was when going through the central roads, the sun and the wind hurt his skin.
All the difficulties faced, according to Tuan, are very worthy to have "unique" experiences in life. Like the time to enjoy the most favorite dish is Hue beef noodle soup in Hue, eat Quang noodles in Quang Nam, drink Siamese coconut in Ben Tre… "The above may sound normal, but to first-timers Being able to set foot in the above provinces and cities is a very unforgettable memory," Tuan said.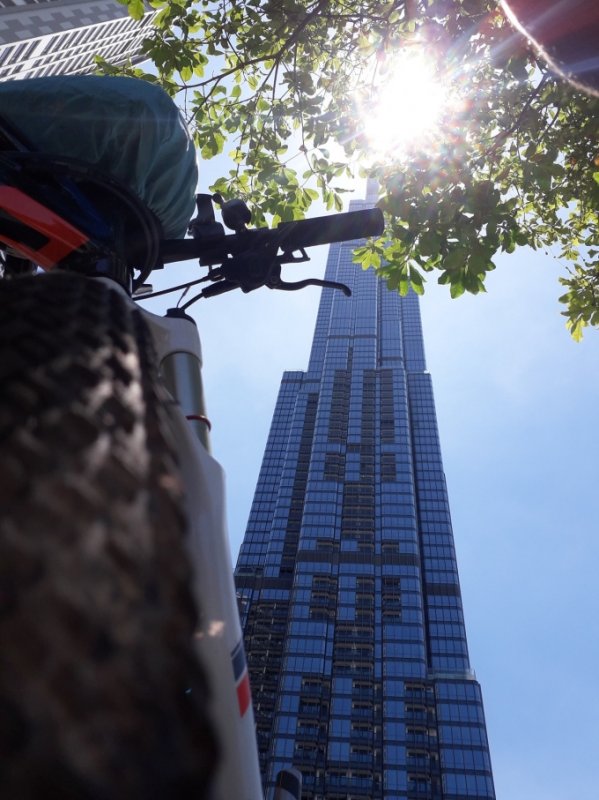 In front of the iconic building of Ho Chi Minh City.
During the 23-day journey, he also experienced the first times such as taking a ferry, drinking mineral water, changing his bicycle tattoo, or going to a motel or restaurant to bargain 5,000 – 10,000 VND to save on fees. The distance from Ho Chi Minh City to Ca Mau, every day he encountered rain, making the bike chain dry and wet and his glasses wet. The day he approached the landmark Ca Mau boat-shaped, Tuan because he was too eager to take pictures. pictures, then slipped and fell due to the slippery road. He laughed and said, "This is also the first time I've had blood on my journey, my hands are all scratched."
Tuan said that one of his favorite sayings is "Youth, let's go while you can. If you haven't gone, how do you know you can't." Therefore, the trip has helped me fulfill a part of my youth's dream, to travel on my favorite vehicle, to see the beautiful scenery of my own country.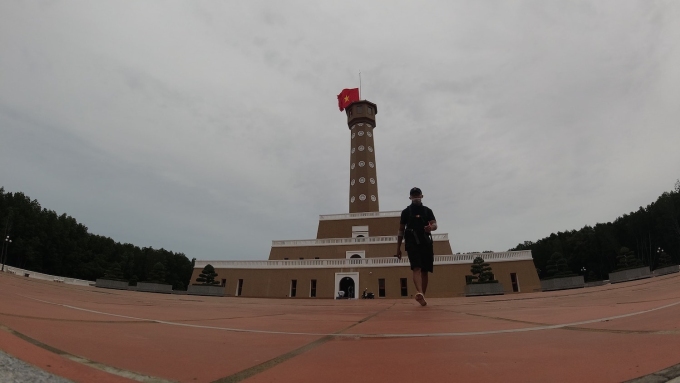 Success to Cape Ca Mau. Follow vnexpress
TAG: