Ho (Lake) Chom Nui – new camping spot near Hanoi
HANOI – Bui Quang Thuy has 2 relaxing weekends by Chom Nui lake, a new and deserted place.
Bui Quang Thuy, born in 1999, now lives and works in Hanoi, choosing Chom Nui Lake as a weekend camping site with friends. Thuy's group has 4 people, using motorbikes as a means of transportation. The total time for the trip is two days and one night.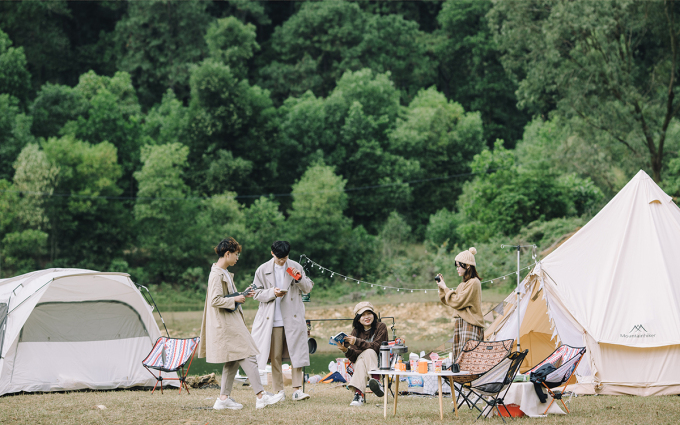 Group of 4 young people camping at Chom Nui lake.
Ho Chom Nui is located in Nam Son commune, Soc Son district. People living around here also call Hoa Son Lake. Now is the right time to camp here (September to November), when the lake water does not dry up.
It takes about 1 hour to travel from Hanoi to Chom Nui Lake. Just follow the Google Maps application, you will be led to the beach where you can set up camp by the lake. This area is completely free, there is no entrance ticket, and it is about 1 km from the house. If you want to buy more things, you can move about 10 minutes to find people's grocery stores.
As a travel blogger, Quang Thuy wants to find a place with a large space, with few people to take beautiful pictures. Currently, the young man also has 27,000 followers on the Instagram platform due to possessing many beautiful travel photos.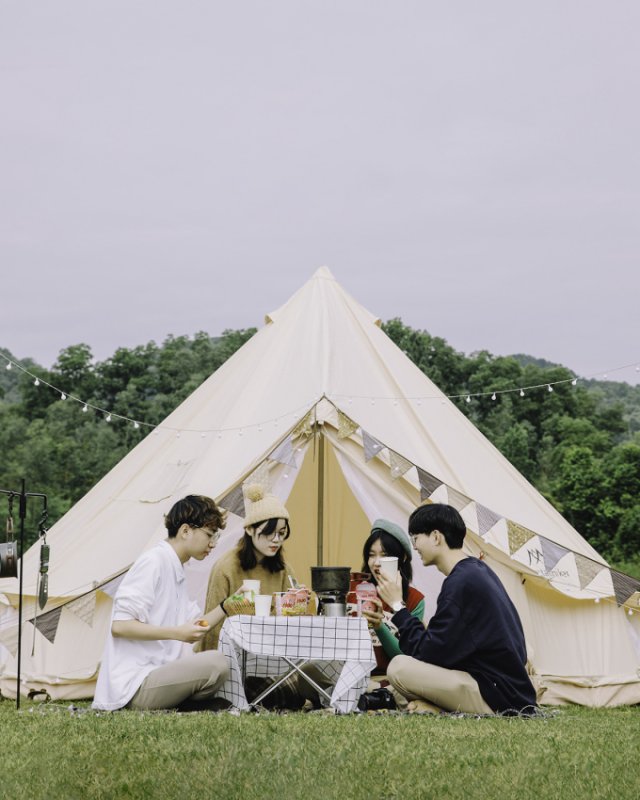 Should bring a tripod to be able to capture everyone in the group is Thuy's advice when camping at the lake.
Most people in Hanoi when camping in the suburbs will only know Ham Lon and Dong Do lakes because these sites have many services available. But camping at Con Nui, you will have to prepare everything yourself, from tents to support tools, food, and water. The hardest part is setting up the tent, but if you're a do-it-yourselfer then it's fun.
Thuy shared, people often choose Constellation to picnic during the day, not overnight. However, the night is quite safe and suitable for a full camping feeling. The group of young people left their motorbikes next to the tent, not forgetting to equip the car lock.
The total cost for the trip is about 1 million VND for a group of 4 people (250,000 VND/person) including the price of tents and food, of which the tent costs 500,000 VND. Accessories such as stoves, knives, flags… they can borrow so there is no cost.
You need to be careful to bring warm clothes because the night is quite cold. Phone signal is very poor, so it is necessary to prepare mentally to separate from social networks and blend in with nature. According to Thuy's experience, you should leave at noon, arrive at the place enough time to prepare everything, and take photos when the afternoon sun is beautiful. Groups from 6 to 7 people are just beautiful, not too crowded, and just enough people to split up to do everything quite quickly.
You should check the weather, avoid going on bad days. In particular, it is advisable to choose a tent with a capacity greater than the number of people going and listen to advise from the tent hirer. Use a large tent for a more comfortable, easy-to-turn space. Moreover, camping in the autumn and wintertime will not only have people but also clothes, furniture and especially sleeping bags will occupy a large area. Follow vnexpress
Photo: Bui Quang Thuy
TAG: