Halloween fun spots in Hanoi and Ho Chi Minh City
When many activities have not reopened, cafes and streets decorated with Halloween theme are suggestions for the people of the two cities.
Halloween is a traditional festival of Western countries held on October 31 every year. This day marks the end of the harvest and the beginning of winter and commemorates the dead, including saints, martyrs…
This holiday was introduced to Vietnam, is considered an opportunity for people to dress up as ghosts, decorate pumpkins… While many places have not yet reopened, there are a few places that have shared the same atmosphere. this occasion, especially in Hanoi and Ho Chi Minh City.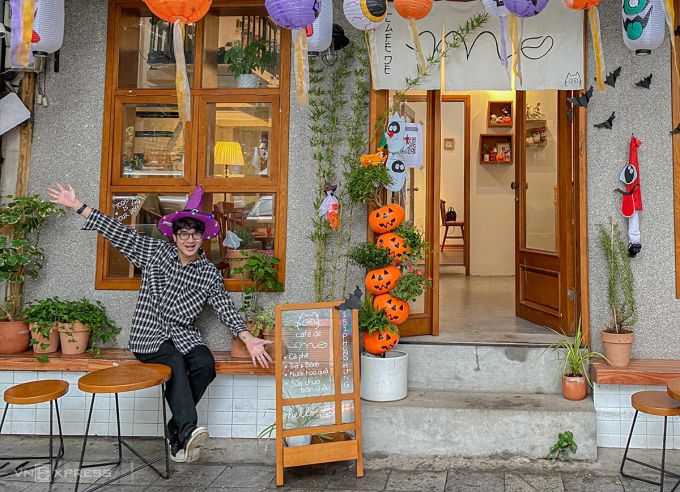 Halloween atmosphere at a cafe in the Hanoi capital. Photo: Trung Nghia
Hanoi – "The weather is the scariest thing about Halloween"
Weather for 3 days of Halloween weekend in the capital is predicted to rain continuously. Therefore, restaurants and coffee shops are expected to attract customers. If visitors want to experience taking pictures with pumpkin models, they can refer to the following shops: Cafe de Mo on Phung Hung Street with Japanese-style ghost models combined with pumpkins and lanterns; Lofita on Hao Nam Street with skulls and spider webs… If you want to try Halloween-themed drinks, people in the capital can go to Starbucks or Tous Les Jours. In addition, the Always Cafe in Hang Tre with the decoration theme of the Harry Potter movie serves Pumpkin Spice Latte (Pumpkin flavored latte).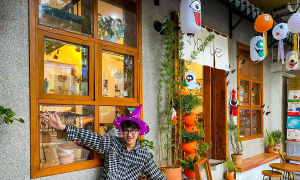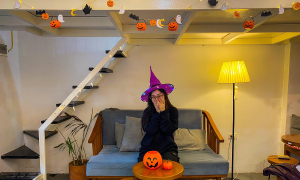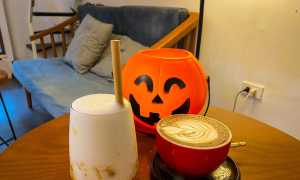 Like other holidays such as Lunar New Year, Mid-Autumn Festival or Christmas, people in the capital can go to Hang Ma Street to feel the atmosphere. On these occasions, the street displays the corresponding decorations. Before Halloween, the shops displayed many costumes and decorations such as witch hats, pumpkin lanterns, bone-print clothes, death sticks, horror masks…
Every year, Ho Guom walking street often attracts young people wearing costumes to go for a walk, but this year, due to the epidemic situation, the pedestrian street has not returned to operation.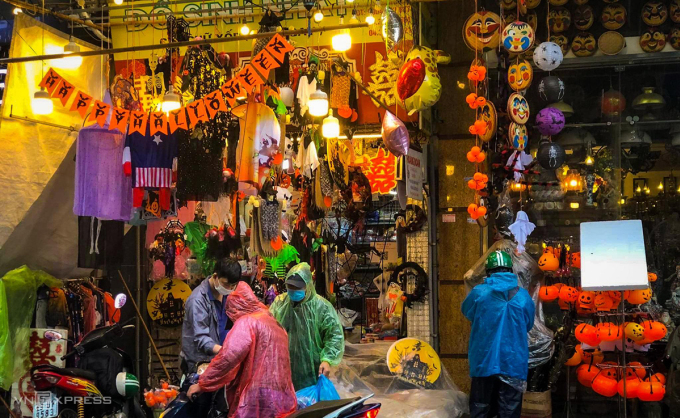 Continuous rain makes the shops on Hang Ma street more gloomy. Photo: Trung Nghia
Ho Chi Minh City – Halloween is quieter than usual
In Ho Chi Minh City, every year until Halloween, Bui Vien walking street, Le Thi Rieng Park, commercial center, and many cafes in District 1 and District 3 are shaped and decorated with all kinds of decorations for guests to take pictures and check. print. This year alone, due to the impact of the Covid-19 epidemic, this place is quieter.
Bui Vien Walking Street, District 1 is often the top destination for Vietnamese and foreign tourists because of many jubilant makeup activities. This year, many shops on the street closed or changed business models. Currently, along the street, there are food stalls selling again such as steamed snails, hot pot, fried balls… for diners to eat on the spot. Although not too busy with costume activities, this is also a suggested destination for tourists in Ho Chi Minh City this Halloween.
After Bui Vien walking street, Nguyen Hue walking street is also a suggested point for visitors, the street is more than 600 m long with a cool space, many cafes and milk tea shops around to help you have a place to chat. , meet ideal friends. This place is expected to be crowded with tourists on the evening of October 30 and 31. Currently, the street also has young people transforming into superheroes, Ton Ngo Khong … taking photos with visitors for a fee.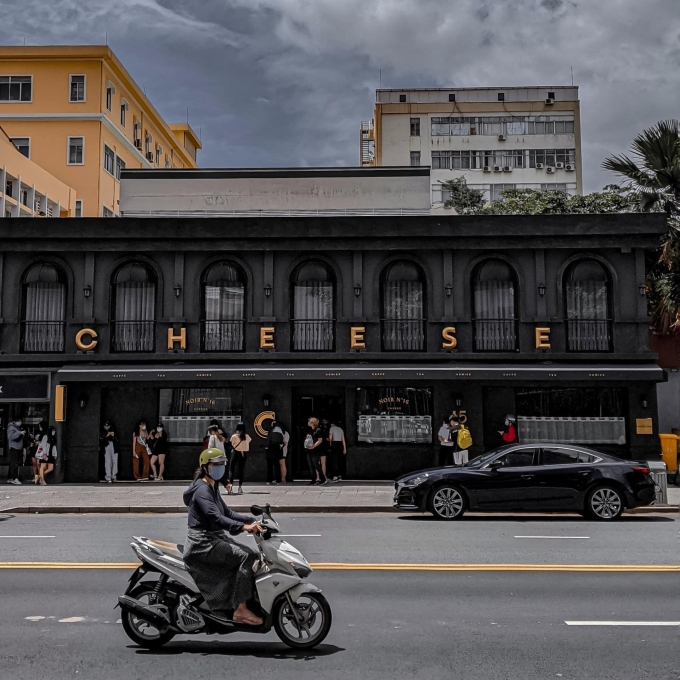 The cafe is covered in a mysterious black color, standing out among the surrounding light-colored buildings. Photo: Facebook Dinh Locc
A suggested coffee shop this Halloween is Cheese Coffee, located in a prime location on Dinh Tien Hoang Street, near the intersection of Nguyen Thi Minh Khai, District 1. The shop is designed in the French style, the highlight is Black tones from wall paint, domes, glass door frames, decorative lights, railings… The shop's name and address are highlighted with striking copper color, attracting many young people to buy water and wait to take pictures outside. outside. Visitors can come to drink water at the bar and check-in with the fanciful black wall at the shop to have beautiful photos, the right Halloween atmosphere.
TAG: