Unspoiled rocky cliffs, visitors want to check-in "virtual life"
 The craggy cliffs created by stacked rocks, jutting out in the middle of the sea are masterpieces that nature has bestowed on many fishing villages in Binh Dinh province.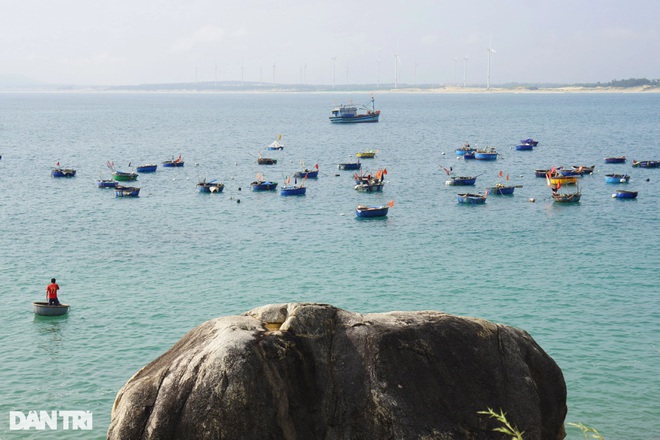 Bai But – Trung Luong, Cat Tien town, Phu Cat district, Binh Dinh is located at the foot of Ba Mountain.
Unspoiled But Beach – Trung Luong
Bai But in Trung Luong basket net village (now Trung Luong quarter, Cat Tien town, Phu Cat district, Binh Dinh province) is an interesting destination for tourists who love to explore and a little adventure.
Bai But – Trung Luong is about 30 km east of Quy Nhon city, located on DT 639. Bai But is located at the foot of the majestic Ba mountain, where there is a Trung Luong basket net village with about 200 fishermen for many generations. rely" on these rugged reefs and cliffs to make a living with fishing, crabs…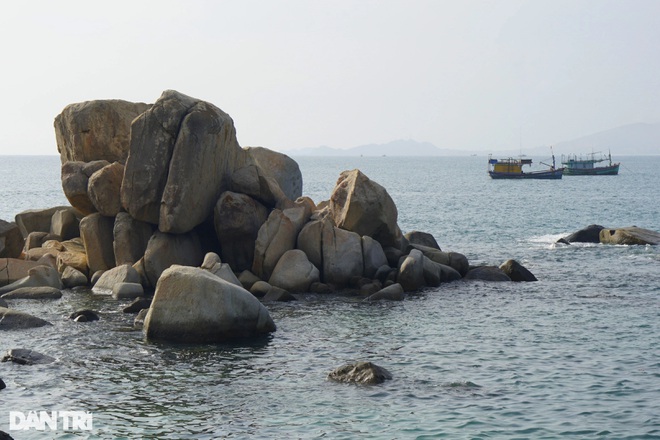 The cliffs in Bai But are still wild.
For the people of Binh Dinh province, it is no stranger to the sea in Trung Luong, especially in recent years, the Trung Luong picnic area has emerged, attracting domestic and foreign tourists to travel. An interesting thing when coming to Trung Luong is not only the beautiful beach, clear blue water, swimming, snorkeling, eating fresh seafood but also camping overnight is an interesting experience…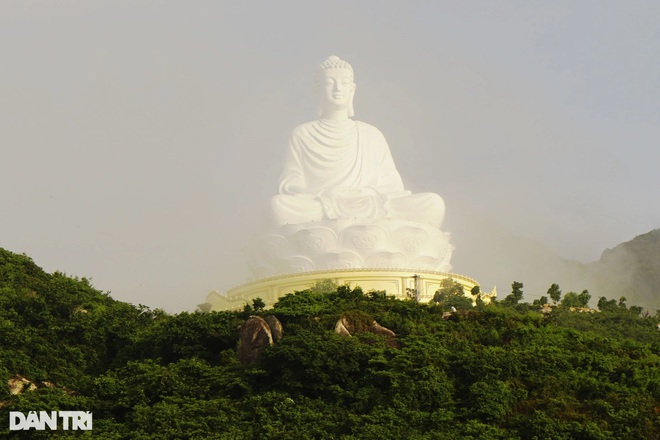 Buddha statue in Cat Tien town, Phu Cat district is a tourist attraction.
Meanwhile, going to Bai But brings visitors a wild and majestic beauty by the large rocks stacked together, protruding in the middle of the sea. Here, visitors also feel the friendliness and closeness of the fishermen in Trung Luong basket net village.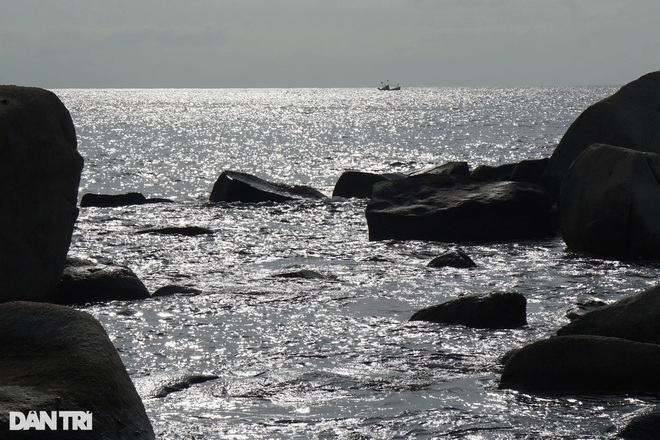 In the distance offshore, there are fishermen's boats hiding in the sparkling early morning sunlight.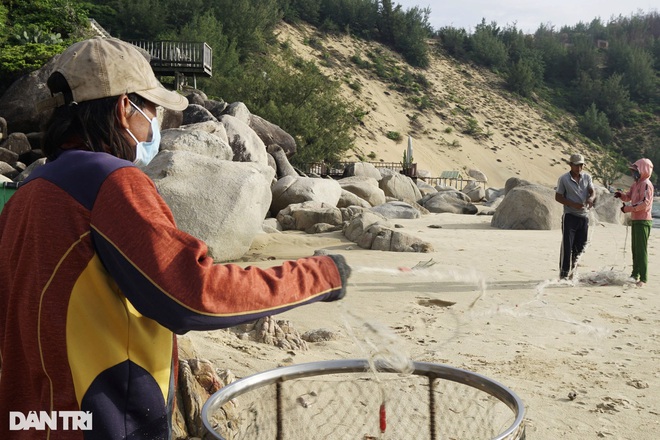 Every morning, fishermen come to Bai But after many hours at sea.
Old fisherman Tran Xuan Loc (62 years old, Trung Luong neighborhood), shared: "When there was no Covid-19 epidemic, in the summer many young people from all over the world came here to travel, swim, pose for a flash (take pictures). , so much fun!".
Ganh Up, Ganh Below – Nhon Hai
About 20 km from the center of Quy Nhon city, Nhon Hai commune is located on the Phuong Mai mountain range, is a coastal peninsular commune of Quy Nhon city, blessed by nature with many unspoiled beautiful scenes.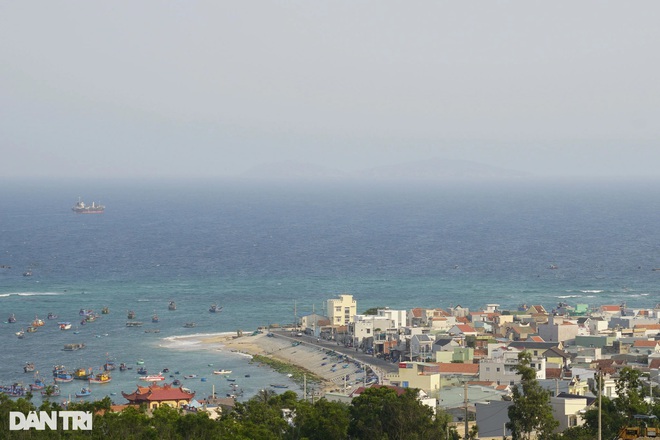 A corner of Nhon Hai peninsula commune, Quy Nhon city, with the back leaning against the mountain, in front of the sea.
In recent years, Nhon Hai commune has become a tourist destination attracting a large number of tourists to visit, swim, snorkel and enjoy local seafood: snails, shrimp, squid, sea urchin, etc. lobster…
Speaking of Nhon Hai, visitors immediately think of Hon Kho, which is likened to "a beauty lying by the sea". However, coming here, visitors can also explore the wild cliffs such as: Ganh Tren (Hai Bac village), Ganh Under (Hai Nam village) …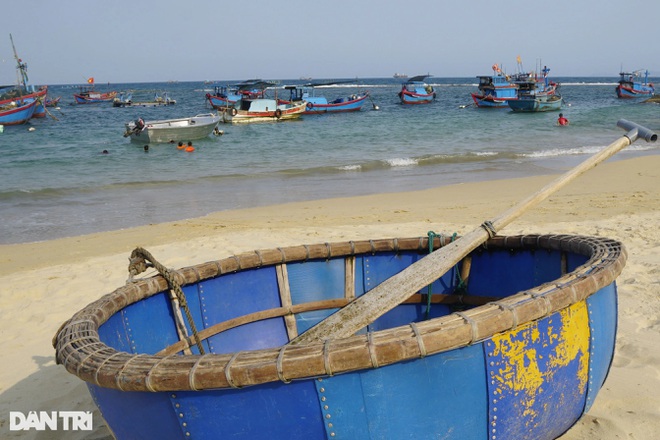 Ganh Under beach area (Nhon Hai commune) has clear blue water.
Ganh Under, about 100 m from Nhon Hai Commune People's Committee, with many large rocks and rocks lying on top of each other; Under the sea are coral reefs of various types and colors … very suitable for tourists who like to climb, paddle and snorkel to see corals.
What is curious for visitors, at low tide, under the sea will reveal an architectural work of Cham Pa citadel (local people call it Bo Dam) hundreds of meters long and about 40 meters wide. Visitors can go along this ancient citadel and catch seafood such as: sea snails, sea urchins, pick jelly, dam oysters…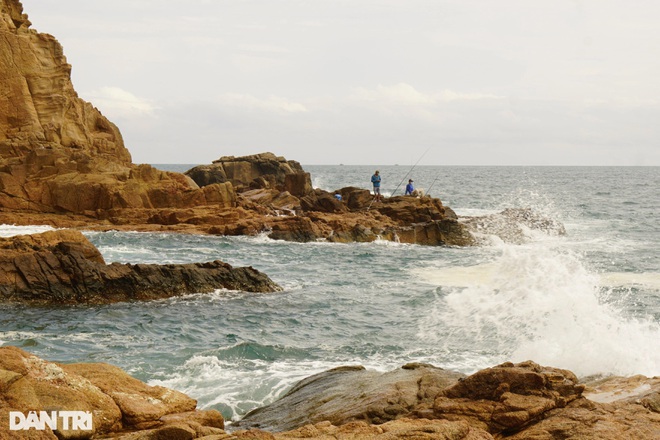 Ganh area On Nhon Hai commune.
While coming to Ganh Tre, from Ganh Under, go along the coastal embankment road back to Hai Bac village, on summer days when the tide is low, the rocky beach grows green moss. From the mossy rock, visitors can follow the mountainside or go up the embankment road to climb the majestic rocky mountains. From above, visitors can observe the panoramic view of the Nhon Hai peninsula commune nestled peacefully by the strait with many beautiful scenes that fascinate visitors.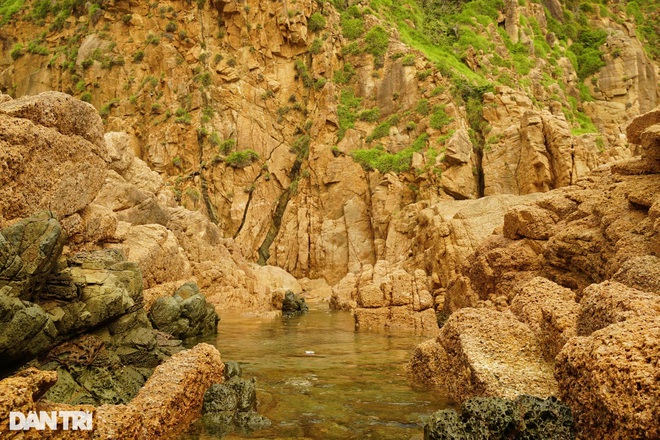 The "pools" of blue water are located between the cliffs.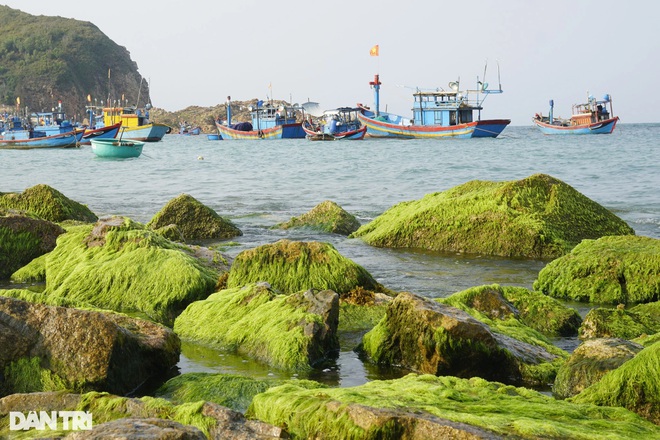 In the summer, when the tide is low, the rocky beach with green moss in Ganh Tre is beautifully exposed.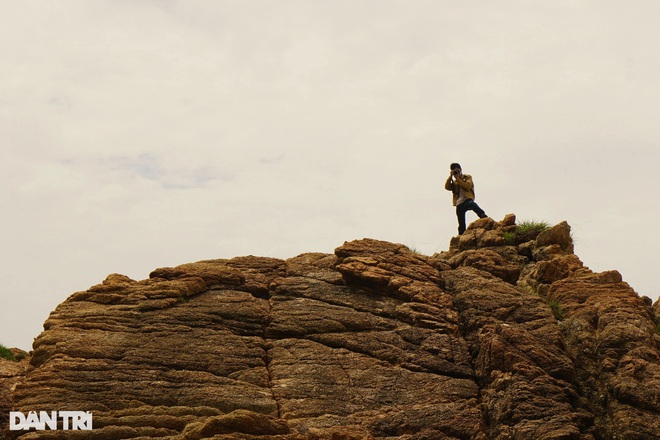 The beautiful towering cliffs are very suitable for adventurous tourists. Follow Dan trí
TAG: