Experience booking Halong cruise from A to Z
Booking a Ha Long boat tour, visitors will have extremely interesting and memorable experiences when discovering the world's natural heritage. However, to choose a quality boat tour and good service, you should not ignore the extremely useful experiences below.
What types of Halong cruise tours are there?  
Renting a Ha Long yacht is a form chosen by many tourists today. Then, you will experience life at sea with all meals and accommodation services taking place on the yacht. Secondly, this is a form of a luxury resort, completely separate from the mainland, providing a relaxing space for visitors. Thirdly, if you are having a honeymoon or a romantic wedding anniversary, then booking a Halong cruise touris the perfect choice.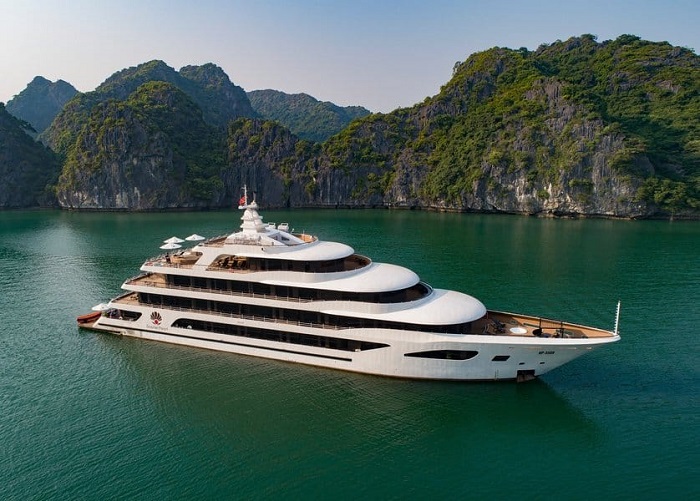 There are many types of cruises in Ha Long for you to choose from
Based on the time for your trip, choose the right cruise for you. There are different types of cruises to explore Ha Long Bay such as:
– Day tour of the bay is calculated by the hour, usually 4 hours. In addition, you can choose from a 6-hour or 8-hour tour.   
– Tour 2 days 1 night, you will have 1 day to sleep on the bay. This type of tour is suitable for those who want to go to relieve stress 1-2 days a weekend. You can depart on Saturday and return on Sunday. Besides resting and eating on board, you can also participate in many activities such as exploring fishing villages, visiting caves, kayaking, exploring the sea and islands…  
– Tour 3 days 2 nights, with 2 nights sleeping on the bay. This itinerary is suitable for those who have ample time and want to explore more days on the bay. The main activity is canoeing or kayaking to explore caves and islands on the bay. 
– Tour 4 days 3 nights, you will have 3 days sleeping on the bay with many interesting activities. This form of tour needs to book a private train and has a large cost. However, you will have a lot of time to relax and explore. Most foreign tourists will choose this type of tour.       
If you have time and money, you should book a sleeping tour on Ha Long Bay to have many interesting experiences. These include Boating activities, visiting fishing villages, watching romantic sunrises right on the deck…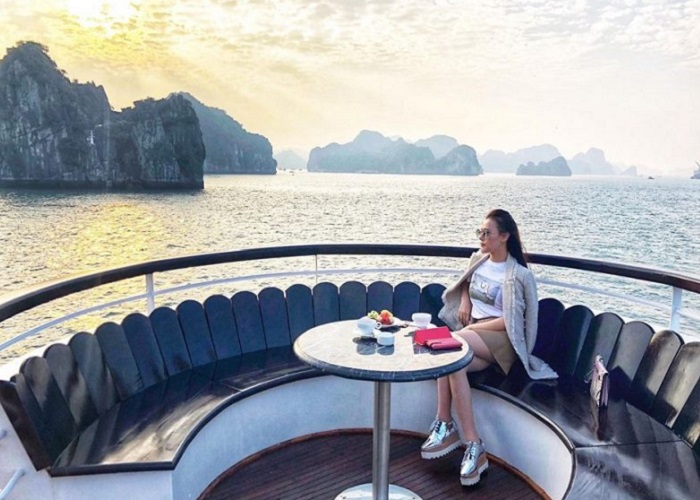 Book a cruise to explore Ha Long Bay with an exciting experience. Photo: dulichkhampha24

The best Halong cruise tours today
Experience booking Halong cruise tours, you have many different choices, depending on time and budget. Here are some suggestions for some of the best yachts currently in Ha Long that you can refer to:

1. Paradise Luxury Cruise
– Tour price ranges: 7,500,000 VND – 16,000,000 VND/night
– Schedule: Hourly tour, 2 days 1 night tour, 3 days 2 nights tour

Paradise Luxury yacht is designed in harmony between ancient and modern, white wooden sailboat. The yacht consists of 4 floors, with 17 cabins. All furniture in the yacht is of 5-star standard. The advantage is a beautiful design, delicious food and many interesting activities such as spa, tai chi, kayaking… However, the service is quite high, the average room is a bit small.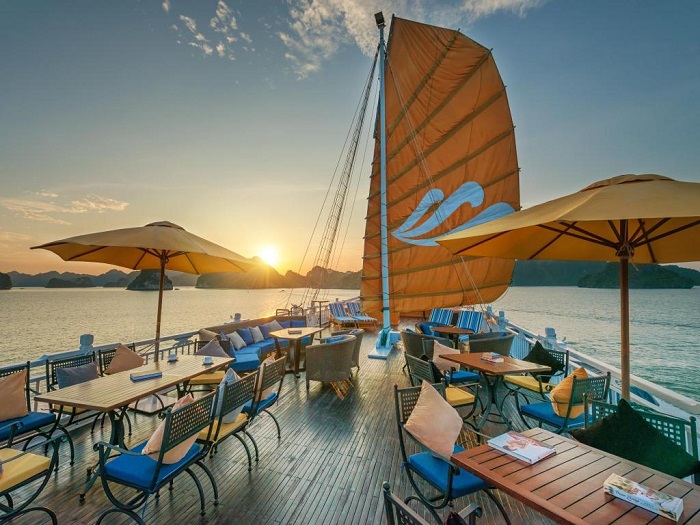 Paradise Luxury Cruise

2. Au Co Cruise Ha Long
– Price ranges: 5,000,000 VND – 15,000,000 VND/night
– Schedule: By hour, 3 days 2 nights

This yacht in Ha Long consists of 4 floors, designed with modern armored shells with 32 cabins. The outstanding services of the yacht must be mentioned: Open-air bath, library, yoga, spa, trekking, spa, kayaking, massage… What should be noted in this yacht is the small cabin and a bit much activity on land. 

3. Emeraude Classic Cruise
– Price ranges: 5,000,000 VND – 10,000,000 VND/night
– Schedule: 2 days 1 night, 3 days 2 nights

Book Halong cruise tour , you can choose Emeraude Classic, one of the famous 5-star yachts today. Impressive yacht with classic French design, delicate and gentle. The yacht has a reasonable price, suitable for the resort. Offers many interesting activities such as kayaking, spa, cooking class, climbing, swimming. The thing to note is, the cabin is small, the drinks in the meal are not free.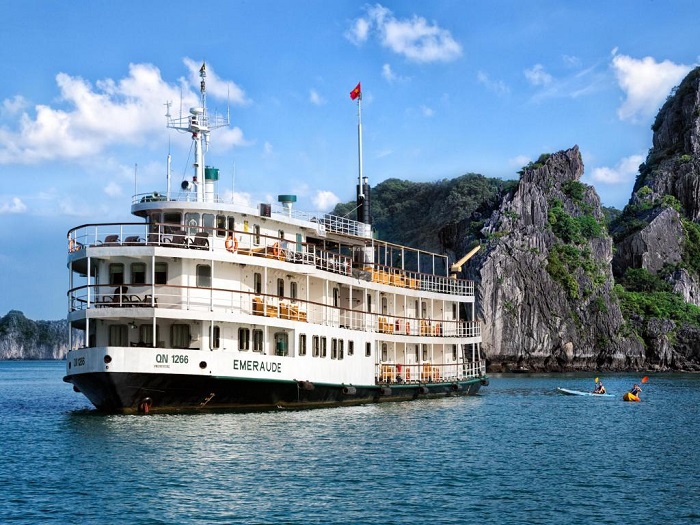 Emeraude Classic Cruise

4. Star Light Cruise 
– Price ranges: 6,400,000 VND – 22,000 VND/night
– Schedule: 2 days 1 night, 3 days 2 nights

This is a 5-star standard yacht with a double bottom design consisting of 4 floors. The room is spacious, clean and has a hot tub. The yacht offers a full range of services such as sauna, night fishing, kayaking, tai chi practice, delicious food. However, drinks in the meal need to pay extra, the price of the room is expensive. 

5. Bhaya Classic Cruise
– Price ranges: 3,600,000 VND – 12,000,000 VND/night
– Schedule: 2 days 1 night, 3 days 2 nights

Bhaya Classic Cruise is a 4-star standard cruise ship with 4 floors designed in modern Asian and Western styles. Outstanding services include: Spa, swimming, kayaking, fishing, night squid fishing. However, it should be noted that the food is not rich, the dining room is not air-conditioned and the wifi is slow.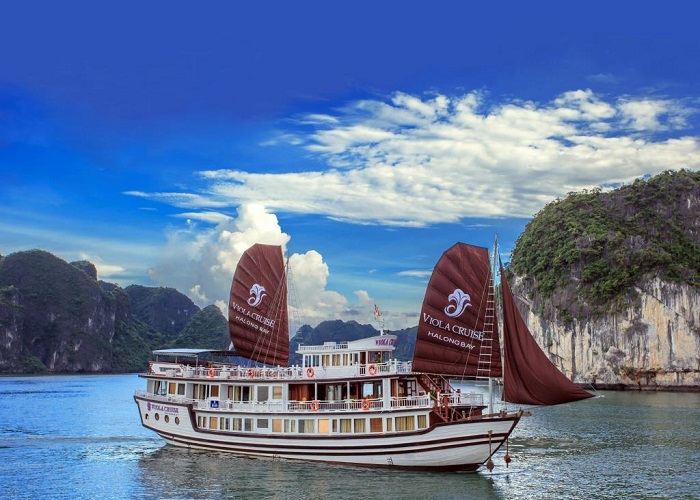 Bhaya Classic Cruise

Some useful experiences when booking Halong cruise tour 
To book a quality, good price Ha Long cruise, you need to know a few notes below:
– When choosing a cruise in Ha Long, you need to consider which sightseeing route to choose. Specifically, there are 3 main areas you can choose from: Lan Ha Bay, Ha Long Bay, or Bai Tu Long Bay. 
– There are differences between the yachts in Ha Long in terms of shape, service standards, and the number of bedrooms. Therefore, you should determine your resort criteria and choose the best cruise tour.
– The price of a boat tour in Ha Long includes services such as: car price, bamboo boat or kayak fee, the ticket price to visit places in the tour. You should contact the yacht for the most specific advice on the accompanying services.
– The cost of the boat tour depends on the schedule of 2 days 1 night or 3 days 2 nights. Normally, the price ranges from 2.5 to 4.2 million VND/night. 
– Finally, you need to find out information thoroughly before choosing a tour company that provides good quality boat tours. 

With the experience of booking quality Halong cruise tours, good prices are above. Hope to help you choose for yourself the best cruise to explore Ha Long to relax with your family and loved ones on your upcoming trip. You can refer to the Full and detailed Ha Long travel experience .
Photo: Internet
TAG: