Telling you good restaurants in Kon Tum, the locals still have to say compliments
Traveling to Kon Tum in addition to finding beautiful places and destinations to check in, the culinary experience will certainly be an indispensable part, so delicious restaurants in Kon Tum are a great destination for you to enjoy. Enjoy the famous typical dishes of this highland mountain town. 
Kon Tum has many delicious dishes that make up the brand, the most famous ones are forest leaf salad, dried pho or grilled chicken with lam rice. There are many delicious restaurants in Kon Tum, but not everyone knows how to find a place to eat with the most unique and attractive flavors. If you are traveling to Kon Tum for the first time and want to discover the typical cuisine of this land, the list of restaurants below will be the perfect suggestion for you to fully experience the most typical mountain cuisine.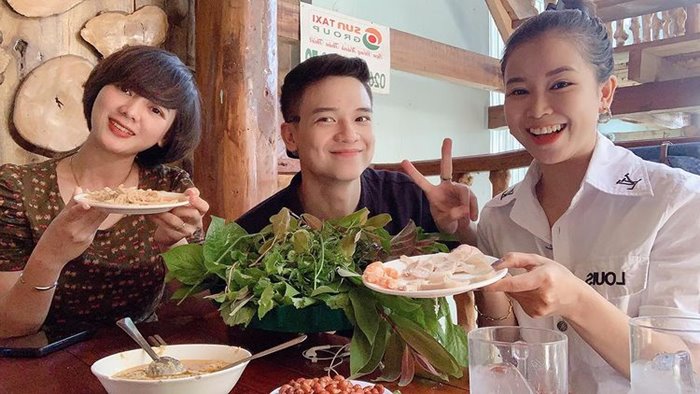 Kon Tum has many delicious restaurants that are attractive culinary addresses for diners. Photo:@levislee_1811

Point out delicious restaurants in Kon Tum that are attractive to foodies 

1. Grilled chicken – Co Sinh Lam rice
Grilled chicken with lam rice is a famous specialty of the Central Highlands in general and Kon Tum in particular. Coming to Kon Tum, you can easily find a lot of shops selling grilled chicken with rice, especially on the road to Kon Tum – Mang Den city. Among those many delicious restaurants, the most famous one is Co Sinh's grilled chicken and rice restaurant in Dak Long.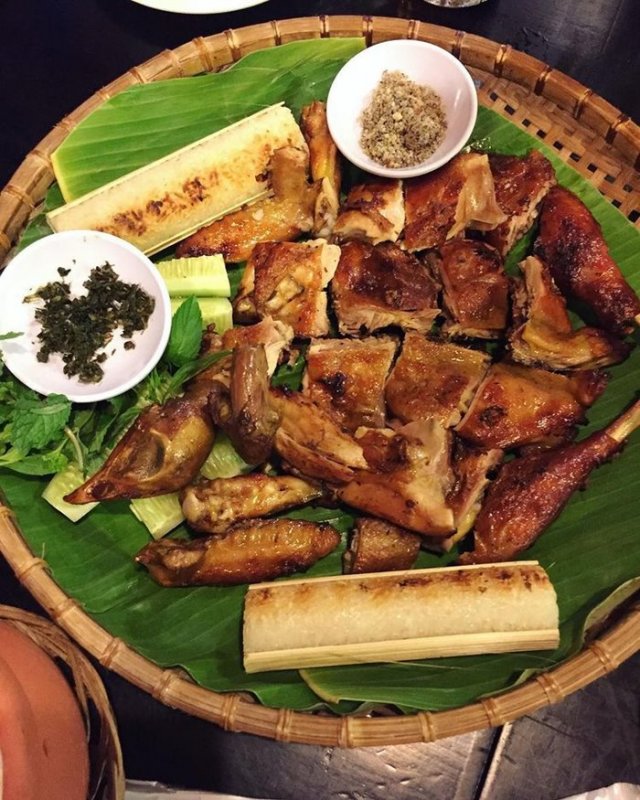 Co Sinh grilled chicken with rice is famous for long-time travel followers. Photo:@tranngocletrang
This restaurant is very popular with traveling followers because of its attractive taste and reasonable price from 150k -250k/piece. The grilled chicken here often uses mountain chickens, freely raised chickens of the people, not brain-eating chickens, so the meat is firm, sweet and fragrant, grilled with typical spices to create the flavor. very charming. Lam rice cooked in a bamboo tube is sticky rice that goes well with chicken dipped in salt and pepper.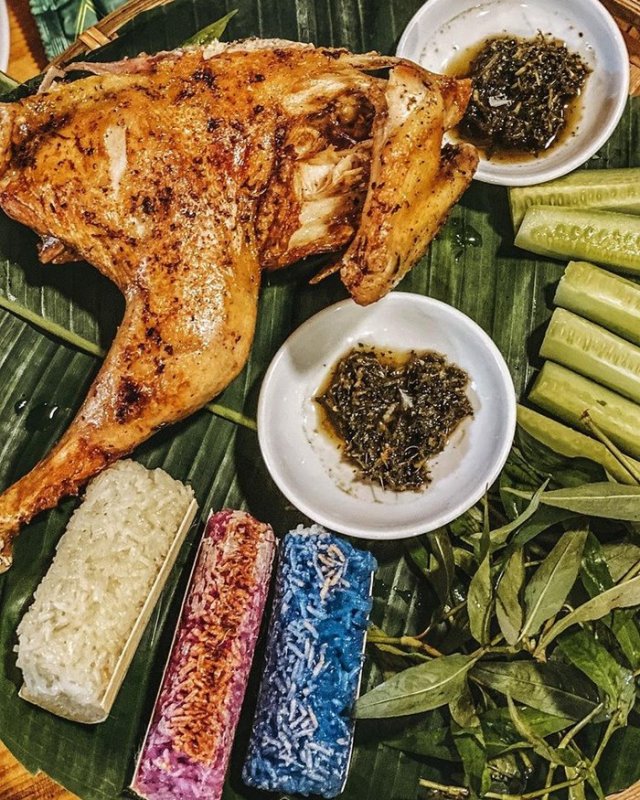 The restaurant's fragrant grilled mountain chicken is always the choice of diners. Photo: Dinh The Bao
Address: AH132, Dak Long, Kon Plong, Kon Tum

2. Ut Cuong leaf salad
If you go to Kon Tum without going to eat salad, your culinary experience must have been missing a huge part. The delicious restaurant in Kon Tum famous for its salad is Ut Cung restaurant, which is also a familiar address for tourists.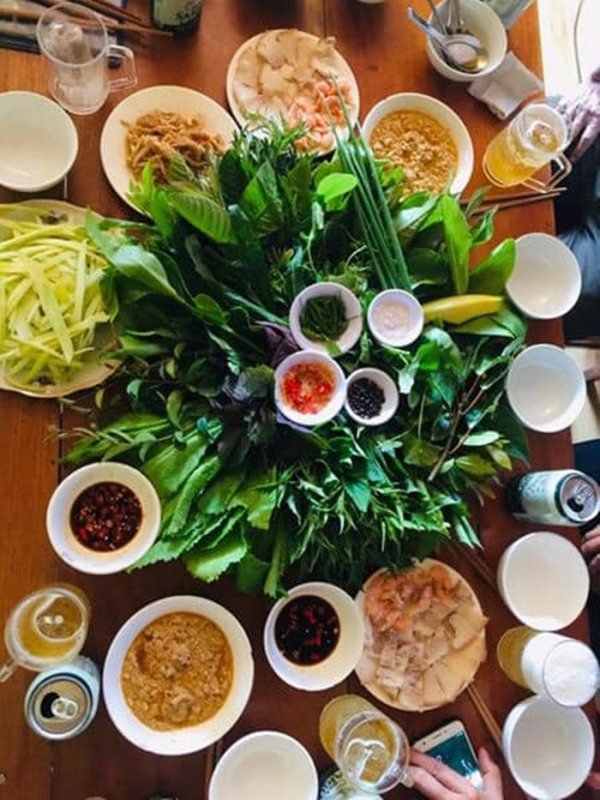 Ut Cung leaf salad shop is the address to enjoy the number 1 forest leaf salad in Kon Tum. Photo: Ut cuong leaf package
The restaurant's leaf salad has a very diverse composition, including from 30 to 70 different types of forest leaves such as red prongs, bear bile, brocade leaves, bamboo leaves, from great compassion… along with boiled meat, pork skin. , shrimp, pepper, and especially the divine dipping sauce made from fermented glutinous rice with dried shrimp, pureed meat with satay, batch, and other spices. In addition to the delicious leaf salad, the Ut Cung restaurant also has many other attractive dishes, in which the tender grilled young veal dipped with salt and chili is very special.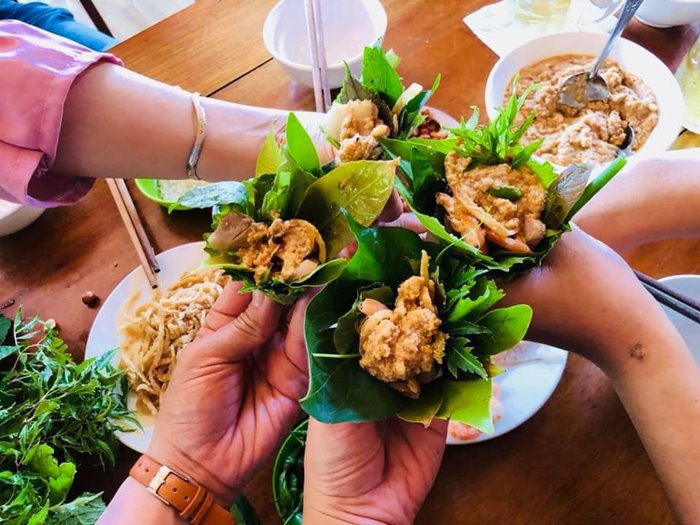 When eating, they will roll the forest leaves with meat, shrimp, skin, and dip with special dipping sauce. Photo: Ut Cuong leaf salad
Address: 16 Tran Cao Van, Thong Nhat ward, Kon Tum city
>See more:   The beautiful cafes in Kon Tum make you 'drunk like a smoke' because it's too chill 

3. Restaurant 73 Kon Tum 
Referring to the address of a delicious restaurant in Kon Tum for people who are addicted to specialties, restaurant 73 is a prominent name. The shop specializes in selling specialties from porcupines with a very diverse menu and delicious processing. When diners come to shop 37, it will be difficult to resist attractive dishes such as porcupine bone soup cooked with cornstarch, porcupine stuffed with pipes, porcupine salad …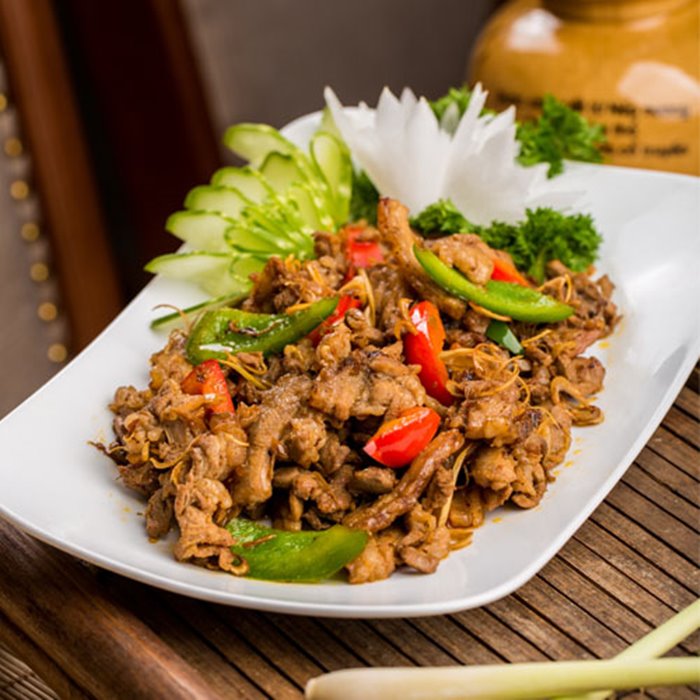 Quan 73 is the paradise of people who love porcupine specialties in Kon Tum. Photo: CARD
Meat with a porcupine is very firm without fat, thick and crispy skin is very attractive. With its own recipe, the porcupine specialties of restaurant 73 are always loved by tourists as well as locals. Therefore, if you want to eat porcupine specialties in Kon Tum, you should definitely not ignore this restaurant.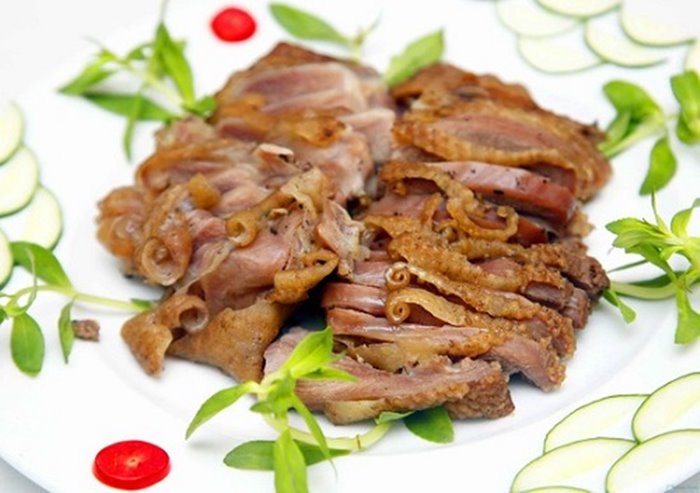 Porcupine meat is very firm, delicious, crispy skin. Photo:cookpad.com
Address:  367 Hung Vuong, Thang Loi Ward, Kon Tum

4. Grilled pork loin Mai Kon Tum
Grilled loi is a very popular snack in the Central Highlands, attractive skewers always make young people fall in love every afternoon. Grilled Mai is a familiar address for many people in Kon Tum city. Grilled skewers are made from rice paper rolls with shrimp and meat and then grilled on a hot coal stove with fragrant pork fat with happy sizzling sounds that make it difficult to hold back. The long, crispy taste, the more you chew, the more you can see the flesh of Mai's grilled pork will make you fall in love and never get bored, so add this delicious restaurant in Kon Tum to the list of must-visit culinary addresses in the mountain town. this plateau.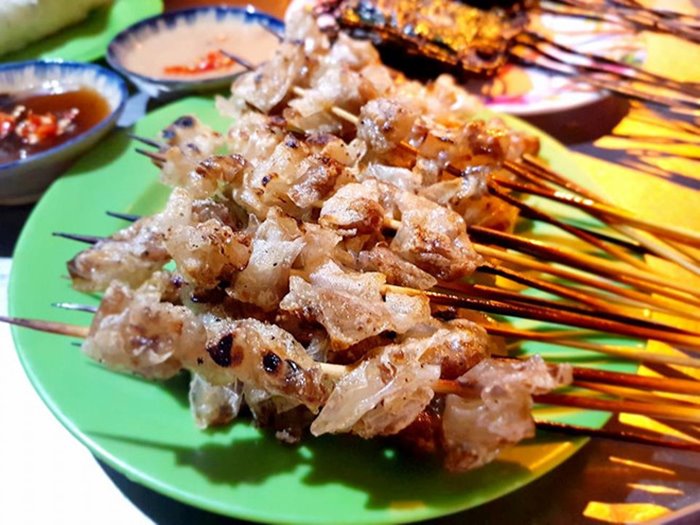 Grilled Mai is a famous snack shop in Kon Tum. Photo: vietgiaitri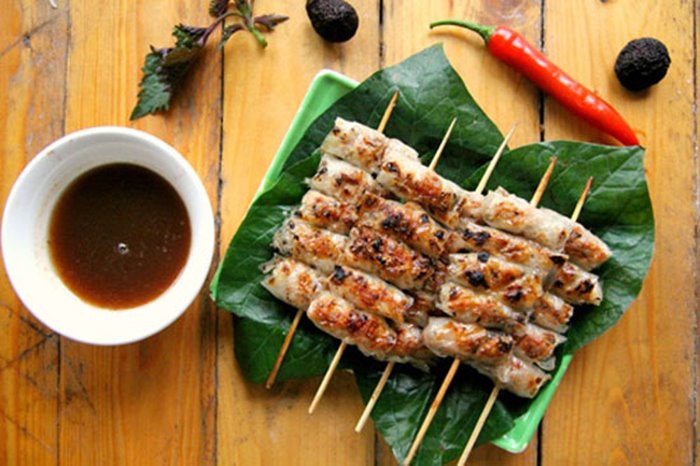 The chewy, crunchy skewers always fascinate young people. Photo: Young
Address: 38 Doan Thi Diem, Quang Trung ward, Kon Tum city

5. Le Loi fish bamboo shoots sticky rice 
Sticky rice is available almost everywhere and is a familiar dish for Vietnamese people, but sticky rice with bamboo shoots is only available in Kon Tum. Sticky rice with bamboo shoots on Le Loi street is a very familiar address to the locals every morning. Sticky rice cooked from glutinous rice, specialty bamboo shoots, and adding some delicious braised fish is the most typical gift for every morning in this highland mountain town. This bamboo shoot sticky rice shop is quite small, mainly customers take away, so when visiting Kon Tum in the morning, don't forget to visit the address 9 Le Loi and make a serving of sticky rice with bamboo shoots 7k or 10k to make sure you have a good stomach before you explore.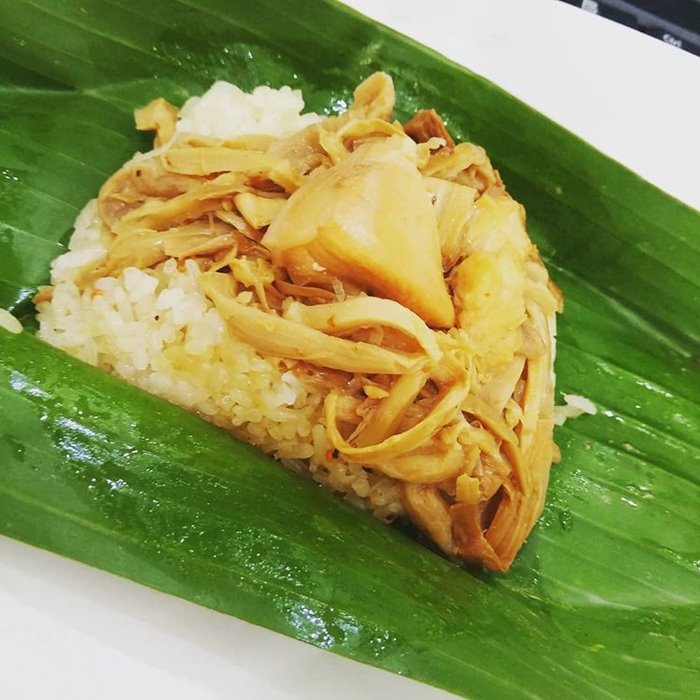 Kon Tum sticky rice is a strange morning snack. Photo:@chloe_jiji
Address: 9 Le Loi, Quyet Thang Ward, Kon Tum

6. Dried Pho 99 
Not only Gia Lai has dry pho, but Kon Tum is also very famous for this dish. In Kon Tum city, there are many attractive dry noodle shops, notably the 99 dry noodle shops on Nguyen Hue street. The restaurant has a very open space, fast service, delicious pho, and reasonable prices. A dry noodle dish here will include some grilled meat made from sweet bones, a bowl of dry pho mixed with meat for a lot. The pho flavor of 99 restaurants is very attractive, so the shop is always crowded.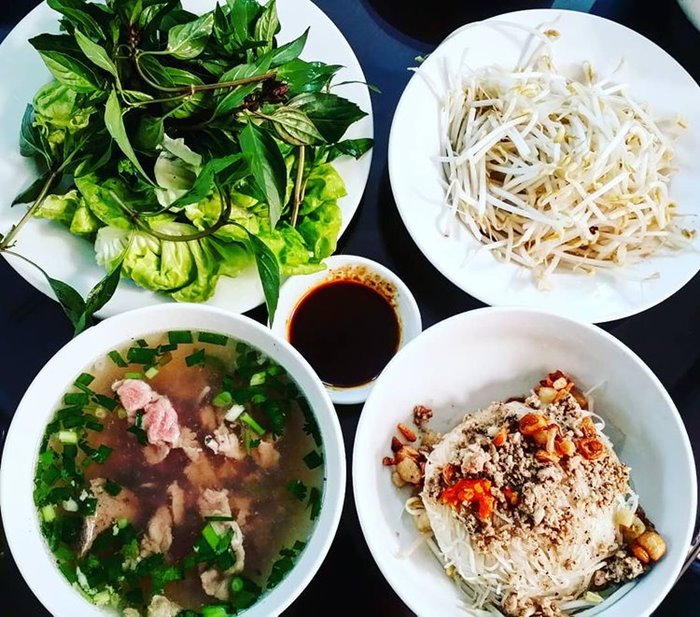 Pho 99 is famous for its special dry pho. Photo:@ndtrung01.han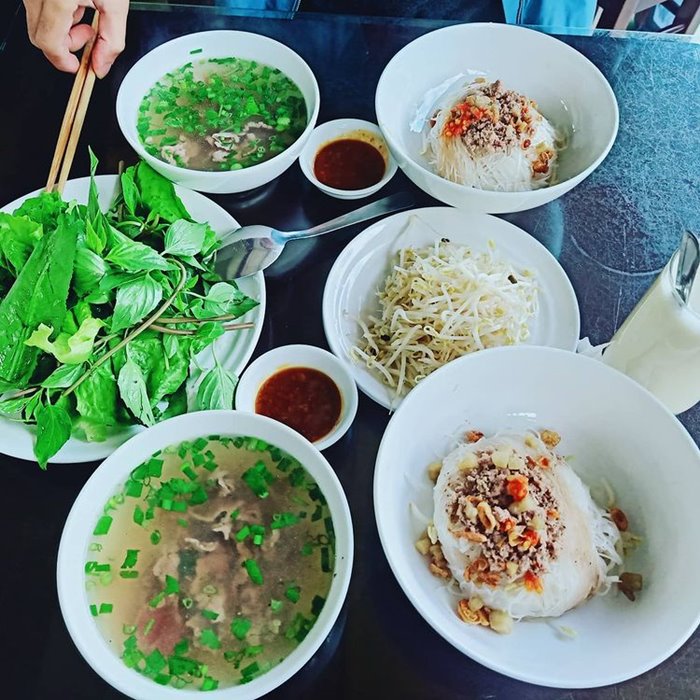 A set of pho includes mixed pho, rich broth, lots of meat. Photo:@capunguyen
Address: 591 Nguyen Hue Street, Quyet Thang Ward, Kon Tum City 

7. Mang Den Lu Quan 
Mang Den is one of the attractive culinary and tourist paradises in Kon Tum, visit Mang Den on cold days, don't forget to visit Mang Den Lu Quan hot pot restaurant.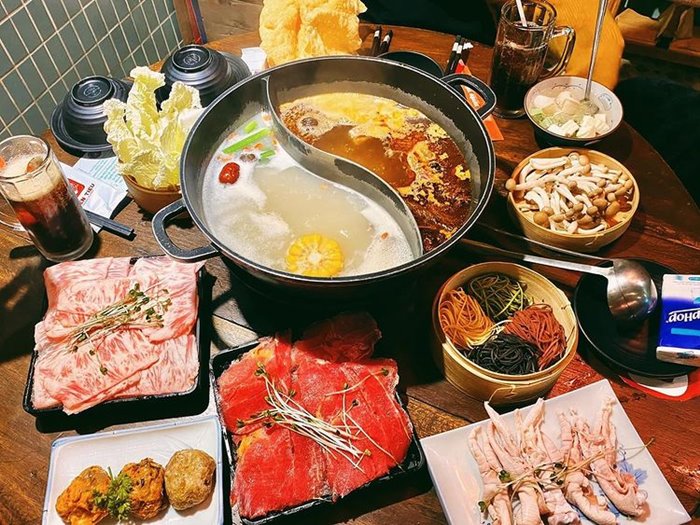 The pepper hotpot in Mang Den is very attractive. Photo: @lauxuyentieu
>See more: Team that eats well, don't miss an appointment with the top 4 delicious restaurants in Mang Den

This delicious restaurant in Kon Tum has spacious space, history and especially hot pot is extremely attractive. 1 combo hotpot at Mang Den Lu Quan consists of 9 parts with 18 types of hot pot dishes such as beef, fish, shrimp, chicken wings, beans, vegetables, mushrooms, egg noodles… The hot pot has 2 compartments with one The side is spicy hot pot and the other side is not very spicy. A serving of hot pot here costs from 250,000 VND to 380,000 VND depending on the type. The shop also has more attractive dishes with bold mountain flavors such as dried bamboo shoots salad mixed with shredded chicken, kimsa waterfall fish ….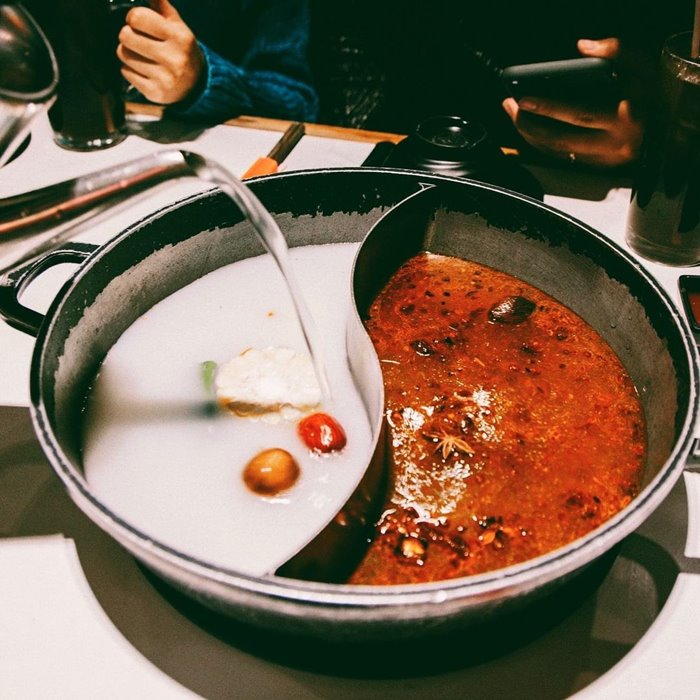 The hot pot has 2 compartments, one spicy and one non-spicy. Photo:@lauuyentieu
Address: 114 E. Ngo Quyen, Dak Long, Kon Plong, Kon Tum

Visiting the delicious restaurants in Kon Tum and experiencing the fascinating culinary flavors will surely be an unforgettable experience for visitors. Please save the list of delicious restaurants above so that if you have the opportunity, please visit and taste it. 
Photo: Internet 
TAG: